"Coco," Pixar's 19th scheduled animated feature, is currently under production for a release this Fall. As part of an early press day, AllEars.Net was invited to take an advance look at some of the footage and get introduced to some of the places and people of "Coco."
[Non-attributed photos and video are courtesy of Disney.]
Over at Pixar Studios, the atrium of the Steve Jobs Building was decked out in "Coco" decor.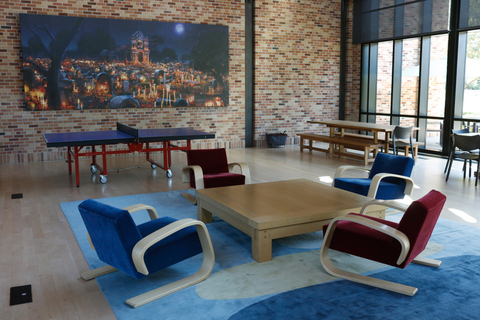 In the screening room, Director Lee Unkrich, with Producer Darla Anderson and Writer/Co-Director Adrian Molina introduced us to the first 35 minutes of "Coco" and some of the cultural consultants that helped them create a film true to the culture in which it takes place. Unkrich noted that he first pitched the idea for the film back in 2011 and since then has taken multiple research trips to Mexico that inspired "Coco's" themes of family and remembrance…core tenets of Día de Muertos.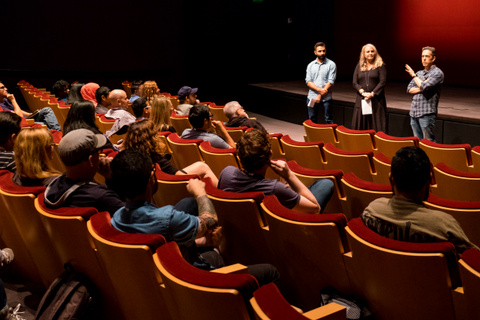 "Coco" is a story about a young boy, Miguel, who finds himself caught between his aspirations to become a great musician like his star idol the late Ernesto de la Cruz, and his music-loathing family. In his desperation, a rash act on Día de Muertos traps him in the Land of the Dead; his only way out is to undertake a journey throughout the fantastical realm with the prospect of acceding to his family's demands if he fails.
The next day, presentations on the making of "Coco" kicked off with Alonso Martinez (Character/Rigging Artist), Nick Rosario (Directing Animator), and Christian Hoffman (Characters Supervisor) talking about "Pepita and Dante: A Closer Look"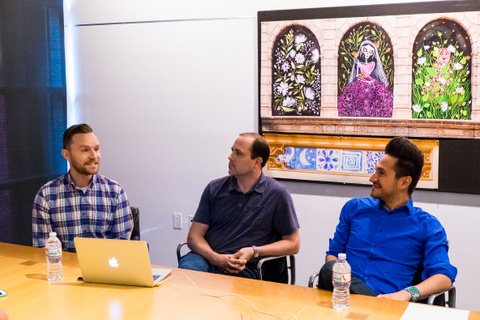 Two of the non-humanoid characters supporting Miguel and his domineering great-great-grandmother Mamá Imelda are his street dog Dante and her spirit guide Pepita.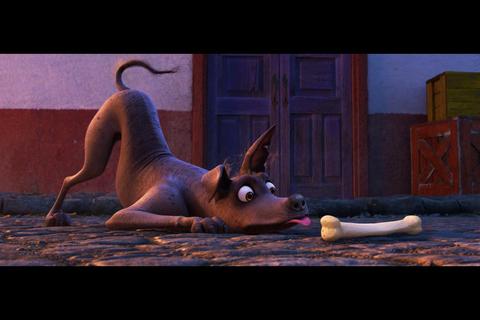 –Dante is a Xoloitzcuintli dog, which is the national dog of Mexico.
–It is an ancient breed of dog, whose name is taken from the Aztec word for "dog."
–They are said to guard homes against evil spirits or intruders, and sometimes have healing powers.
–They are also said to serve as guide dogs for people transitioning from this world to the next.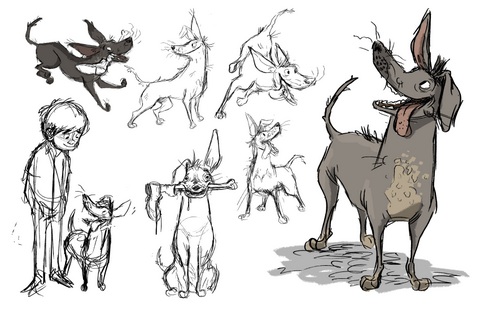 –The animators looked at many of Disney's famous dogs such as those from "Lady and the Tramp," and Dug from "Up" to develop Dante's movements.
–His relative hairlessness exposed more anatomy and required animators to pay more attention to his structure and skin wrinkles.
–Dante's almost prehensile tongue was modeled after the tentacles developed for Hank, the octopus in "Finding Dory."
–To give him a little more personality as a beat-up, derpy street dog, he was given patchy skin, a broken ear, a walleye, and a tongue that's always hanging out.
–In contrast, Pepita is both formidable and imposing whose appearance derives from the Mexican folk art alebrije.
–Alebrijes are traditionally brightly colored and chimerical–almost dreamlike.
–Different families crafting these may use specific and distinctive patterns on them.
–Making them spirit guides was an addition made by the film's storyline.
–Pepita has a lizard tale, eagle feet and wings, front arms/head of a jaguar, and ram horns.

–The combination of different animal anatomy made it challenging to develop a believable and natural movement for her.
–On the other hand, developing a fantastical anatomical structure allowed the animators to consider how each structure (such as fingernails) might enhance her expressions and personality.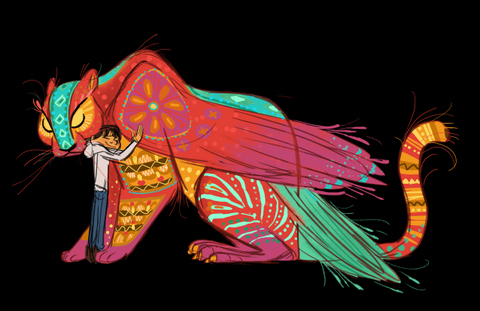 Next up was Daniel Arriaga (Character Art Director), Gini Santos (Supervising Animator), Byron Bashforth (Character Shading Lead), Emron Grover (Simulation Technical Director) talking of the work involved "Bringing Skeletons to Life."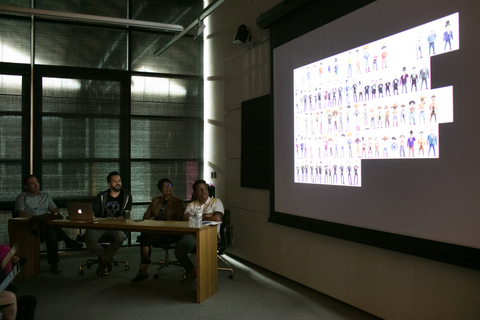 –One of the challenges was creating characters who could express emotion without fleshy structures such as ears, nose, eyes, or lips.
–There was also the issue of how a skeletal structure would fill out or support clothing.
–Another question that had to be addressed was whether skeletons could grow hair, or if they would simulate their appearance in life with wigs, etc.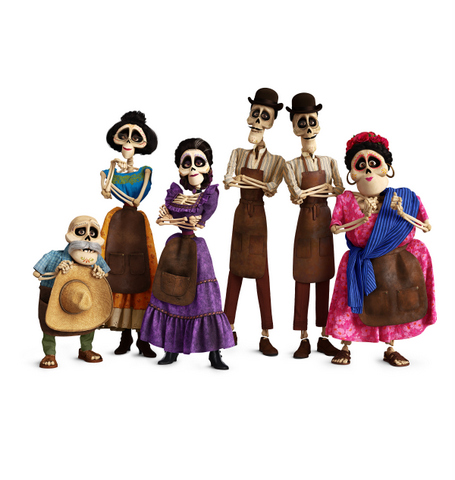 –Additionally, skeleton animators had to determine whether the same usual methods of squash and stretch would work when used with rigid, bony structures.
–Hector, a skeleton partner Miguel makes in the Land of the Dead, has a gait based on that of Ratso from "Midnight Cowboy."
–In order to better show the characters' thought processes, animators committed to giving the skeletons eyes and eyelids, as well as lips.
–A new collision system for animating clothing needed to be developed as the bones were too thin and small to utilize the typical method of showing fabric interacting with flesh.
–Cloth-bone fusion was used so that a skeleton's clothes would fill in the gaps where the bones would naturally separate with movement.
–In skeletons like Hector with a lot of exposed bone, the bony structure was simplified with fusion of some bones like the ribs.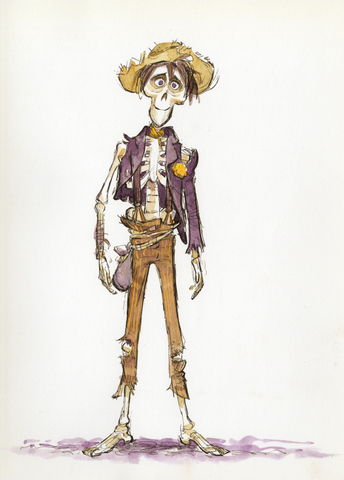 –Shading work in animation involves determining an object's color, texture, and translucency.
–Ultimately the characters had to be relatable as skeletons, but still be appealing enough to not be scary.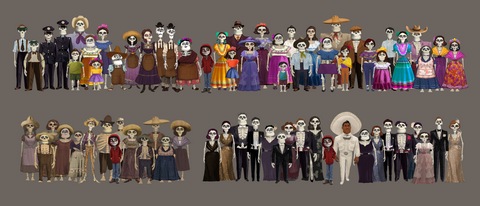 "Coco" opens in theaters November 22, 2017.