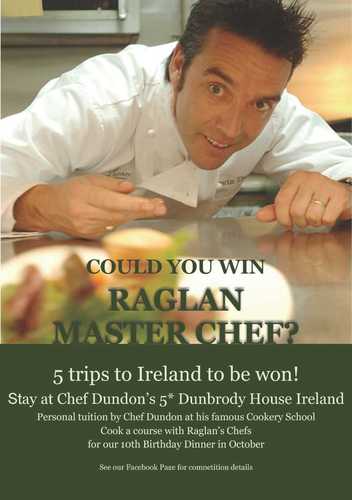 Raglan Road Irish Pub & Restaurant at Downtown Disney Announces 10TH Anniversary 'Master Chef' Cooking Contest
Finalists Win Ireland Trip to Cook with Celebrity Chef Kevin Dundon
LAKE BUENA VISTA, Fla. (March 11, 2015) – Ladies and gentlemen, start your cook stoves! To kick off its 10th anniversary celebration, Raglan Road Irish Pub & Restaurant at Downtown Disney challenges home chefs to get creative and vie for the honorary title of Raglan Road Master Chef.
Now through April 21, amateur cooks are invited to submit a video featuring an original three-course menu of appetizer, entrée and dessert worthy of the restaurant's 10th anniversary celebration in October. Raglan Road Master Chef Kevin Dundon, a 2015 TASTE Awards winner, whose PBS/Create TV series "Kevin Dundon's Modern Irish Food," begins its second season March 13, will judge entries and choose five finalists on April 28.
The finalists will fly to Ireland May 21, all expenses paid, where they'll stay at Dundon's popular resort and cooking school, Dunbrody Country House Hotel in Southwest Ireland, and work with Dundon to perfect their cooking technique. Each of the finalists will cook a dish chosen by Dundon on Oct. 20 at a private 10th anniversary celebratory dinner at Raglan Road, an award-winning restaurant owned and operated by Irish partners that features several dining rooms of aged walnut and mahogany wood furnishings from old Irish bars and churches that were shipped to Orlando to build the restaurant.
Guests who enter the competition must be able to travel from Orlando International Airport on May 21 and have a valid, up-to-date passport for travel to Ireland and return to Orlando on May 26. While in Dunbrody, finalists also will experience the local farms and fishing locations where Dundon sources his food and will enjoy a Dublin excursion. For information about entering the competition, visit http://www.raglanroad.com/raglan-road-master-chef-competition. The site will be live with all contest rules and details on Monday, March 16, 2015.
Raglan Road features inventive cuisine by Irish celebrity chef Kevin Dundon, host of the TASTE Award-winning PBS and Create TV cooking show, "Kevin Dundon's Modern Irish Food." The second season of Dundon's TV series, "Kevin Dundon's Back to Basics," will premiere nationally March 13 on public television's Create TV. The network also will air a Kevin Dundon marathon of select episodes of "Back to Basics" and Dundon's first season episodes of "Modern Irish Food" March 14 and 15 leading into St. Patrick's Day.
During any visit to Raglan Road, guests can belly up to one of the restaurant's 130-year-old imported-from-Ireland bars or grab a table for authentic fare. The restaurant, winner of numerous national and local awards and honors, is known for its beer-battered fish and chips, as well as its Shepherd's pie with a contemporary twist and other popular entrees. Raglan Road offers gluten-free items including scallops, fish and chips, onion rings and pasta dishes.
Owned and operated by Irish partners Paul Nolan, John Cooke and celebrity chef Kevin Dundon – famous for his five-star hotel and cookery school in Ireland and his award-winning PBS and Create TV cooking series – Raglan Road features traditional Irish dishes and new creations with a Celtic twist. The restaurant's warm interior of aged walnut and mahogany woods from old Irish bars and churches was built in Ireland and shipped to Orlando.
Guests can enjoy live Irish bands and performances by The Raglan Road Dancers nightly and during the Rollicking Raglan Weekend Brunch. Live music is also scheduled nightly on the pub patio. Lunch is served 11 a.m.-3 p.m.; Dinner 3-11 p.m.; Bar menu 11 p.m.-late; Weekend Brunch 10 a.m.-3 p.m. Raglan Road Irish Pub & Restaurant is located at Downtown Disney in the Walt Disney World Resort, 1640 E. Buena Vista Dr., Lake Buena Vista, Fla. Visit www.raglanroad.com or call 407/938-0300.