Time to Do the Must-Do's at the Food and Wine Festival
by Debra Martin Koma
AllEars® Editor
Feature Article
This article appeared in the September 20, 2016 Issue #887 of ALL EARS® (ISSN: 1533-0753)
Editor's Note: This story/information was accurate when it was published. Please be sure to confirm all current rates, information and other details before planning your trip.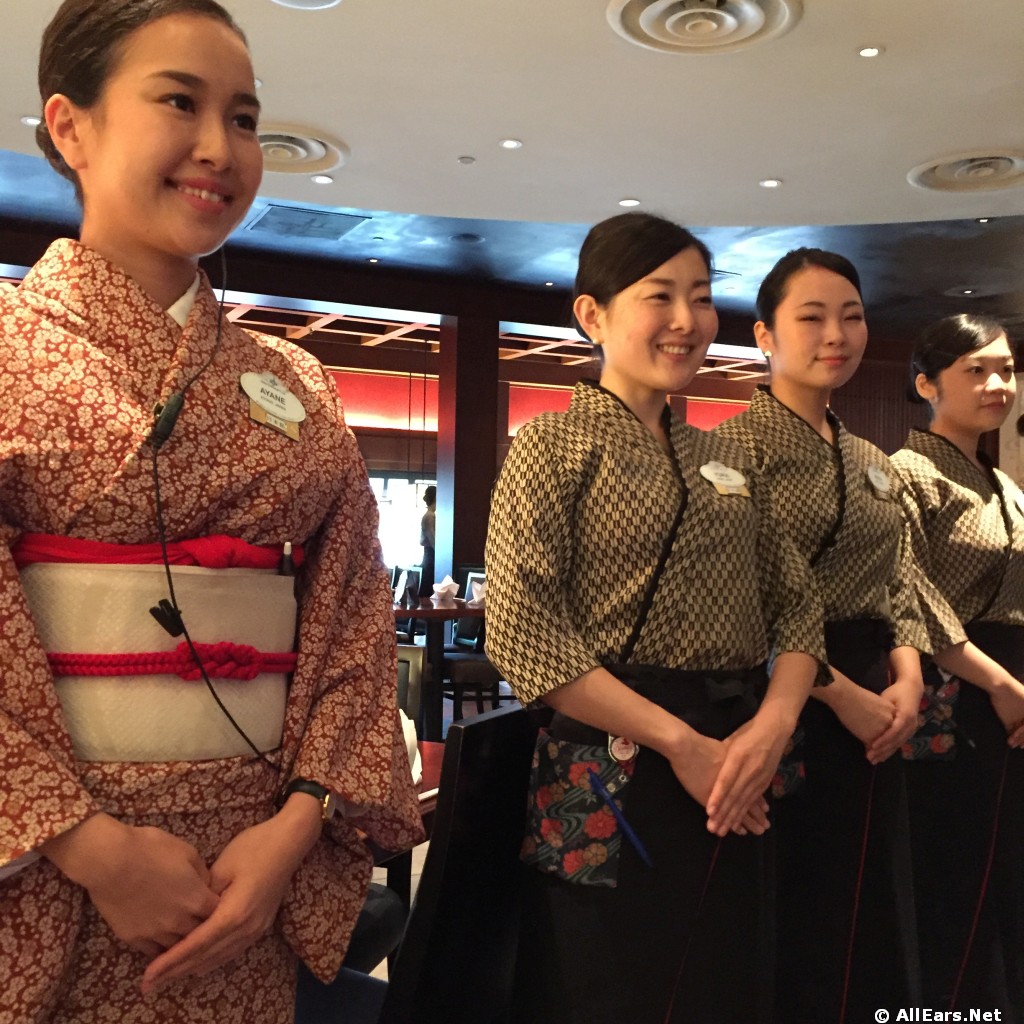 I was sitting in my room at Disney's BoardWalk just a few days ago, in an Epcot Food and Wine Festival-induced "food coma," mindlessly watching Stacey on the "Must Do Disney" program for what seemed like an hour. You know the program — it runs on an endless loop on your Disney resort room television, giving you the highlights of what's new and what you "must do" around Walt Disney World.
Inspired by Stacey's ever-effervescent personality, I shook myself and thought, "That's what I need to write — the Must-Do's of the 21st annual Epcot International Food and Wine Festival."
And so here I am, fresh from the Festival's opening weekend, with what I would call my "Must-Do's" from this year's food and beverage extravaganza.
1. Nosh your way around the Global (formerly called International) Marketplaces.
This one is a no-brainer, right? The marketplaces are the mainstay of the Festival, and this year there are more than 30 booths with more than 100 menu items featuring cuisines from around the world, along with more than 100 different beverages. You'll find the food booth action stationed around World Showcase Lagoon, with a few scattered down in the near side of Future World West. Obviously, there is no charge to browse around the kiosks breathing in all the gorgeous aromas, but yes, you have to pay for the food and beverage samples you try — generally between $3.50 and $10 (not counting some of the pricier cocktails and the $32/glass Dom Perignon!).
Having overindulged with quite a few of these food and beverage tastes over the course of five days, I can safely say that the overall food quality was generally quite good. Nearly every menu item I tried was well-prepared, portion sizes were respectable and, for the most part, fairly priced. (I'm still smarting from the $9.05 Spiked Chai Latte, though!) There were only a few food items I didn't care for — for example, I discovered that bacon does NOT make everything better after sampling the Loaded Mac 'n' Cheese with bacon, green onions, and peppers, from the Farm Fresh marketplace. I suspect that's due to personal taste more than poor preparation, though. On the other hand, the tender and succulent Seared Venison Loin with wild mushroom Marsala sauce from New Zealand and the Vegan "Nachos" from Greece were surprising palate-pleasers. I tried hard to focus on the new menu items offered (I even skipped my all-time favorite, the Lamb Chop with Mint Pesto and Potato Crunchies in Australia, which still looked and smelled amazing) and think that I found a few new faves in the form of the Mojo Pork from Islands of the Caribbean and the Seared Scallop with celery root puree and Brussels sprouts from Wine and Dine Studio.
The only question that remains now is, "What will YOUR favorite be this year?"
2. Attend a culinary demo or wine seminar in the Festival Center.
These under-an-hour-long "deminars" as they're sometimes called are well worth the $15 charge. Presenters range from vineyard representatives and marketing reps to Disney and celebrity chefs. For the wine seminars, you generally have the opportunity to sip three different wines from a particular winery and are given some background on the vineyard and wines in general. At the culinary demos, the chef prepares a dish, which you have a chance to sample along with a small taste of a paired beverage. Really, you can't go wrong. You can see the full listing of upcoming deminars and actually book these programs online. Remember, if you're a member of Tables in Wonderland, an annual passholder, a Disney Vacation Club member or a resident of the Golden Oak community, you can get a slight discount on the Monday through Thursday sessions by booking over the phone. I'd suggest booking in advance, as these sessions can sell out, but if you decide to wait, stop by the Festival Center Info Desk (at the base of the entrance ramp) to see if same-day reservations can be made. By the way, if you do one of these deminars, note that you'll need to stop by the Festival Center Information Desk to pick up your paper tickets beforehand. You can obtain all your tickets for the day at one time.
3. Try your hand at one of the new "Mix It, Make It, Celebrate It!" interactive experiences held in the Festival Center at 4 p.m. each day.
For the last several years, the Festival has been offering Mixology sessions at the end of each day. These enjoyable events allowed you to listen to a presenter, often a mixologist, speak about a particular spirit or demonstrate the preparation of some cocktails, then allowed you to sample the drinks yourself. This year, the Mixology program has morphed into a more hands-on oriented workshop that will have attendees learning how to make (not just mix) something — whether it's cake-decorating, pasta-making, garnishing.. or even mixology.
Don't let the awkward name put you off — this is a really fun way to get involved and perhaps take a skill home from the festival. I was fortunate enough to attend a session led by former Iron Chef Masaharu Morimoto, during which we had the chance to watch the culinary legend prepare an amazing sushi showpiece and then learn how to make spicy tuna roll sushi ourselves from the master himself. I realize that not all of the future "Mix It, Make It" programs will feature a "name" quite as special Morimoto, but for $49 you get everything you need for your "project." The interactive approach works, and I look forward to trying another such workshop before the Festival ends.
4. Splurge on at least one Food and Wine pairing at one of the World Showcase restaurants.
If it's your first time to the festival, I realize that you may want to focus on grazing around the global marketplaces. But if you're feeling a little more adventurous and time/budget allows, I really hope you'll try one of the Food and Wine pairings offered at a number of different World Showcase restaurants. The price has gone up over the years (I remember when they were offered for $35 and now they START at $60… and go up, way up!), but I still think they represent good value for some unique experiences. I know many people find the flavors of the Morocco pavilion to be too foreign, but I'd like to urge you to give the Food and Wine pairing at either Restaurant Marrakesh or Spice Road Table a try. I think you might be surprised. Or if you'd prefer to stick with something more familiar, both of the experiences in the Italy pavilion (Italian Food, Wine vs Beer Pairing at Via Napoli or Italian Regional Food and Wine Pairing Luncheon at Tutto Italia) are consistent winners. I myself went out on a limb this year and tried the "Umami" pairing at Tokyo Dining. It's a little more exotic and a lot more expensive ($150), but so worth it, both from a value-for-money and a culinary adventure standpoint. (Watch for my full review on AllEars.Net later this week.) Trying new and different cuisines and learning about world cultures are exactly the things that make the Food and Wine Festival my favorite annual event at Walt Disney World, and that's why these Food and Wine pairings are on my list of Must-Do's.
5. Enjoy an "Eat to the Beat" concert.
While the main focus of the Festival is to enrich your senses of taste and smell, it doesn't leave your sense of hearing out of the fun. Each night at the America Gardens Theatre across from the American Adventure pavilion a musical act performs three 45-minute sets to delight your auditory canals. There are a wide range of acts with something that should appeal to almost everyone, from classics like Mickey Thomas of Starship and Chaka Khan to more recent successes such as Plain White Ts. Unfortunately, I didn't have the chance to catch one of my old faves, Wang Chung, during my recent visit, but I'm looking forward to possibly seeing Hanson or Soul Asylum on my next trip to the World. For me, music is always a Must-Do.
While I'm writing lists, I'd like to offer you a few of my "must-DON'T's," if you will.
1. DON'T try to eat your way around the Global Marketplaces on the weekend, if you can at all avoid it. I understand that your vacation schedule may not be flexible, but many local residents take in the festival during the weekend and the crowd levels skyrocket. If you can visit Monday through Thursday your chances of having a much more relaxed experience improve greatly.
2. DON'T try to do it all. Every year I nearly go crazy in an attempt to sample all the new festival offerings so that I can write about them for you. (Oh, the selfless sacrifices I make!) But then every year I regret the fact that I come home from the festival exhausted, with so much of the experience a blur. Instead of racing from event to event, or booth to booth, you should take the time to enjoy some of the unscheduled offerings, some of them are even free of charge. If you like to shop, spend some time browsing the special merchandise on display in the Festival Center or examine the amazing chocolate creations designed by Disney chefs that are on display in the Ghirardelli From Bean to the Bar exhibit. In other words, stop and smell the rose… and the cabernet… and the chardonnay…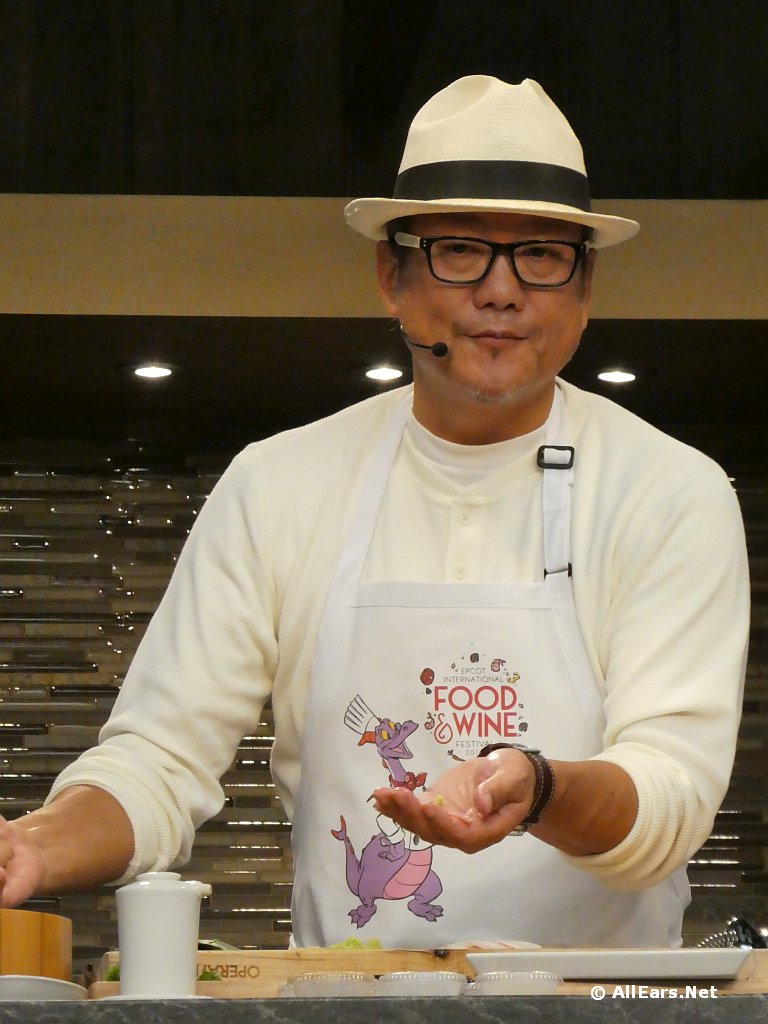 3. DON'T walk more than you have to. Keep in mind that the deminars and many of the other festival events are hosted in the Festival Center, way down in Future World East (in the former Wonders of Life pavilion). On a beastly hot Orlando day, or in an unpredictable afternoon thunderstorm, trudging back and forth from World Showcase to the Festival Center can be a real drag. Study the weekly guide and the Festival Passport, both of which are available at the park entrances and most shops, to get a general idea of what you want to see or do daily.
4. DON'T overindulge, and that goes for both food and alcoholic beverages. Take a dining partner along with you to share your menu items. The portions are what some might call "tapas-sized," but the cumulative effect of even just a few small plates can leave you feeling uncomfortably full. Ask me how I know. And remember while you're enjoying all those international wines, ales and lagers and mixed cocktails, that the heat seems to intensify the effects of the alcohol. You don't want to be "that guy" or "that gal" whose unruly behavior causes young children and others to shy away or roll their eyes, do you?
5. DON'T overspend. Consider purchasing a special Disney Gift Card, a debit card that attaches to your wrist with a stretchy band. Load that up with your budgeted allotment (a minimum of $15) and keep it "handy" (if you'll pardon the pun), so that you don't have to fumble for cash or a credit card while you're trying to juggle a plate and a glass. This can help you keep track of your purchases, since once your gift card is empty you'll know how much you spent and whether you want to keep on going. The cards are available at the Festival Center and select shops around World Showcase. (They are good for any merchandise, by the way, not just the food booth items.) (Note that if you're on the Disney Dining Plan, you can also use snack credits to pay for most of the FOOD items.)
So, I wonder, have I made Stacey proud? Have I given you a good overview of what the Festival Must-Do's are? I didn't have the chance to try out some of the new offerings this year, like Behind the Scenes at Trader Sam's Grog Grotto or The Secret of Flavor at Yachtsman Steakhouse, as they don't start until several weeks into the festival, but I'm quite sure that some of those would have been on my Must-Do list, too! You'll have to write to us and let us know what you think of those new activities.
But from what I experienced the first five days of the Festival, I think it's on track to be another special, fun- and flavor-filled year. I for one plan to return before it ends so that I can come up with another set of Must-Dos for you!
= = = = = = = = = = = =
VITAL INFO
= = = = = = = = = = = =
Taste Epcot, Epcot's 21st Annual International Food and Wine Festival, runs daily through November 14, 2016. Entrance to the Festival is included with your Epcot park admission, but there are numerous special events that are an additional (and often hefty) charge. Many events are already sold out, but some openings remain. To make reservations, contact 407-WDW-FEST (407-939-3378) or, for certain events, book online by visiting Walt Disney World's official Food and Wine Festival pages.
= = = = = = = = = = = = = =
RELATED LINKS
= = = = = = = = = = = = = =
Food and Wine Festival Primer, AllEars® Issue #783 — For the first-time Festival-goer. Deb Koma's "Festival Basics" may be two years old, but most of the tips and pointers still hold true today.
Don't miss Kristin Ford's Festival Tips for Families and all the rest of our Food and Wine Festival coverage.
Food and Wine Festival General Info
Global Marketplace Menus w/Prices and Photos
Culinary Demos, Wine Seminars and Mix It Make It Celebrate It

Special Dining Experiences

Eat to the Beat Concerts
Help other AllEars® Readers plan their trips:

Take the Marketplace Menu Items Survey.
(You can see the survey results so far HERE.)
Rate and review the other special Festival events.
-o-o-o-o-o-o-o-o-o-o-o-
Editor's Note: This story/information was accurate when it was published. Please be sure to confirm all current rates, information and other details before planning your trip.