The Force is With Us: Star Wars Abounds
by Kristin B. Ford
AllEars® Staff Writer
Feature Article
This article appeared in the May 22, 2018 Issue #974 of ALL EARS® (ISSN: 1533-0753)
Editor's Note: This story/information was accurate when it was published. Please be sure to confirm all current rates, information and other details before planning your trip.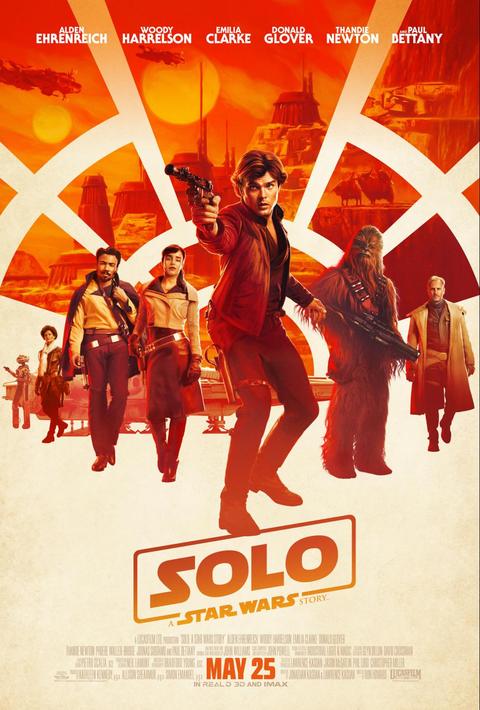 This is a big week for Star Wars fans, especially those who will be in the Orlando area. The movie "Solo: A Star Wars Story" will be released and Disney's Hollywood Studios will host one of its rare Galactic Nights special events. In honor of The Force being so strong this week, let's take a look at all the ways visitors can immerse themselves in the Star Wars saga at Walt Disney World. And you don't have to have an overwhelming amount of Imperial credit to join the First Order or the Rebel Alliance!
Solo: A Star Wars Story
The movie, which is a prequel to "The New Hope," follows a young Han Solo and Chewbacca on their adventures that include meeting Lando Calrissian. "Solo" opens May 25 nationwide, but visitors at Disney Springs can see the film the day before at the AMC Dine-In Disney Springs 24. Screenings will take place at both the Dine-in side in 3D and regular theaters in Dolby, 3D and standard formats. Prices vary accordingly, but this location does offer a Walt Disney World annual passholder discount of $2 per adult ticket for an evening show. One of the best things about the Disney Springs theater, in my opinion, is that you can purchase your tickets and pick your exact seats online, so there's no need to queue up for a big release. As a special perk, the theater will be handing out complimentary "Solo: A Star Wars Story" buttons beginning May 24 and continuing while supplies last.
Star Wars fans not at Walt Disney World might want to see if tickets are still available at their local theaters for the Star Wars Opening Night Fan Event. In addition to watching the film one hour early, fans attending will receive commemorative giveaways and be given a special event-only concessions offer. At AMC locations (which are not the only theaters hosting these events), fans will receive replica dice, a poster and button set, and a regular-size popcorn.
Star Wars: Secrets of the Empire
While you're at Disney Springs, you might want to check out Star Wars: Secrets of the Empire, which is a relatively new attraction. Located in the Marketplace, this experience immerses guests in the Star Wars universe via virtual reality. But this is a walk-through experience, not a stationary one, with a headset. As such, objects that exist in the physical world also exist in the virtual world. For example, if you see a chair in your headset, it's likely to be in front of you in reality and you can actually touch it. You can even see your friends who are in the experience in your headset and talk to them through a microphone.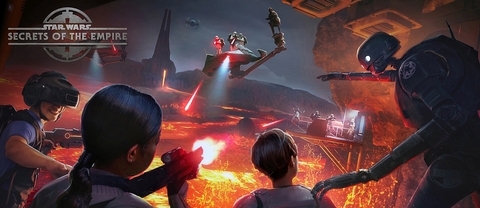 Essentially, this is another way for Disney, LucasFilm and The VOID to help guests feel like they have stepped into the Star Wars story. With this experience, guests visit well-known places in the Star Wars universe and engage in battles and missions. I haven't tried Star Wars: Secrets of the Empire, but AllEars.Net's Jeanine Yamanaka reviewed the opening of the same experience at Disneyland and was impressed. (See the link below to read her review.)
Jeanine said it takes approximately 30 minutes from start to finish, with about 10 minutes spent filling out waivers and getting suited up. Tickets can be purchased from The VOID website (www.thevoid.com) for $29.95. Guests must be at least 10 years old and those requiring mobility assistance may be accommodated depending on their ability to transfer and size of the wheelchair.
Star Wars merchandise
Guests also have the opportunity to purchase special "Solo: A Star Wars Story" merchandise while they're at Disney Springs. The best places to check are the Star Wars Galactic Outpost on the West Side and the Star Wars Trading Post in the Marketplace. You're also likely to find merchandise at Hollywood Studios (try the Launch Bay or Tatooine Traders) and a smaller selection at Magic Kingdom, Epcot and Animal Kingdom. (Plus, for those not at Walt Disney World, a selection of merchandise is available on the Shop Disney Parks app and ShopDisney.com.)
Of course, there are the requisite T-shirts ($16.95-$24.95) in quite a few styles, designs and sizes. Most feature Alden Ehrenreich, the actor who plays young Han Solo, and his sidekick Chewbacca. Other apparel includes "Solo" hats ($24.99-$29.99); a Han Solo bomber jacket for boys ($39.95); a vintage Han Solo vest for adults ($54.99); and two different Magicbands depicting Han Solo and Chewbacca or Lando Calrissian ($22.99-$27.99). One of the most unique pieces is an adult skirt ($78) with a pattern that features characters from the new movie.
Collectors will find Funko vinyls ($14.99), including young Han Solo; action figures ($24.99); Han Solo Force Link 2.0 starter kit ($36.95); Landspeeder Force Link 2.0 ($36.95); Millennium Falcon Force Link set ($109.95). And there are plenty of "Solo" items for the home, including mugs ($14.95-$16.95); bedding collection ($29.92-$39.95); a new Monopoly game ($24.95); water bottles ($16.95-$24.95); and party plates ($9.95), napkins ($10.95) and cups ($6.95).
The Star Wars Galactic Outpost and the Star Wars Trading Post are open from 10 a.m. to 11 p.m. Sunday through Thursday and 10 a.m. to 11:30 p.m. Fridays and Saturdays.
Galactic Nights at Hollywood Studios
For Star Wars fans who are ready to splurge, Galactic Nights at Hollywood Studios can't be beat. For one special night, this hard-ticket event will turn the theme park into all things Star Wars. The upcoming event will be held from 7 p.m. to midnight on Sunday, May 27. (Note that, according to Disney Parks Blog, ticketed guests are welcome to enter the park as early as 4 p.m. but the party events do not begin until 7 p.m. Still, that's three hours to ride attractions, eat dinner and get in a queue for the most popular Star Wars experiences during the party.)
As of this writing, tickets are still available and cost $129 plus tax for ages 10 and older and $124 plus tax for ages 3 to 9 years. (Annual passes and Magic Your Way tickets do not include access to this party. A separate ticket must be purchased.) Discounts are available for annual passholders and DVC members. You can purchase tickets online at disneyworld.com or by calling 407-WDISNEY.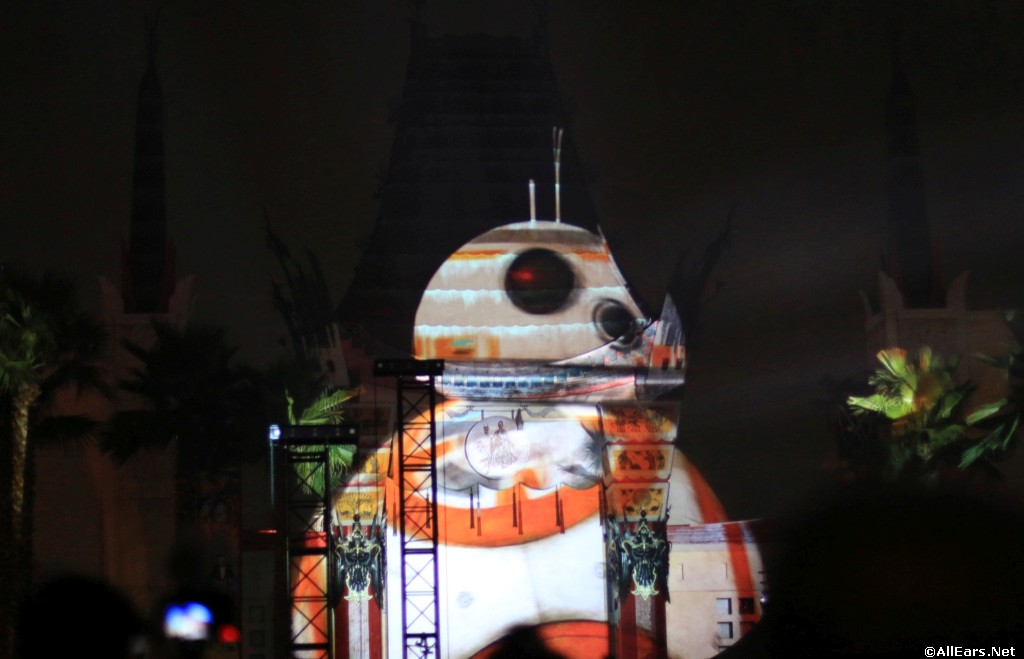 Guests are encouraged to dress as their favorite Star Wars characters for this event. Just be aware of the costume rules, which are explained in my blog. (Link below.)
Hosted by Star Wars actor Warwick Davis, Galactic Nights build on the park's already existing Star Wars offerings to give guests exclusive experiences and fully immerse them in the Star Wars universe.
The new additions for 2018 include:
** Joonas Suotamo — who portrays Chewbacca in "Solo: A Star Wars Story" — joins the Stars of the Saga live question-and-answer session.
** The event-exclusive projection experience Star Wars: Galactic Destinations sets a course for a new planet. Any guesses which one?
** New video moments from "Solo: A Star Wars Story" appear in an updated version of the Star Wars: A Galaxy Far, Far Away stage show.
** A new action sequence comes to life as part of Star Wars: A Galactic Spectacular pyrotechnic extravaganza.
** Actor Ashley Eckstein will be making an appearance at the Once Upon a Time boutique on Sunset Boulevard. Best known as the voice of Ahsoka Tano in multiple Star Wars animated series, Ashley is also the entrepreneur behind Her Universe, a collection of stylish fangirl apparel and accessories. Don't miss the chance to get a copy of her new book, "It's Your Universe," signed in person! A wristband is required and will be distributed to guests on the day of the signing at the event location with the purchase of a book by Ashley Eckstein or a Her Universe item. Signing begins at 7:30 p.m.
** DroidBuilders — an international community of Star Wars-loving robotics pros — return with more of the homemade droids you're looking for.
** Limited-edition, event-exclusive merchandise will be available featuring art from the upcoming movie Solo: A Star Wars Story.
** Return to your home base with a complimentary special-edition Star Wars: Galactic Nights poster. Limit one per guest.
** New galactic gourmet treats available for purchase only during this event. There's even a Galactic Tasting Package that will allow you a choice of five of the 25 different specialty items and beverages — including alcohol. You can book the Galactic Tasting Package online or call 407-WDW-DINE (407 939-3463).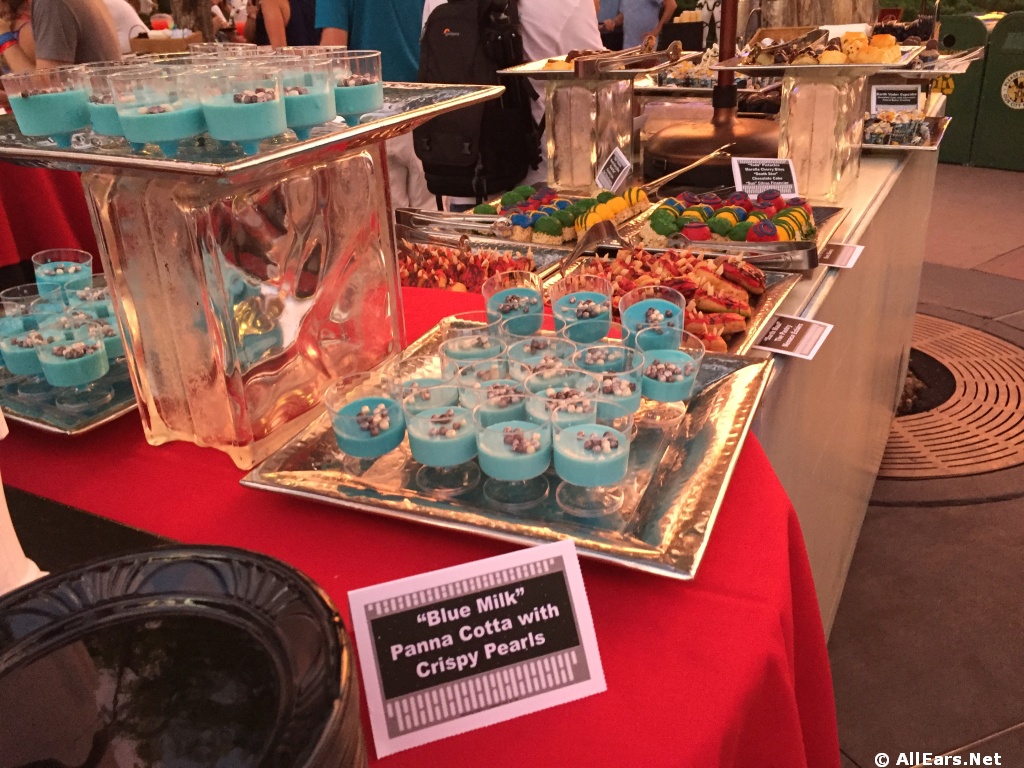 Other highlights include:
** New talent from the Star Wars galaxy will make a special appearance during the event.
** Guests can meet an array of legendary Star Wars characters, many who are available only during Star Wars: Galactic Nights, including Rey, Captain Phasma, the 7th Sister, AWR Stormtroopers, Darth Vader and even Ewoks.
** The Seize the Saga Scavenger hunt returns with immersive photo locations. Guests who collect all the clues will be rewarded with exclusive artwork that will enhance their event credentials.
** Attend a one-night-only panel discussion with key Imagineers taking you behind the scenes of the all-new land, Star Wars: Galaxy's Edge.
** Young Padawans can participate in Jedi Training: Trials of the Temple.
** Receive the final set of Star Wars: Galaxy's Edge trading cards at the end of the night as you're exiting the park.
Any day at Disney's Hollywood Studios
Not going to be in Orlando for Galactic Nights? No worries; Hollywood Studios offers a variety of Star Wars attractions every day with regular admission to the park. Star Wars: Galaxy's Edge may not open until 2019, but there still is plenty for Star Wars fans to do. You won't want to miss:
** Star Tours – The Adventures Continue takes passengers into hyperspace as they ride aboard a 3D, motion-simulated space flight to popular destinations from Star Wars. The queue takes riders through the forest moon of Endor, home to rustic Ewok cottages and a towering AT-AT, and through a sleek Rebel bunker to a bustling Star Tours spaceport. There are tons of great photo opportunities!
** At Star Wars Launch Bay, meet Kylo Ren, Chewbacca and BB-8. Disney PhotoPass photographers are on hand to help out, or you can use your own camera. Even if you're not interested in the meet-and-greets, it's worth walking around inside Launch Bay to see all the Star Wars memorabilia. Plus, the area exits through a Star Wars gift shop that is a fan's dream.
** Jedi Training is available each day for Force-sensitive children ages 4 to 12. Register at the Indiana Jones Adventure Outpost located between the Indiana Jones Epic Stunt Spectacular! and the 50's Prime Time Cafe each day when the park opens. There typically are 15 shows each day, but they do fill up quickly.
** Star Wars: A Galaxy Far, Far Away stage show features characters and scenes from all the movies in the series. It takes place at the end of Hollywood Boulevard about seven times a day. The March of The First Order takes place 30 minutes before each show.
** Star Wars: A Galactic Spectacular is the nighttime laser, fireworks and projections show that also takes place at the end of the main street in Hollywood Studios. To fully experience this outstanding show, you will want to be in the "hub" area. And believe me, it is worth the wait! (More tips and details in my blog linked below.)
** Star Wars: A Galactic Spectacular Dessert Party combines sweets with a reserved viewing spot for A Galactic Spectacular. The party takes place inside Star Wars Launch Bay, and 15 minutes before the fireworks show, guests are escorted to a VIP viewing area. The party features a selection of sweets, fruit, alcoholic beverages for those 21 and older and a souvenir stein featuring Chewbacca. The price is $79 for ages 10 and older and $45 for ages 3 to 9; tax and gratuity are included.
If you're ready to travel to a galaxy far, far away, first make a stop in Orlando this week and see what Walt Disney World has to offer Star Wars fans.
= = = = = = = = = = = = =
RELATED LINKS
= = = = = = = = = = = = =
So much Star Wars! If you want to read more about Star Wars at Walt Disney World:
— VIDEO: What Not to Miss at Star Wars Galactic Nights
— STAR WARS: GALAXY'S EDGE – COMING IN 2019!
— Star Wars Launch Bay and Launch Bay Photo Gallery
— Star Wars: A Galactic Spectacular
— Star Wars: A Galaxy, Far, Far Away
— Jedi Training: Trials of the Temple
— "Solo: A Star Wars Story" Press Conference
— Star Wars: Secrets of the Empire, The Void experience
— Review of Star Wars dessert party
EDITOR'S NOTE: Be sure to watch for Kristin's review of "Solo: A Star Wars Story" in her blog this Thursday!
-o-o-o-o-o-o-o-o-o-o-o-
Editor's Note: This story/information was accurate when it was published. Please be sure to confirm all current rates, information and other details before planning your trip.