The Changing Face of World Showcase Dining, Part 3
by Debra Martin Koma
AllEars® Senior Editor
Feature Article
This article appeared in the April 22, 2014 Issue #761 of ALL EARS® (ISSN: 1533-0753)
Editor's Note: This story/information was accurate when it was published. Please be sure to confirm all current rates, information and other details before planning your trip.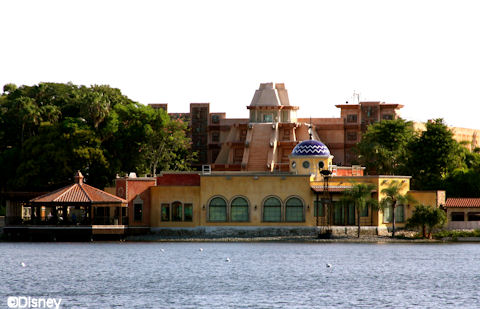 As I wrote a few months ago, I've been watching the transformation of the "cuisine scene" around Epcot's World Showcase over the last few years with great pleasure. Things — food things, that is — are steadily getting better and better, in my opinion.
You've undoubtedly noticed that World Showcase has been updating and expanding its dining offerings, in some cases wisely taking advantage of the scenic water views around World Showcase. Over the last several years, the Italy pavilion renovated Tutto Italia and added a pizzeria, Via Napoli, France refreshed the former Bistro de Paris into the more contemporary Monsieur Paul, and a few trendy "small plates" spots — Tutto Gusto and Spice Road Table – have taken up residence in Italy and Morocco pavilions respectively.
One of the more noticeable additions to Epcot's dining scene sits on the waterfront in Mexico — the beautiful La Hacienda de San Angel. Can you believe this restaurant is nearly four years old already? I can't. It seems like just yesterday that this stylish table service eatery opened its doors, but it was in fact September 2010 when it first debuted.
When construction on this new restaurant began, I was intrigued by its architecture, particularly the cobalt blue-domed cupola that peeked out from behind the construction walls. What I didn't realize at the time was that the outside wasn't half as interesting or attractive as the interior would be.
Each room of this 250-seat restaurant represents a different area of the hacienda — one room is a comfortable living room, another a spacious grand salon, another almost like a pantry, and finally a cozy artist's studio. Original pieces of art, like the dramatic oil painting of the restaurant itself in the entrance, fill each room. Multi-pointed, star-shaped light fixtures dangle from the ceiling, casting interesting shadows. And of course there are the wide and tall windows that line one entire wall, allowing you ample opportunity to gaze on the calm waters of World Showcase Lagoon — which means at night you have ringside seats for the fireworks and laser show, IllumiNations.
There are both booths and tables throughout the space, featuring rough-hewn, hand-carved wooden accents. The color palette used is warm earthtones — mostly browns, greens and yellows, that welcome you and unite the inside with the natural beauty of the outdoors.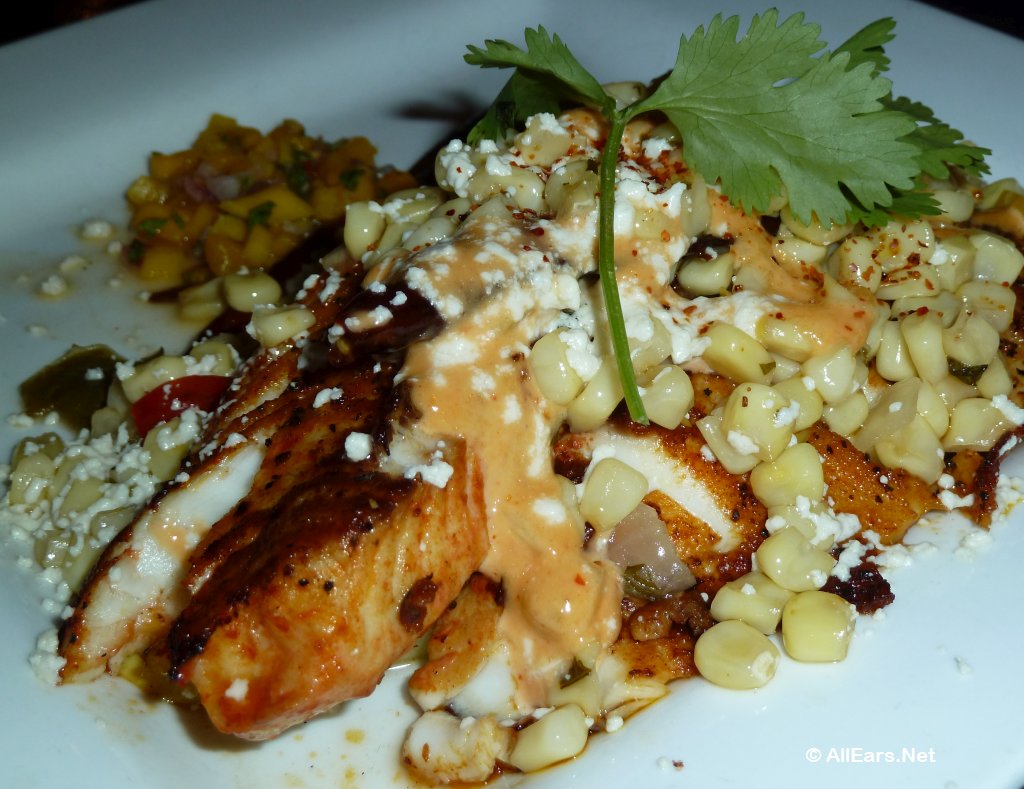 I've dined at La Hacienda a number of times now, both for dinner and for special Food and Wine Festival events, such as a tequila tasting and luncheon, and I'm consistently impressed by the ambience of the place. I've always enjoyed the atmosphere at the old San Angel Inn located across the promenade in the pavilion's pyramid, in the dimly lit Plaza de los Amigos. It has the feel of an outdoor market at night with the charm of a faux volcano smoldering nearby. The setting at La Hacienda, however, is not only more modern, but more intimate and romantic (especially if you're seated at a booth). I never feel crowded or rushed there, two complaints I often have with the old restaurant. The service at La Hacienda is attentive without being overbearing, and the food is — well, I can't say whether it's truly "authentic" Mexican as I haven't eaten enough in Mexico to compare, but it is refined Mexican cuisine and, in my opinion, very, very good.
Take for instance the Pescado a la Talla — grilled tilapia served with esquites (roasted corn), nopales (cactus leaves) and mango chutney ($24.95). Tilapia's not my favorite fish — I usually detect something of an aftertaste — but here the fish is moist and well-seasoned, and perfectly accented by the sweetness of the mango condiment, plus I feel very adventurous trying the nopales, which lend a slight tartness. Another standout entree is Costillas en salsa de Chile ($26.50). The fork-tender braised short ribs are served with potato puree and a punchy chile de arbol sauce, which has the heat of, say, a strong cayenne pepper.
Most entrees are accompanied by generous portions of rice and refried beans, as well as fresh tortilla chips that are served warm with two salsas — a very hot red and a milder green sauce. Everything is served up very hot and very fresh. Vegetables are not cooked until soggy, but are generally just the right crispness.
Your choices for dessert, if you have room, are limited, but really all you need to know is this: Go for the Empanada de Manzana ($7.95)! It's a puff pastry filled with sauteed caramel apples, served with dulce de leche ice cream and cajeta (caramel sauce). No, there's no chocolate in it, but if you're craving something sweet, this is for you.
Aside from its food, La Hacienda has also developed something of a reputation for its exotic margarita menu. The list changes periodically, but it has offered at any given time, the following innovative margarita concoctions: rosita, pictured at left (a rose infusion with hibiscus Himalayan salt along the rim); mango blueberry basil; coffee mezcal; orange mango fire (with a hint of Tabasco and chili powder); and Horchata (which has Fireball cinnamon whiskey and is topped with cinnamon). If none of those strike your fancy, there's also pomegranate; cucumber; blood orange; avocado; jalapeno; and wild passionfruit margaritas.
In addition, La Hacienda offers tequila flights, so that you can sample a variety of the agave-based liquor — just don't expect to find any worms, unless you order up some mezcal, tequila's even-more-dangerous cousin.
I've heard accusations that La Hacienda is overpriced, and it's true that it may seem a bit expensive to pay $24.95 for a dish like Tacos de Camarones — basically shrimp tacos. But you are at Disney World, and La Hacienda is not just your local Tex-Mex joint — you have a lovely view of Epcot, and more importantly, IllumiNations, as well as fine service in a relaxed, lovely atmosphere.
I've also heard some say that they're afraid the food will be too spicy-hot or too unusual for them to enjoy. I don't care for overly hot foods myself, and I don't find the cuisine here to be overwhelmingly spicy. If you're feeling adventurous, you may just want to take a chance and stop by. After all, since the dining scene around World Showcase has been changing (for the better), it might be just the right time for you to branch out and change a bit yourself!
NOTE: La Hacienda does not participate in the Tables in Wonderland discount program, but it is on the Disney Dining Plan (one table service credit).
= = = = = = = = = = =
RELATED LINKS
= = = = = = = = = = =
The Changing Face of World Showcase Dining, Part II:
http://allears.net/ae/issue752.htm
The Changing Face of World Showcase Dining, Part I:
http://allears.net/ae/issue719.htm
La Hacienda Menu:
http://allears.net/dining/menu/la-hacienda-de-san-angel/dinner
La Hacienda Children's Menu:
http://allears.net/dining/menu/la-hacienda-de-san-angel/child-dinner
Read AllEars.Net Reader reviews:
http://land.allears.net/reviewpost/showproduct.php?product=584&title=la-hacienda-de-san-angel&cat=34
-o-o-o-o-o-o-o-o-o-o-o-
Editor's Note: This story/information was accurate when it was published. Please be sure to confirm all current rates, information and other details before planning your trip.