Stories of the American Adventure
by Jim Korkis
Disney Historian
Feature Article
This article appeared in the July 3, 2012 Issue #667 of ALL EARS® (ISSN: 1533-0753)
"Actually, if you could see close in my eyes, the American flag is waving in both of them and up my spine is growing this red, white and blue stripe," said Walt Disney proudly, on being given the George Washington Medal of Honor by former President Dwight Eisenhower on February 22, 1963.
Walt was honored many times during his lifetime for his love of telling the story of America. He received an award from the American Legion "for dramatizing to old and young alike the unique heritage of America."Walt's daughter Diane remembers that when her dad watched the flag being lowered every night at Disneyland tears would run down his cheeks.
For Disneyland, Walt started planning in 1957 for an addition to the park to be called Liberty Street. It would include an immersive attraction that would recount the history of America and another attraction featuring all the Presidents of the United States. While Walt did not live to see that dream become a reality, those plans evolved into the Hall of Presidents at Liberty Square in the Magic Kingdom and The American Adventure at World Showcase in Epcot.
"The American Adventure was a show that was conceived from the earliest phases of E.P.C.O.T. Center as a mainstay in the project," stated Show Writer and Producer (and lyricist for the "Golden Dreams" song) Randy Bright in 1982. "The only problem was we didn't realize how difficult it would be to achieve. It's easy to pontificate and say in a quick line or two that it's going to be an inspiring show about America. That's the easy part. Now, how you achieve that and get down in the trenches and make it occur not only wasn't easy, it was a nightmare.
"One of the toughest things we had to do was take 350 years and compress it down to 20 minutes. In fact, we failed. It is a 28-minute show. We went through six abject failures before we got to an American Adventure we all felt comfortable with, which ultimately became what we have today."
The show recounts 350 years because the Imagineers chose to begin it not with the Revolutionary War, but with the Pilgrims.As Bright noted, "a point is made not to say that these people discovered America, but rather that this group developed the first successful settlement in the New World."
The American Adventure show is not just the only pavilion to be named for the attraction (not the country), but it is also the only pavilion at the World Showcase to be critical about the country it represents."Although there were high points throughout our history, we couldn't ignore certain major issues that questioned our nation's stand on human liberty and justice," recalled Bright. "Inevitably, Americans have overcome the tragedies of their controversies, which ultimately led to a better way of life. What our show says is that the American Adventure will always be a struggle, but if we can apply ourselves in positive ways and deal with reality, we can move forward to a better future."
The pavilion was officially dedicated on October 11, 1982, by Disney President Card Walker and top representatives from the original sponsors, American Express and Coca-Cola.However, research for the show began years prior to its premiere.
Many historical experts and sources were consulted to try to be as historically accurate as possible. These sources included Dr. Alan Yarnell (Assistant Vice Chancellor at UCLA), the Library of Congress, the Smithsonian, the photo libraries of The Associated Press and United Press International, as well as many others, to make the presentation as authentic as possible.
In addition to obtaining copies of Franklin Roosevelt's 1933 inaugural speech, the Imagineers contacted the Library of Congress for a copy of FDR's unusual Presidential seal to duplicate for his podium.Other information needed for that Great Depression scene was what type of radio and microphones were used at that time, the price of gasoline and even its color.
To duplicate the advertisements of that era, vintage architectural magazines were searched to include old-time ads for Coca-Cola (a company that began in 1886) and American Express (a company that began in 1891).
Sometimes, historical accuracy had to be somewhat sacrificed in order to best tell the story. For instance, the phosphorus flash used by the famous Civil War photographer Matthew Brady didn't exist at that time period, but it made the perfect transition into the "Two Brothers" sequence.
The two brothers shown in the photos are actually Imagineers John Olson and Jeff Burke. Their scenes were shot on the backlot of the Disney Studio in Burbank that had often been transformed for live action films of various time periods.The New Orleans train station at Disneyland is also used in a staged photo showing a coffin being delivered. The song is not an original Disney creation, but was written in 1951 by Irving Gordon, who also wrote the song "Unforgettable" that same year.
Chief Joseph's famous quote, "I will fight no more forever," is not in the chronologically correct historical sequence. He gave that speech of surrender on October 5, 1877. The scene immediately following his speech is set in the Centennial Exhibition in Philadelphia, Pennsylvania on July 4, 1876.
Character voices were a major challenge since many of the historical figures were not alive when recording devices were invented. Places that had collections of secondary sources of the person in question were contacted, like the Philadelphia Historical Commission, Carpenter Center of Visual Arts at Harvard University, State Historical Society of Missouri and the Ships Historical Branch of the Department of the Navy, as well as experts on that particular person.
For instance, even though Alexander Graham Bell never recorded his voice, Imagineers knew that his father was an elocution teacher. Through comments written about Bell's voice, Imagineers knew it was clear, free of twangs and his speech was expressive and his articulation crisp.From that type of research, Imagineers could speculate about what Bell's voice might have sounded like when directing Imagineer Joe Rohde who performed the role.
Talented voice actor Dallas McKennon was brought in to record the voice of Ben Franklin. Over the decades, McKennon provided many voices for Disney animated films, including some of the dogs in both Lady and the Tramp and 101 Dalmatians, and for attractions, including the Old Prospector safety spiel for Big Thunder Mountain Railroad and Zeke in Country Bear Jamboree. He also appeared as a live action performer in such Disney movies as "Son of Flubber", "The Misadventures of Merlin Jones", "Hot Lead and Cold Feet", and "The Cat from Outer Space".
John Anderson supplied the voice of Mark Twain.Anderson had a long career as a working actor in both film and television, including four different roles in the original "Twilight Zone", as well as performing as President Lincoln three times for various projects.
Will Rogers Jr., the son of the late Will Rogers, did the voice of his famous father. He looked a good deal like his father and often impersonated his father on stage and in film, like in the movie "The Story of Will Rogers" (1952).
Costumes were another challenge. Unlike other Disney audio-animatronics characters that primarily remain in the same spot, these electronic actors appear and disappear from the stage throughout the show several times a day, every day of the week.
Garments, wigs and any other accessories had to stay clear of the lifts and hydraulics when appearing and disappearing from the stage.Offstage posture became an important issue, as in the case of the feathers adorning Chief Joseph's costume, so that items were not damaged or caught in the mechanics. Every morning, cast members from WDW Creative Costuming check the costumes and wigs of each audio-animatronics performer, sometimes re-dressing the figure so that a costume can be cleaned or mended.
The shoes for the banjo singer in the Depression scene were found in an old condemned relief mission in downtown Los Angeles. Will Rogers' leather chaps were hand-crafted by a saddle maker. In order to make Chief Joseph bigger, two ski vests were purchased and used to fill him out. Ben Franklin's knee britches had to be designed in such a way that they would allow enough room for him to "walk," yet not appear too baggy.The wedding rings for Frederick Douglass and Franklin Roosevelt were "fabricated" from pierced earrings from a department store.
About 30 paintings (some by Disney Legend Herb Ryman) are featured in The American Adventure, and each piece took weeks to complete in the styles of their respective historical periods.In the interest of accuracy, no motion pictures or still photographs are used in the show before the camera was invented, so the Civil War was the first subject to be treated photographically.
Originally it was intended to use actual paintings from these periods to tell the story. Scenic Designer and Artist Clem Hall pointed out that using actual paintings was "limiting.Our own originals could be composed in ways that would allow us to direct the audience's attention, plus be synchronized more easily with dialogue."
"Although our show is about America, taken with as much authenticity as could be researched," commented Bright, "that's not to say it is American history. It represents some of the great moments, and highlights some of the great doers, but it's also a look at the 'little people' and their contributions to a rapidly developing country, as well as some of the great achievers in history. It's a 100-yard dash capturing the spirit of the country at specific moments in time."
There is no doubt that Walt Disney himself would have loved this presentation of America and guests' emotional reaction to the final dream-like film sequence that sparks so many feelings and memories.
As Walt once stated, "Recently, I was invited to see a show on America, and as I sat there watching and listening I felt both proud and thrilled; thrilled with the voices, thrilled with the sounds, proud of the group of one hundred talented young Americans singing about our country." It is clear Walt would have loved this presentation as well.
=================
RELATED LINKS
=================
An indepth look at the American Adventure:
http://land.allears.net/bogs/jackspence/2010/12/the_american_adventure_part_1_1.html
http://land.allears.net/blogs/jackspence/2010/12/the_american_adventure_part_2.html
Other features from the Walt Disney World Chronicles series by Jim Korkis can be found in the AllEars® Archives:
http://allears.net/ae/archives.htm
=-=-=-=-=-=-=-=-=-=-=-=-=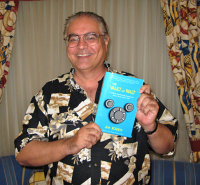 ABOUT THE AUTHOR:
Jim Korkis is an internationally respected Disney Historian who has written hundreds of articles about all things Disney for more than three decades. He is the author of the recently published book The Vault of Walt, which contains nearly 40 chapters of untold Disney stories. As a former Walt Disney World cast member, his skills and historical knowledge were utilized by Disney Entertainment, Imagineering, Disney Design Group, Yellow Shoes Marketing, Disney Cruise Line, Disney Feature Animation Florida, Disney Institute, WDW Travel Company, Disney Vacation Club and many other departments.
Read more about The Vault of Walt: http://astore.amazon.com/debsunoffiwaltdi/detail/0615402429
-o-o-o-o-o-o-o-o-o-o-o-
Editor's Note: This story/information was accurate when it was published. Please be sure to confirm all current rates, information and other details before planning your trip.