Raindrops Keep Fallin' on My Head
by Alice McNutt Miller
AllEars® Feature Writer
Feature Article
This article appeared in the April 2, 2013 Issue #706 of ALL EARS® (ISSN: 1533-0753)
Editor's Note: This story/information was accurate when it was published. Please be sure to confirm all current rates, information and other details before planning your trip.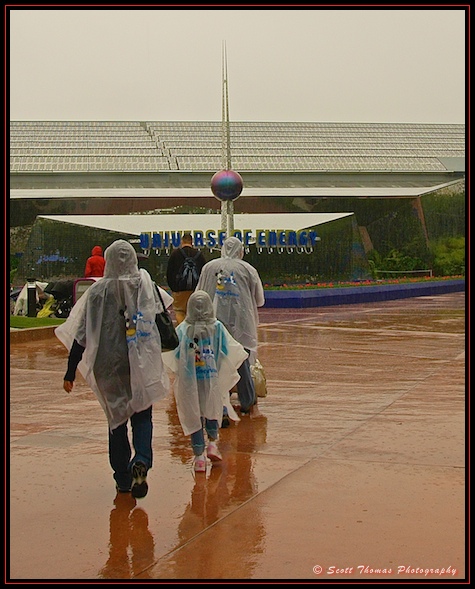 Even the best-laid plans can be intruded upon by bad weather, especially in Central Florida in the spring and summer. The joke in our family is that the weather forecast for Disney World in the summer is "91 with a chance of afternoon thundershowers." Every day. There is no need to actually look at the forecast, as it will always be "91 and a chance of afternoon thundershowers." Usually, those afternoon thundershowers will bring a welcome breath of cooler air and a few refreshing sprinkles. Sometimes, however, as on our trip, the rain will invade your vacation all day long. So what is an intrepid Disney vacationer to do? Do you stay in your hotel room and watch Disney Channel reruns, or do you venture out and make the most of it? Here are some of my ideas and tips for making the most of a rainy day at Disney World:
1) Go to a theme park! The rain may actually work in your favor from a crowd-level perspective.Lots of folks don't want to brave the rain, so you may find shorter queues for your favorite attractions.
— Choose indoor attractions, or those with covered queues. While you will get wet running between attractions in the parks, it is best to focus on those attractions (especially shows) that are under cover, and last longer than just a few minutes. Astro Orbiter is not such a great choice on a rainy day. Carousel of Progress is. If it is raining, I try to steer my crew toward "show" attractions that we might not normally make time for (think the Enchanted Tiki Room, Country Bear Jamboree and American Adventure).
— Take a poncho or other lightweight rain gear. Ponchos can be purchased much more inexpensively from discount stores at home than they can be in Disney World shops, but make sure that they are lightweight. I once purchased some lovely neon orange ponchos at a store near home for a trip, and saved myself quite a bit of money. They were made of very heavy plastic, however, and not only were they heavy to carry around, but they turned out to be way too hot, and nobody wanted to actually wear them. Be careful about the too-light versions, too — they may not last for more than one ride, then your savings will have been for naught in any case. It turns out that the Disney ponchos are actually the perfect weight, and if properly cared for, can be used and reused on subsequent trips. We have a set that we bought years ago in Disneyland Paris that I have lovingly preserved as both cool souvenirs of that trip, and useful gear for the current one. So, if you get stuck in a rainstorm that doesn't look like it is going to let up, and you haven't planned ahead, it might be a good idea to spring for the ponchos. With care they can last for many subsequent trips. Tip: After touring the parks in the rain, hang the wet ponchos up like you would wet swimming suits, so that they can dry thoroughly. Once they are dry, fold tightly, then store individually in gallon-size zip-top bags. They will not take up much room in your backpack or luggage, and will be stored nicely for the next trip.
— Light rain jackets will also work, but these can also be hot in the sticky Orlando summer weather (jackets are my choice over ponchos if the weather is cool, so they may work better in other times of the year). Their benefit is that they can be tied around your waist when not in use, and do not need to be stowed in a backpack or other bag. I do NOT recommend umbrellas while touring Disney parks. For a short person like me, the ribs (is that what they are called? You know, the pointy thingys?) are just at eye level, which is not safe in crowded circumstances.
2) Go to a water park! Really. As long as there is no thunder or lightning occurring along with the rain, and as long as the weather is warm enough, water parks can be great fun in the rain. The Miller family has done this! A visit to a water park in overcast or rainy weather may mean few to non-existent lines, and less chance of sunburn (but don't forget the sunscreen in any case, those nasty rays can get you right through the clouds). You will be wet at a water park anyway, so what do a few extra raindrops hurt? Just make sure to heed the instructions of the lifeguards and leave the water immediately if they indicate that there is lightning present.
3) Don't go to a theme park! If it is REALLY raining, with no chance of letting up, you may want to just skip the theme park altogether. It used to be that the only real alternative to a theme park in the rain at Disney World was Disney Quest, and we have tried that route. It was fun, but CROWDED. I think every other family vacationing in Orlando had the same idea. Now there are a few other options in Downtown Disney, including the Fork and Screen AMC Theatre, where you can combine a meal with a movie (OK, the AMC has been in Downtown Disney for quite some time, but I think that the Fork and Screen option makes it MUCH more attractive), and the new Splitsville bowling complex. My plan is to check it out during the next downpour that we are faced with.
4) Do a do-it-yourself monorail resort crawl. Use Disney transportation to get to one of the Magic Kingdom resort hotels located on the monorail — the Grand Floridian, Contemporary or the Polynesian — and take the grand circle tour. If it is near meal-time, do a "progressive" lunch or dinner, where you have an appetizer at one hotel, take the monorail to the next one for your main course, then to the next one for dessert. Or do a monorail resort shopping trip. Each of these resorts have several interesting shops, some with merchandise that is unique to the resort, that are worth poking around in for a couple of hours. Take a rest in the kids' check-in areas for some vintage cartoons before moving to the next resort.
5) If you are staying at a Disney Vacation Club resort that has one, duck into the Community Hall for games (video and board) or crafts. Check your resort schedule to see what is going on during the day, and drop by if something sounds interesting. While you are there check out a video (for a fee, or free if you are a DVC member) to watch back in your room. We try to get vintage Disney movies like the original "That Darn Cat" or "The Computer wore Tennis Shoes" if we can. Consider indulging in room service as you watch your movie.
6) Think outside the (Disney) box. We had one particularly soggy trip to Orlando when the kids were about 7 and 9 years old. We were not staying on-site, as we planned to spend most of this trip with Grandma and Grandpa at their Orlando campground and at the beach doing "non-theme park" activities. The weather was so bad (it was pretty cold, as well as being rainy), that we were really stretched for finding something to do. I asked the desk clerk at our hotel for some suggestions. She said that she always suggested the Orlando Science Center (http://www.osc.org/) as a great place to spend a rainy day with kids, but that very few guests actually took her up on it. Well, we did, and had a GREAT day. Kids, parents, grandparents, we all had loads of fun at the very interactive museum, and while I have not been there in a few years, I would highly recommend it. After the museum, we stopped at the Mall at Millenia (http://www.mallatmillenia.com/) for lunch and shopping.
7) Finally, go with the flow (yes, this is my attempt at rain-related humor!), relax and have fun. You're on vacation at Disney World!
====================
RELATED LINKS
====================
Who'll Stop the Rain? Readers Share Their Rainy Day Tips:
http://allears.net/ae/issue364.htm
http://allears.net/ae/issue372.htm
http://allears.net/ae/issue381.htm
Rainy Day Tips from our Tips Archive: http://allears.net/rta/tips.php?q=Rainy+Day+Tips
Disneyland Rainy Day Tips:
http://land.allears.net/blogs/lauragilbreath/2011/01/ready_disneyland_rainy_day_tip.html
====================
ABOUT THE AUTHOR
====================
Alice McNutt Miller is a lifelong Disney fan whose fondest childhood memories include "The Wonderful World of Disney" on Sunday nights and her first trip to Disneyland when she was 10 years old. Alice and her family are Disney Vacation Club members, and have visited Disney parks all over the world. They live in Vienna, Virginia.
-o-o-o-o-o-o-o-o-o-o-o-
Editor's Note: This story/information was accurate when it was published. Please be sure to confirm all current rates, information and other details before planning your trip.