Navigating WDW with a Special Diet
by Lynne P. Feiz
AllEars® Guest Columnist
Feature Article
This article appeared in the September 2, 2014 Issue #780 of ALL EARS® (ISSN: 1533-0753)
Editor's Note: This story/information was accurate when it was published. Please be sure to confirm all current rates, information and other details before planning your trip.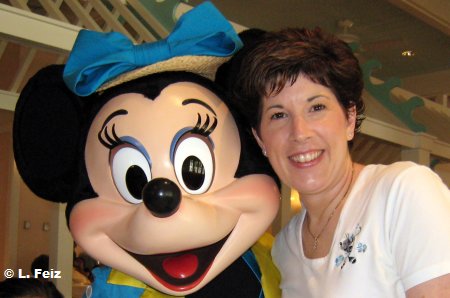 "I'm not going to be able to eat ANYTHING!"
That was my daughter's exclamation when we found out few short weeks before our latest trip to Walt Disney World that she had a food intolerance called fructose malabsorption.
I couldn't blame her for being disappointed. Her immediate realization was that she'd have to navigate already daunting and uncharted dietary waters in her favorite place on Earth — a place where, let's face it, eating delectable meals and sweet treats is often half the fun. It was going to be hard enough in everyday life having to give up her favorite fruits like apples and grapes, passing on beloved dishes that contained ingredients that ranged from tomato sauce to maple syrup, and reading labels with scrutiny to avoid a whole host of sweeteners. All that because of the presence of fructose — a form of sugar that her 11-year-old body just couldn't absorb without serious tummy troubles. Now she was overwhelmed, thinking about all of her favorites at Disney that couldn't be eaten.
We tried to help her put things in perspective, of course. Yes, Disney dining can be an attraction in itself. But, we reminded her, Disney World is not just about eating. In fact, in case you didn't know, we said, there are a whole host of rides, shows, characters, water parks, pools, and other entertainment that don't require one additive, ingredient, or sweetener!
Now, many might say, "How could she complain? She's going to Disney World!" And of course, being a bright and appreciative kid, deep down she already knew this. But as any parent can attest when their child receives a diagnosis with a restriction — be it from diet or activity — change can be difficult. And over her lifetime of trips, she'd become accustomed to the whole carefree, "Hakuna Matata" dietary perspective of our vacations. So, some adjustment was going to be… well, an adjustment!
Fortunately, we couldn't have been going to a more accommodating place. Disney, after all, has more than 100 table service and quick service restaurants serving millions of people each year — many of whom have special dietary needs. The chefs, therefore, are truly dedicated to working with guests to find something they'll enjoy. So whether it's a food allergy (e.g., peanuts and tree nuts, dairy, soy, shellfish, eggs), a medical condition (e.g., diabetes), a food intolerance or malabsorption (e.g., gluten, fructose, lactose), a personal or religious choice to eat Kosher or vegan, or some other dietary need or request, Disney makes it as easy as possible.
To address some common dietary needs, Disney makes no-sugar-added, low-fat, low-sodium, and vegetarian options readily available at the restaurants, requiring no advance notification whatsoever. You simply choose that option from the menu. Likewise, a simple ingredient substitution is something you could discuss with your server upon arrival, and doesn't need to be noted on your reservation.
Beyond that, if you're dining table service, providing advance notification of your dietary restriction allows the chefs to best accommodate you. Fortunately, giving that advance warning is not at all difficult. In fact, it can be done as early as, and at the same time as, making your Advanced Dining Reservations (ADRs). By phone, simply ask the cast member to note it on your reservation. Online, it's as simple as checking the "Add" button next to "Add a Special Request" and choosing from among those fairly common allergy or food sensitivity options presented: milk, corn, peanuts, fish, shellfish, eggs, wheat (gluten), soy, or tree nuts. (Note that there is an "Other" category, but it doesn't provide you with the opportunity to provide details, so you may need to take additional steps. More on contacting the "Special Diets" team in a moment.)
Once you've noted your dietary restriction, that's enough to ensure that the restaurant staff is alerted to your needs, and will prompt a visit from the chef to your table to discuss your specific needs and to present you with options that meet them. If it's a buffet, chefs can walk you through the buffet and indicate which prepared dishes adhere to your restrictions.
If your dietary needs aren't quite so simple, fall outside one of the more common allergies or sensitivities listed above, involve a metabolic disorder, or include multiple food allergies (either by the same person or within the same party), then guests are invited to contact the Walt Disney World Special Diets team at least 14 days prior to arrival, but after booking ADRs for their entire visit. The team can be reached by email at SpecialDiets@DisneyWorld.com or by phone at (407) 824-5967, 8 a.m. to 5 p.m., Monday through Friday.
Given our daughter's fructose malabsorption, which is not a highly common dietary need, this is exactly what we did. Special Diets is a team we'd never even heard of before, but one that made our lives easier. Their role is to be an intermediary or coordinator between guests and the restaurants. We contacted them to discuss our daughter's specific needs, and were sent a form onto which we listed all of our reservation numbers, restaurants, and details about her specific restrictions and needs. Once we emailed it back, we received confirmation that the list would be shared with each restaurant on our behalf, and that the chef would be at our table to help us navigate the menu. (We brought copies of a printed list of foods and sweeteners she had to avoid with us, which helped immensely.)
And help us they did. For example, at Canada's Le Cellier Steakhouse, the chef was able to confirm that the steak did not contain a marinade or any ingredient with the "usual suspects" of honey, molasses, or other sweeteners, and was able to offer a baked potato with butter as a side. The server also was able to obtain butter for the bread that didn't contain their signature sprinkling of brown sugar.
At Nine Dragons in Epcot and 'Ohana at the Polynesian, both chefs went painstakingly item by item through their menus, offering to make a chicken dish (without the sweet and sour sauce or 'Ohana's famous honey-based chicken wing sauce) and some specially stir-fried noodles and vegetables for sides. In fact, at 'Ohana, the chef made a show of bringing Julia's custom-completed dish to her — piled high with hot, juicy chicken wings (with the spice rub but without the sauce), a mountain of fresh steamed broccoli, and a mound of stir-fried noodles. The heaping plateful could've easily fed two or three people, but he winked at her and said, "Now I'm not sure if this is enough, but you ask for more if it isn't, OK?" Our daughter was speechless, but her broad smile let us know that he'd managed to make her feel very special indeed.
Later in the week, at Sci-Fi Dine In Theater Restaurant and The Plaza Restaurant, both chefs were able to double-check and confirm that the rolls used on their juicy hamburgers (my daughter's favorites) did not contain high fructose corn syrup, molasses, or other common bread sweeteners, and that the fries and other sides were prepared fructose-free.
At Via Napoli, the chef was able to get an idea of what Julia could and liked to eat and customized a pasta dish with cream sauce that she loved. And at 1900 Park Fare, a character buffet, Julia and I were escorted by the chef to every station and informed of what she could and could not eat. Further, the chef told us she had researched fructose intolerance a bit even before we arrived, and had gone the extra mile to find a bread and a dessert that Julia could enjoy — a real thrill!
That's not to say that the chefs could work miracles, nor did we expect them to. Our daughter still had to forego most desserts including 'Ohana's bread pudding with banana foster sauce (caramel) and the to-die-for milkshakes at Sci-Fi and The Plaza (corn syrup sweeteners). But all in all, the chefs were very detail-oriented, caring, and accommodating in finding or custom-preparing items she was able to enjoy.
The only counter service fare we enjoyed wasn't a full meal, but rather breakfast or dessert pastries at the BoardWalk Bakery at The BoardWalk and Boulangerie et Patisserie in Epcot's France. Here, the bakers were fabulous in coming out to talk with Julia and compare the list of ingredients in various pastries with her restrictions list. She was excited to be able to have chocolate chip muffins, brownies, and chocolate mousse and finally get to partake in some desserts. I've read that the experience is somewhat similar at other in-park counter service locations where, upon arrival, you inform an employee of a special dietary need, who in turn notifies a chef and/or a restaurant manager who can work with you.
Our only uneven experience tended to be at the snack locations and walkway carts scattered throughout the parks. Initially, we were told that each location had a binder containing each food or drink product for sale at that location and its respective ingredients, so that we could peruse it and simply avoid those with troublesome ingredients. A fine idea, but unfortunately it was one that was not altogether smooth in practice. While in some cases it really was that simple, in others the binder was nowhere to be found, requiring a manager to be radioed, which took anywhere from several minutes to way too long. In several cases, the binder was sitting there in plain sight, but the cast member said he or she could not let us review it or even hand it to us without calling a manager. This was somewhat frustrating, since we (not the manager) knew the laundry list of ingredients to avoid, and we could've been on our merry way in less than 15 seconds instead of waiting nearly 15 minutes for a manager to free up, reach over, and hand us the book. While I know the cast members believed they were just following policy, a quick trip to guest relations to inquire revealed the fact that the binder should've been handed to us by the cast member and that we should've been allowed to review it.
That small negative aside, the binders were helpful in determining quickly which snacks she could have. While she was less than thrilled with the fact that many of the novelty ice creams (yes, the beloved Mickey ice cream bars included) were off limits, she was equally happy to learn that the Dole Whips and cinnamon-sugar glazed almonds and cashews contained not a trace of forbidden sweeteners. One tip the Special Diets team did offer, however, was that just because one park or cart offered a snack with one set of ingredients, don't expect all parks or carts that offer that food to have the exact same ingredients — or for the ingredients to remain the same day to day or trip to trip — since different vendors are used and recipes change all the time. Therefore, we made an effort to check and recheck the same foods over and over, just in case. Sure enough, we found some variances.
Since returning home, we've yet to find many local establishments or even chain restaurants or snack outlets that are this well-equipped in terms of being able to offer comprehensive ingredients lists, or this accommodating in working with us to ensure the ingredients meet our needs. In fact, when we encounter an establishment that can't produce a single ingredients list, we often comment to ourselves or to one another, "Well, I guess this isn't Disney!"
So, the bottom line is this: If you have a dietary need or restriction that often makes it difficult for you to dine out, you should find Disney's thoughtful care and attention — along with the assistance of their Special Diets team — a positive and memorable experience. Bon Appetit!
= = = = = = = = = = = = = =
RELATED LINKS
= = = = = = = = = = = = = =
Special Dining at Walt Disney World:
http://allears.net/din/special.htm
Dining with Dietary Restrictions:
http://land.allears.net/blogs/photoblog/2012/06/dining_at_disney_world_with_di.html
Vegan Tips:
http://allears.net/din/vegantips.htm
Other Features for AllEars® by Lynne P. Feiz:
Engaging Your "Disney" Senses (June 10, 2014, Issue #768)
A Disney Survival Guide for Parents (September 7, 2010, Issue #572)
When Should I Take My Child to Disney? (February 2, 2010, Issue #541)
-=-=-=-=-=-=-=-=-=-=-
ABOUT THE AUTHOR
Lynne P. Feiz has been a marketing communications professional for more than 20 years, and an annual visitor to Walt Disney World since her first trip in 1974. Despite the frequency, she admits she still gets goosebumps when she hears those first few notes of the nighttime parade. Lynne and her husband Tony joined Disney Vacation Club in 1999 and call BoardWalk Villas their second home. Their first home is in central Massachusetts, with their daughter, Princess Julia.
-o-o-o-o-o-o-o-o-o-o-o-
Editor's Note: This story/information was accurate when it was published. Please be sure to confirm all current rates, information and other details before planning your trip.