Made for Mother's Day
by Anne Goldblatt
AllEars® Guest Columnist
Feature Article
This article appeared in the May 7, 2013 Issue #711 of ALL EARS® (ISSN: 1533-0753)
Editor's Note: This story/information was accurate when it was published. Please be sure to confirm all current rates, information and other details before planning your trip.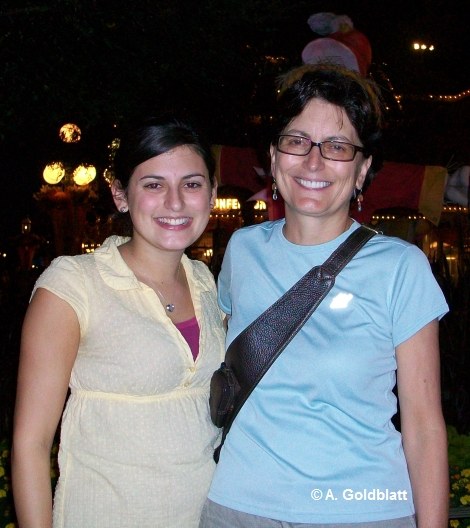 My first trip to Disney World — in 1992 with my husband and daughters, then ages 4 and 7 — was a revelation. Converted instantly from skeptic to Disney fanatic, I couldn't wait to plan and book our next Disney vacation. We stayed at the Caribbean Beach Resort, and everything about our visit was pure magic. From the Mickey wakeup call to the walk through Parrot Cay to breakfast to closing each day with fireworks, I found myself overjoyed by the experience of the four of us spending every moment together. From early morning to almost midnight, we ran the kids ragged and they loved it!
Fast forward almost 20 years, after numerous vacations in the World, and also the other world; you know, Europe, Ireland, the Caribbean. My husband and older daughter declare no interest in returning to Walt Disney World, while my younger daughter cherishes her Disney memories and is my sentimental buddy in keeping the magic alive. At random moments she lets out a deep sigh and says, "I miss Disney World!" Time to raise her spirits, right? And pretend that I'm doing this just for her. Turns out, Grace and I agree that our first trip back as a mother-daughter pair may just have been our best Disney vacation EVER!
Part of that is because we visited in October, deciding that her senior year "study days" (yeah, right!) were the perfect opportunity to visit Disney in a less crowded season. Plus, bonus! The Epcot Food and Wine Festival just happened to be in full swing. Eighty degrees, no crowds, phenomenal food, back-to-back rides on Expedition Everest: who knew?
We decided to stay at the Swan, preferring to walk to Epcot, catch the Friendship launch to the Studios, and maybe stop in at Big River Grill and Brewing Works, or the lovely bar in Il Mulino for a nightcap. My daughter (like me) lately prefers a martini to a premium Mickey ice cream bar. Light-up, flashing ice cubes from the Tune-In Lounge topped our list of favorite souvenirs. Definitely different from doing Disney with little children.
There was a time when, travelling the World, Grace subsisted on macaroni and cheese—not that Disney doesn't do a great job with that—but this time we feasted on dinner at the California Grill and Flying Fish, two of Disney's finest, and lunch at the Brown Derby and Bistro de Paris (now Monsieur Paul): hooray for grapefruit cake and crème brulee! Other days we sampled from the Epcot Food and Wine Festival kiosks. Lobster rolls and cherry wheat beer at the American Adventure, cheddar cheese soup at the Canadian pavilion — yum!
It so happened that our beloved Philadelphia Phillies were in post-season play that October, and we were lucky to catch part of a game at the ESPN Club on Disney's Boardwalk. An extrovert if ever there was one, Grace wore a Phillies shirt and hat, which turned out to be great conversation starters. She high-fived anyone else sporting Phillies gear. I never talked to so many strangers in my life. It seemed as though everyone had championship series fever.
We've returned to Disney World twice more as a duo. There's nothing like waking up every morning next to someone as excited as you are about starting the day.
Every once in a while, out of the blue, Grace sends me an email of her current "top 10 things about a Disney trip with Mom." They include:
Hearing the music as you walk through the turnstiles to the Studios
Zippity doo dah…Splash Mountain
Right before the huge drop on Expedition Everest
3-2-1: when you speed forward on the Rock 'n Roller Coaster
The movie clips in line at the Great Movie Ride
Waking up at the Swan and knowing you have the whole day ahead of you
The woodsmoke smell of the Wilderness Lodge
The Mercado inside the Mexican pavilion
"I am your host: your ghost host"
Four-night sleepover!
I've always been someone who enjoys planning trips almost as much as experiencing them, so the next visit to Disney World is never far from my mind. When the kids were little, I loved watching their faces as they discovered airline tickets and Disney dollars in their Christmas stockings. I'm so lucky that every once in a while I can still thrill my daughter by sending an email with the subject: I think it's time we start planning a visit to the Mouse!
=-=-=-=-=-=-=-=-=-=-=-=-
ABOUT THE AUTHOR:
Anne Goldblatt coordinates a graduate medical education program at The Children's Hospital of Philadelphia and is a semi-closeted Disney World fanatic. Grace Goldblatt teaches fourth grade in the School District of Haverford Township. Grace attended Haverford Township schools from K-12th grade.
= = = = = = = = = = = = = = = = =
RELATED LINKS
= = = = = = = = = = = = = = = = =
Ideas for Celebrating Mother's Day at Walt Disney World: http://land.allears.net/blogs/guestblog/2012/05/ideas_for_celebrating_mothers.html
-o-o-o-o-o-o-o-o-o-o-o-
Editor's Note: This story/information was accurate when it was published. Please be sure to confirm all current rates, information and other details before planning your trip.