Keys to a Low-Key Epcot Food and Wine Festival
by Debra Martin Koma
AllEars® Editor
Feature Article
This article appeared in the October 24, 2017 Issue #944 of ALL EARS® (ISSN: 1533-0753)
Editor's Note: This story/information was accurate when it was published. Please be sure to confirm all current rates, information and other details before planning your trip.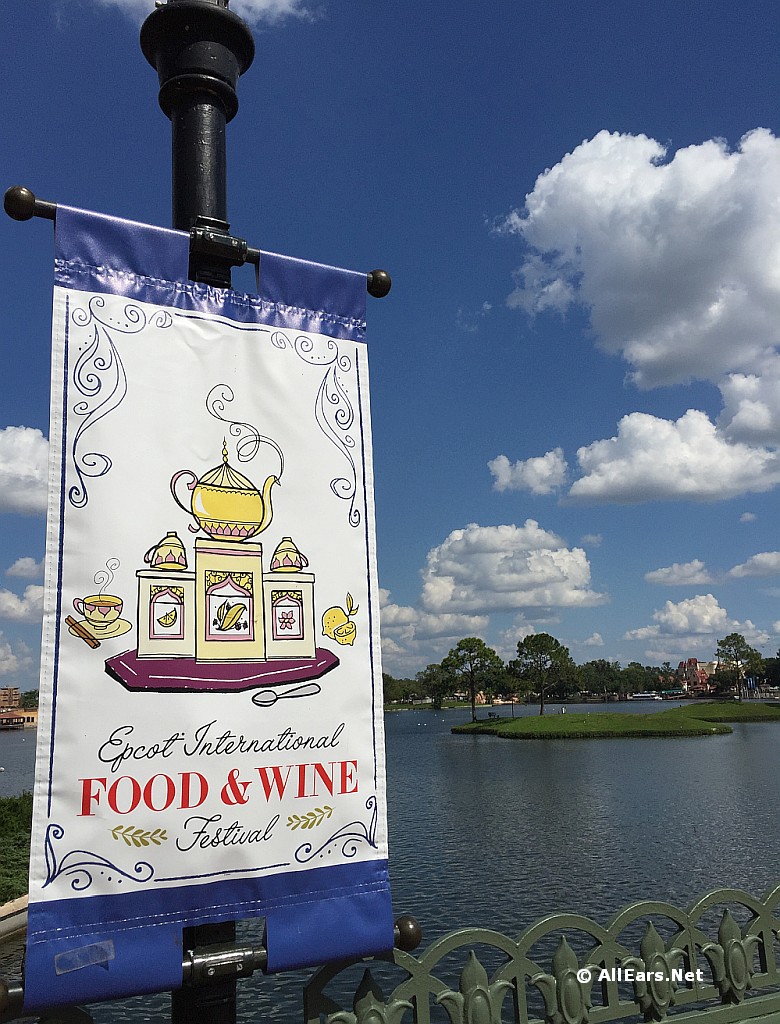 I have visited the Epcot International Food & Wine Festival at least once during its annual run every year since 2002. Usually, I attend the festival during its first weekend, trying to hit as many special events as I can, tasting ALL the food and ALL the wine my not-so-little tummy can hold.
But this year was different. Circumstances conspired (all good, so no worries!) so that I did not make it down to the festival for its first weekend. Or its second, or even its third, for that matter. I actually didn't get to this year's festival, which started on August 31 and runs through November 13, until it had been underway for a full month! And in fact I did not attend a single "ticketed" Food and Wine Festival event — a first for me. Instead, I took advantage of the "free" and/or unticketed Food and Wine offerings, which led to a much more relaxed, low-key experience instead of the frenzied free-for-all I usually undertake.
Many of you have written over the years asking whether I thought you could really enjoy the festival this way — you've noted how expensive some of the dining events have become and wondered if it was worth trying to experience "Food and Wine" without going to all the pricey lunches, dinners and other tastings. Until now, I said yes, encouraging you to try my favorite time of the year at Disney in any way you could. But now I can answer you with confidence based on my experience. Yes, it is still worth it. You can still get the full "Food and Wine" experience without breaking the bank.
And here's why.
1. Eating your way around the Global Marketplaces is fun and easy. The marketplaces are really the centerpiece of the Festival, and this year there are 35 booths in honor of Epcot's 35th Anniversary, which was just observed on Oct. 1. There are more than 100 menu items featuring cuisines from around the world, along with more than 100 different beverages. The beauty is that you can do as many or as few dishes as you want, when you want. These small plates go for between $3.50 and $10 and the serving sizes are generous enough that a few well-chosen dishes will fill you right up for a fraction of what that fancy Food and Wine Pairing in the Italy pavilion would cost.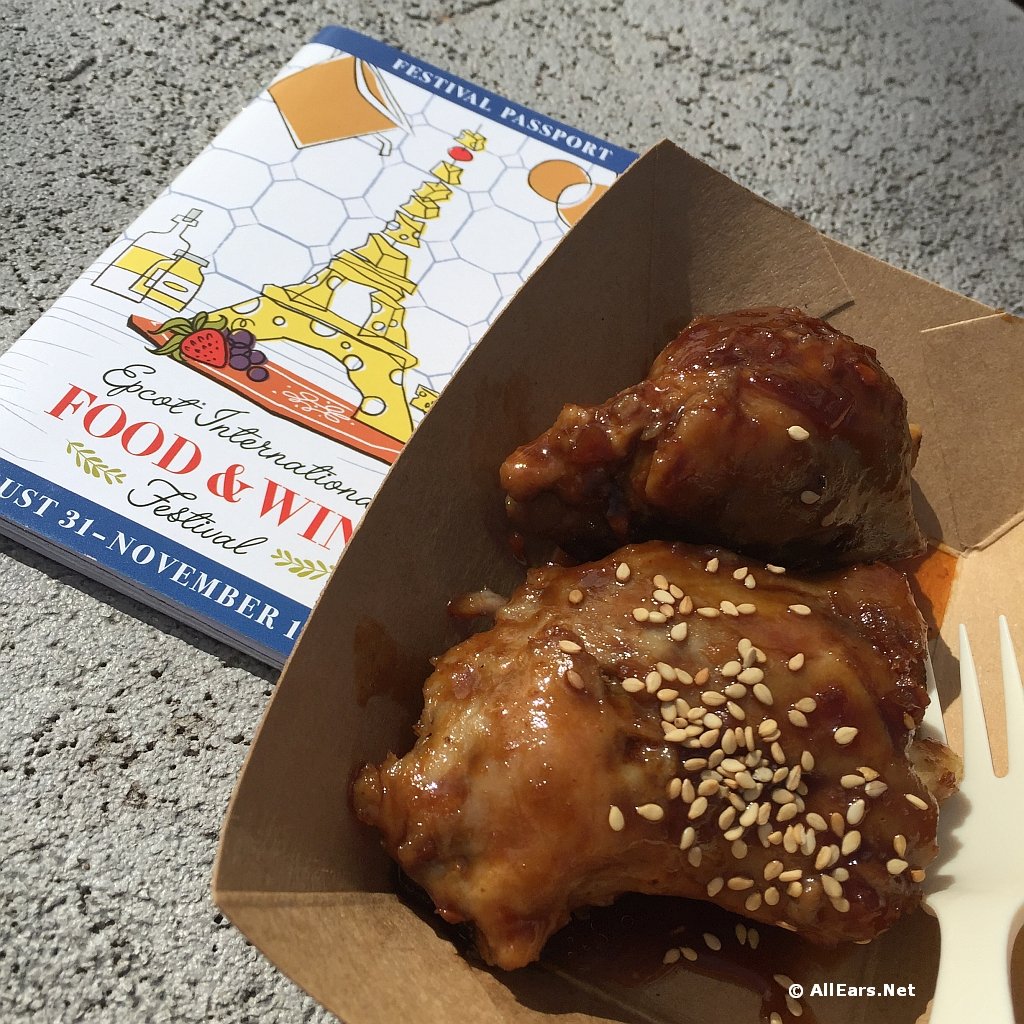 If you're going to go this route, you might wonder what foods I recommend. I didn't get the chance to sample all 39 of the new menu items at the marketplaces, but of course I have some suggestions. First off, head immediately to the new "Flavors from Fire" marketplace, over toward the Imagination pavilion at the edge of Future World and then say two important words. PIGGY WINGS. It sounds crazy, I know — obviously, pigs don't have wings. But these meaty chunks of Roasted Pork are faux "Wings" with Korean BBQ Sauce and Sesame Seeds and they are out of this world. For $4.50, I don't think you'll find a better bite at this year's festival. Well, OK, I'll qualify that — maybe you'll like the grilled sweet and spicy bush berry shrimp from the Australia marketplace better — four nicely-sized shrimp and a savory sauce that has just the right amount of heat. I would not be steering you wrong if I sent you in the direction of the seared scallop with roasted corn, butterbean succotash and chili-chipotle butter sauce at Coastal Eats or the vegan spicy Ethiopian red lentil stew at the Africa Outpost. My mouth is watering! If sweets are your sweet spot, you won't want to miss the new sweet olive oil cake with lemon curd at the Spain marketplace or the creme brulee with a shot of homemade raspberry jam inside at the France marketplace — a little bit of heaven on Earth. And if you're looking for that new cocktail or adult beverage that is the star of this Festival season, I'd suggest the St. Germain sparkling Kir in France, the sparkling pineapple wine in Hawai'i, or the pomegranate beer in the Brewer's Collection near the Germany pavilion.
Keep track of what you've eaten with the Festival Passport, which you can pick up at the park entrance and many other locations around World Showcase. These handy pocket-sized guides even have full-color photos of many of the foods to help you identify your samples, as well as stickers for each country, a fun thing for kids both young and older.
Yes, I think cruising the World Showcase and just a bit into Future World to sample the marketplaces is more than enough to give you that Food and Wine Festival Feeling!
If you're considering eating your way around the World, don't forget about the Tasting Sampler. This package includes a credential that contains eight entitlements for booth dishes and drinks. (Exclusions are noted on the credential.) You'll also receive a limited release festival pin. The sampler costs $65 per person, plus tax, for eight entitlements, which, if you check out the prices of the menu items beforehand, you can maximize for a great bargain.
2. Hanging out in the Festival Center is not just a way to beat the heat. Even though it is home to a number of pricey events, it still houses plenty to do that doesn't come with a price tag. Take, for example, the free "Back to Basics" talks given several times a day. I attended a presentation from the The National Watermelon Promotion Board that taught me everything I will ever need to know about my husband's favorite fruit. Starting with that it also sometimes classified as a veggie! And did you know you can eat the rind? Neither did I. But along with fun facts about this fruit, I got some useful tips for how to prepare it along with clever ways to cut and serve it. All in all, it was an hour well spent, even though we didn't get the chance to sample some of the mouth-watering watermelons that were on display. Among the Back to Basics presentations coming up will be Blue Diamond Almond Breeze almond milk and Twinings tea — I'm pencilling the latter into my plans, because I can never know too much about the beverage of my English heritage.
Way in the back of the Festival Center you'll find some amazing chocolate sculptures created by Disney chefs on display in the Ghirardelli From Bean to the Bar exhibit. Be sure to head back there for a free sample of Ghirardelli chocolate, and while the square of chocolatey goodness is melting on your tongue, check out the intricate and entirely edible scenes from Moana, Sleeping Beauty, Born in China, and Wreck-It Ralph, not to mention the stunning re-creation of Disney's Animal Kingdom's newest land, Pandora – The World of Avatar.
After you've spent some time examining the chocolate art, you might want to try a cup of the warm liquid gold known as Ghirardelli's Drinking Chocolate, which is on sale there. Or, if you're there between 9 and 11 a.m., you might sample the FREE strawberry-banana smoothie sample that Blue Diamond Almond Breeze is handing out. And, if you're an annual passholder, don't forget to pick up your Festival gift — a commemorative button, a different one for each month during the 75-day fest. Yes, I know it's not as nice as the glasses from previous years, but if you're a collector — and I know some of you are! — it's a nice little souvenir that you don't have to worry about breaking while transporting it.
Need more to do while you're in the Festival Center? Well, you can peruse vintages that are for sale in the Wine Shop, or consult the information desk or times guide to find out the times for the day's book and bottle signings and chef greetings. Even if you're not purchasing anything, you might get the chance to spot a celebrity chef like Buddy Valastro (The Cake Boss) or Cat Cora.
3. Finally, take in an "Eat to the Beat" concert.
Each night at the America Gardens Theatre across from the American Adventure pavilion, a musical act performs three sets to delight your auditory canals. Even as the festival enters its last weeks, there are still a wide range of acts with something that should appeal to almost everyone. I'm planning to hit the last weekend to see one of my all-time favorites, British band Squeeze, but maybe you'll prefer Hanson, Tiffany, Boyz II Men, or the always-popular Big Bad Voodoo Daddy. If you want to secure a seat, you can always book an Eat to the Beat Dining Package, but if you want to play it loose, just take your chances and stroll by the theater at 5:30, 6:45 and 8 p.m. There's no guarantee you'll get to sit, but you can certainly stand in the back of the theater and sing along with the crowds.
Round out your Festival experience by enjoying the nightly IllumiNations fireworks and laser show which still, after more than 15 years, remains one of my favorite things ever at Walt Disney World. As the chorus sings, "we go on," you'll rest easy knowing that you, too, have gone on… tasting your way all around the World!
= = = = = = = = = = = =
VITAL INFO
= = = = = = = = = = = =
Epcot's 22nd Annual International Food and Wine Festival runs daily through November 13, 2017. Entrance to the Festival is included with your Epcot park admission, but there are numerous special events that are an additional (and often hefty) charge. Many events are already sold out, but some openings remain. To make reservations, contact 407-WDW-FEST (407-939-3378) or, for certain events, book online by visiting Walt Disney World's official Food and Wine Festival pages.
To make the most of your Food and Wine Festival experience, remember my Festival DON'Ts:
— DON'T try to eat your way around the Global Marketplaces on the weekend, if you can at all avoid it. Local residents join vacationers at the festival during the weekend and the crowd levels skyrocket. If you can visit Monday through Thursday your chances of having a much more relaxed experience improve greatly.
— DON'T try to do it all. Take the time to enjoy some of the unscheduled offerings, some of them free of charge.
— DON'T walk more than you have to. Study the weekly guide and the Festival Passport, both of which are available at the park entrances and most shops, to get a general idea of what you want to see or do daily.
— DON'T overindulge, and that goes for both food and alcoholic beverages. Take a dining partner along with you to share your menu items, and drink more water than alcohol. You'll thank me later.
— DON'T overspend. Consider purchasing a special Disney Gift Card, a debit card that attaches to your wrist with a stretchy band. Load that up with your budget amount (a minimum of $15) and when it's done, you're done. (Note that if you're on the Disney Dining Plan, you can also use snack credits to pay for most of the food and non-alcoholic beverage items.)
= = = = = = = = = = = = = =
RELATED LINKS
= = = = = = = = = = = = = =
Food and Wine Festival Primer, AllEars® Issue #783 — For the first-time Festival-goer. Deb Koma's "Festival Basics" may be a few years old, but most of the tips and pointers still hold true today.
All the rest of our Epcot International Food and Wine Festival coverage.
Help other AllEars® Readers plan their trips:
Take the Food and Wine Festival Marketplace Items Survey!
(You can see the survey results so far HERE.)
Rate and review the other special Festival events.
-o-o-o-o-o-o-o-o-o-o-o-
Editor's Note: This story/information was accurate when it was published. Please be sure to confirm all current rates, information and other details before planning your trip.