Jambo House, Concierge Experience
by Debra Martin Koma
AllEars® Senior Editor
Feature Article
This article appeared in the April 6, 2010 Issue #550 of ALL EARS® (ISSN: 1533-0753)
In Part I of my review of the Animal Kingdom Lodge ("Jambo House, Jumbo Experience," http://allears.net/ae/issue548.htm) a few weeks ago, I covered all the advantages, big and little, of staying at this deluxe resort, and there were many.
I may be known as "dcdeb" around the internet, due to my proximity to our nation's capital, but in my heart I'll always be a Pittsburgh girl — which means I am solidly middle class. Additionally, I'm budget-conscious, some might say frugal — I'm acutely aware of how much things cost, and what's a bargain… and what isn't. I say this so that you aren't surprised to learn that I really haven't stayed concierge level at many hotels in my life. I didn't even KNOW what concierge level was until I was well into adulthood.
However, those hotels at which I have "stayed concierge" have all been Disney-related hotels — Beach Club, Polynesian, Grand Floridian, and even the Dolphin, back when it still had a concierge level. All of this is to explain why I feel qualified to give you an objective overview of how the concierge level — known as the Kilimanjaro Club — at the Animal Kingdom Lodge stacks up, whether it's really worth that extra monetary splurge that it most definitely is.
What does staying concierge really get you?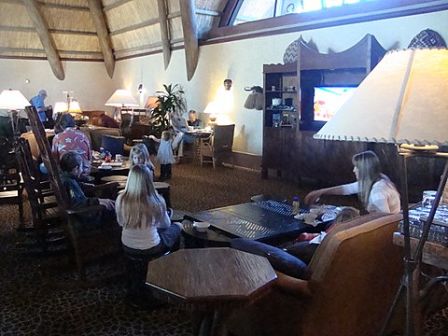 At Animal Kingdom Lodge, it starts with access to special services and the lounge on the sixth floor of the Jambo House. From the moment you begin your check-in process, you're treated a little differently if you're staying concierge level. Instead of standing in line at the front desk in the main lobby, someone from the concierge staff is waiting for you when you arrive and you're escorted to the sixth floor, where you can have a comfy seat while a cast member assigns your room, prints your key cards, and goes over the special amenities that being a Kilimanjaro Club member yield.
If you've ever looked up at the wide open lobby to the sixth floor of the Lodge's Jambo House, maybe you've wondered what those people sitting up there were doing. How did they get there? What makes them so special? Well, that's the Kilimanjaro Club lounge. The lounge has comfortable couches and rocking chairs, perfect for relaxing, reading the paper, or watching the big screen TV playing the Disney channel all day. There's also a lower game table with a checkerboard pattern (large checkers available on request) with child-height treestumps for children to sit upon. In addition, there are tables and chairs for when you decide to partake of some of the snacks or beverages available in the lounge (more about that later). There's also a side hallway with a few tables and chairs that's a little removed from the main area, which can get noisy at busy times.
The lounge offers those staying concierge a variety of tasty treats throughout the day. Some of the offerings are substantial enough that they could substitute for a light meal if you wanted.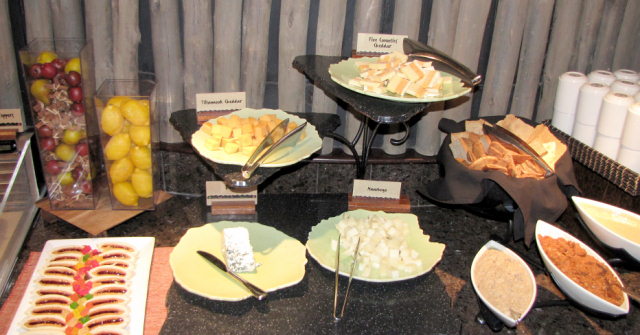 Mornings start with Macheo at 6:30 am — just coffee and assorted juices. At 7 a.m. Miamko, an assortment of fresh fruits, juices, croissants, bagels, pastries and cold cereals appear, and are restocked periodically until about 10:30 a.m. Lunchtime snacks (Vitafunio) are brought out around 11:30 until 3 p.m. — trail mix, granola bars, fresh-baked cookies, rice krispie treats, etc. To my delight, Chai (afternoon tea) is served from 3 to 4:30 p.m. — all sorts of specialty teas, along with fresh baked scones (which are delicious!) with clotted cream and jam, as well as cookies and other treats. From 5 to 7 p.m. the lounge serves Kisikusiku — hot and cold appetizers from the lodge's restaurants Jiko and Boma, as well as other finger foods — cheese, crackers, crudite — and a selection of South African beers and wines, as well as non-alcoholic drinks. For a late night treat, the lounge offers Rehema from 8 to 10 p.m. — desserts and premium cordials. There's also a small fridge down the side hallway with yogurt, milk, and cans of soda and bottled water for you to grab and go. Opposite the fridge is a table with iced tea, lemonade and water.
With many hotels, the personalized attention from dedicated staff, little perks like nightly turn-down service, and the lounge offerings are the extent of what "staying concierge" entails. And, as at many hotels, the concierge staff at Animal Kingdom Lodge (who are available daily from just before 7 a.m. to 10 p.m.) can help you arrange dining, childcare, transportation and other recreational activities. But let's talk a bit about those "recreational activities," as some of them are unique to Animal Kingdom Lodge.
There are three special excursions available to Animal Kingdom Lodge guests, one only open to guests staying on the Kilimanjaro Club level; one only available to those staying concierge at a Disney resort, and one open only to guests of Animal Kingdom Lodge.
The Sunrise Safari Breakfast Adventure is available to Animal Kingdom Lodge concierge guests only on Sundays and Thursdays (cost $65 for adults; $32.50 for children 3-9; tax not included). You can check in at the concierge lounge at 7 a.m., then meet up with your guide near the Igbo Ijele mask in the lobby departing from the lodge by bus to Animal Kingdom at 7:30 a.m. After passing through the backstage area, which includes many of the animal barns (where we spotted the recently born white rhino), you're walked into Animal Kingdom and over to Harambe, so that you can be transferred to Kilimanjaro Safari ride vehicles. The day I took this adventure, my tour guide, Mel, acted as animal spotter for the ride, which took us along the Kilimanjaro Safari ride path in Animal Kingdom.
Our tour that day lasted at little longer than usual — about an hour — because we were treated to some exceptional displays of animal activity. The weather had been quite cool but sunny, causing the animals to come out of the shade. We spent at least 15 minutes watching the two youngest elephants play together — the smaller baby stealing hay right from the older calf's trunk! (http://www.youtube.com/watch?v=FUAPbHTv9eA).
We also spent a good deal of time watching an adult male giraffe gently let a younger giraffe know who was boss, saw both the male and female lion awake, and got very up close and personal with many of the hoofed animals and some ostriches.
After the Safari, we were walked through the park over to Pizzafari for a breakfast buffet, which included traditional breakfast fare — bacon, eggs, sausage — as well as fresh fruit, cereals, and a few less conventional African-ish items. After breakfast, we were left to find our own way back to the resort or wherever.
If you are interested in seeing the animals at a leisurely pace, I can't recommend this experience highly enough. The driver and tour guide are great at spotting the animals and make multiple stops so that you can stand up and take pictures — as my video attests, they are even willing to go with the moment and take some time to enjoy whatever may occur spontaneously. Each of the animals along the way is described in great detail, since there are no other ride vehicles on the Safari path, forcing you to move along. There were several young children along on my vehicle (we had about 40 people on the Safari altogether) and judging from their excited chattering I think it's safe to say that none of them came away bored.
Every point has a counterpoint, and for the Sunrise Safari, the counterpoint is the Wanyama, or Sunset Safari, open to guests at Animal Kingdom Lodge and Animal Kingdom Villas. (Cost $170, ages 8 and older; tax not included.)
The Sunset Safari differs from the morning experience in a few important ways. Firstly, it's a much smaller group — only up to 12 people can participate, and guests must be at least 8 years old. Probably the biggest difference is that the safari itself takes place on the grounds of the Animal Kingdom Lodge — touring the resort's Arusha, Sunset, Uzima, and Pembe savannas in a specially designed vehicle.
While deemed the "Sunset" Safari, the Wanyama experience actually begins (daily) around 3:45 p.m., when you check in at the Jiko desk downstairs at the Lodge. Once our entire group was assembled, our tour guide Mori led us out the resort and had us board the vehicle that was waiting for us out front. The vehicle was like a truck, modified so that cargo area had bench seats and open sides — the only thing between us and the animals were wide slats of wood.
We started with a drive through Kidani Village's Pembe savanna, then passed through the other savannas seeing a variety of hoofed animals — okapi, waterbuck, nyala, ankole cattle, wildebeest, in addition to Rupel's vultures, flamingoes and of course some very friendly giraffes, as you can see from my video. http://www.youtube.com/watch?v=nFkeRC141g8
Our guide was knowledgeable, having spent seven years working with the animals, sharing amusing anecdotes and insider-type information (like all four of the female wildebeest are currently pregnant!), answering all of our many questions. We had frequent stops and were able to take a lot of photos and videos, and aside from the more limited variety of animals, I think this experience was every bit as entertaining as the Sunrise Safari had been.
There was, however, one other major difference — the Sunset Safari concludes with dinner at the Lodge's Jiko — one of my favorite restaurants in Walt Disney World. Because we had a large group — 12 participants — dinner was served to us family style, but there were no complaints, as the food brought adequately represented the quality and range of cuisine Jiko is so well-known for. With each course, starting with flatbreads and appetizers and concluding with scrumptious desserts, Chef Josh appeared to talk to us briefly about the dishes, and our wine glasses were refilled, making this not only an educational animal experience, but a culinary one as well. By the time we had lingered over our desserts, dinner concluded at nearly 8 p.m. — a most enjoyable experience.
There's one more animal-spotting experience that's open only to concierge guests — The Wildlife Discovery Excursion ($50 for ages 3 and up; tax not included). This experience is, as I said, is open to anyone staying concierge level at a Disney resort, not just Animal Kingdom Lodge. It's a little less expensive than the other two experiences, because there's no meal included, and it's a little shorter. But it can be just as enjoyable, as we discovered on a recent visit. If you want to read about that excursion in detail, please check out Jack Spence's blog as we did this trip together: http://land.allears.net/blogs/jackspence/2010/03/wildlife_discovery_excursion_1.html
So these are all the great advantages to staying at the Animal Kingdom Lodge Concierge Level. Now let me tell you about the negatives — because yes, there were a few.
First of all, and I hate to say this, we found that several of the concierge cast members were not as accommodating as they were at other concierge resorts. Don't get me wrong — some were truly all kinds of awesome. But there were a few who had an air of well, my requests were just too much trouble for them. Unfortunately I've heard this complaint from several others who have stayed on the Kilimanjaro Club level.
Secondly, and this is even more problematic — we were supposed to be booked in a deluxe room. All of the concierge level rooms are supposed to be deluxe, or at least we thought so, which means they should be a little bit larger than standard rooms. Over the last year or so, though, many of the deluxe rooms on the fifth and sixth floors in Jambo House have been converted to Disney Vacation Club units. Our room for this stay was located, therefore, on the FOURTH floor in what was, by our estimate, a standard size room. And remember, the lounge is on the SIXTH floor. Inconvenient? I'll say. Anytime we wanted to go to the lounge, we had to walk down the hall, around the corner, down another long hall (in essence the length of the lobby), around another corner to the elevators, then take the elevator up two floors. Hardly what you would expect when you're paying a premium for what is supposed to be the premier experience at one of Disney's most deluxe resorts.
Now, the room was located on the Zebra Trail, which meant we overlooked the Arusha savanna. We had a tremendous view, so no complaints there at all. It just was definitely not convenient for the concierge lounge.
So my final assessment — is the concierge level worth the extra money at the Animal Kingdom Lodge? In spite of the few negatives I listed, I'd have to say yes. The personalized attention can be nice, as is having someone else worry about booking your reservations. The little extras like turn-down service make you feel special. The lounge is a wonderful plus — a nice place to hang out for a little downtime, a great place to grab a snack or quench your thirst, a relaxing getaway at the end of the day for a nice glass of wine or a liqueur.
And then having access to those special animal experiences… what a great benefit that is, especially if you or your family are really interested in spending more time seeing the animals up close.
So yes, if you have the money and it won't break your budget, I'd say it's definitely worth taking the climb up Kilimanjaro — to the Kilimanjaro Club at Animal Kingdom Lodge, that is.
=-=-=-=-=-=-=-=-=-=-=-=-=-=-=-=-=-=
RELATED LINKS:
Wildlife Discovery Excursion: http://land.allears.net/blogs/jackspence/2010/03/wildlife_discovery_excursion_1.html
Sunrise Safari: http://allears.net/acc/faq_aksunrise.htm
Wanyama (Sunset) Safari: http://allears.net/acc/faq_aklsunset.htm
Animal Kingdom Lodge Concierge Reviews: http://land.allears.net/reviewpost/showproduct.php?product=30&cat=31
-o-o-o-o-o-o-o-o-o-o-o-
Editor's Note: This story/information was accurate when it was published. Please be sure to confirm all current rates, information and other details before planning your trip.