Berthing at Stone Harbor
by Everett Stephens
AllEars® Guest Columnist
Feature Article
This article appeared in the October 23, 2012 Issue #683 of ALL EARS® (ISSN: 1533-0753)
A recent trip to the World provided a unique opportunity — an upgrade to the concierge level at the Beach Club. Since we arrived during the Epcot International Food & Wine Festival, we were curious if we would spend enough time at the resort to make the investment worthwhile.
Referred to as "Stone Harbor Club", concierge level at the Beach Club consists of approximately 100 rooms located on the 5th floor of the main building. Concierge-level Keys to the World cards are yellow instead of blue, and function as RFID cards to grant elevator access to the fifth floor.
The elevators open into the Stone Harbor Foyer, which is staffed with two dedicated concierge cast members from 7 a.m. to 10 p.m. They can help arrange tours, restaurant reservations, recreation, show tickets, transportation, park tickets and many other personal services that are real time-savers. Since I am a big planner, I had not expected to use the concierge at all. However, they assisted me in making Advanced Dining Reservations when our plans changed, and in rectifying a problem with our Mickey's Not So Scary Halloween Party tickets that saved me at least an hour of waiting in line. The concierge staff would not volunteer if they had any extra pull in getting into more challenging restaurants such as Le Cellier, saying only that they "sometimes get lucky."
Just off the concierge foyer is the main attraction: the lounge area. A relatively small room holds approximately nine tables, two small children's eating areas, and a small sitting area. Here are the real treats — the snacks! There are three main services: a continental breakfast, dinner, and dessert, along with snacks throughout the day. The offerings at each time do not change appreciably from day to day.
Coffee is available at 6:30 a.m., followed by the continental breakfast from 7:30 to 10:30 a.m., which is a great way to start the morning. The hot offering is limited to oatmeal with additions of fruits, nuts, and brown sugar. Hard-boiled eggs, pastries, muffins, and several cereals are available along with fresh fruit and yogurt.
Light snacks are available from 11:30 a.m. to 4 p.m. and in between services, in the anticipation that most guests will be either at the parks or at the pools. These usually are cookies, potato chips and dip, yogurt-covered pretzels, gummy fish, worms and trail mix.
Dinner hors d'oeuvres are more substantial, and available 5 to 7 p.m. Bacon-wrapped scallops, potato and fennel fritters, fresh watermelon, cantaloupe, and assorted cheeses, sliced apples and veggies are among the treats. Children will love the split rolls with small cups of peanut butter and jelly to make a quick PB&J sandwich. While not a substitute for a full meal, these wonderful offerings are just enough to hold you over to a late-night meal at World Showcase or perhaps Flying Fish Cafe down on the Boardwalk. You can grab a few of these treats and a drink as you dash back to the parks, or off to an evening reservation.
From 8 to 10 p.m., dessert and cordials are available. Cookies, lemon cheesecake and brownies are available along with five or six select liqueurs, including Grand Marnier, Couintreau, Kahlua, and Amaretto di Saronno.
Drinks are available at all times, including all-you can drink Coke, Diet Coke, Sprite and water. Breakfast adds skim milk, 2-percent milk and chocolate milk, as well as orange and cranberry juices. Lemonade is also available for snacks, lunch and dinner. Soft drinks are in cans, making it easy to grab a few on the way into the parks for a quick drink later. A coffee/cappuccino/latte machine provides several types of coffee drinks from powder, but is still pretty tasty. Flavored syrups are provided during main service times. Tea bags are available for hot or cold tea. Beer, wine, and cordials at select times are available at no charge to those 21and over. Bottled water is available on request.
The concierge lounge is fairly small and can get congested quickly. The food service area can accommodate only four or five people at one time. The serving area as well as the dining area can get full quickly, occasionally forcing guests to return to their room after gathering snacks.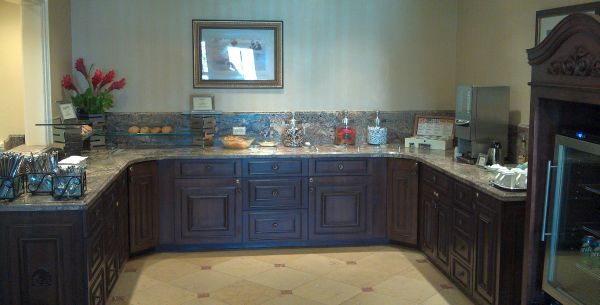 The rooms on the concierge level, while nice, were not noticeably different from any other Beach Club room. Our room had a water view, but it appears that at least half of the rooms on the concierge level are water-views. The bedding was comfortable, storage was plentiful and the dual-sink vanity spacious. Included coffee maker and mid-sized refrigerator were already there, and a microwave can be requested. A small desk with electrical outlet is ideal for laptop work. The toilet and shower area, however, were fairly tight and would not tolerate more than one person at a time. Our balcony overlooked the lake toward the Boardwalk and could accommodate two adults easily.
Other advantages are free DVD rental and delivery of packages purchased in the parks directly to your room. Nightly turn-down service, extra toiletries and comfy robes add to the plush factor.
The upgrade to concierge does add a premium to the nightly rate. The question of "Is it worth it?" is somewhat difficult to answer. From a purely financial standpoint, it will be difficult to drink enough soda and eat enough cookies to make the upgrade worthwhile. The extra level of pampering, however, is what the Beach Club Concierge does best — if you want that extra TLC, then concierge may be for you.
We were pleasantly surprised to find that our time at the resort and at the World was more relaxed and more enjoyable, with no worries about finding a quick breakfast, or of finding somewhere to grab a snack. We could focus on enjoying the parks without scrambling in the morning. The evenings were more comfortable with a place and time to unwind with evening cordials.
Having had the opportunity to experience Disney's Concierge level at the Stone Harbor Club first hand, I can easily recommend it as a great way to reduce stress and add an extra measure of magic to your vacation, even if only for a day or two. If I can swing another visit in the future, I will see if I can wrangle that reservation at Le Cellier and let you know!
===================
RELATED LINKS
===================
Beach Club Fact Sheet:
http://allears.net/acc/faq_bc.htm
Beach Club Photo Gallery (including photos of the Stone Harbor Club):
http://allears.net/acc/g_bc.htm
Video of the Beach Club and Stone Harbor Club:
http://allears.net/acc/resort-videos-deluxe.htm
Reviews of the Stone Harbor Club:
http://land.allears.net/reviewpost/showproduct.php?product=31&cat=31
Jack Spence's comprehensive report on the Beach Club Resort:
http://land.allears.net/blogs/jackspence/2011/11/beach_club_resort_part_one.html
http://land.allears.net/blogs/jackspence/2011/11/beach_club_resort_part_two.html
===================
ABOUT THE AUTHOR
===================
Everett Stephens says his clan was bitten by the Mouse during the great 2010 "Buy 4, Get 3" sale, where the charm of the Polynesian Resort captured their imaginations. Becoming Passholders allowed more trips to the World and they became bona fide "Mousenuts." Making the journey three to four times each year (or whenever airfare costs less than one arm and one leg), he says his favorite digs are the Polynesian, the Beach Club, and the Caribe Royale. In his spare time, he enjoys working on the family's large-scale railroad, playing with his Norwegian Elkhounds, and planning his next WDW trip.
-o-o-o-o-o-o-o-o-o-o-o-
Editor's Note: This story/information was accurate when it was published. Please be sure to confirm all current rates, information and other details before planning your trip.