Am I Obsessed?
by Mark Minto
AllEars® Guest Columnist
Feature Article
This article appeared in the September 4, 2012 Issue #676 of ALL EARS® (ISSN: 1533-0753)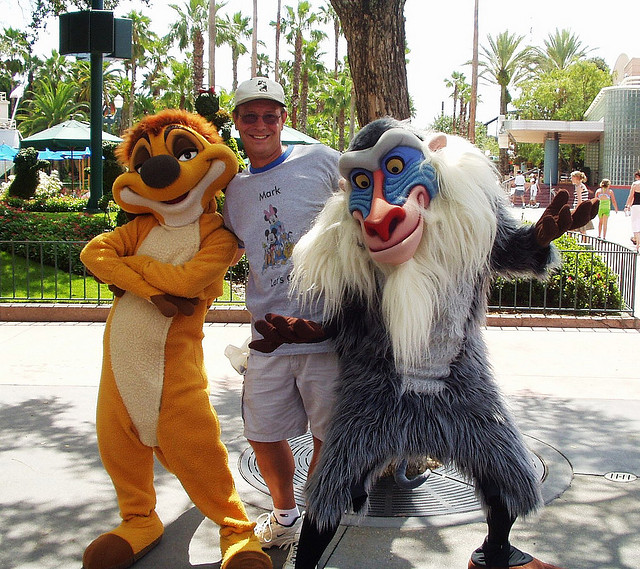 Am I obsessed? Am I addicted? Do I care?
The answers are Yes, Yes and No.
So, what am I obsessed about? What am I addicted to? What don't I care about? Since you're reading an AllEars® newsletter, I think you already know! But on the chance that the newsletter has been forwarded to you, or you're reading someone else's email, I'll explain. I'm obsessed with Disney. I'm addicted to going there — going to Walt Disney World in particular, although I won't rule out going to the other Disney parks. And I don't care if anyone thinks I'm abnormal for being this way.
I know there are some who think I'm crazy, and to an extent I am. As bad as my obsession and addiction are, though, I want to assure you they aren't nearly as bad as they could be. I am far from being over the top. In fact, I think it would be a safe bet that some who are reading this are in a far "worse" state than I. You all know who you are!
How does my obsession manifest itself? I almost always wear something "Disney." In truth, I can't think of the last time I didn't wear at least one item that was Disney-related. I do have a couple of bathing suits that have nothing to do with Disney, but I only wear them when my Disney bathing suits are in the wash. I have at least three Mickey Mouse watches, numerous Mickey Mouse pairs of socks, and a couple of Mickey Mouse ties, a Mickey Mouse tie clasp, a dozen or so of Mickey Mouse polo shirts, and my dresser has a drawer-plus of Disney t-shirts and sweatshirts, some of which are of my own design.
My biggest purchase has to be the purchase of membership in the Disney Vacation Club (DVC). My wife and I "own" (it's actually a lease since membership does expire) at Disney's Beach Club Villas and Disney's Old Key West, two Walt Disney World resort hotels. The only regret I have in buying into DVC is that we didn't do it sooner. We love the resorts where we've stayed.
Beyond my wardrobe and DVC membership I am always perusing Disney-related websites, with my favorites being AllEars.Net (obviously), Mousesavers.com, and Tagrel.com, where my screen name is Timon (an anagram of my last name, in case you hadn't noticed). Tagrel's, which I consider to be my home site, is a forum where members ask and answer each other's questions about Disney. Beyond it being a forum to exchange Disney knowledge, Tagrel's is a community. I have met and have become close friends with many of the members there. In fact, a number of the feature writers on AllEars.Net are friends that I've made through Tagrel. More than a forum, AllEars.Net is an online encyclopedia for people planning trips to Disney parks. Want to learn about the accommodations, dining, parks and things to do outside of the parks? AllEars.Net is, in my humble opinion, the place to learn about these things. And I have saved hundreds, if not thousands, of dollars because of the tips I learned from Mousesavers.com.
Why am I addicted to going on trips to Walt Disney World? Have you ever heard the expression "the only difference between men and boys is the price of their toys?" In a nutshell that's the reason. When I go to Walt Disney World I turn into the 9-year-old boy whose parents took him, two brothers and a sister on a cross-country camping trip to visit Disneyland back in 1966. Or the 7-year-old boy who was fascinated by the Audio-Animatronics of Great Moments with Mr. Lincoln, "it's a small world" and the Carousel of Progress at the 1964-65 New York World's Fair. When I'm in a Disney park I get to be that little boy again. It's where my only care is having as much fun as I want to have.
Yes, I have fun in the theme parks, but it's not just the amusement park, riding the attractions type of fun that I'm I talking about. It's the fun of giving someone a Fastpass that I know I'm not going to use. It's the fun of going to Jelly Rolls and having the song I requested played. It's singing karaoke at Kimonos in the Swan. It's body surfing at Typhoon Lagoon or hitting that perfect drive on one of Walt Disney World's championship golf courses. It's strolling through Fort Wilderness Campground looking at the beautiful lighting displays the campers put up at Christmas time. My list could go on and on. However there is one piece of fun that I'm praying Disney will bring back. That's the Adventurers Club. How am I supposed to perform my duties of bodyguard for Babylonia if it's not reopened?
Along with all of that fun, and maybe beyond it, is the world class service that Disney cast members provide to all of their customers. Disney cast members make me want to come back time and time again. It doesn't matter if you stay in one of the deluxe, moderate or value resorts. When you stay at one of the Disney-owned onsite resorts you are treated as a valued customer whose business is truly appreciated. That attitude is not confined to the resorts. It is found throughout Walt Disney World, including all four theme parks. We in the community of Disney fanatics call that sharing the magic or spreading the pixie dust.
Oh yeah, there's one other thing that will show my obsession. I was inspired by this collage:

(Picture collage used with permission of Gary Cruise)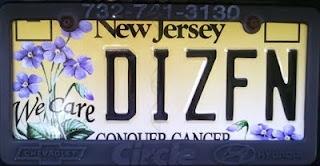 So I ordered my own set of vanity license plates. If you're on the road and see the plate pictured at left, give me a honk and a "Hi Mark!" wave.
I've taken 18 trips to Walt Disney World, two Disney Cruises and that one trip to Disneyland when I was a young boy. This past May, I made a solo trip to Walt Disney World for four nights for "Tagomania," a big get-together for members of the Tagrel.com community. My most recent trip to Walt Disney World was for 10 nights in August.
Why don't I care if I'm thought of as abnormal for going to Walt Disney World time and time again? It's because I can go to Walt Disney World on a six-night, seven-day vacation, not set foot in one of the four theme parks, and have a vacation that anyone would envy. Truthfully, what I don't understand are people who ask incredulously, "You're going there again?" These are the same people who go to the beach, or the lake, or the mountains year after year and think there's nothing strange about that. Well, there isn't anything strange about going to any of those places year after year, and the same is true about going to Walt Disney World year after year.
So… am I obsessed? Am I addicted? Do I care?
Yes, Yes… and No!
=-=-=-=-=-=-=-=-=-=-=-=-=-=
About the Author: Mark Minto, a Staten Island, New York, native, was the sixth in a family of seven children who grew up watching Disney on television, from The Mickey Mouse Club to the Wonderful World of Color — he even had a Davey Crockett coonskin hat. Now father to a 23-year-old, leukemia-butt-kicking, autistic son, Robby, who was also raised on Disney, Minto and his wife of 31 years, Janice, live in New Jersey and have been Disney Vacation Club members since 2001.
-o-o-o-o-o-o-o-o-o-o-o-
Editor's Note: This story/information was accurate when it was published. Please be sure to confirm all current rates, information and other details before planning your trip.