600 Issues and Counting...
by Debra Martin Koma
AllEars® Senior Editor
Feature Article
This article appeared in the March 22, 2011 Issue #600 of ALL EARS® (ISSN: 1533-0753)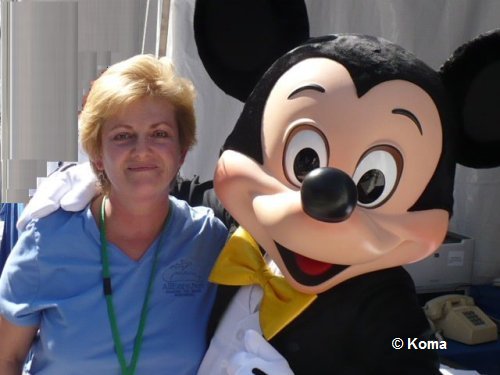 OK, this is scary. I could swear I wrote about the 500th issue of the AllEars® newsletter just last week -- and now the calendar is telling me that today's issue, this very issue on your computer screen (or mobile device!) in front of you, is AllEars® Number 600! How is that possible?

It's true what they say: Time marches on. In honor of this very auspicious occasion, which happily coincides with our "15 Years of AllEars®" Anniversary Celebration, please indulge us while we go a bit self-congratulatory and take the time to reflect on the path that led us to where we are now.
It all started way back before the turn of the century, if you can believe that. In fact, our very first official issue was dated September 19, 1999 (9/19/1999 -- someone should play those lottery numbers!). It was a very simple affair, just a few paragraphs that pointed out some delays in the debut of Millennium Celebration openings. It also mentioned the debut of a new fish and chips stand at the UK pavilion in WorldShowcase. http://allears.net/ae/issue001.htm Wow, I can remember so clearly when the Yorkshire County Fish Shop opened... was it really nearly 12 years ago?

We reached 100 issues on August 21, 2001. http://allears.net/ae/issue100.htm As I browse through our archives, I see that I had just written about overlooked attractions in Epcot -- some things don't change, I guess! The America Gardens Theatre in Epcot was hosting a variety of performances (Mariachi Festival, Barrage) through the summer, up to the end of November, at which time the Candlelight Processional was scheduled to begin. In addition, a new Disney Vacation Club resort was under construction -- the Beach Club Villas.

Issue number 200 was published on July 22, 2003. http://allears.net/ae/issue200.htm A new show had recently opened on the site of the Diamond Horseshoe Saloon -- the short-lived Goofy's Country Dancin' Jamboree. The new show bore no resemblance to the original Diamond Horseshoe Revue -- it was all about kids and characters and photo ops, featuring Chip and Dale, and Woody, Jessie, and Bullseye from Toy Story 2. The show was shuttered by October the following year.

June 21, 2005, marked our 300th issue, in which Deb Wills and I reflected on how we were not burned out yet on Disney -- that we were, in fact, still feeling "pixie-dusted." http://allears.net/ae/issue300.htm I have to tell you that 300 issues and nearly six years later, that holds true, especially for me. Every trip I make to Walt Disney World is completely different than the one before, and I seldom do the same things or eat at the same places twice in a row. There are still many things that I haven't done, restaurants I haven't eaten at, and even a resort that I haven't stayed at (but you're on my list, Kidani Village!). And now that we're branching out, including more and more about Disneyland Resort and the Disney Cruise Line, we have more opportunities than ever to expand our Disney knowledge and experience. With the changing technological landscape there are so many different ways we can "Share the Magic" with you -- Twitter, Facebook, RSS Feeds, podcasts, our live call-in shows. How could we possibly ever burn out? There's too much to learn and do!

On May 22, 2007 we published Issue #400 http://allears.net/ae/issue400.htm The big Disney World stories around that time were the 14th International Flower and Garden Festival, which was about to conclude on June 3 (closing Flower Power Concert performers were festival favorites Herman's Hermits starring Peter Noone), and the upcoming Star Wars weekends, which would feature such legendary Star Wars actors as Warwick Davis (Wicket the Ewok), Kenny Baker (R2-D2), Ray Park (Darth Maul), Peter Mayhew (Wookiee Chewbacca) and Anthony Daniels (protocol droid C-3PO). Additionally, the North Garden wing of the Contemporary Resort was being demolished amidst rumors of a new DVC location. (Hmm, Bay Lake Tower, anyone?)

The newsletter's last major milestone before this one then was our 500th issue, which ran April 21, 2009. http://allears.net/ae/issue500.htm Just two years ago, the main topics of interest were the upcoming 20th anniversary of Disney's Hollywood Studios, as well as the official May 1 opening of the new DVC section of Animal Kingdom Lodge, Kidani Village.
At that time, the AllEars® newsletter went out to more than 112,00 subscribers, all around the globe, from nearby Mexico and Canada far away Asia and Australia. We were in awe at the time at our reach, and I personally marveled at the scope of the events that I had been able to cover, and the Magic we had been able to share with our readers.

I can safely say that the pride I felt two years ago when I wrote about our 500th issue has more than doubled as I write now about our 600th, and take a look back on all that we have achieved.

We are thrilled to announce that as of this writing we are just short of 130,000 subscribers -- the actual number is 129,862. (We expect to surpass that number this coming week! Come on, sign up if you haven't yet -- subscription is free!) That is just amazing to us! We are so pleased to have every one of you on board as we share our amazing journeys through Walt Disney World and beyond.

But we realize this also presents us with a serious responsibility. The internet gives us all so many ways to get information these days, and so many options that will provide you with your Disney "fix." There are new media outlets springing up every day, new blogs, podcasts, and videocasts, not to mention more websites and guidebooks. We know that you don't have to make the time to read this newsletter every week -- unless it's something special, and brings you something that you don't find anywhere else. That's why we are striving harder than ever to provide you all with the most accurate and dependable Walt Disney World news and information available, and determining how we can also cover other aspects of the Disney experience, such as Disney Cruise Line, Disneyland, and even Adventures by Disney and the other Disney theme parks. Though we update the AllEars.Net website continually, our goal with this newsletter has been and continues to be to inform and entertain you with all manner of things Disney, in the process sprinkling you and your email box with a little pixie dust each week.

As we have done each time we have celebrated a special milestone in AllEars® history, we'd like to take a moment to thank each member of the AllEars® team -- volunteers who work so tirelessly to maintain the high quality of the newsletter whose electrons fill your email boxes each week. Thanks to all of our feature and featurette writers, from our most recent addition, Disney Historian Jim Korkis, to longtime contributors like Mike Scopa and Jack Spence. Thanks also to our other bloggers whose work we often highlight in the newsletter: Ashley Livingston, Andrew Rossi, Jeff Onorato, John Kurowski, Jack Tarulli, Lori Edelman, John Bowers, Alice McNutt Miller, Emily Owen Pickle, and others we don't mean to leave out, but space restricts us! We send out more gratitude to our friends on the West Coast: Laura Gilbreath, Lee Zimmerman, and Jeanine Yamanaka; to our Picture This! photographers Lisa Berton, Barrie Brewer and Scott Thomas; and to our all-around Jack-of-all-trades, Jack Marshall. We also can't forget our other contributors, whose valuable input comes to us in many forms: Steve Barrett, Michelle Scribner MacLean, Mike Bachand, and Cathy Bock; and last, but most definitely not least, our behind-the-scenes helpers Linda Eckwerth, Fred Block, Erin Blackwell, Glo from Miami and John Leary. You readers may not recognize all of these names, but trust us, AllEars® would not be the same without them.

We've said it before, but it bears repeating: We also owe a very special debt to our advertisers. Their financial support enables us to produce this newsletter every week, but they also provide other non-financial support and advice, and very generously provide us with contest prizes and more, which in turn allow us to share even more Magic with you, our readers.

Finally, the biggest piece in this AllEars® newsletter puzzle is YOU. Without the support of each and every one of our readers, we wouldn't be able to do whatever it is that we do here. Your loyalty and regular words of encouragement inspire us to try to do more than what we think is our very best all 52 weeks of every year. Thank you.

We hope you've enjoyed reading these past 600 issues as much as we've enjoyed producing them. And we'll make you a deal -- as long as you keep reading, we'll keep writing! We'll talk again in about two years, for issue number 700!
=-=-=-=-=-=-=-=-=-=-=-=-=
ABOUT THE AUTHOR: Debra Martin Koma, AllEars.Net's Senior Editor, fell in love with Walt Disney World on her first visit there -- when she was 35! She's lost count of how often she's returned to her Laughing Place in the ensuing (16!) years, but knows that she still isn't tired of it. (And doubts she ever will be.) Read more of her writing for AllEars® here: http://allears.net/btp/dkoma.htm
-o-o-o-o-o-o-o-o-o-o-o-
Editor's Note: This story/information was accurate when it was published. Please be sure to confirm all current rates, information and other details before planning your trip.