August 2010 Walt Disney World Bits and Bites
Feature Article
This article appeared in the July 27, 2010 Issue #566 of ALL EARS® (ISSN: 1533-0753)
= = = = = = = = = = = = = = = = =

STEP BACK IN TIME
= = = = = = = = = = = = = = = = =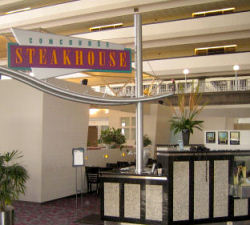 Ever wonder what Walt Disney World was like way back when? We rummage around in our archives for this monthly feature, which takes you back in history for a glimpse of Walt Disney World through the ages. This month we go back to August 10, 1994, when the Concourse Steakhouse opened on the Grand Canyon Concourse (4th floor) of the Contemporary Resort. The Steakhouse opened in the space previously occupied by the Concourse Grill. The area was totally renovated to provide a state-of-the-art dining experience. Breakfast, lunch and dinner were served daily.
Cast members dressed in black pants and white oxford shirts trimmed in colors. Plates were rectangular instead of round, wine glasses were cut an an angle instead of straight. An English-style, amber beer called Monorail Ale, was created especially for the Concourse Steakhouse.
Unique menu items included: Choose-your-own topping Mickey waffles, home-made Contemporary chips topped with melted blue or cheddar cheese, hand-tossed specialty salads and pizza bread containing bits of olives, shredded pepperoni and sun-dried tomatoes. The Concourse also offered an inexpensive child's menu, displayed on a cardboard monorail which they could put together and take home.
The Concourse Steakhouse remained open until May 31, 2008 when it closed its doors to make way for a major renovation of the Contemporary's 4th floor. Today, the Contempo Cafe occupies that space.
Want to reminisce a bit more?
Read Jack Spence's review from 2006: http://allears.net/ae/issue363.htm
Photos can be found in our Rate and Review Archive: http://land.allears.net/reviewpost/showproduct.php?product=168
Hankering for the red wine butter steak sauce that was served? http://allears.net/din/rec_ss.htm
= = = = = = = = = = = = = = = = =


HIDDEN MICKEYS ALERT
= = = = = = = = = = = = = = = = =
Steve Barrett, author of the Hidden Mickeys books and webmaster of www.HiddenMickeysGuide.com visited the Epcot Resorts to discover a few Hidden Mickey images.
Have fun finding them!
1. At the BoardWalk Villas, a classic Mickey sits atop light fixtures on the first to the fifth floors alongside the elevators. (Thanks to Deb Silhan.)
http://allears.net/btp/hm296.jpg
2. Walk outside behind the BoardWalk Villas to the Leaping Horse Libations pool bar to spot Mickey at the top of the wall clock behind the bar. Mickey's hands tell you the time. (Thanks to Jamie Hindes.)
http://allears.net/btp/hm297.jpg
3. One of the better carpet Mickeys at Walt Disney World is at the Beach Club Resort, on the floor of the Marketplace shop. It's formed by three sand dollars. (Thanks to Peter Caldwell and Kathy Riccardi.)
http://allears.net/btp/hm298.jpg
= = = = = = = = = = = = = = = = =


2010 PACIFIC NORTHWEST
(PNW) MOUSE MEET
August 14, 2010
= = = = = = = = = = = = = = = = =
The PNW Mouse Meet is an unofficial Disney Fan Event that was created by Disney Fans FOR Disney Fans. This second annual event will provide Disney enthusiasts the opportunity to get together in the Pacific Northwest to share and celebrate all things Disney. It will be held Saturday, August 14, 2010 at the Lynnwood Convention Center in Lynnwood, WA.
The PNW Mouse Meet comprises a variety of experiences, including: Disney celebrities and Disney community celebrities (including podcasters, authors, and travel experts), Disneyana collectibles vendors, Disney fan collection displays, pin trading, trivia, food, Hidden Mickeys. Many surprises, prizes and fantastic auction items for charity, Disney Fans meeting Disney Fans, a little magic, a little pixie dust and so much more.
All Ears® is once again a proud sponsor of the PNW Mouse Meet. Editor-in-Chief Deb Wills, who will be attending this year, says, "I'm so excited to meet lots of west coast Disney fans! After reading about last year's inaugural event I knew I wanted to attend in 2010. As a special treat, I'll be bringing our new, exclusive AllEars® Trading Cards, including a special card made just for the PNWMM event!"
http://land.allears.net/blogs/debwills/2010/07/pacific_northwest_mouse_meet_t_1.html
This is a limited ticket event and tickets are ONLY available for pre-purchase on this website and will NOT be sold at the door on the day of the event.
SPECIAL OFFER:
The FIRST 250 Paid General Admission Tickets to the 2010 PNW Mouse Meet will receive either Jeff Kurtti's "Art of Mulan" book OR Jeff Kurtti's "Art of Bug's Life" book (one only)! Jeff will also be available to autograph! These "Art of" books are brand new, very rare and out of print. These will NOT last long! Visit the website for all the details and rules on this incredible offer and to secure your tickets today! Thank you so much to Jeff Kurtti for his amazing generosity and support!
Get all the details and event tickets at: http://www.pnwmousemeet.com
Click this link for tickets: http://www.pnwmousemeet.com/Tickets.html
Click this link for Event Details: http://www.pnwmousemeet.com/Events.html
= = = = = = = = = = = = = = = = =


MONTHLY REMIND-EARS
= = = = = = = = = = = = = = = = =
EVENTS
Magic Kingdom
Summer Nightastic! - Shimmering shining Disney magic lights up the parks through August 14.

The joyous sights and sounds of the Main Street Electrical Parade return to the Magic Kingdom. The parade will be led by Tinker Bell, who will wave from aboard a new float.

Summer Nightastic Fireworks Spectacular, will also fill the night sky with vivid colors and brilliant visual effects set to a backdrop of whimsical music.

There will also be a dance party featuring high-energy music played by DJs.
Disney's Hollywood Studios
Summer Nightastic! - through August 14.

The Twilight Zone Tower of Terror will feature surprises for unsuspecting guests with new lighting effects created especially for Summer Nightastic!

On a special stage in front of the Sorcerer Mickey's Hat, DJs will spin sizzling summer tunes at the "Rock N' Glow Dance Party," along with a live performance from Mulch Sweat and Shears.

Last Tour to Endor -- As previously announced, Disney's Hollywood Studios will host "The Last Tour to Endor," an exclusive private event on August 14 from 8 p.m. to 1 a.m. to celebrate the coming of a new 3-D Star Tours attraction. The after-hours party, which costs $75 per person in advance, $89 at the gate (if available), will feature live entertainment, Disney characters in their favorite Star Wars attire, a special Star Wars-themed fireworks spectacular, the "Death Star Disco," Jedi Training Academy, Star Wars trivia challenges and more. The new, 3-D Star Wars adventure will open in May 2011. Purchase advance tickets online at starwarscelebration.com.

http://land.allears.net/blogs/dnews/2010/07/last_tour_to_endor_party_durin.html
Epcot
Via Napoli, the newest restaurant in Epcot's Italy, will begin taking reservations August 6 for September 10, the official opening day. A "Grand Opening" celebration will be August 5, but the restaurant will be in a "soft opening" walk-in phase with no reservations between then and September 10. This table-service restaurant features indoor and outdoor seating and the Disney Dining Plan will be accepted. The wood-fired pizza comes in three sizes: individual; large with eight slices; and a "mezzo metro," or half meter, that is 12 slices. There are several vegetarian options, including the pizza Margherita, fusilli pasta in a Southern Italian-style pesto, salads, minestrone and more. The photo at left is the facade of the new building, taken last weekend. See the planned menu here: http://allears.net/menu/menu_vianap.htm

ENCORE! Cast Choir and Orchestra, formed in 2002 by a group of Disney Cast Members, will be performing DREAM OUR DREAMS -- A Musical Tribute to the Legacy of Disney on August 6, 7, and 8 in Epcot's World Showplace. Over the past eight years ENCORE! has performed concerts featuring the music of Broadway, patriotic songs, gospel hymns, rock anthems, movie themes, and pop favorites, raising more than $110,000 for a variety of Central Florida charitable organizations. This year's designated charity is Make-A-Wish Foundation. For more information about the group visit: http://encorecentral.org/

Disney Pin Celebration 2010 - Trade City, U.S.A. will be held August 27-29, 2010, at the World Showplace in Epcot. Guests will find themselves immersed in Trade City, an eclectic town nestled in Trading Valley that is home to the world's longest lanyard and the world's biggest ear hat. Guests attending this ticketed Disney Pin Event will enjoy fun trading activities, the opportunity to purchase specially designed pins, and meet Disney pin traders from around the world. DisneyPins.com will have more details on this annual event soon.
Disney's Pin Trading Nights -- August 26, 2010 - 7 - 10 p.m. - Location to Be Determined.
Don't forget to check our Events page for current updates: http://allears.net/pl/events.htm
-=-=-=-=-=-=-=-=-=-=-=-=-=-=-=-=-=-=-
REHABS AND CLOSINGS
Magic Kingdom
"it's a small world" will be closed for refurbishment from August 1 through October 22.

Liberty Square Riverboat will not operate August 16 - 25, 2010.

Construction for the Fantasyland expansion has begun, necessitating the closing of several existing Magic Kingdom areas. Pooh's Playful Spot playground, Ariel's Grotto Character meet-and-greet and Scuttle's Landing have closed. Pooh and Tigger will appear in Town Square on Main Street, U.S.A. Enchanted Grove will now be open in Fantasyland for Extra Magic Hour mornings offering coffee and muffins. The Fantasyland pretzel cart will be located near Dumbo the Flying Elephant. Frozen Coca-Cola products will continue to be available at The Lunching Pad in Tomorrowland. During this expansion, classic Fantasyland attractions, including "it's a small world," Peter Pan's Flight, Mickey's PhilharMagic, Snow White's Scary Adventures, Cinderella's Golden Carrousel, Dumbo the Flying Elephant, The Many Adventures of Winnie the Pooh, and Mad Tea Party, will remain open.
Epcot
Cantina de San Angel at the Mexico pavilion in Epcot has closed for a significant refurbishment and expansion until September 2010. The company that operates the restaurants in the Mexico pavilion, San Angel Inn, LLC, plans to open La Hacienda San Angel on the site, a new 250-seat waterside restaurant. La Hacienda will open daily for dinner ONLY at 4 p.m. (It was originally announced that the restaurant would serve both fast food at lunch and table service for dinner.) For starters, the menu will feature queso fundido (warm cheese with poblano pepper and chorizo); a taco trio with rib eye, roasted chicken and pork; and traditional black bean soup. Entrees will include a mixed grill for two with flank steak, chicken, chorizo and vegetables (a seafood version features grouper, shrimp and scallops); roasted shrimp in pepper garlic broth; flank steak with spring onions, refried beans and cactus leaves; and grilled red snapper with roasted corn and cactus leaves. Desserts will include chocolate churros, sweet tamales and fruit empanadas. The other Mexico restaurant on the promenade, La Cantina, will be open daily at 11 a.m. and will have 150 outdoor seats. The new La Cantina menu will offer chicken and beef tacos on fresh handmade corn tortillas, nachos, a cheese empanada, guacamole and chips and churros. During the refurbishment, the San Angel Inn Restaurante and La Cava de Tequila, located inside the Mexico pavilion, and the Taqueria Del Lago, located alongside the promenade, will still be open for Mexican dining. The photo at left is the dome of the new building under construction, taken last weekend.
Disney's Hollywood Studios
Toy Story Mania! will be closed for refurbishment August 16 - 28, 2010.

Walt Disney: One Man's Dream will be closed for refurbishment August 16 - November 2, 2010.
Saratoga Springs
Work will begin this fall on the new feature pool in the Paddock area of Disney's Saratoga Springs Resort & Spa, building on the resort's turn-of-the-20th-century, upstate New York theme. The timetable for the new pool, which will replace the Paddock area's 1,100-square-foot quiet pool with a 3,300-square-foot zero-depth-entry pool, a 146-foot water slide, a 1,600-square-foot wet-play area, and an expanded pool deck spanning more than 11,000 square feet, has been modified somewhat. The existing pool is now scheduled to close in the fall of 2010. The new pool area, which will include an on-site, quick-service-dining location, is now scheduled to reopen in the fall of 2011.

http://land.allears.net/blogs/dnews/2010/03/new_feature_pool_at_disneys_sa.html
The Breathless II is unavailable until further notice due to unforeseen maintenance issues. If you have an existing reservation you will be contacted to reschedule if possible.
A complete list of rehabs can be found here: http://allears.net/tp/rehabs.htm
= = = = = = = = = = = = = = = = = = =

GIVE A DAY. GET A DISNEY DAY.
= = = = = = = = = = = = = = = = = = =
Even though the program has reached its goal of recruiting 1 million volunteers and is not taking any additional applicants, we'll be sharing reports of guests who have experienced special Magic as part of the "Give a Day. Get a Disney Day" program:
Jeanni Cahill: My mom, son and I went to our local Red Cross and created handmade thank you cards for local service men and women. We had to make 15-20 and it was a lot of fun. Even though my son is under the age to get a voucher, it was a great way to teach him about our military and why we say thank you. He had so much fun making cards and we made sure that the recipient knew it was from him!
Randi Albertson: My family volunteered to spend an afternoon playing games in a group home for developmentally challenged adult women. I was a little hesitant as to how my three children, ages 12, 10 and 7, would react to the women, particularly because I couldn't really tell them in advance what to expect. Three of us were wearing Disney t-shirts, and two of the women were also wearing Mickey shirts and one had Mickey slippers. It was a good ice-breaker for us! We brought several games, and after a quick assessment, were able to decide which were the most appropriate to play. Turns out one of the women was a card shark, and she beat my girls at Go Fish and War several times! The Pictionary card game we brought was a hit as well. We played the Disney version of Clue, and my children were very good about helping the women figure out which cards to play and how to move around the board. My children really rose to the occasion, showing compassion and patience for these women. I told the volunteer coordinator that we would gladly come for another afternoon visit!
Karen: My mom has given my daughter a Disney cruise for her birthday this year. Her birthday is the day after we disembark and we were planning to spend her that day at Hollywood Studios. As luck would have it, I got laid off and was not sure I would be able to afford the birthday day at the park. We found out about the volunteering opportunity and decided that this was the answer to the issue. The three of us volunteered together at a local food bank and earned three free days at Disney and helped the food bank at the same time!
-o-o-o-o-o-o-o-o-o-o-o-
Editor's Note: This story/information was accurate when it was published. Please be sure to confirm all current rates, information and other details before planning your trip.