General Info
Attraction Info
Parades and Shows
News
January
February/
March
Spring
April
May
June/July
August
September
October
NovemberDecember
OTHER THEME
PARKS
Theme Park Archives

Summer Nightastic
2010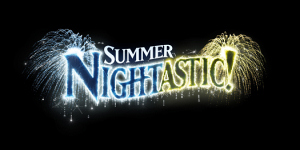 Summer Nightastic! will run from June 6 through August 14, and according to Walt Disney World
everything reverts to its original status at that time.
Sounds Like Summer Concert Series
Summer Nightastic! Fireworks Spectacular
***********************************
The biggest draw is undoubtedly the return of the beloved Main Street Electrical Parade to the Magic Kingdom. Along with this, Disney is also rolling out a new fireworks show for the Magic Kingdom, a music series in Epcot, changes to the Twilight Zone Tower of Terror and a new dance party in Disney's Hollywood Studios.
Main Street Electric Parade
New for Walt Disney World Tinker Bell atop her own float, a Pinocchio unit, LED technology on the main MSEP drum float. (Be sure to spot the trail of pixie dust that starts on this float and then travels along the entire parade.) and updated music. It's still the same beloved "Baroque Hoedown," but a few things have been added or modified.

Summer Nightastic! Fireworks Spectacular
The fireworks are based on those shown during the Pirates and Princesses Parties.
The Summer Nightastic! show begins with the Fairy Godmother summoning a celebration.
She is joined by the fairies from Sleeping Beauty (Flora, Fauna and Merryweather),
but soon a "villain will try to participate, but you know how it's going to end."
Show Director Chris Oyen: "Because this fireworks show has a limited run, we're able to do things we can't normally do," Oyen notes. "This will be the first time that regular day guests can see a show like this without the upcharge of something like the Mickey's Not So Scary Halloween Party. We will have fireworks all around the park (perimeter fireworks) and a few other surprises."
Rock 'n' Glow Dance Party
Disney's Hollywood Studios
On Tuesdays, and Thursdays through Sundays, a DJ takes center stage and livens things up with a wide variety of prerecorded rock and roll. While he's at it, he also teaches the crowd a few dance steps and gets the entire audience movin' together. Disney characters also get into the act and dance with all willing participants. Live music is also on hand for portions of the evening with Mulch, Sweat, and Shears performing.

The Dance Party begins each evening three hours before park closing.
Twilight Zone Tower of Terror
New Ride Profile!
Disney's Hollywood Studios
Jason Roberts, show producer, was reluctant too share too many details, but would only tease that the changes on the attraction will be "noticeably different" to anyone who has ridden it before.

"We really pushed to come up with something different," he explains. "We'll bring the guest into the story more than ever before. I think we have come up with the most version of the Tower of Terror to date."

Sounds Like Summer Concert Series
America Gardens Theatre Epcot
Epcot hosts the nightly to the Sounds Like Summer concert series on the America Gardens Theatre stage. More than just "tribute" bands, the performers appearing during this concert series will bring the essence of the music and artists to life.
"It will be like you're playing your old LPs," says Alan Bruun, associate creative director for new projects and special events. "We've required these bands to be authenticated by the artists whose work they are performing. So you won't just be hearing a band that covers the music of the Rolling Stones, but you will be hearing the music as the Rolling Stones performed it, as approved by the Rolling Stones themselves."