Dine with an Imagineer
Review
By Michelle Scribner-MacLean
Photos by Barrie Brewer
(May 2010)
This article appeared in the June 1, 2010 Issue #558 of ALL EARS® (ISSN: 1533-0753)
A sure conversation starter with any Disney fan is the question, "If you could have any job at Walt Disney World, what would you want to do?" Some would want to be performers, others might want to bring life to a character and interact with guests, while still others would love to get a chance to load guests into the Stretching Room at the Haunted Mansion. I think we'd all agree that there are no shortage of very cool jobs at Walt Disney World, however, I wouldn't choose any of these. Me? I'd love to be an Imagineer.
Imagineers are a special group of Disney cast members who start with a concept or story idea around a park, attraction, or resort and bring it to fruition with a lot of teamwork and some Disney magic. Photographer Barrie Brewer and I had the opportunity to dine with an Imagineer in early May, affording us three hours to ask questions about what it's like to work with a company which seems to have boundless imagination and resources.
This experience has been offered for the past few years at Hollywood Studios during lunchtime at the Brown Derby, but recently Disney recently began offering a dinner experience at the Flying Fish on the Boardwalk. For those guests who do not want to pay for park admission, this is a nice alternative.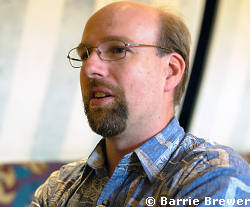 We booked separately and both Barrie and I had some difficulties booking the experience by calling Disney Dining (407-WDW-DINE) (this may have been because we tried to book close to the date we wanted to dine), however, we called the restaurant directly and the manager called back, very happy to accommodate us.
We arrived for our dinner at 5:30 and checked in right when the restaurant opened. The manager of the Flying Fish welcomed us, beginning what was to be a night of exceptional service. We were escorted to the back of the restaurant, off to the side, where our table was set and ready to go and there to great us was Dan Flynn, Show Program Manager and Imagineer.
There were four of us in our party, but we were told that the upper limit is 10 people.
Because we arrived just when the restaurant opened, we were at the back corner of the restaurant, and we were a small party, we were able to hear each other very well. However, as the night progressed and the restaurant filled, it became increasingly difficult to hear what Dan was saying.
Dan was also to give us a bit of clarification about what an Imagineer really is. My perception had always been that one had to be an engineer, artist, writer, or model designer to hold the title Imagineer. However, Dan set me straight and I was interested to learn that everyone who works in the Imagineering group in Florida, California, New York, and various other places across the country are considered Imagineers. I was correct - artists and engineers are in the group, but accountants, electricians, and administrative assistants….anyone who works in that group contributes to the projects at hand are considered Imagineers (I subtly suggested that they might want to add a college professor from the Northeast to their payroll, but he seemed not to hear me).
In my daydreams about becoming an Imagineer, I'd always imagined days filled with exciting discussions, the ability to use interesting gadgets, and to work with innovative people behind the scenes of one of my favorite places. According to Dan, those things do happen, however, he confessed that sometimes his day consists of testing the same attraction for hours and hours to get it just right and that can get a bit monotonous. So, just like the rest of us, Imagineers have good and bad days at work.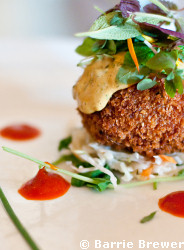 Dan told us that Imagineers volunteer to participate in these experiences with guests and he was a perfect person for the job. For three hours he happily sat and chatted with us and answered our questions about how he started, what training, he'd had, details about projects he had worked on, what he liked about his job, and some info about his current project on Oahu, Hawaii, home of the new Disney Vacation Club site. Because he's an Imagineer, he seemed to have taking an Oath of Silence and stressed that he couldn't give away any details about the project, but assured us that it was going to be very, very interesting and fun and that he thought guests would love it. He did reveal that Disney has been working with the local community to ensure that the "story" of the resort truly reflect the rich cultural heritage of Hawaii and was excited to share that local artisans were contributing to the project.
We started with an appetizer sampler, which included crabcakes and a crispy tempura sushi roll. A small portion of Cesaer salad with pesto-sourdough was served in funky bowls that became a topic of conversation. Next the chef delivered some sorbet and we were free to choose one of five different entrées, which included three seafood choices, a steak, and a vegetarian entrée. We finished with a combination of three mini peach desserts, which included a peach crème brulée.
The Flying Fish Café is one of my favorite Disney restaurants; I've always found the food and service to be outstanding and this experience was no exception. The food was perfect and the waiter and manager were very attentive, but careful not to interrupt our spirited conversation.
The cost of the experience is $85 and includes all courses, but does not include the 18% gratuity or tax, which made the total cost closer to $110. Alcohol is not included, but guests can pay an extra $30 for sommelier wine pairings for each course. No discounts apply to the cost, so we were unable to use our Tables in Wonderland cards, as we typically can for dining at this restaurant.
Disney also offers a $75 commemorate plate, with the date of the dinner and the restaurant's name. Dan was kind enough to sign one that was purchased by one of our party.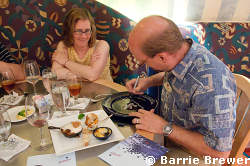 Disney recommends this experience for persons 14 years of age and older. There is a special menu to select from.
While it's certainly a bit pricey, the Dining With an Imagineer is well-worth the price. We were lucky enough to spend a full three hours with an interesting, enthusiastic Disney cast member, who was full of enthusiasm about his job and got to dine at arguably one of the best restaurants on Disney property.

-o-o-o-o-o-o-o-o-o-o-o-
Editor's Note: This story/information was accurate when it was published. Please be sure to confirm all current rates, information and other details before planning your trip.