May 2010 Walt Disney World Bits and Bites
Feature Article
This article appeared in the April 27, 2010 Issue #553 of ALL EARS® (ISSN: 1533-0753)
= = = = = = = = = = = = = = = = =

STEP BACK IN TIME
= = = = = = = = = = = = = = = = =
Ever wonder what Walt Disney World was like way back when? We rummage around in our archives for this monthly feature, which takes you back in history for a glimpse of Walt Disney World through the ages. This month we go back to 1988 at Epcot:

The Norway Pavilion opens in the World Showcase at EPCOT Center with specialty shops, the Fjiording shop, Puffin's Roost shop, Kringla Bakeri og Kafe restaurant, and the Restaurant Akershus restaurant, live entertainment and the Maelstrom thrill ride.
Here's information from a Disney Press release prior to the opening of Norway: "Its major attraction takes guests on a thrilling voyage aboard 16-passenger Viking ships from a modern village, up white-water rapids and into a 10th Century Viking village. Here, a magical spirit casts a spell as voyagers embark on a thrilling ride past angry river trolls to the ends of a roaring waterfall, through a rocky fjord to the North Sea and into a fiece ocean storm before the vessel docks in a quiet coastal village."
At one time a Viking Ship play area was located just to the left of the main buidlings, but that has faded into the past. The live entertainment is gone now, but much of the Norweigan village remains the same.
Today, Restaurant Akershus has become the Royal Akershus Dining Hall, home to Disney Princesses and all-day character dining.
During Epcot's Flower and Garden Festival, you can find a topiary Troll. In December during Holidays Around the World, the elf known as Julenissen makes appearances throughout the afternoon.
Related links:
Attraction information page: http://allears.net/tp/ep/e_nor.htm
A Walking Photo Tour of Norway: http://tinyurl.com/26rbjuy
Rate and Review Norway's restaurant: http://land.allears.net/reviewpost/showcat.php?cat=34
= = = = = = = = = = = = = = = = =


SOUVEN-EARS
= = = = = = = = = = = = = = = = =
This month, Senior Editor Debra Martin Koma donned her shopper's cap again and took a look at the exclusive new Dooney & Bourke handbags being offered at Disney Parks for some unique Souven-Ears:
Truth be told, I'm really not much of a shopper... until I get into some of the shops at Walt Disney World. Then I admit I do enjoy poking around to see what's new and what I might want to splurge on. I had read about the new exclusive line of Disney-themed handbags by famous manufacturer Dooney & Bourke that were making their way into the parks, so I took some time while chaperoning my son's recent school trip to check them out. The bags' patterns run the gamut from subtle to not-so, and the bags come in a variety of shapes and sizes, sure to make a interesting gift or "souven-ear" for the Disney fan in your life -- even if that fan is YOU. My favorite line was the "Sketch" style, which features bright-colored drawings of Tinker Bell, the castle, Mickey balloons, Dumbo, and more on a light background with a tan leather trim. It's clearly Disney, but I didn't really feel it was gaudy at all. If you like a big bag, the large tote retails for $225 (gasp, I know -- a bit pricey, but it is nice), the medium tote for $190, a nice tote with a tassle for $160, and the wrist clutch for $45. For a more demure pattern, the "Tonal" line has various shades of beige Mickeys on a muted beige background with brown leather trim and detailing. Its largest bag is $220 with gradually smaller sizes down to the "change purse" at $49. For those who want to loudly proclaim their Mickey love, the "Wonder" line is for you -- an explosion of multi-colored Mickey figures boldly cover a black background, with black leather straps. Prices for these bags range from $49 for the wrist clutch up to $220 for the tote. There's also a line of navy and white canvas bags with Mickey's smiling face that include a "pouchette" for $60 and a domed satchel for $175. A counterpart of this line features bright green Minnie faces on a hot pink background -- who knew preppy pink and green were coming back into fashion?
By the way, Dooney & Bourke has also come out with an exclusive collection just offered on the Disney Cruise Line, which the Disney Parks blog recently featured. You'll find them here:
= = = = = = = = = = = = = = = = =


HIDDEN MICKEYS ALERT
= = = = = = = = = = = = = = = = =
Steve Barrett, author of the Hidden Mickeys books and webmaster of www.HiddenMickeysGuide.com clues you in on a few interesting Hidden Images:
1. Halfway through Old Scratch's Mystery Mine on Magic Kingdom's Tom Sawyer Island, bright shining gems embedded in the wall form a side profile of Goofy. He's looking to your right. (Thanks to Kathy Fetters and Karen and Grace Price.)


http://allears.net/btp/hm287.jpg

2. After the fall of Rome on Epcot's Spaceship Earth ride, you see three Islamic scholars seated around a table on the floor. They are illuminated by lights that form patterns on the floor. The outer circle of light patterns form classic Mickeys. (Thanks to the Ilsley Family, Patty, Adam and Megan Klein and Marc Lorenzo.)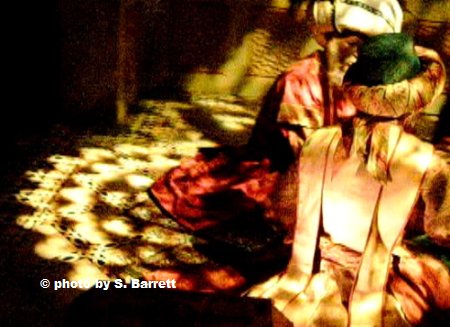 http://allears.net/btp/hm288.jpg

3. I've added a new section to my website: "Hidden Surprises," which includes hidden Pixar and other movie images. Check out the "Pixar ball" (from the Pixar film Luxo Jr.) in the Monsters, Inc. movie. This ball appears in other Pixar movies as well. (Thanks to Marissa.)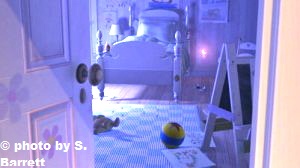 http://allears.net/btp/hm289.jpg
Don't miss Steve's past Hidden Mickey Alerts: http://allears.net/btp/hiddenm.htm
= = = = = = = = = = = = = = = = =


MONTHLY REMIND-EARS
= = = = = = = = = = = = = = = = =
Epcot
Epcot's Flower and Garden Festival continues through May 16.
http://allears.net/tp/ep/flogar.htm

D23 Flowers and Fireworks Event event will take place May 15-16 and celebrate the color and creativity of Walt Disney World with D23 during the Epcot International Flowers & Garden Festival! Tickets are still available. For more information visit the D23 Events Page: http://d23.disney.go.com/expo.html
Disney's Hollywood Studios
Star Wars Weekends begin May 21 - June 13! The celebrity hosts for each weekend will be Jeremy Bulloch (Boba Fett from Empire Strikes Back and Return of the Jedi) and Ashley Eckstein (Ahsoka from The Clone Wars).
Don't forget to check our Events page for current updates: http://allears.net/pl/events.htm
-=-=-=-=-=-=-=-=-=-=-=-=-=-=-=-=-=-=-
REHABS AND CLOSINGS
Magic Kingdom
Fantasyland Update: Pooh's Playful Spot playground, Ariel's Grotto Character meet-and-greet and Scuttle's Landing have all closed. Sometime late 2010 or 2011, Mickey's ToonTown Fair will close to make way for the Fantasyland Expansion.
Epcot
The new 300-seat restaurant/pizzeria being constructed in the Italy pavilion in Epcot has still not been named, but it is slated to open in early September. Disney has released an artist's rendering of what the new structure will look like when it's completed.

Cantina de San Angel at the Mexico pavilion in Epcot has closed for a significant refurbishment and expansion until fall 2010 (reopening is tentatively set for late September, but could change). The company that operates the restaurants in the Mexico pavilion, San Angel Inn, LLC, plans to open on the site a new 400-seat waterside restaurant and quick service food location "specializing in the freshly baked culinary flavors of Mexico." During the refurbishment, the San Angel Inn Restaurante and La Cava de Tequila, located inside the Mexico pavilion, and the Taqueria Del Lago, located alongside the promenade, will still be open for Mexican dining.
Disney's Hollywood Studios
Muppet Vision 3D will be closed for refurbishment April 24-May 14.

Rock 'N' Roller Coaster will be closed for refurbishment May 15-20, 2010.
Blizzard Beach -- The unseasonably cold winter has delayed work on the Teamboat Springs attraction, so it will remain closed for an additional few weeks.
The Breathless II is unavailable until further notice due to unforeseen maintenance issues. If you have an existing reservation you will be contacted to reschedule if possible.
Stormalong Bay's Pool Slide will be closed to guests beginning May 2 until late in May. The rest of the Stormalong Bay pool complex, including the kiddie slide and pool, will remain open. Guests at the Yacht and Beach Club can use the large water slide at the Luna Park pool at the Boardwalk Resort. Shuttle transportation will be available.
Saratoga Springs Resort
Work will begin this spring on a new feature pool in the Paddock area, building on the resort's turn-of-the-20th-century, upstate New York theme. Plans call for the new pool, scheduled for completion in mid-2011, to replace the Paddock area's 1,100-square-foot quiet pool with a 3,300-square-foot zero-depth-entry pool, a 146-foot water slide, a 1,600-square-foot wet-play area, an expanded pool deck spanning more than 11,000 square feet and, for hungry swimmers and sunbathers who'd rather not make the trip across the lake to Artist's Palette, an on-site, quick-service-dining location.

http://land.allears.net/blogs/dnews/2010/03/new_feature_pool_at_disneys_sa.html
A complete list of rehabs can be found here: http://allears.net/tp/rehabs.htm
= = = = = = = = = = = = = = = = = = =


GIVE A DAY. GET A DISNEY DAY.
= = = = = = = = = = = = = = = = = = =
Even though the program has reached its goal of recruiting 1 million volunteers and is not taking any additional applicants, we'll be sharing reports of guests who have experienced special Magic as part of the "Give a Day. Get a Disney Day" program:
Goofykr: My daughter and I were lucky enough to sign up just before the Give a Day, Get a Disney Day program ended. I needed to find an activity that my 6-year-old could do with me. We decided it would be fun to make blankets for Project Linus in Maryland. The blankets turned out really cute and we can't wait for children to receive them. Ashley and I worked hard to make a difference in someone else's life and can't wait to proudly wear our VoluntEARS buttons when we visit WDW in May. What a wonderful program!
Jsjdavid: I am sending this as a mother who organized a "give a day" day for the Hydrocephalus Association, a nonprofit organization. We had more than 45 volunteers donate their time to help us. Most of the volunteers had never heard of hydrocephalus (commonly known as water on the brain), however, they wanted to help in anyway they could. It was so touching to hear at the end of the day that our volunteers wanted us to call them next year to help out, even if Disney isn't running the program again. Most people don't realize that hydrocephalus is the number one cause of brain surgeries in children. (Our son, who was born with hydrocephalus, has been though four surgeries.) For all of you out there who are considering volunteering your time... do it! You can really make a difference!
Denise Adams: My organization of choice was the American Red Cross Chesapeake and Potomac Chapter. They do require a background check, which is done online and at their expense, and orientation. My official work day was at the 98 Rock Mardi Gras Blood Drive, where I dressed up in the mascot costume. The bloodhound suit is big and furry and really quite toasty. Also, vision is quite limited. My job was to walk around the mall, pose for pictures and hug people. What a hoot! I did have a handler who warned me when I was about to be ankle-hugged by some toddler. After three hours, I have a new appreciation for all of the Disney character "friends". In addition to the Disney ticket, we were given lunch, a long-sleeved tee shirt and a Red Cross pin, which I will wear proudly on my lanyard next time we are in Disney.
-o-o-o-o-o-o-o-o-o-o-o-
Editor's Note: This story/information was accurate when it was published. Please be sure to confirm all current rates, information and other details before planning your trip.