February 2010
Walt Disney World Bits and Bites
Feature Article
This article appeared in the January 26, 2010 Issue #540 of ALL EARS® (ISSN: 1533-0753)
= = = = = = = = = = = = = = = = =

STEP BACK IN TIME
= = = = = = = = = = = = = = = = =
Ever wonder what Walt Disney World was like way back when? We rummage around in our archives for this monthly feature, which takes you back in history for a glimpse of Walt Disney World through the ages. This month we look at Disney's former Dixie Landings Resort, which opened 18 years ago in February 1992.
The 2,048-room resort blended the "Gone With the Wind"-style mansions of Magnolia Bend with the rustic Alligator Bayou buildings. The resort was designed to take folks back in time to the Old South, in fact Song of the South theming was once incorporated into the resort. The mighty Sassagoula River winds through the resort, heading downstream to what's now known as Port Orleans French Quarter and eventually to the Downtown Disney area.

Room rates began at $85 per night, but there was a Florida resident special of $69 per night.
Ol' Man Island, the 3.5-acre recreation complex included pools, outdoor spa, fishing hole and playground. At the Dixie Levee you could also rent boats and bicycles. The Legend of Ol' Man Island goes like this: "Settled in 1835 by a Young Man, the island became his home in the solitude of the Bayou Country. Years later, as Riverside was settled and prospered, Ol' Man Island was discovered by the children of the town. They would steal away to play on the island where a wondrous world had been created. The island is a tribute to the Ol' Man and the happiness he gave the children and all of Riverside's Neighbors."
The main building is designed to resemble a steamship and features a large waterwheel on the exterior. Boatwright's Dining Hall featured Cajun and American cuisine and Colonel's Cotton Mill food court served up a variety of counter service offerings.
Much of the resort remains as it did in 1992, with the exception of the name. On April 1, 2001, the resort was combined with what was then known as Port Orleans to become the Port Orleans Resort. Dixie Landings then became known as Port Orleans Riverside.
= = = = = = = = = = = = = = = = =


HIDDEN MICKEYS ALERT
= = = = = = = = = = = = = = = = =
Steve Barrett, author of the Hidden Mickeys books and webmaster of www.HiddenMickeysGuide.com brings a few Disney movie Hidden Mickeys to your attention:

1. In "Finding Nemo," just after the dentist breaks the picture, a green classic mickey is on the tank at the bottom left. (Thanks to Robert Anderson.)
http://allears.net/btp/hm278.jpg

2. In "Chicken Little," when the alien looks at his wrist watch, it's a Mickey watch. Only this Mickey has three eyes! (Thanks to Jonah Szymanski and Murray Bishop.)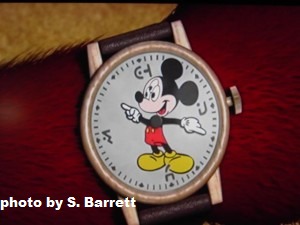 http://allears.net/btp/hm279.jpg
3. In "Meet the Robinsons," an upside-down classic Mickey in hedges shows up numerous times throughout the movie. (Thanks to Tom S., and Melissa, Clint and Tatum.)
http://allears.net/btp/hm280.jpg
= = = = = = = = = = = = = = = =


THIS AND THAT
= = = = = = = = = = = = = = = =
-- Learn to hula dance at Disney's Polynesian Resort, where complimentary classes take place most days in the resort's lobby. Auntie Kaui, a hula dancer and instructor with 50 years experience, leads most of the classes offered Monday through Saturday at 3:45 p.m., and Saturday mornings from 10 a.m. until noon. Weekday classes are geared toward the younger set, with leis and grass skirts aplenty, while the Saturday morning lessons encourage guests of all ages to do the hula shake. And whether guests stay for five minutes or the full two-hour Saturday classes, they'll learn a variety of chants and dances from such tropical locales as Hawaii, Tahiti and more.
-- Epcot is a World Showcase for art lovers: Epcot World Showcase has been a "showplace" of nations since its grand opening in 1982. But beyond the pagodas in Japan and the longboats in Norway lies a whole other world: treating art-lovers to museum-quality galleries. Current exhibitions are located at Norway, China, Japan, Morocco, The American Adventure and Mexico. Admission to the exhibitions is included with general park admission .
-- Guests can slurp a sandwich at the 50s Prime Time Cafe at Disney's Hollywood Studios where peanut butter and jelly take yummy milkshake form. At this fabulous 1950's kitchenette, the servers holler for guests to take their seats among Formica tables, pull-down lamps and knickknacks, checking in periodically to make sure each person eats their veggies and cleans their plate. Wash it down with a PB&J shake.
-- Harmony Barber Shop is a cut above the rest. Sit back in the barber's chair and experience a good old-fashioned haircut at Harmony Barber Shop on Main Street, U.S.A. in Magic Kingdom. Located near the Emporium and with a signature candy-striped pole outside, the shop transports guests to a simpler time when barbershop quartets entertained and getting a haircut was a real treat. "First Haircuts," the establishment's specialty, treats young'uns to pixie dust, bubbles, Mickey Mouse stickers and an extra-special "My 1st Haircut" set of Mouse Ears. Haircuts are $18 for "Baby's First Haircut;" $15 for children; $19 for adults; first-come, first-serve.
-- Disney's Animal Kingdom Lodge houses a diverse collection of African art sure to impress amateurs and aficionados alike. Sculptures and carvings throughout the resort tell stories that help familiarize guests with Africa and its diverse countries and regions. Among the art is the 16-foot-tall Igbo Ijele mask, a piece created and exported by the Igbo people of Nigeria specifically for use in the lodge.
= = = = = = = = = = = = = = = = =


MONTHLY REMIND-EARS
= = = = = = = = = = = = = = = = =
EVENTS
Atlanta Braves Spring Training: February 1 - March 31 -- Major League Baseball returns when the Atlanta Braves suit up for their 14th exhibition season at Walt Disney World Resort in March 2010. The Braves have enjoyed nine division titles while training at Disney's 220-acre sports campus, and now feature one of the most promising young teams in baseball. Champion Stadium at the newly rebranded ESPN Wide World of Sports Complex, where the Atlanta Braves will take the field to prepare for the upcoming season, features more than 9,500 seats, four luxury skyboxes, and multiple open-air suites and patios. Stadium seats, bleachers and a grassy knoll all provide fans with an intimate sports experience like no other. For more information on Braves spring training season, group tickets and mini-packs, visit disneysports.com
Disney's Dreamers Academy with Steve Harvey , an event created to inspire and enrich high school students, returns to Walt Disney World Resort February 11-14, 2010. One hundred teens from across the country will pack their bags -- and their dreams -- and head to Walt Disney World Resort, where they will learn about careers in everything from culinary arts to animation, from set design and show production to the business of sports and more. www.SteveHarvey.com/disneysdreamersacademy
Walt Disney World has "re-imagined" Disney's Wide World of Sports Complex with the ESPN brand and is expected to hold a grand reopening on February 25, 2010, renaming the facility ESPN Wide World of Sports. Seveal ESPN elements will be added throughout the 220-acre facility, providing new entertainment and immersive experiences for guests and athletes, including: 20 video screens, including two JumboTrons that will include customized videos, highlight reels featuring the daily competitions and interviews involving ESPN sports personalities; a new 2,500 square foot state-of-the-art broadcast center with eight edit bays and a direct uplink to ESPN in Bristol, Connecticut; a new ESPN Innovation Lab facility; a redesigned and renamed ESPN Wide World of Sports Grill, a sports-themed eatery with high-definition TV screens and live radio remote capabilities; complex-wide audio system.
ESPN The Weekend, the annual event that brings legendary athletes from every sports discipline as well as ESPN television personalities to Disney's Hollywood Studios, is February 26-28, 2010. The Champion 5K at ESPN The Weekend presented by Dick's Sporting Goods will be run on Saturday, February 27, 2010, at 7 a.m. at Disney's Hollywood Studios as part of ESPN The Weekend. The race benefits The V Foundation for Cancer Research. For more information, visit: www.espntheweekend.com

http://allears.net/tp/mgm/espn.htm
Guests of all ages are invited to make friends, trade pins and share Disney magic at Disney Trading Nights. This free activity will be held on February 26, 2010 from 6 to 9 p.m. at Disney's Contemporary Resort, in Ballroom of the Americas.
=-=-=-=-=-=-=-=-=-=-
Don't forget to check our Events page for current updates: http://allears.net/pl/events.htm
-=-=-=-=-=-=-=-=-=-=-=-=-=-=-=-=-=-=-
REHABS AND CLOSINGS
Magic Kingdom
Splash Mountain will be closed from January 3 - February 27, 2010.

The Crystal Palace Restaurant in Magic Kingdom will be closed for rehab January 3 - February 13, 2010. Beginning January 3, 2010, Liberty Tree Tavern will host character dining for breakfast, lunch, and dinner, with all meals served in an all-you-care-to-enjoy, family-style setting. On February 15, 2010, Liberty Tree Tavern will resume its normal operation of serving lunch and dinner as a non-character location. Reservations for Liberty Tree Tavern character meals are available now.

Sometime in 2010, Mickey's ToonTown Fair will close to make way for the Fantasyland Expansion!
Epcot
Living with the Land will be closed for rehab January 18 - February 5, 2010.

Cantina de San Angel at the Mexico pavilion in Epcot, has closed for a significant refurbishment and expansion until fall 2010 (reopening is tentatively set for late September, but could change). The company that operates the restaurants in the Mexico pavilion, San Angel Inn, LLC, plans to open on the site a new 400-seat waterside restaurant and quick service food location "specializing in the freshly baked culinary flavors of Mexico." During the refurbishment, the San Angel Inn Restaurante and La Cava de Tequila, located inside the Mexico pavilion, and the Taqueria Del Lago, located alongside the promenade, will still be open for Mexican dining.
Blizzard Beach - closed for annual refurbishment January 10 - March 20.
A complete list of rehabs can be found here: http://allears.net/tp/rehabs.htm
= = = = = = = = = = = = = = = = =


MAGICAL MOMENTS
= = = = = = = = = = = = = = = = =
Each month in 2010, we'll be sharing reports of guests experiencing special Magic as part of the "Give a Day. Get a Disney Day" program:
Jennifer Schwartz -- My children, ages 16, 13, and 9, and I, participated in the Martin Luther King Day of Service in Boston. I had some doubts the event would still be running because Boston was in the midst of yet another snow storm. What a great surprise it was to see so many people willing to share some of their time to help others. It was an extremely well-run event, partnered with the agency Boston Cares. Previous to this day, I had a rough time finding service organizations that allowed young children to attend. Through the Disney program I have been able to locate many additional organizations seeking volunteers. We will definitely be participating in more throughout the year.
Melissa Williams -- I volunteered three hours at our local Food Bank, where all the food comes in that is donated by stores and the government, and then member agencies (like food pantries, homeless shelters and such) come there to "shop" for food. I found the process to sign up a little complicated, but for the most part smooth and easy. I received an email to remind me to go volunteer and I already received an email that thanked me for volunteering. Disney certainly has a very efficient email and tracking system in place! Now I just have to wait to get my email to print out my certificate. My family is going down for a visit February 8 -15. My plan is to turn in my certificate on our first MK day and get the Fast Pass option, as we already have our tickets.
Shirley Wilson -- I volunteered for the Second Harvest Cafe in Nashville on January 8. I never even knew this was in Nashville. I had to drive 75 miles one way to volunteer and it was snowing and extremely cold, but I went and had a great time. This is a cafe next to the Second Harvest food bank. Meals are sold there on Fridays. The money goes to the Second Harvest food bank. They have a chef and an assistant. There are also several volunteers that come several days a week every week. You can learn a lot about meal prep and some great recipes.
Elaine Wibben -- My husband, myself, and 7-year-old granddaughter volunteered to work at the Blue Star Mothers, Broken Arrow, OK branch. We were welcomed by all the staff, and introduced to all who were there to volunteer, a very warm and cordial group. We began by making baggies of condiments of sugar, coffee, creamer, Splenda, etc. My granddaughter was in charge of bagging several varieties of candy for the troops. After all the individual baggies were filled, we then moved to a line that packaged the boxes that would be sent. Some of the people filled the boxes, some of them taped them shut, and some of them stacked the packages to get ready for the post office to come and pickup and mail. It was a wonderful experience. We all will be going back and volunteering on our own time.
-=-=-=-=-=-=-=-=-=-=-=-=-=-=-=-=-=-=-=-
Send your Give a Day, Get a Day stories to: allearsnet@yahoo.com
-o-o-o-o-o-o-o-o-o-o-o-
Editor's Note: This story/information was accurate when it was published. Please be sure to confirm all current rates, information and other details before planning your trip.