Now Go Have an Adventure:
Finding Nemo at Animal Kingdom
by Richard Mercer
AllEars® Guest Columnist
Feature Article
This article appeared in the January 5, 2010 Issue #537 of ALL EARS® (ISSN: 1533-0753)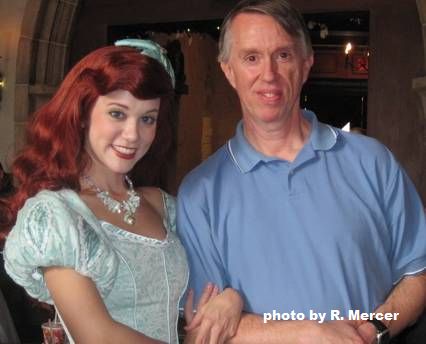 Movies and shows form the central theme of Disney's Hollywood Studios. Among the attractions are two stage shows, two stunt shows, and one theater show. For me, Beauty and the Beast is the best Disney movie ever and is a sentimental favorite as a stage show. So it would be natural for you to think that the best shows at Walt Disney World are found at Disney's Hollywood Studios and expect me to agree.
But you'd be wrong -- Animal Kingdom has many hidden gems and among them there two spectacular shows!
Festival of the Lion King squeezes a remarkable amount of talent and entertainment into 30 minutes. Top billing goes to the four vocalists who perform five hit songs from The Lion King, plus "The Lion Sleeps Tonight". These vocalists get better every year and this year's quartet seemed to come direct from Broadway. There is also banter from Timon and Pumbaa, remarkable gymnastics from the Tumble Monkeys, an aerial ballet, fire dancing, stilt-walkers, a variety of dancing costumed "animals", and ample opportunity for audience participation. With a theme from Disney's highest-grossing animated movie and Academy Award-winning music (in 1994 not only the winner, but three of the five nominations for "Best Original Song" came from The Lion King), you'd think this must surely be the best show in Walt Disney World. But, at least for me, you'd be wrong. Festival of the Lion King, while excellent, does not actually tell the story of The Lion King; it's more of a musical revue combined with a circus.
At the opposite side of Animal Kingdom is Finding Nemo: The Musical. I was skeptical when this show was first announced in 2006. Turning a non-musical into a musical sounded like a recipe for disaster; I suspected Disney of simply using Pixar's highest-grossing film as an unimaginative choice to replace Tarzan Rocks! And how does one stage a show that takes place underwater?!
Finding Nemo: The Musical opened on January 2, 2007, but I wasn't able to see it until almost a year later. I enjoyed it, but at the time I didn't understand why. The staging involves human actors carrying and operating large character puppets on stage, which sounds like it shouldn't work, but somehow it did. The songs seemed simplistic, but somehow it all came together. The next year we went back to see it again and I enjoyed it even more the second time.
Finding Nemo: The Musical not only tells the story of Finding Nemo, it tells it very well. The 40-minute show includes all the major plot points, but moves quickly and concentrates on the core story of the fear of losing a child or parent, and the devotion of parent for child being in conflict with the child's need for independence. This story, with which most people can strongly identify, is the reason why Finding Nemo did so well as a movie.
If the stage actors were wearing street clothes and handling puppets, it would seem incongruous, but they are dressed in full-body suits with nautical themes and colors. The actor's and puppet's mouths move together when speaking and singing. Once you get over the novelty, your brain interprets the actor and the puppet together as a single character. The large puppets, including Mr. Ray and Crush, are just amazing. In the Beauty and the Beast show, much of the dialog and music is prerecorded, and only Belle and Gaston have microphones and actually speak and sing during the performance. In Finding Nemo: The Musical, nearly all the stage actors are miked, and nearly all the singing and dialog is live.
The music is actually a very good match for the movie, not only better than I feared, but better than I hoped. Yes, some of the songs such as "Big Blue World" and "That's My Dad" are simple, but so was "Beauty and the Beast"; simplicity is no obstacle to being a powerful song. "Go With the Flow", which is not at all simple, is the song for the EAC scene with Crush, and is the best song in the show. The right music can serve as a "lens" to intensify the impact of a story, and that is exactly what happens here. While Festival of the Lion King has more talent and entertainment, the combination of story-telling and music in Finding Nemo: The Musical makes this show a much more emotional experience, and in my opinion the best show in Walt Disney World.
For my December 2009 solo trip I found myself humming "Big Blue World" and checking show times for Finding Nemo before I even left home. I specifically made a lunch reservation for Tusker House because it included special seating at the 3:15 show. On my "free day" I found myself going back to Animal Kingdom the first thing in the morning so I could see the 10:15 show. Both times I was in tears throughout the show. I brought the soundtrack CD home as a Christmas present for myself, and am so glad I did.
You hear a lot of people saying Animal Kingdom is a "half-day park"; I like to think of them as "skimmers". Sure, you can go to Everest, grab a Fastpass, ride it, do the Safari, come back and ride Everest again, then hit Dinosaur, and be out of the park by lunch time. But if you don't see Festival of the Lion King and Finding Nemo: The Musical, the best shows in Walt Disney World, then you are missing much of what Animal Kingdom has to offer. And of course there are other shows, exhibits, and experiences for those willing to give them a try. Next time you go to Animal Kingdom, don't just skim, go have an adventure!
Author's Notes:

-- "Now go have an adventure!" is what Marlin says to Nemo at the end of both the Finding Nemo movie and the musical.
-- The soundtrack for Finding Nemo: The Musical is also available at the iTunes store. (When playing it in iTunes, be sure to go to Preferences and turn off Crossfade under Playback. If Crossfade is on you lose the last 5 seconds of each track.)
====================
About the Author:
====================

Richard Mercer lives in Beavercreek, Ohio, a suburb of Dayton. At 58, he is old enough to remember Walt Disney, the Mickey Mouse Club, and The Wonderful World of Color on television. He first visited Walt Disney World in 1980, but didn't begin regular trips until 2001, and is now up to 14 trips, plus one visit to Disneyland. He is also a proofreader for the Unofficial Guide to Walt Disney World.
====================
Related Links
====================
Beauty and the Beast: http://allears.net/tp/mgm/m_beauty.htm
Festival of the Lion King: http://allears.net/tp/ak/ak_flk.htm
Finding Nemo the Musical: http://allears.net/tp/ak/nemo.htm
-o-o-o-o-o-o-o-o-o-o-o-
Editor's Note: This story/information was accurate when it was published. Please be sure to confirm all current rates, information and other details before planning your trip.