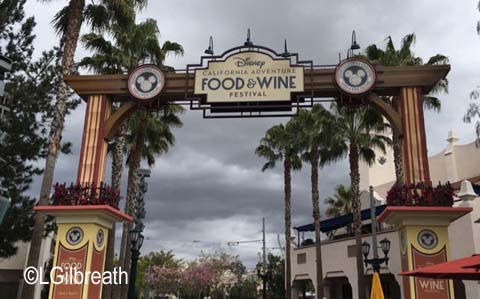 Lee and I visited this year's Disney California Food and Wine Festival on opening day, March 2. It was an overcast day, with rain predicted for late morning, but fortunately it held off until that evening.
When we walked in, cast members on Buena Vista Street were distributing paper chef's hats. I took one and wore it for a while.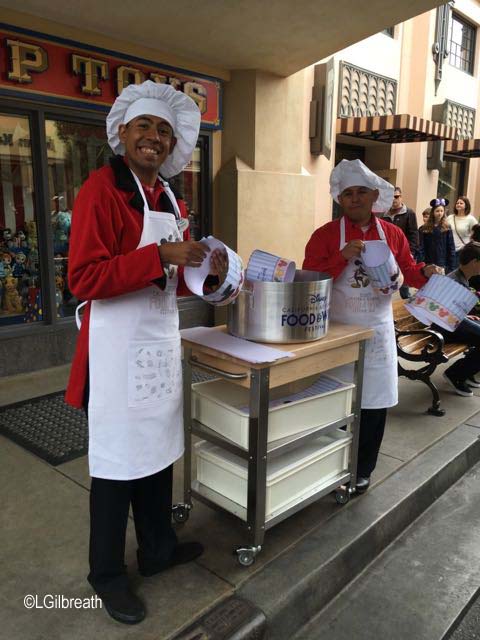 Most of the marketplaces are located along the Festival Corridor – which is the parade route from "a bug's land" to Paradise Garden. A lot of the marketplaces are new this year, but there's a few returning from last year, with some returning dishes as well. A lot of them are themed to a particular ingredient, like peppers, garlic, corn, avocado, artichokes, and strawberries.
Festival Marketplace Menus and Prices
We picked up a Tasting Passport at the Welcome Center booth at the start of the Festival corridor. It's a handy reference to figure out which items are available at which booths, though it does not list prices. Inside the back cover there's also lists of items that are Gluten Free, Kid-friendly, Vegetarian, and Vegan.
The Sip and Savor Pass is again available to Annual Passholders. It's $45, and comes with 8 tabs, which can be redeemed for food and non-alcoholic beverage items at the marketplaces. We didn't get one this time, but it's a good deal if you stick to items valued at $6.00 or more (which is most of the non-dessert food items).
The first item we sampled was Jalapeno Popper Mac & Cheese with Bacon from the Peppers Cali-ente marketplace ($7.50). It was quite a generous serving in comparison to items we've tried in the past. Not too spicy, and pretty filling.
Lee also tried a Bottle Logic Kingdom Common beer from California Craft Brews. Beer prices were up $0.75 this year – $14.00 for a flight of four, and $9.75 for a 12 oz. pour. This marketplace also offers White Cheddar Lager Soup in a mini sourdough boule for $6.00. Sounds really good, but we didn't get a chance to try it – yet. 🙂
The Sonoma Terrace was behind construction walls on my last visit, but it's now open, and has been remodeled. There are tables on the street level right along the parade route now – no doubt in preparation for the upcoming Paint the Night Parade, and the viewing package that will be offered at Sonoma Terrace.
The main entrance to the area is now from the parade route, instead of on the far left side.
The inside seating looks different. There's also a new menu with two Italian flatbread sandwiches: Grilled Chicken Caesar and Grilled Portobello Mushroom and Zucchini, in addition to the Bavarian pretzel and pull apart bread offered before. Draft beer is also available in addition to bottled beer and hard cider, and a small selection of wine by the glass.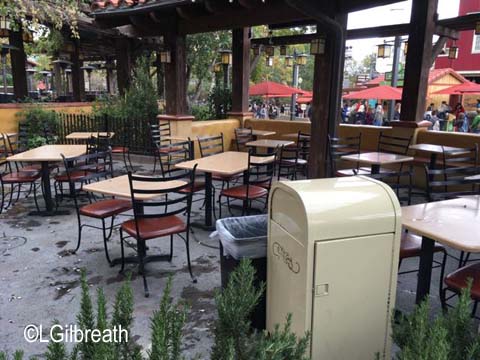 I love avocado, and wanted to try something from the Avocado Time marketplace. Though I was NOT tempted by the Avocado Ice Cream Bar ($4.50). If any of you try it, please let me know what you think.
Instead I ordered Spiced Oumph on Pita with avocado hummus and garlic sauce ($6.00). This was a vegan dish – Oumph is some kind of soy based product. The consistency was kind of like dark meat chicken. I liked the dish as a whole, though it seemed garlicky to me. Lee thought it was just ok, and he didn't think there was too much garlic. I should mention that the dishes we tried were all beautifully presented. Most of them are plated as they are ordered, since they contain multiple components.
Next up was Citrus brined Pork Roast with tangy barbecue sauce and lemon pepper slaw ($7.00). This was Lee's favorite of the day. It was pulled pork that was flavorful and not overly fatty. I didn't care for the slaw – too much dressing. Neither of us really figured out what the crunchy things on top were.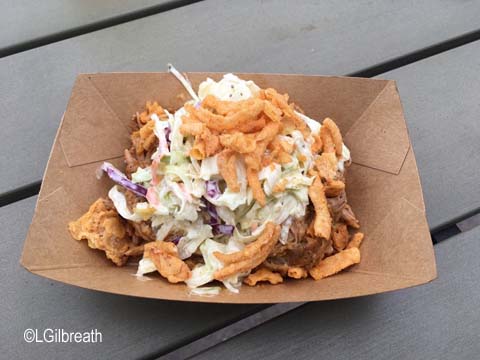 Time for a little entertainment – we watched those culinary percussion virtuosos, the Jammin' Chefs: Frank Beans, Sloppy Joe, and Betty Spaghetti, led by Executive Chef Mac Aroni. With assistance(?) from Chip and Dale. Fun show, and there's an opportunity for the kids to participate.
From Off the Cob Lee tried the Sweet Corn Nuggets with Beef Chili ($6.75). Lots of big chunks of beef in it. We also enjoyed the nuggets – fried corn and cheese. Very tasty, and another generous serving. This is a returning dish from last year, though it is 50 cents more this year.
From Garlic Kissed we ordered Black Garlic Soy-braised Pork Belly Banh Mi ($7.50). The pork belly wasn't too fatty, and had a good flavor. I didn't find it had as much garlic flavor as the avocado dish I'd tried earlier (that's not a bad thing). It was a pretty small sandwich for the price, though.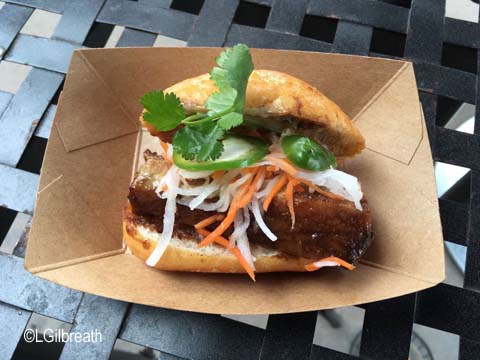 Paradise Gardens is the home of the Festival Beer Garden. Lee commented that the sign must be the most changed sign in the park – last month it was Lunar New Year, before that was Viva Navidad… 🙂 The area is certainly put to good use!
There are a number of beers on tap in a nice variety of styles from micro breweries in California, as well as Illinois and Belgium.
Lots of these interesting "chalkboard" signs in the area with Facts on Tap.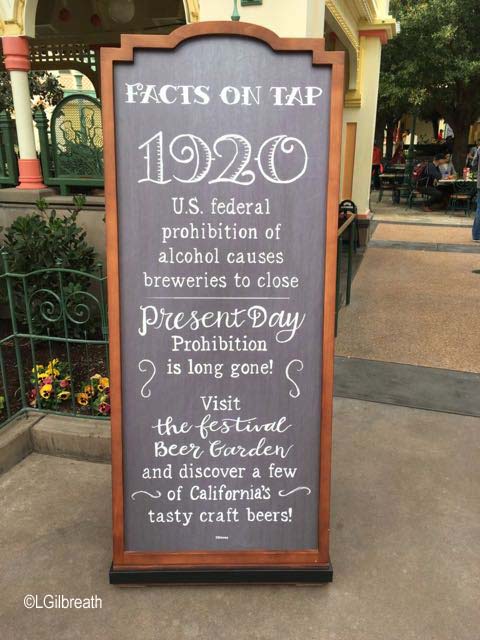 Paradise Garden Grill has its own Festival menu. It's the same as last year, with the addition of a No "Meat" Ball Sandwich. Brew pub fare – beer-battered cod, sausages, beer-braised pork tacos, soft pretzel. Two beers are on tap which are not available elsewhere – and they are only $9.00 instead of $9.75.
Live entertainment is featured in the afternoon and evening at the Paradise Garden Bandstand, but it was too early when we were in that area.
The larger live entertainment venue is the Palisades Stage in Paradise Park. I was really happy when I looked at the times guide and saw that Phat Cat Swinger was back – I really enjoyed them during Festival of Holidays. They are only performing on Fridays and Sundays, but since it was Friday we had the chance to see them. Unfortunately we had a wine tasting to go to, so we weren't able to enjoy their entire set. They perform "Big Band" swing music, and musical selections in the style of Frank Sinatra, Louie Armstrong, and Sammy Davis Jr.
Because of the threat of rain the Wine Seminar was moved from the Sonoma Terrace to the second floor of the Wine Country Trattoria (which used to be the Vineyard Room restaurant). The sight lines weren't as good up there and the tables of six were a bit crowded together. But hey, at least we were going to stay dry if it had rained. We saw a presentation by Eden Canyon Vineyards. Pretty typical for this type of thing – we received three red wines to try. The presenter told us more about their growing practices than the actual winemaking, and that was interesting. Their grapevines are on their own root stock and not grafted, like most vines are. I'd reserved this seminar far in advance – they tend to sell out like this one did. They are $20/person.
We did not get a chance to check out the Culinary Demonstrations, which take place on Fridays, Saturdays, and Sundays at the Palisades Stage at 4:00 and 6:00 p.m. Though given the weather they might have been canceled. I hadn't booked the $30 VIP package which would have given us a seat and food sample – we would've just walked up to view it.
There's additional Festival events taking place in Hollywood Land. The Backlot Stage is used for the Junior Chef program (multiple times each day) and the family-focused seminars that take place Thursdays-Sundays. Next to the stage is the kids craft area.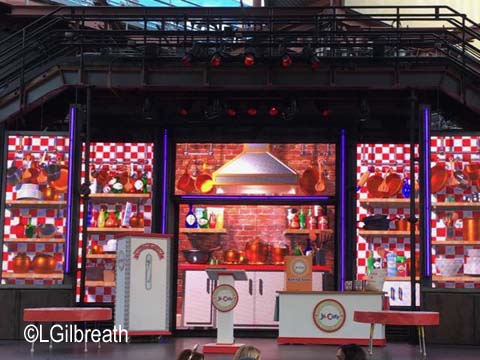 While there are a couple of merchandise carts along the Festival Corridor, most of the merchandise is available in Hollywood Land at the Studio Store and the Festival Gifts kiosk. There were some clever kitchen towels, with sayings like "Stop and smell the Rose", and an apron with "Don't go bacon my heart".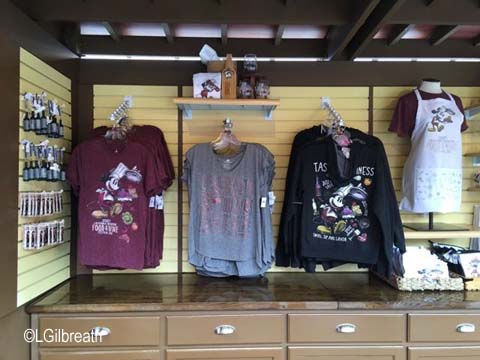 We visited the AP Corner, which is tucked back on the left side of Stage 17. Not one of the usual locations and not a very big area. There were signs directing people where to go, but I also heard three different people ask cast members where it was. No line, so we had our photo taken with the special backdrop.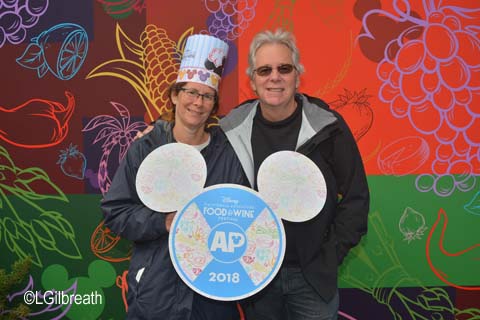 There are also two other marketplaces there, and the bar next to Monsters, Inc. is now The Brewhouse.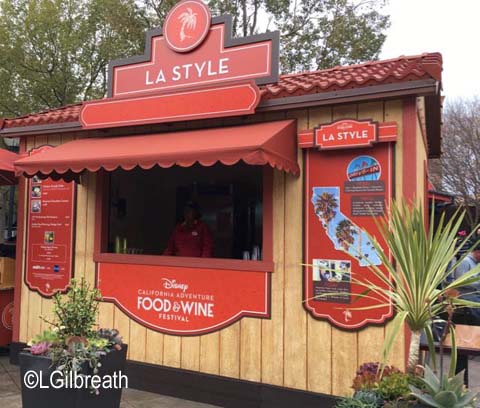 In wandering around the park we checked out the new menu at Cocina Cucamonga. No more tamales 🙁 The new menu offers Cocina Bowls and Street Taco Plates both with cilantro-lime rice and black beans and choice of carne asada, pollo, al pastor and papas. There's also a chicken salad, half chicken plate, and al pastor torta. The kids menu offers a cheese quesadilla in addition to kid-sized portions of the tacos and bowls. (Prices for the kids menu items are now $7.49 – up 50 cents.)
That does it for our opening day experience at the Food and Wine Festival…my overall impressions:
I'm very pleased with the variety of live entertainment options.
There's a lot of interesting choices available in the marketplaces. I liked what we tried, and thought the portions (other than the banh mi) were more generous than in the past. The presentation was very nice. The prices are slightly up since last year.
The beer marketplace always has the longest line, so I hope people remember that they are offering beer in two additional places – and it's also available at the usual Sonoma Terrace, Karl Strauss Beer Truck, and Bayside Brews locations.
It seemed like there isn't as much wine this year, though. No separate Wineology booth in Hollywood so the Mimosa flights are in the Nuts About Cheese marketplace (which is in Hollywood).
We will be back at least once more, since we're attending one of the Winemaker dinners.