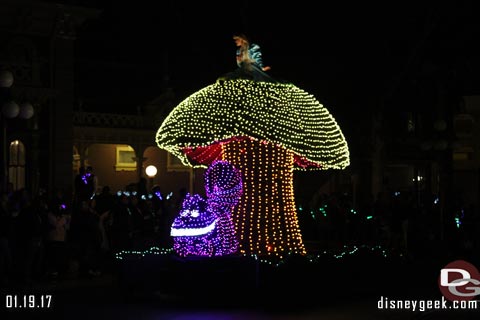 (Thank you to our contributing photographer Jason, of disneygeek.com, for his parade photos.)
I must admit that when Disney first announced that the Main Street Electrical Parade was returning to Disneyland this year, my reaction was along the lines of "How can I miss you when you won't go away?" After the supposed "final farewell" in 1996, it returned to Disney California Adventure (albeit as Disney's Electrical Parade) from 2001 to 2010, and now it's back on Main Street in Disneyland in 2017.
This time we've been told that it's a limited run, from January 20-June 18. It will give guests something to do in the evening, with so much of the park closed due to Star Wars Land construction and normal off-season refurbishments.
But as Lee pointed out – what's the matter with Paint the Night? Disneyland has a perfectly good modern, 21st century light parade…why bring back the antiquated 1970s-era parade?
But after seeing it during the premiere event on January 19…there's just something totally and ridiculously charming about this parade. That happy, bouncy, synthesized "Baroque Hoedown" always makes me smile. I'd forgotten that. While Paint the Night is a technological marvel, and wows me with the brilliant lights and special effects – it just doesn't make me smile and feel like a kid again the way the Main Street Electrical Parade does.
Here's the video:
This isn't quite the parade as we last saw it, though. More like Main Street Electrical Parade Light (pun intended). A couple of the parade units are missing, or shortened. Instead of the Blue Fairy or Tinker Bell, the parade leads off with the Drum float, which again says "Disneyland Presents Main Street Electrical Parade".
The Alice in Wonderland unit follows, with the spinning bees, snails, and turtles, a centipede, the Caterpillar, Alice on her mushroom.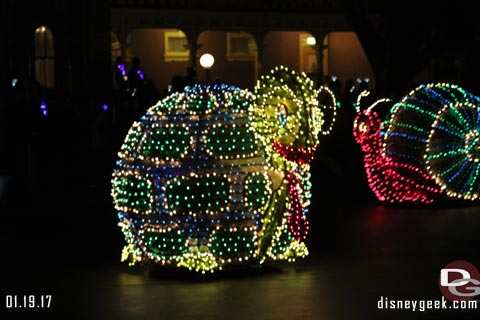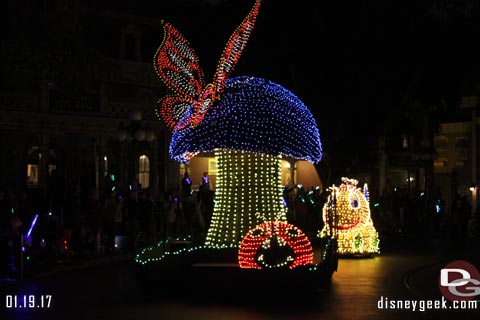 Cinderella's unit is next, with Cinderella in her pumpkin coach, the prince with the glass slipper, and the clock tower.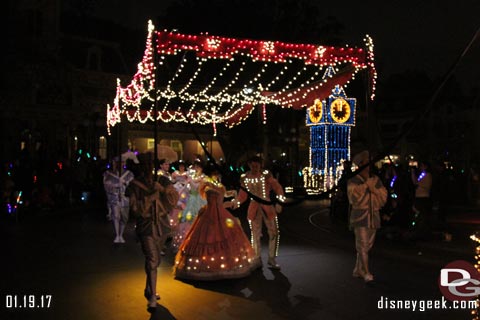 Captain Hook's Pirate Ship with Peter Pan and Captain Hook aboard, is followed by Mr. Smee in a rowboat.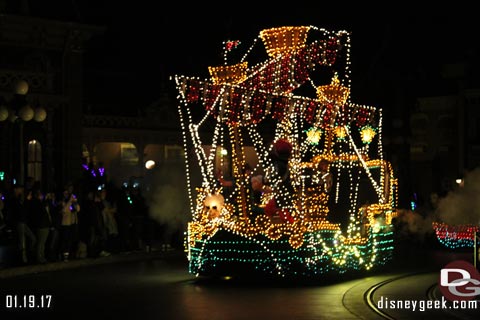 The Tinker Bell float, which was the new lead float in the DCA version of the parade, now follows the pirate ship. The balloon above the float was removed, and Tink stands on the front of the float rather than riding in the balloon.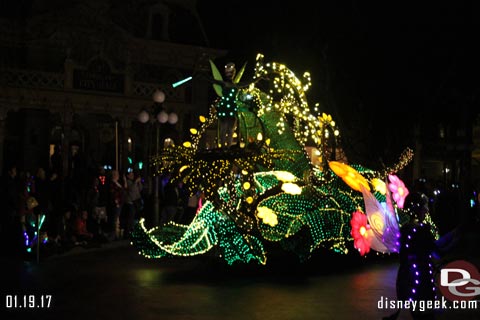 Dopey drives the Mine Train float, accompanied by the other six dwarves and followed by the Diamond Mine float.
The Pleasure Island float is led by Pinocchio and the other boys. According to Show Producer John Addis, they have some new choreography. (I personally find this float rather creepy, and would have been happy if it had been one of those removed!) There was a second float to this parade unit, but it was also removed.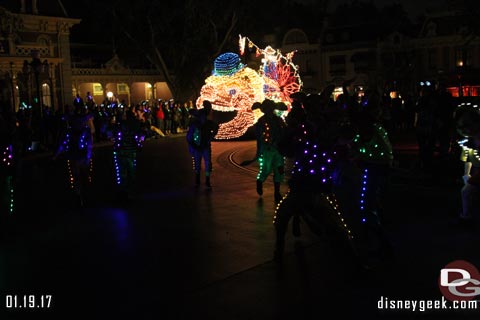 Elliott from Pete's Dragon (accompanied by Pete) is next. Elliott still disappears, though we didn't see him – or not see him, as the case may be. 🙂
The final float is still To Honor America, accompanied by dancers in patriotic costumes.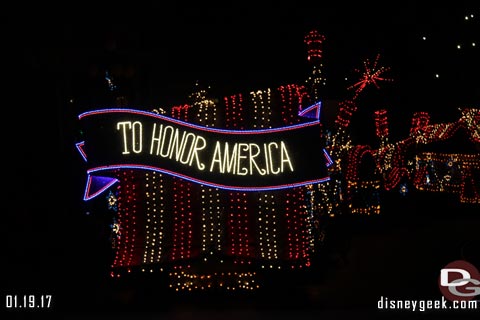 As I mentioned, I still found it very entertaining and charming. It looked really good – didn't show its age like I expected. There were some enhancements made to the floats like newer LED lighting. John Addis told us that the drum float was re-done, though he didn't elaborate on that.
Dining packages
For the duration of the parade's run, special dining packages are available that will give guests a premium viewing experience. All packages can be reserved up to 60 days in advance either on-line or by calling. Credit card guarantee is required, and a $10/person fee will be charged in the case of no-shows, or cancellation less than 24 hours in advance.
Blue Bayou offers a three-course meal featuring starter, entree and dessert. It is $65 for adults and $25 for kids plus tax and gratuity. The viewing location is on Main Street.
Aladdin's Oasis offers a "grab and go" meal for $25.99 for adults and $14.99 for kids. The viewing location is near "it's a small world". In my experience, this package is often still available same day, and you can go to Aladdin's Oasis to purchase it on the day you wish to see the parade.
Special Parade Menu Items
There are a number of Main Street Electrical Parade-themed menu items available at dining locations around Disneyland.
Jolly Holiday Bakery has a variety of really cute treats! A Peanut Butter and Jelly Eclair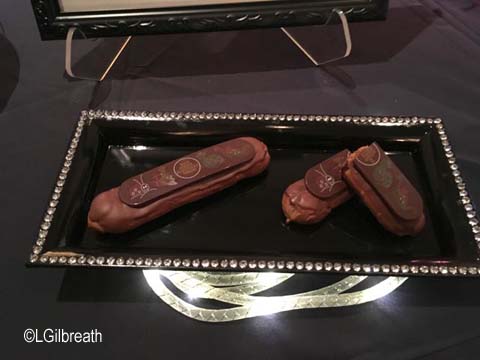 Turtle Cream Puffs
Cheshire Cat Shortbread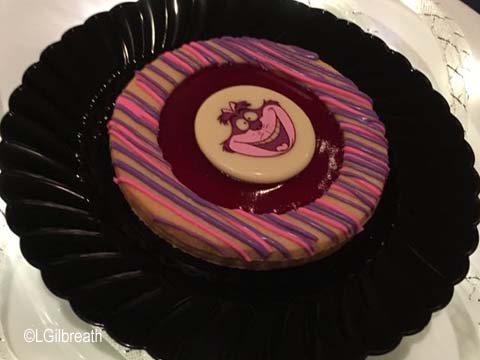 Ladybug Macaron
Pineapple Coconut Parfait
I believe this drum is available at The Plaza Inn.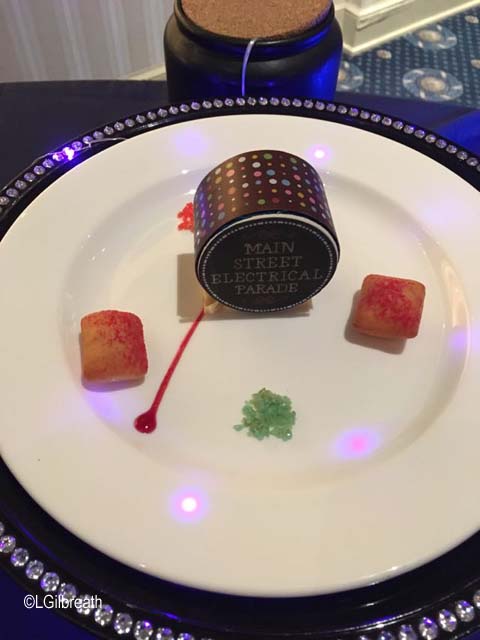 There are also several treats available at the Candy Palace:
Special menu items are also offered at other locations, like Fantasia Whoopie Pie at Gibson Girl, Firefly Chile and Chips and a Chili Mac Bread Bowl at the Refreshment Corner, and Fried Mozzarella Sticks at Stage Door Cafe.
Merchandise
And of course there's lots of special parade-themed merchandise. T-shirts, ears, pins, and several things that glow.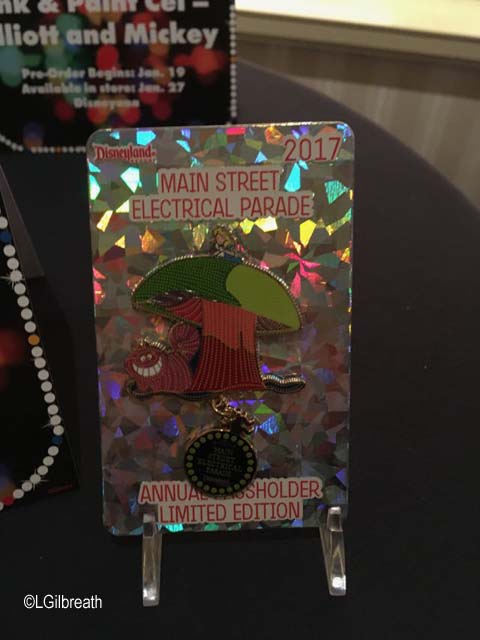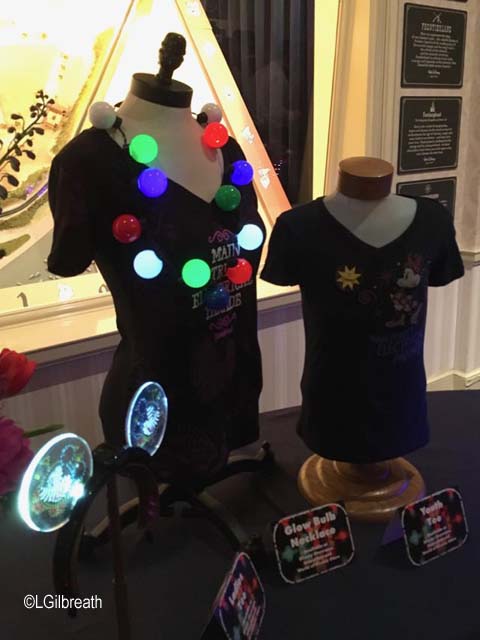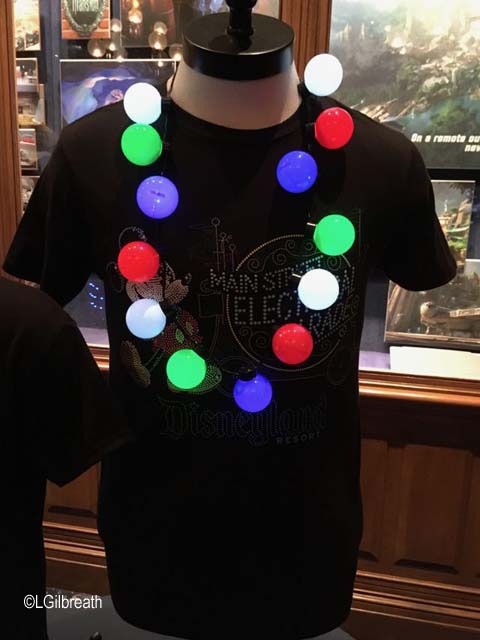 Though I think these glowing Turtle Bottle Toppers might be my favorite.
The parade runs every day. One performance on days that Disneyland closes at 9:00, and two performances when the park closes at 11:00 or later. At this point neither Mickey's Soundsational Parade nor the Pixar Play Parade are back on the schedule, so the Electrical Parade is the only parade running at either park.
Disney has placed billboards around Southern California advertising the parade's return (I've seen two in the San Diego area), and I'm sure there are a lot of people who will make a special trip to Disneyland to see it between now and June 18.
Now, if I could only get the music out of my head…Oh well. There are definitely worse things, right? 🙂
* I was an invited Media guest to the premiere of the Main Street Electrical Parade. My opinions are my own.