Zamgwar Sleeps with the Giraffes
by Zamgwar
AllEars® Guest Columnist
Feature Article
This article appeared in the March 5, 2013 Issue #702 of ALL EARS® (ISSN: 1533-0753)
Editor's Note: This story/information was accurate when it was published. Please be sure to confirm all current rates, information and other details before planning your trip.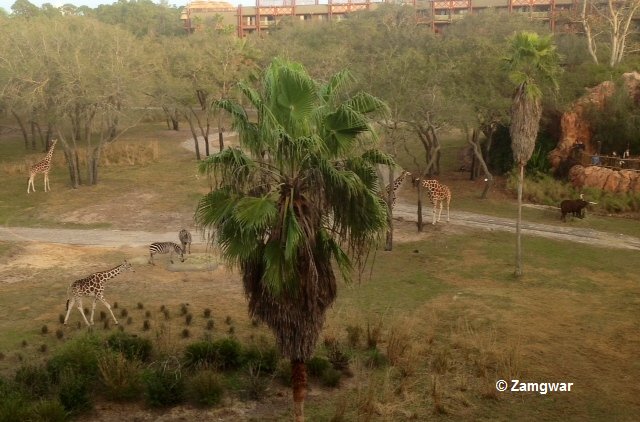 Many, many moons ago, "She Who Must Be Obeyed" brought me to Disney World for the first time as a birthday present. We stayed at the Hotel Plaza opposite from "the marketplace" (now Downtown Disney). Our hotel was a short stroll from the Empress Lily riverboat, which was one of the very few places in all of Disney World with a real bar.
Location, location, location.
On the first day of my first trip, we went to the Magic Kingdom. Donald Duck water-skied past our ferry, the castle gleamed in the distance and my love affair with the Mouse began. In those days, the hotel plaza was as much of a Disney hotel as we could afford, and we really couldn't afford that. We were young however, and money was going to grow on trees.
Twenty plus years later and not a single dime has fallen out of any tree in my neighborhood.
We were, however, able to gradually experience a variety of Disney Resorts due to "She Who Must Be Obeyed's" incredible money management skills and my ability to call central reservations over and over until we got a great deal. Eventually we were collecting soap and shampoo from the Caribbean Beach, Dixie Landings (now Port Orleans), the Wilderness Lodge, and the Beach Club. In 2000, we became Disney Vacation Club owners at the BoardWalk Resort and the need to call central reservations ended.
So did our Disney soap and shampoo collection.
The BoardWalk Resort was surrounded by plenty of places to eat and drink, and of course had nightly entertainment on the actual BoardWalk. It also was within walking distance of two parks, and had a terrific little bar staffed by two incredible mixologists, Allen and Tim.
Location, location, location.
Recently, however, we added another hotel's soap and shampoo to the list, when we stayed for the first time ever at Animal Kingdom Lodge. It is important to point out we had no intention of staying there this trip. Poor management of my Vacation Club points and a late start on my holiday trip planning had found us unable to get a reservation at the BoardWalk. While not being able to get a room at the inn may have seemed ironically appropriate for the winter holiday season, it did leave us both slightly pouty-faced that our only option was the Animal Kingdom Lodge.
Now DON'T GET ME WRONG. I personally love visiting the Animal Kingdom Lodge. We have dropped in every single trip since it opened to eat at one of its terrific restaurants. To me it's like Cuba. I would love to visit, I just don't want to live there. The AK Lodge was probably the most isolated of the luxury resorts, and the only one not connected in some non-bus way to another park. I wanted the BoardWalk. Waaaah!
Oh, how six nights can change one's point of view.
Animal Kingdom Lodge is without a doubt the best themed and most immersive resort hotel experience you'll find anywhere on Disney property. Entering Jambo House you are mentally stepping off Disney property. The lobby is vast. It surrounds you with a towering, rugged, mind-blowing beauty. It's almost overwhelming. With the exception of the Wilderness Lodge lobby, nothing in Mousedom even comes close. Soaring columns of timber are capped off by African representations of animals. Chandeliers are adorned with warrior shields. A faux rope bridge spans from one upper balcony to the next. The magnificent inlayed wooden floors reflect the fire pit glowing to the side and the entire rear wall is floor to ceiling glass with woven metal tree patterns running through it.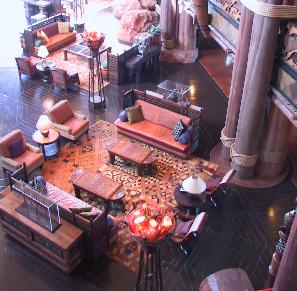 Give me a pith helmet and call me "Bwana," its lobby never gets old!
For those who have never been, the resort is actually broken into two parts. Jambo House, which is primarily hotel rooms and a few vacation club rooms, is the original part. A 10-minute walk away is the Kidani Village with Vacation Club rooms and their own smaller version of the Jambo House lobby. Kidani Village also is home to the very popular restaurant Sanaa and what looked like a really great pool. We chose to stay in Jambo House. If you wish to know our reasons, re-read the above paragraph regarding the lobby.
We arrived shortly after noon to the delight that our room was ready. Even more delightful was being informed that a cast member had surprised us with a credit to cover the cost of two martinis at the bar. How and why that happened is a story best told face to face rather than on the Internet. Suffice it say, apparently our reputation preceded us.
The cast here is exceptionally welcoming, and that had nothing to do with martinis.
Each night we shared many laughs with the same fellow cleaning the elevator. The housekeeping staff was especially friendly, often stopping their work to greet us. What really sets the cast apart is that more than a few are actually from Africa. They are outside to help you with wildlife spotting, telling stories by the fire, pointing out things in the lobby, or giving lectures in the sunset lounge.
I have NEVER been aware of so many activities at the other resorts. Perhaps it's because I never spent so much time actually AT a hotel before. There always seemed to be gobs of kids doing stuff everywhere, and I'm not talking about the usual pool games du jour.
There were guides at the savanna overlooks, there was animal tracking at Arusha Rock, cookie decorating at 1 p.m. in Boma, face-painting at the Mara, African folktales, music and a cultural safari at the Sunset Lounge, daily crafts, medallion rubbing on the bronze inlay in the floor, a kids' primal parade, pin trading, and night-vision viewing. Activities filled up two whole pages of the information packet we got at check-in. Kids, bunches of them, really seemed to be eating this stuff up.
Speaking of eating, downstairs from the lobby are two of my favorite places to eat in all of Mousedom. Boma, which is my absolute favorite dinner buffet, and the upper end Jiko, which serves wonderfully different stuff. We eat at Jiko or Boma at LEAST once every time we are Mousing.
"She Who Must Be Obeyed" has a limited range of things she will eat. Her primary tastes span from fruits and yogurts to large salads. If she is feeling daring, perhaps a chicken breast burnt beyond recognition. Surprisingly, the cast at Jiko always finds something she will love. I on the other hand require only that my food isn't moving. Staying at the Lodge I also discovered to my glee, Boma also serves an equally great breakfast buffet.
Just what my pants needed! Morning access to those Zebra Dome desserts.
Counter service food is also available at Mara restaurant featuring bacon and eggs, waffles and other breakfast goodies in the a.m., then switching to burgers, salads, flatbreads, stews, rotisserie chickens and hand-carved sandwiches for the p.m. Over the years, the counter service food around the parks has really gotten much better. Mara's was no exception.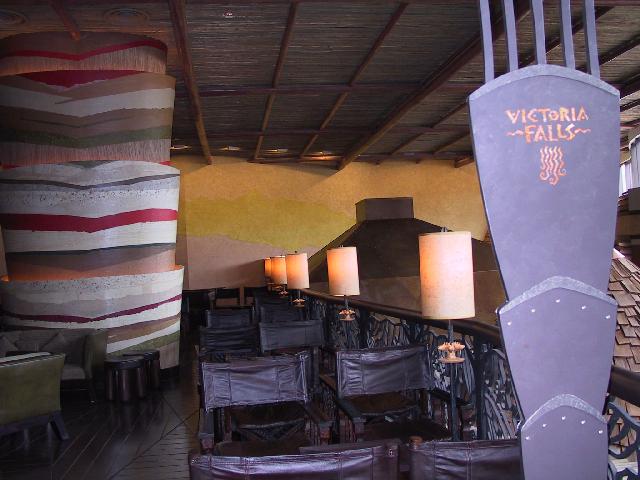 There is a glorious place for cocktails to be found in the Victoria Falls Lounge. While I did not get to enjoy it as much as I would have liked, it did provide a wonderful spot for a nightcap each evening.
Outside the doors of Jambo House is a huge pool area complete with the mandatory hot tubs and waterslide. I really can't comment on the pool because the temperature was in the 40s during our trip. Also, my bathing suit's waistline was at war with the zebra-domed cookies. The desk said the pool was heated and open 24 hours, but a swipe of my hand in the water thought perhaps calling it heated was relative.
If you swam in lakes in New Hampshire or Alaska, perhaps it was heated. I was not about to jump in. That isn't to say there wasn't always some kid swimming away. The child brain knows not from cold when there is a pool available.
If the weather were warmer, no doubt I would have enjoyed both the pool and the poolside bar (which also served up sandwiches and kiddie delights). There was one wonderful day, when we did enjoy laying poolside for an hour or so. Beyond that I waved at people in the water from my hooded sweatshirt and silently muttered, "You're going to freeze to death."
Of course the ultimate perk of Animal Kingdom Lodge was the daily view of the savanna from our room. It is a view you won't get from any other hotel in the park.
Animals. Not just a few, but loads of them. There were giraffes, beasties with big horns, zebras, mini running animals, birds, bigger birds, small grunty things, and medium-sized things with pointy horns. You can tell I never used the animal chart provided in the room.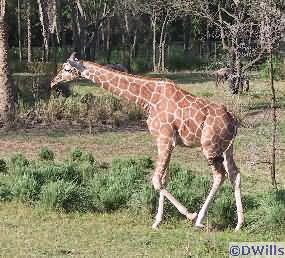 I easily spent a good hour daily on our balcony taking it in. It was like watching Mutual of Omaha's Wild Kingdom live from my balcony without commercial interruptions.
Getting to the parks is my only negative with the hotel, but then again the BoardWalk has me spoiled. As I mentioned earlier, Animal Kingdom Lodge is the only luxury resort that is not directly connected to a park. We always rent a car, so moving about for us was easy. Epcot and the Studios were only a 10-minute drive away. The Magic Kingdom is only a 20-minute bus ride and bus IS the way to go. It stops right outside the main gate for the park and circumvents the need for waiting for a tram, then a monorail or ferry. It would REALLY be nice however, if Animal Kingdom Lodge had a nice long walkway, or neat little people mover, or a steam engine, or a safari truck, linking you to a private entrance to the Animal Kingdom itself.
That being said, the Lodge's remoteness is also one of its strengths.
As I wrote earlier, I have never spent so much time actually AT a resort hotel. Even my beloved BoardWalk usually only serves me as a place to enjoy a midday break, and somewhere to have after-park cocktails and snappy chatter. More than any other hotel on campus, the Animal Kingdom Lodge gives you the feeling you are at a resort, not a hotel in a theme park. You do not get the burning need to run off to an attraction, because there is so much to attract you just being there. It allows you to significantly decompress from the lines and crowds.
In fact, "She Who Must Be Obeyed" thinks (and I agree) we should stay here a couple of days at the end of each trip from now on, as sort of a vacation from our vacation. It is truly the only resort in Walt Disney World where you feel you are some place other than Disney World, or even Florida. It is a place you can really relax, unwind and get away from it all.
Location, location, location.
That's "my2cnts." What's yours?
====================
ABOUT THE AUTHOR
====================
Many years ago, in the early days of AllEars®, our friend Zamgwar wrote regularly about Disney in a series of features that he called "My2cents." However, as many of us know, Real Life often gets in the way of doing what you love, and Zamgwar was so consumed by his work at the "Zamgwar Institute" that he was unable to continue sharing his "2cents" with us. Happily, though, he and his wife, fondly dubbed She Who Must Be Obeyed, have made several Disney trips in recent months, and Zamgwar is once again sharing his experiences in his own inimitable way.
====================
RELATED LINKS
====================
The current AllEars.Net Fact Sheet for Animal Kingdom Lodge:
http://allears.net/acc/faq_akl.htm
Resort videos for Animal Kingdom Lodge:
http://allears.net/acc/resort-videos-deluxe.htm
Senior Editor Deb Koma wrote about staying in Jambo House at Animal Kingdom Lodge for AllEars® a few years back:
http://allears.net/ae/issue548.htm
http://allears.net/ae/issue550.htm
Zamgwar's other articles for AllEars.Net can be found in our archives:
http://allears.net/ae/archives.htm
And here:
http://allears.net/btp/zamgwar.htm
-o-o-o-o-o-o-o-o-o-o-o-
Editor's Note: This story/information was accurate when it was published. Please be sure to confirm all current rates, information and other details before planning your trip.