WDW Chronicles: Year One – Walt's Dream Come True
by Jim Korkis
Disney Historian
Feature Article
This article appeared in the November 15, 2011 Issue #634 of ALL EARS® (ISSN: 1533-0753)
Thanksgiving weekend November 1971 was a historic moment at Walt Disney World, demonstrating beyond a doubt that the new vacation kingdom was a success.
The media had dubbed the October opening of the Magic Kingdom as disappointing in terms of the number of guests that showed up. The Disney Company had purposely chosen the slowest day of the week and the slowest month of the year for tourist traffic to give the new theme park some time to make necessary adjustments before the holiday season.
According to author Bob Thomas, Roy O. Disney was enraged at the reaction on Wall Street and in the media that the Disney Company had "blown it". It had been the largest privately funded construction project in the world. More than 9,000 workers labored to have it ready on October 1 at a cost of more than $400 million.
As Publicist Charlie Ridgway remembered it, "Having forecast (internally) a first-year guest count of 8 million, Walt's brother Roy told associates, 'Unless we have a full house for Thanksgiving weekend, we're in trouble.' Turkey day brought a crunch of first-time visitors jamming roads in every direction. With only 5,000 hotel rooms in the area plus 1500 in Disney's two hotels, eager fans were camped out along the Florida Turnpike and 1-75 all the way to the Georgia border, about 200 miles away."
The Friday and Saturday after Thanksgiving Thursday was dubbed "The Traffic Jam Heard 'Round the World."
The Magic Kingdom quickly reached a capacity of roughly 50,000 guests early in the day with more than 5,000 cars being turned away from the parking lot. The traffic congestion on Interstate 4 leading into Walt Disney World was backed up for more than 20 miles. One news report declared it "the longest parking lot in the world."
"It seemed everybody in the country had suddenly decided to go to Walt Disney World that day. The Kingdom was taken completely by surprise," wrote Edward Prizer, publisher of Orlando Magazine. "Radio stations frantically broadcast reports of a bumper-to-bumper jam on I-4. For the first time, Disney was forced to close the parking lots. Thousands of tourists had to cool their heels in motel rooms until the stampede subsided."
"Within an hour we were meeting and talking over the problem," remembered Bob Allen. "We began checking alternatives. We recognized the need for more capacity. A lot of problems were out of our hands. We knew we had to work closer with the state on long-range highway planning."
Some of the ideas that were soon put into place were having the Disney parking lots open earlier and theme park hours extended during peak seasons. State troopers were instructed in dealing with heavy traffic loads. Radio broadcasts would warn visitors of crush periods and urge them to wait a few hours before driving out.
"Everybody really had to turn and help each other (that Friday)," added Bob Matheison who became Vice President of Parks. "Whether it was parking cars, traffic control in the parking lot, or cooking hot dogs, it took everybody's contribution, not just the people assigned to the operational aspects. We heard about (the big traffic jam) from places like India, five years later!"
"Christmas week was even busier. Our 1500 rooms in the Contemporary and the Polynesian were booked up for a year," smiled Ridgway.
Prizer added, "Attendance (at Magic Kingdom) increased steadily. It rose to 600,000 in (the month of) December. Hours were extended to midnight for the Christmas holidays. For three successive days at Christmastime, the gate total approached 70,000. But never again did the crisis on the Interstate occur."
However, that success did not come easily. Behind the scenes, the Disney Company struggled that first year Walt Disney World was opened.
Even with Disneyland as a model, the conditions in Central Florida were different. The amount of land was enormous in comparison to the Anaheim theme park. There were no local support businesses to supply the need for material and specialized skills that could have been obtained in Southern California in mere hours.
Imagineer Bill Justice stated, "Twelve of us from WED (Walt Disney Imagineering) were sent to see the property years before opening. We thought Walt was out of his mind!"
Imagineer John Hench added, "Roy Disney told me 'The last time I saw my brother, he was in the hospital room, looking up at the ceiling as if he could see a map of Disney World there. He was talking about the need for an east-west road.' Even when he was dying, that was his concern."
However, there were much larger concerns about the property that Walt did not discuss, assuming that his team would find solutions to any challenges. The excessive heat and humidity required large indoor waiting areas and massive air conditioning. Shelters had to be built over exits to some attractions and hundreds of umbrellas were installed to provide shade. Within the first year, it was discovered that wooden structures especially on Main Street U.S.A. would deteriorate or get dry-rot because of the rain and heat.
Re-painting didn't work because it was so humid the paint would not dry in time for the guests to enter the park. New ways of protecting wood or replacing it with fiberglass were instituted. Humidity caused the wall paper in some of the rooms at the Disney resorts to peel off the wall. A $3.5 million rehab was done to the Disney resort hotels during the second year of operation.
Since Orlando was the lightning capital of the world, there had to be different preparations for the buildings, like the addition of lightning arresters. Norm Doerges, who was part of the opening team for Walt Disney World responsible for pools, beaches, boats and sailing, recalled, "Being from the West, we didn't understand the effect lightning could have. There are 16,000 strikes per year around Walt Disney World. We'd never experienced anything like it."
Even with protection in place, lightning strikes to power lines would result in computers running attractions like the Haunted Mansion and Hall of Presidents to shut down, sometimes as often as three times a day, forcing the evacuation of the attraction.
Dorges also recalled, "The night before we were to open, we still had all our boats to place at the hotels. All together 150 to 200 watercraft had not been placed. By morning, every boat was in place. The attitude was we're going to find a way to get it done. And we did."
However, that first year the batteries would die in the Bob-A-Round boats in the middle of the 400-acre lake and power boats ran out of gas and had to be towed back to a dock.
Water also caused construction problems. Imagineer John Hench recalled, "The water level was so close to the surface. I remember digging a little hole where the castle would be. The next morning it was filled with water."
However, the guests who journeyed to this vacation kingdom never noticed these backstage challenges. So much had been done right at Walt Disney World and was so magical that any challenged were ignored by visitors who had pixie dust in their eyes.
The Disney Company press release from October 1972, on the one year anniversary of Walt Disney World opening, stated:
"In just one year, Walt Disney World has become one of the world's best known vacation destinations. On the basis of the first year total of 10,712,991 visitors from 'outside its borders', the new Vacation Kingdom ranks number six among the 'nations' of the world: behind Spain, Italy, France, Canada and the U.S. but ahead of Austria, Germany, the United Kingdom and the rest.
"Walt Disney World outdistanced (in attendance) such areas as Great Smoky Mountains National Park, Gettysburg, Yellowstone and Yosemite.
"Not only was Walt Disney World's first year a critical and attendance success, but its impact on Florida, on the United States and on the world of tourism was equally significant.
"It has become known as a happy place where young and old can forget their cares and spend hours or days enjoying a way of life unlike anything else in the world."
Activity at Walt Disney World didn't slow down with all this success. There were ongoing plans for continued additions and expansion as part of a five-year, Phase One program.
As publisher Prizer remembered, "In the two years that followed the opening, there was no let-up in momentum. Somewhere in the Park, at almost any time, you could see them digging or nailing boards or stretching wires, but you knew plenty was going on. There were estimates that an additional $100 million was spent in the first two years. Tens of thousands of additional trees and shrubs and flowers kept landscaping crews constantly at work. There seemed to be no limit to the number of shops and small eating places that were constantly being added in vacant spaces among the attractions."
Jack Taylor, who later became a WDI director of Show Quality Standards was desperately programming the Hall of Presidents with Imagineering legend Wathel Rogers. With the deadline crunch looming for the opening in October 1971, Taylor would take a scrap of carpet and use it for a pillow and sleep on the stage itself while the computer program was loading.
"During installation, you work crazy hours and you don't get enough sleep," recalled Taylor. "Then you open the doors to the public and it's amazing. With all the headaches and all the hassles, you walk out on Opening Day and see the reactions of the public, see their smiles. That's what it is all about."
= = = = = = = = = = = = = = = =
RELATED LINKS
= = = = = = = = = = = = = = = =
Jim Korkis has been chronicling the first year of Walt Disney World operations in a series of feature articles for AllEars.Net over the last several months. You can find the previous articles in our archives here:
http://allears.net/ae/archives.htm
As part of the Walt Disney World 40th anniversary celebration, AllEars.Net had the chance to speak with several cast members who were working at the Magic Kingdom on opening day in 1971:
Kevin Myers, now Vice President of Resort Operations:
http://land.allears.net/blogs/debwills/2011/10/spotlight_on_40_year_walt_disn.html
Darlene Kennedy, Manager of Creative Costuming:
http://land.allears.net/blogs/debwills/2011/10/spotlight_on_40_year_cast_memb.html
Heather Will-Browne, now Horticulture Area Manager:
http://land.allears.net/blogs/debwills/2011/10/spotlight_on_40_year_cast_memb_1.html
-=-=-=-=-=-=-=-=-=-=-=-=-=-=-=-=-=-=-=-=-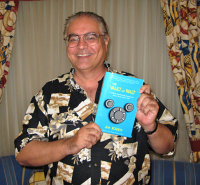 ABOUT THE AUTHOR: Jim Korkis is an internationally respected Disney Historian who has written hundreds of articles about all things Disney for more than three decades. He is the author of the popular recently published book The Vault of Walt, which contains nearly 40 chapters of untold Disney stories. As a former Walt Disney World cast member, his skills and historical knowledge were utilized by Disney Entertainment, Imagineering, Disney Design Group, Yellow Shoes Marketing, Disney Cruise Line, Disney Feature Animation Florida, Disney Institute, WDW Travel Company, Disney Vacation Club and many other departments.
Read more about The Vault of Walt: http://astore.amazon.com/debsunoffiwaltdi/detail/0615402429
Jim Korkis will also be speaking on the history of the Carousel of Progress at AllEars.Net's It's a Great Big Beautiful Meet! (sponsored by Maple Leaf Tickets), part of our December to Remember 15th anniversary celebration, on Thursday, December 8, 2011, 1 – 4 p.m. at the Contemporary Resort and Carousel of Progress in the Magic Kingdom.
-o-o-o-o-o-o-o-o-o-o-o-
Editor's Note: This story/information was accurate when it was published. Please be sure to confirm all current rates, information and other details before planning your trip.