WDW Advice from One Kid with Fears to Another
by Julia L. Jacobson
AllEars® Guest Columnist
Feature Article
This article appeared in the February 21, 2017 Issue #909 of ALL EARS® (ISSN: 1533-0753)
Editor's Note: This story/information was accurate when it was published. Please be sure to confirm all current rates, information and other details before planning your trip.
My parents took me to Walt Disney World for the first time before I was 2 years old, and I've been a proud Disney nerd ever since. I'm 11 now, and I have an 8-year-old sister, Rebecca. Rebecca is a really big roller-coaster person. Me, not so much.
When I was little, I hardly even had to think about the fact that I didn't like roller coasters, because there are so many things for younger kids to do at Disney World that don't involve "thrill rides." But if you're an older kid like me, and you still don't like thrill rides, you might be wondering: Is there enough in the Walt Disney World theme parks for me to do? The answer is an overwhelming "YES!"
Start by asking yourself: "What are the kinds of rides I don't like?" For me, total darkness and sharp drops really push my buttons. Also, I don't like extremely loud noises that surprise me, but I can handle those better now than I could when I was younger.
Honestly, the Magic Kingdom is the place to go if you want rides that don't have a track record of scaring people out of their seats. I avoid rides like Splash Mountain for its really big drop, and Space Mountain because, well, it's Space Mountain. Do I really need to say more?
Haunted Mansion is cool in two ways. It's air-conditioned inside, which is great if you need to get out of the hot Florida sun, and the special effects are extremely awesome. Maybe a little too awesome, actually. I got into the "stretch room" that leads you to the ride, and everything was fine. Until the lights all went out at once and there was a loud clap of thunder followed by a scream. It's part of the ride, but it scared me pretty badly. The special effects inside Haunted Mansion don't tend to scare people as much, but they can be a little intense. So, if you're afraid of the same things I am (darkness and loud noises), this might not be the best choice for you.
Here's another tip: The Tomorrowland Transit Authority PeopleMover seems harmless, and to most people it is. But I tend to stay away from it because there are a couple of completely dark places, as well as one startling announcement. You might want to keep this in mind if you don't like darkness or sudden, loud sounds.
Even if you don't like thrill rides, there are a lot of fun things to do around Walt Disney World. Some of my favorites include Dumbo the Flying Elephant, the Magic Carpets of Aladdin, Buzz Lightyear's Space Ranger Spin, the Many Adventures of Winnie the Pooh, Peter Pan's Flight, and, of course, "it's a small world." All of these are classics and even though they're not listed as "thrills," they are some of the best rides in the park in my opinion.
Other favorite things of mine in the Magic Kingdom aren't even rides. Sorcerers of the Magic Kingdom is wonderful and definitely deserves a shout-out. For free, you get your own pack of spell cards and a key card. As you walk around the Magic Kingdom, you might notice that there are a bunch of keyholes everywhere. They're not hidden — they stand out pretty well. You tap your key card to start, and you'll see a short clip of a Disney villain doing something villainous. When the words "cast your spell" appear across your screen, hold out your spell card and defeat the villain. The videos are awesome (especially if you use a spell card like Pumbaa's Odorous Gas), and the cards have become real collectors' items. In fact, I have a complete collection of Sorcerers cards myself!
Recently, I've started wanting to be a little more adventurous with the rides I ride. Of course, I wouldn't just hop right on Big Thunder Mountain Railroad. I had to work my way up. The same thing happened to me on the Disney Dream cruise ship. I wouldn't try the AquaDuck water coaster on my first cruise, but now it's one of my favorite things to do. After that, I began liking things that go fast, and my adventurousness escalated from there.
Back at the parks, I started on the Barnstormer. It's a roller coaster, but it's pretty gentle. It's a good place to begin if you want to start riding roller coasters with an easy one.
After this, my sister started encouraging me to ride Seven Dwarfs Mine Train. I tried it, and I loved it. It's not extremely fast for a roller coaster, it's not too bumpy, and there aren't any major drops. There's also great scenery and Audio-Animatronics.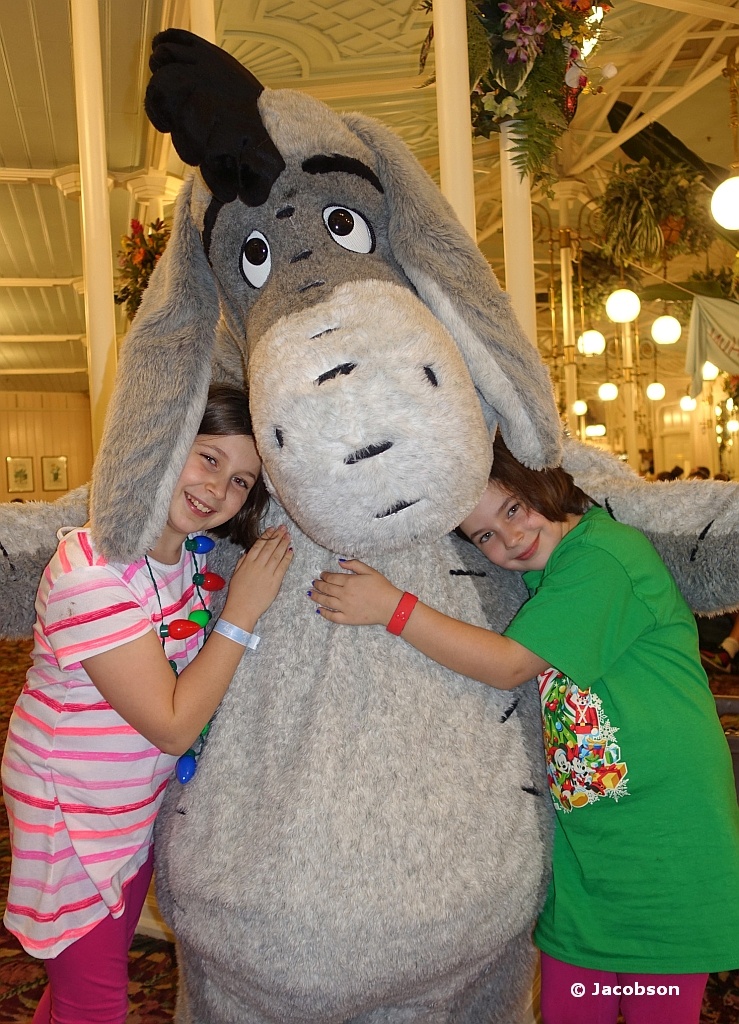 Finally, I was ready for Big Thunder Mountain Railroad. I had a minor moment of panic right before I got on the ride, as is my nature. When we got into the mine with the bats, I freaked out. And then the ride went outside. The special effects were wonderful. There were so many things to look at. But you don't have time to look at everything, because the ride is so darned amazing! I loved it so much and I would have begged to ride again if the standby line hadn't been 90 minutes.
None of this happened overnight. It took me two trips just to get up the courage to ride the Barnstormer, let alone Big Thunder Mountain Railroad. And I'm still not ready for Space Mountain. Not even close.
On the topic of other parks, Epcot is great for kids who have fears. None of the rides have big, fast drops, but there is some darkness, so that's something to pay attention to if you don't like that kind of thing. I'm still working my way up to Test Track, but next time we visit, I'm going to try it.
At Hollywood Studios, Star Tours was something I never thought I would like. But when I actually worked up the courage to get on the ride, I loved it. I really loved it! It's now one of my favorite rides. My sister even got to be the Rebel Spy! (I wished I had sat in her seat.)
If you want to try a ride, but you're kind of on the fence about it, YouTube usually has some good video clips, and you can usually get a sense of the thrill factor. That's how I figured out that I wanted to try a few thrill rides and didn't want to try a few others.
Walt Disney World is The Most Magical Place on Earth, and it shows. Regardless of whether you love thrill rides or you run away from them screaming, there are so many fun things for you to do.
And here's my last piece of advice: Just because you have a fear, you don't need to "get over it" for any reason. It's not dumb or wrong to be afraid. And, contrary to your belief, you're not alone. There's plenty at Walt Disney World for kids like you and me to do, because people at Disney know what it's like. In fact, because I haven't wanted to go on thrill rides, the things I've done instead have become some of my favorite Disney memories.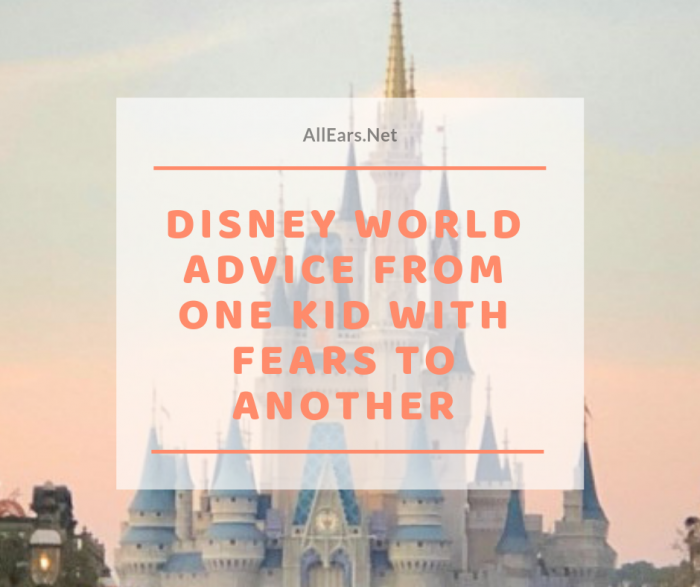 = = = = = = = = = = = = =
RELATED LINKS
= = = = = = = = = = = = =
Sorcerers of the Magic Kingdom
= = = = = = = = = = = = =
ABOUT THE AUTHOR
= = = = = = = = = = = = =
Julia Jacobson is an 11-year-old Disney whiz from New Jersey who has read every travel guide about Walt Disney World that she can find. She loves helping her friends plan their Disney trips, and she is full of good advice for kids, like her, who sometimes are afraid of thrill rides. Her favorite Disney character has remained the same since her first trip in 2007: Winnie the Pooh.
-o-o-o-o-o-o-o-o-o-o-o-
Editor's Note: This story/information was accurate when it was published. Please be sure to confirm all current rates, information and other details before planning your trip.