Walt Disney World from a Senior's Viewpoint
by Ruth Morehart
AllEars® Guest Columnist
Feature Article
This article appeared in the December 16, 2014 Issue #795 of ALL EARS® (ISSN: 1533-0753)
Editor's Note: This story/information was accurate when it was published. Please be sure to confirm all current rates, information and other details before planning your trip.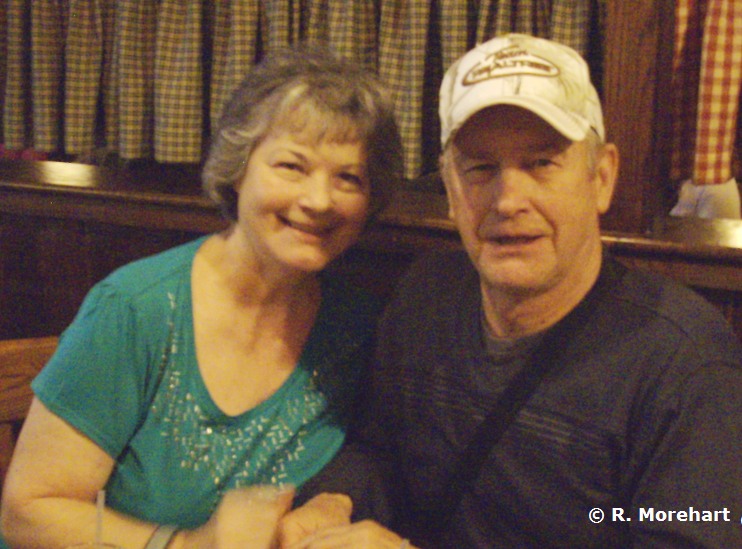 I've never written anything before for others to read, but I've seen in AllEars® articles from all different viewpoints, such as the recent feature on visiting Walt Disney World with adults only. I would like to write about visiting Walt Disney World for SENIORS (that is, those of us over 60 years old or so) only.
I've been reading touring plans, guide books and online reports, and found a lack of reports from seniors. I know that there are a lot of "us" out there who love going to Disney no matter what our age! We love the magic of it all and that we can be "10-year-olds" again the minute we step into Walt Disney World.
It is different for us, though. We are not able to walk as fast or do as much all at once as we once were — but in no way does that stop us from enjoying Walt Disney World! In fact, now we try to go to WDW every year, and we will be going again in less than two weeks.
A little background about us: I am a 64-year-old, retired nurse with a severe form of fibromyalgia. My husband of 46 years, Roger, is 67 and a retired master carpenter who works part-time at a local nursing home.
Roger and I started going to Disney World with our kids when they were young, and visited through the years as work and time allowed. Fast forward to the present: We have had three trips in recent years to Walt Disney World without the kids and grandkids, and we love it!
We sort of fell into going by ourselves. We stayed a few days longer than our kids one year and were pleasantly surprised at just how much we loved being by ourselves. Don't get me wrong — we absolutely loved going with the kids and seeing the grandkids' faces at the many wonders of Disney. But we also found that we loved going at our own pace while in the World.
We felt kind of guilty at first. We wondered what others would think, seeing seniors by themselves at WDW. Even now I get questioning looks when I tell someone that we are going to WDW for vacation again. The one main response is: Isn't that for kids? I try to explain that yes, it is for kids… kids of all ages. How silly that seems now, but it was a legitimate concern. You see, we too always thought Walt Disney World was just for kids. It was a totally new experience to go by ourselves.
We found out that we loved being able to go where we wanted to go all the time. Sometimes we like to wander around the Magic Kingdom looking at the shops, such as the Arribas Brothers crystal shop. We always buy a piece of crystal there. (My favorites are a horse on a gold-tinged crystal pedestal and the rose from Beauty and the Beast.)
We like to go to Downtown Disney and browse the stores there, too, stop to eat at Earl of Sandwich and people-watch. We have gone to the fabulous Cirque du Soleil twice, a must-see experience.
We find that we can have our main meal at noon if we want, then go back to our room and rest a bit before going to another park. We also go on all the rides we choose. It's even enjoyable to actually talk to people in line for rides. We have met some wonderful people from all over the world and the U.S. that way. The pace is very different when it's just the two of us.
We really enjoy eating at the sit-down restaurants and being able to experience our old favorites. Each park has so many great choices! We also find we take more time to look at the architecture of the buildings and exhibits. We try to go into exhibits we have missed, such as Flights of Wonder in Animal Kingdom. It was a show we always rushed by on our way to rides with the kids. On our last trip in November 2013, we went and boy, was I amazed at the quality of that show! It is funny, entertaining and informative.
It's amazing to me that we have still not done it all or seen it all yet. I have a Disney wish list that I make each year for our trip. I list the things that I haven't done, but want to do on this trip. It is truly a "wish" list, because I haven't yet done even half of the list! We have decided that we will commit to a new experience each trip — something that we have had no interest in, or decided was not for us.
I plan to write more on visiting Disney World from a senior's perspective once I return from our trip — including details about scheduling ADRs (Advance Dining Reservations) and the dreaded FastPass+. For those seniors like me who aren't technologically savvy this will be interesting.
Until next time, seniors!
= = = = = = = = = = = = = =
RELATED LINKS
= = = = = = = = = = = = = =
The Perks of an Adults-Only Trip to WDW
Planning for Intergenerational Travel to WDW
Walt Disney World for Empty-Nesters
-=-=-=-=-=-=-=-=-=-=-
ABOUT THE AUTHOR
Ruth Morehart is a retired RN who has been visiting Walt Disney World since her son and daughter (who are now 43 and 41 years old, respectively, with children of their own) were young. She resides in Minnesota with her husband of 46 years, Roger. Despite her fibromyalgia, Ruth enjoys quilting and creates quilts for the Quilts of Valor program for wounded soldiers.
-o-o-o-o-o-o-o-o-o-o-o-
Editor's Note: This story/information was accurate when it was published. Please be sure to confirm all current rates, information and other details before planning your trip.