The Magic in Menus
by Erin Blackwell
AllEars® Guest Columnist
Feature Article
This article appeared in the May 3, 2011 Issue #606 of ALL EARS® (ISSN: 1533-0753)
Warning! This feature may make your mouth water!
Let me start off with a few questions: Who visits the menus section on AllEars.Net? Please raise your hand. Wow, look at all of them shoot into the air!
All right, who knows that Walt Disney's Imagineers stress the importance of details to make magic? You know, lighting fixtures that change with each pavilion in Epcot's World Showcase; forced perspective on Main Street… Yep, a lot of people raised their hands again.
So, like me, you're not surprised that Disney menus have as much Imagineering in them as the Magic Kingdom. Right? Seriously, I shouldn't have been surprised that they do, but I was. My friend Lisa Berton, one of the AllEars.Net photographers, sent me an article on all the work it takes to make a good menu, and I was very surprised.
Details? A lot of work to say you have a burger on the menu? Actually, yes. Emphatically yes.
Menu specialists anywhere have to consider positioning, wording, fonts, colors, design, and the delicate balance of communicating cost. A good menu, whether it's for fast food or for 5-star restaurants, is all about being the embodiment and focal point for atmosphere, culture, decor, and ambiance. But a Disney menu must add one more critical item, summed up in five important words: be part of the show. It's been that way since the beginning.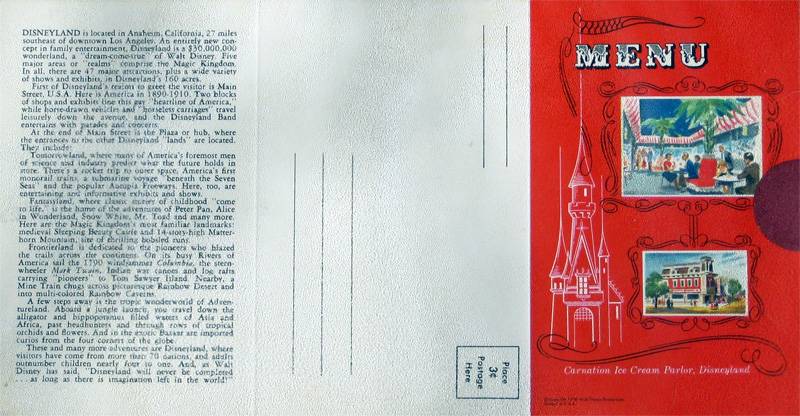 Walt and his "boys" knew it. In 1955, they considered the Carnation Ice Cream Parlor menu important in not only embodying the restaurant's atmosphere, but Disneyland's too. It discussed Disneyland, named each section of the menu after a land in the park, and contained attraction artwork, so it embraced not only the restaurant, but the theme park. AND — something radically different: the menu was made to be MAILED as a souvenir, like a postcard, to friends at home so they could see all the facts themselves. This collectible is in big demand with Disney fans to this day: a supposedly simple ice cream menu, a cherished piece of Disneyana. (And I have one! In mint condition too! Booyah! … ahem, sorry.)
But enough talk! Let's dive into the menu magic.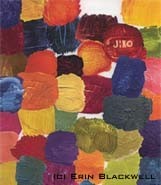 First, does the restaurant have a cover like a book? Then its design must grab the style of the restaurant and the Disney park section or hotel where you're sitting. Consider the cover from Jiko in Disney's Animal Kingdom Lodge (at right): colorful, using a palette found in the restaurant and resort; stylish, artistic. All words used to describe the restaurant itself. Menus with covers are for places that typically need more than one page or want to establish they are more than basic dining. These are the same places that will give a description, not just the name, of your item. Writing these descriptions is done by specialists who usually have literature experience.
For instance, Jiko doesn't just list the item either or give the bare bones on the ingredients: it's ROASTED garlic, not just garlic; the bacon is SMOKED; the goat cheese isn't just that, it's LAURA CHENEL SOFT goat cheese. The appetizer at Catal in Disneyland's Downtown Disney emphasizes vine-roasted grapes, that the honey is captured from wild flowers, and the Ricotta is House-made, so you know that you're not getting a mass-produced cheese. The adjectives tickle your subconscious, getting those tastebuds working and showing you an elevated style of cooking, the same way a wine connoisseur doesn't describe a vintage as "made from grapes."
Excuse me a second: the roasted garlic got me. My mouth's watering already.
Jiko and the restaurants like it can afford to and need to use the space for such descriptions. Counter-service spots don't. The Columbia Harbour House tells you the Anchors Aweigh Sandwich has white tuna with a toasted multigrain bun. No other adjectives; it uses the space wisely to tell you how you're getting good Albacore tuna and not on white bread. But it took the same team of highly trained and skilled artisans, writers, and designers to create this menu as Jiko's, because that sign has to fit The Columbia Harbour House and the Liberty Square environment, not to mention the Magic Kingdom and Walt Disney World itself.
For this next part, we need to stop at the Japan Pavilion in Epcot and thank them for what they taught us decades ago. You see, when soldiers stationed in Japan couldn't understand menu items, wise restaurateurs hired candlemakers to sculpt perfect, wax replicas of the menu items so you knew what you were getting. This concept was brought back to other countries and still exists today. However, in America, places use plastic replicas, the actual item, or, as Disney smartly does, put it right out there for you guests. Like this:
Oh yeah! Who needs anything else? You know exactly what it is: vanilla ice cream with a chocolate coating, shaped in a classic Mickey. The picture speaks for itself in volumes. That it's cool and refreshing on a warm Disney day… the perfect little treat during your vacation or celebration… how creamy it is…
Stop licking the screen.
In this case, Disney uses a picture since the actual product can't be put in front of you, since it would melt. Something like popcorn locations can have the product in front of you; bakeries do the same thing since you can see what it is. I can't tell you how many times I've considered a healthy treat until I get into a place like the Kringla Bakeri og Cafe in Epcot's Norway and end up with a Rice Cream in my hand.
Mmmm, rice cream….
Uh, where was I? Oh, yes! Having the items in front of the guests serves Disney's international audience in an entirely different way. My friend from Spain never knew what a funnel cake was: a word description wouldn't help her, but seeing it and the aroma gave her everything. It works both ways: I remember the first time I saw the word churro. I didn't know what it meant, but I could see it and I could smell its wonderful scent!
Now for that item on the menu that holds the same position as any castle on a Disney Main Street or Grizzly Mountain or the Tree of Life: Walt called them "weenies", those focal points that beckon you towards them. In menus, they're called "anchors". They are separated with a shaded box, horizontal lines, centered above the others,or just with enlarged writing, and they have two purposes. They show you a signature item and they help the restaurant walk that tightrope of communicating price. Something more expensive than other items, but less than the anchor, is placed below it. This way, the anchor item satisfies two audiences: the first orders the anchor, accepting its higher price for its value. The second audience gasps at the anchor's price, but now sees the second high price item below it as affordable in comparison. Both parties are happy. At Disneyland's Carnation Cafe, the anchor item is "Oscar's Choice: The Cafe Chef Salad". It's centered above the other specialties, and named after the gentleman who is the longest serving Cast Member anywhere: Oscar Martinez, who first started in 1956, when Walt walked Disneyland. (You can meet him in his current role as unofficial Disney ambassador; I hope to get his autograph on my Disneyana Carnation menu.)
Does any of this mean I expect you to dissect a Disney menu for its details? No. After all, I don't look at that picture of the Mickey Ice Cream bar and think, "What made them pick that blue striped background? How many graphic artists had to put in how many hours to come up with the Walt Disney World Dining Plan icon until they felt it met a Disney feel that would fit into the parks?" I'm actually thinking, "I wish I could get one right now. I don't care that I'm on a diet!" The magic of a Disney menu is meant to be something like so many other details: taken in by your senses to create a mood while giving information.
And if you stop once in a while with a smile because you consciously see one of those little bits of pixie dust, like thinking, "You know, that striped background is kind of like an old ice cream parlor wallpaper," then it's all part of enjoying the details that go into Disney.
=-=-=-=-=-=-=-=-=-=-=-=-=-=-=-=-=-=-=-=
ABOUT THE AUTHOR: Erin Blackwell loves being part of the AllEars.Net team and primarily works on menus, the Fort Wilderness Fact Sheet, the PhotoPass page, and Disney desktops. When she's at Walt Disney World, you can find her in her home away from home, Fort Wilderness, with her husband and dogs.
-o-o-o-o-o-o-o-o-o-o-o-
Editor's Note: This story/information was accurate when it was published. Please be sure to confirm all current rates, information and other details before planning your trip.