The Changing Face of World Showcase Dining Part II
by Debra Martin Koma
AllEars® Senior Editor
Feature Article
This article appeared in the February 18, 2014 Issue #752 of ALL EARS® (ISSN: 1533-0753)
Editor's Note: This story/information was accurate when it was published. Please be sure to confirm all current rates, information and other details before planning your trip.
Some people like to ride the rides when they go to Walt Disney World. Others like to see the live entertainment, the parades, the fireworks. Still others simply enjoy people-watching. Me? Of course, I enjoy all of the above. But what I really like to do at Walt Disney World? Eat. A lot.
So I have been enjoying watching the transformation of the "cuisine scene" that's been taking place around Epcot's World Showcase over the last few years. World Showcase has been updating its restaurants, in some cases wisely taking advantage of the beautiful water views that World Showcase Lagoon affords. In the past several years, all of the eateries in the Japan pavilion have been redone, and a sake bar has been added at the Mitsukoshi department store. The Italy pavilion renovated Tutto Italia and added a pizzeria, Via Napoli, a few years ago. In Mexico, the beautiful La Hacienda de San Angel now sits regally waterside. Last year, France refreshed the former Bistro de Paris into the more contemporary Monsieur Paul, expanded its popular bakery and added a new artisanal ice cream spot.
Some might argue that the food quality around Walt Disney World has been in decline since the advent of the hugely popular Disney Dining Plan. That's a discussion for a different feature, I think, but I don't necessarily disagree with that… except when it comes to Epcot. It seems to me that the dining experience in Epcot has steadily improved, from the fare served at the counter service spots (even Liberty Inn in the American Adventure has had a menu upgrade) to the offerings at the table service restaurants, even up to the food booths — excuse me, International Marketplaces — that populate the theme park during Epcot's annual Food and Wine Festival. I think this must be partially attributed to the overall guidance of Epcot's executive chef, Jens Dahlmann, who seems to be quite a stickler when it comes to putting out good food. Whatever the reason, however, I must say that I'm a fan of the direction World Showcase dining is taking.
Take for example, two other additions to the World Showcase scene — Tutto Gusto and Spice Road Table. Both of these charming locations share the "small plates" concept that seems to be the current trend running through the restaurant industry. I've read that this is how the "millennials" (that is, Generation Y or today's current 20-somethings) eat. They like foods that they can share and sample, foods that allow them to graze. That's definitely what these spots offer. Inspired by Spanish "tapas" or Chinese "dim sum," diners are encouraged to order a number of single-sized portions, affording the opportunity to share with their tablemates and to sample a wider variety of foods.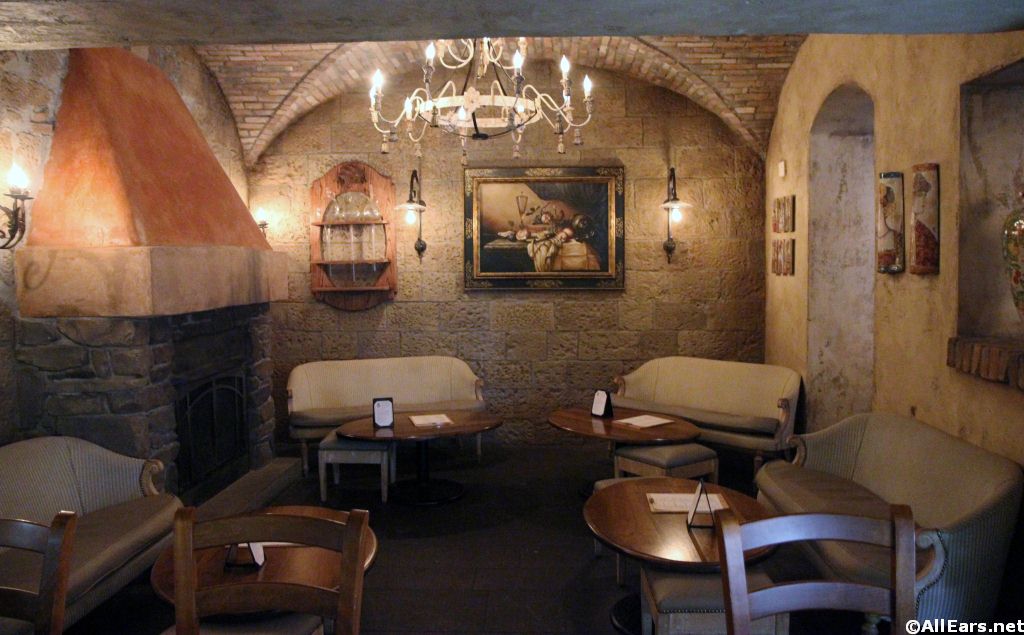 While these two eateries may have a similar dining concept, they are certainly different in almost every other way: one a cozy, dimly lit Italian wine cellar, the other an exotic Middle Eastern waterfront dining experience.
With its unassuming entrance tucked away to the right of the doorway to Italy's Tutto Italia restaurant, one could easily walk right by Tutto Gusto. What a shame that would be!
Tutto Gusto, which debuted in mid-2012, has its origins in the adjacent Tutto Italia restaurant, quite literally — the wine cellar's real estate was appropriated from the parent restaurant's restrooms during a renovation! The space accommodates only about 100 patrons, who are seated in comfy sofas around low tables, at rustic wooden tables and chairs, or standing against the centerpiece bar, underneath light fixtures made from recycled wine bottles.
When you walk into this dimly lit space from the bright Florida sunshine, your eyes blink at the compact surroundings, but you immediately feel a sense of "aaah!" Even when it's bustling with other patrons (more common in the evening than during the day), you are immersed in a cool reprieve from the hectic pace "out there" in Epcot's Italy pavilion. Weathered stone and brick walls and ceilings tell you this is meant to be a cellar, yet the outgoing Italian waitstaff exude a warmth that is anything but cold and dank. "Ciao, ragazzi!" they greet you, making you feel right at home as they hand you Tutto Gusto's short menu. The list of items focuses, as I said earlier, on smaller portions and sharing. There are several sampler platters of cheeses and meats, a few pasta dishes, some small sandwiches (panini) and salads. And wine. Lots and lots of wine! For the non-oenophiles, there are also well-known Italian and craft beers. This is clearly a place meant for lingering and laughing with friends and famiglia.
Perhaps the best way to get started is to order up a sampler of cheeses for the table — L'Alpina offers up an assortment of cow, sheep and goat's milk cheese, with one to suit every taste. Or try a panini (a small sandwich), which comes with a wedge of lettuce and Caesar dressing. I'd suggest the tomato and mozzarella, but the prosciutto and the artichoke and fontina cheese looked equally inviting. Paninis come on slabs of crusty rustic bread, the kind that nearly makes your gums bleed — in other words, the good stuff. If you're craving something heavier, the cavatappi — corkscrew-shaped pasta that comes with your choice of three different sauces — will fill the bill. And in the evenings, if you're looking for something more substantial, you can always order from the Tutto Italia menu, from next door. I tried the Ravioli di Ricotta, with chicken, parmesan and pancetta, recently, and was impressed not only with the creamy sauce and light pasta pillows, but with how hot my food was, considering it had come from the kitchen next door.
I shouldn't neglect to mention again that this is a WINE cellar and so it has extensive wine offerings — more than 200 they say — including a number of wine flights, which are 2-oz. tastings of three different but somehow related vintages. I tried the Powerhouse Reds for $18 — a sample of a Nebbiolo, Lucente Super Tuscan, and Primitivo. All were very good, but the Lucente? Well, let's just say that I have a new favorite wine.
Like most things at Disney World, this dining experience doesn't come cheap, especially if you're a hearty eater/drinker and you need more than one small plate to fill you up. On top of it all, Tutto Gusto does not offer any discounts (not even Tables in Wonderland) and is not part of the basic Disney Dining Plan. But some things are worth paying for.
Which is a good way to segue into talking about Spice Road Table, which just opened in the Morocco pavilion in January of this year. Set in what's meant to be a typical open-air Middle Eastern market, or souk, Spice Road Table combines the coziness of a lounge with booths seating 60 indoors, with the relaxed charm of a cafe along the lake, with 120 additional seats outdoors, all totally under cover.
I've never been to Morocco, but I have been Egypt a few times, and I have always been a fan of the Middle Eastern meze — basically a sampler plate of finger foods like hummus and baba ghanouj with pita, stuffed grape leaves, and falafel that's meant to be shared, either as an appetizer or even a full meal — so I was eager to try Spice Road Table. I was not disappointed. We were seated as requested in the covered area right next to the water, with a perfect view of World Showcase and Spaceship Earth. I could imagine how lovely the view would be from this spot at night, and I imagine these seats will be highly coveted, especially come IllumiNations time.
Despite the fact that it was before the lunch rush, and it was early days for this new eatery, there were a fair number of people who seemed to share my enthusiasm for trying this new spot. Our server, Zineb, was cheerful and welcoming and explained the restaurant's concept to us, offering her opinions on what to try. There were three of us in our group, so we ordered up a Middle Eastern bounty with the intention of passing the plates around — the Tingis sampler, which included a lamb slider, chicken harissa roll, and merguez sausage; the mix grill skewers (chicken and beef); the hummus with pita; and the calamari.


Even though I'm not a fan of calamari, I have to admit that this was cooked perfectly — very tender with a light, crisp coating, not greasy at all. There two kinds of hummus — plain, and a pink variety, lightly flavored by the addition of tomato paste — to go along with the fresh pita, which fortunately was not dry as you can sometimes encounter. On the platter, the lamb slider was the clear winner — not overseasoned or overcooked, with a buttery brioche-like bun. It's a little small for sharing three ways, but would be a tasty few mouthfuls for one. The merguez sausage has a mild bite to it, and the chicken harissa roll was savory, though the dipping sauce a little too ketchup-y for my taste. The skewers were good and well-seasoned, although nothing out of the ordinary, though I did enjoy the chermoula dipping sauce that accompanied them. (We expect that they are included on the menu to satisfy less-adventurous palates.)
We each lingered over the savories with a glass of wine. I tried the Moroccan red Amarigh, a light, dry red that went well with the slight spiciness of the food. One of my dining companions tried the sangria, which to her pleasant surprise was refreshing and full of fresh fruit, but not sweet at all, while our friend tried one of the less-satisfactory whites. (It was so unimpressive, we can't remember which it was!)
We could not leave the desserts neglected, however, and tried the assorted baklavas and the saffron-lemon custard, which, dotted with toasted pistachios, was very reminiscent of a creme brulee. The one pastry, I believe it's known as kataifi, with an almost shredded-wheat look to it, bordered on being overly sweet, but the other two were sinfully delicious, and went well with a cup of strong, fresh-brewed coffee.
Like Tutto Gusto, Spice Road Table may not be the place for you if you are looking for a hearty, full-fledged meal. Ordering all these small plates adds up, as you can imagine, and again, there are no discounts or dining plans available here as yet.
Still, Spice Road Table serves up just what Epcot needs, in my opinion — a little bit of variety to add some spice to the tried and true and familiar. Even if you're not the most adventuresome eater, you really ought to give Spice Road Table a try, even if it's just to sip a glass of wine, or a Moroccan beer, while reflecting on the reflections as you peer out over the World Showcase Lagoon.
Speaking of what Epcot needs… well, as I said earlier, I like the way that the dining experience has been evolving in Epcot over the last few years. I may not be a millennial, but I don't mind eating like one. I enjoy trying new foods, and what could be better than sharing the experience with a group of friends, lingering over an adult beverage of my choice? I would venture to say that Epcot could add another "small plates" place or even two to enliven things around the World. Canada needs another food location, don't you think? We could nibble on poutine and pretzel bread and sip small cups of cheese soup. And wouldn't dim sum overlooking the water be a nice way to start a Sunday morning? I'd even suggest that the American Adventure needs something a little more representative of our country's culinary prowess than the burgers and sandwiches you can find at the Liberty Inn.
But that's what's on my personal wish list for ways to change — and improve — the face of dining in World Showcase. It'll be fun to watch and see what Epcot actually whips up for us to savor next.
=-=-=-=-=-=-=-=-=-=-=-=-=-=-=-=
RELATED LINKS
Spice Road Table Menu:
http://allears.net/dining/menu/spice-road-table/lunch-dinner
Rate and Review Spice Road Table:
http://land.allears.net/reviewpost/showproduct.php?product=678&title=spice-road-table&cat=34

Tutto Gusto Menu:
http://allears.net/dining/menu/tutto-gusto/lunch-dinner
Rate and Review Tutto Gusto:
http://land.allears.net/reviewpost/showproduct.php?product=672&title=tutto-gusto-wine-cellar&cat=34
The Changing Face of World Showcase Dining, Part I:
http://allears.net/ae/issue719.htm
-o-o-o-o-o-o-o-o-o-o-o-
Editor's Note: This story/information was accurate when it was published. Please be sure to confirm all current rates, information and other details before planning your trip.