The Changing Face of World Showcase Dining, Part 1
by Debra Martin Koma
AllEars® Senior Editor
Feature Article
This article appeared in the July 2, 2013 Issue #719 of ALL EARS® (ISSN: 1533-0753)
Editor's Note: This story/information was accurate when it was published. Please be sure to confirm all current rates, information and other details before planning your trip.
Over the last few years, Epcot's World Showcase has been updating its restaurants, in some cases wisely taking advantage of the beautiful water views that World Showcase Lagoon affords. We've seen a re-do of all the eateries in the Japan pavilion, with the old fan-favorite Teppanyaki becoming Teppan Edo, and Tempura Kiku and the Mitsunoma Lounge blending and transforming into Tokyo Dining. There was also the addition of a sake bar at the Mitsukoshi department store and a renovation of the quick-service eatery, Yakitori House, which yielded Katsura Grill. In Italy, a pizzeria, Via Napoli, was added not long ago, and more recently a cozy wine cellar, Tutto Gusto, debuted. A few months back the Morocco pavilion entered the mix, with the announcement that it would be adding a new waterfront restaurant. Its Spice Road Table is currently under construction and is slated to open this fall.
I've been trying to stay current with all of the changes around Epcot, and over the last several months, I've had the chance to stop by several of the more recent entries into dining at World Showcase — and I plan to continue to check on the new spots as they open! This week, I'll share my thoughts and some photos of the new French restaurant, Monsieur Paul, with a look at a few of the other dining location changes in future weeks.
Monsieur Paul, perched atop Les Chefs de France restaurant, sits on the site of the former Bistro de Paris. Arguably a bit too pretentious for a theme park, the Bistro exuded an elegance and sophistication that made for a nice respite from the hectic pace of the theme park below it. While I thought that the Bistro was one of the finest dining experiences at Walt Disney World, with its special ambience and truly excellent food quality and service, the public at large seemed to find it a bit too stuffy. Intimidated, park-goers stayed away in droves, which made for a quiet dining experience for those of us who visited the spot, but eventually necessitated a change to something a little more approachable.
After undergoing a several-month renovation in late 2012, the restaurant reopened with a new name, look and menu. The new moniker, Monsieur Paul, honors legendary Chef Paul Bocuse, who along with chefs Roger Verge and Gaston LeNotre, originally owned and operated the restaurants in Epcot's France pavilion.
Evidence of the new restaurant's updated decor can be seen from the moment you enter the waiting area. Chairs are upholstered in shades of plum and spring green that you'll see upstairs and throughout the new restaurant. The feeling is immediately less formal and somehow warmer. As you wind your way up the spiral staircase to the restaurant on the monochrome carpeting (a change from the prior old-fashioned floral pattern) you can still see photographs marking the career of Chef Bocuse, but once you reach the top of the stairs the transformation is apparent. Now dressed in its new tones, the restaurant's furnishings are still sophisticated but more contemporary, with velvets and leather textures replacing the more regal reds of the previous incarnation. Tables are set more simply, and are no longer covered with starched white tablescloths. The servers, too, have been dressed down, and are now wearing more relaxed, black bib-style aprons with white shirts open at the throat, instead of the black tuxedo and tie outfits they sported previously.
On two recent visits, however, I found that the service is still impeccable, as is the food. Right from the starters, you can witness the attempt to make the restaurant's menu a bit friendlier without dumbing it down. For example, there's an unusual presentation of the French mainstay, escargot. The little snails, which are perhaps a bit too scary for the unadventurous diner, are prepared as the filling for tender ravioli swimming in a bright green sea of parsley cream ($16.00). I also sampled a mixed greens salad that featured pear, Roquefort cheese and caramelized walnuts. The sweetness of the fruit was a great counterpoint to the sharpness of the cheese, and the added crunch of the nuts made the entire salad.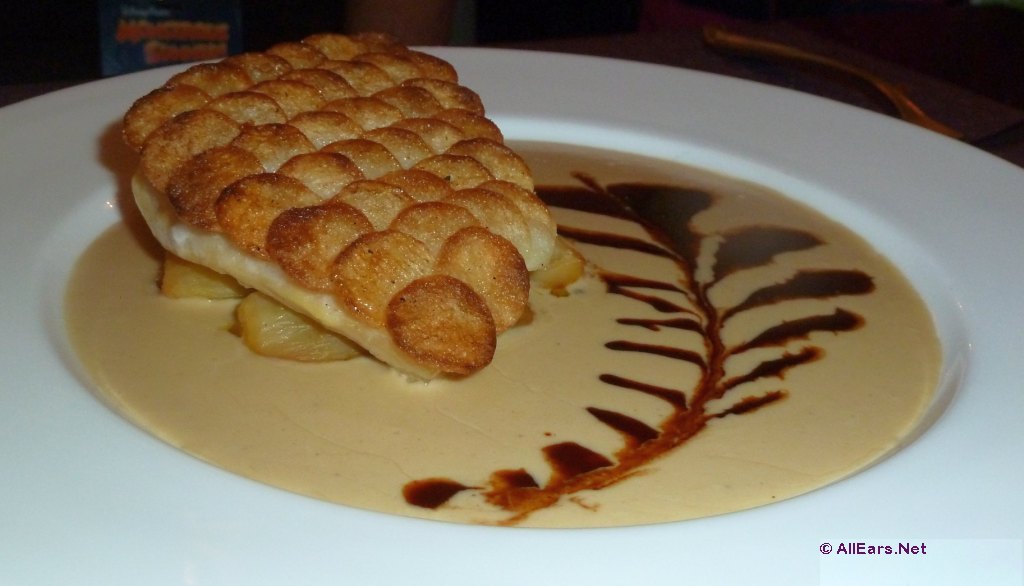 One of the establishment's signature entrees, Rouget Atlantique en ecailles de pommes de terre, fenouil, sauce romarin ($41.00) is a beautiful red snapper dish, adorned with potato "scales" with artistic precision, and served with braised fennel and rosemary sauce. Light and cooked to flaky perfection, the snapper is complemented beautifully by the fragrant sauce, and is as visually appealing as it is delicious.
Less successful, but still quite good was the Pot au Feu de St. Jacques ($42.00), new on the menu since my first visit to the restaurant. The seared scallops were well-prepared, though a bit on the small side. The accompanying vegetables, cream of cauliflower, ginger lobster consomme however, were bland, and the whole dish seemed to lack seasoning. (I'm not a person who likes a lot of salt, but found I had to add a dash to this dish, which did improve it somewhat.)
However the Filet de boeuf grille forestier ($43.00) received no such complaints, either time I tried it. A tender grilled beef tenderloin with a mushroom crust and Bordelaise sauce, I think this filet rivals the popular filet dish served at nearby Le Cellier in the Canada pavilion. While the crust is not crunchy as one might expect from the name, the earthiness of the mushrooms compliments the beef so well.
Desserts are…well, what can we say? They are French, and the French know how to do pastry. If you prefer something not overly sweet, as I often do after a rich meal, try the Le Moelleux — a warm chocolate and almond cake with raspberry coulis in the center, and a hazelnut crust, accompanied by a small egg-shaped dollop of hazelnut ice cream. The cake is so light and moist, with just a hint of chocolate, and the sweet molten center is its sweet foil.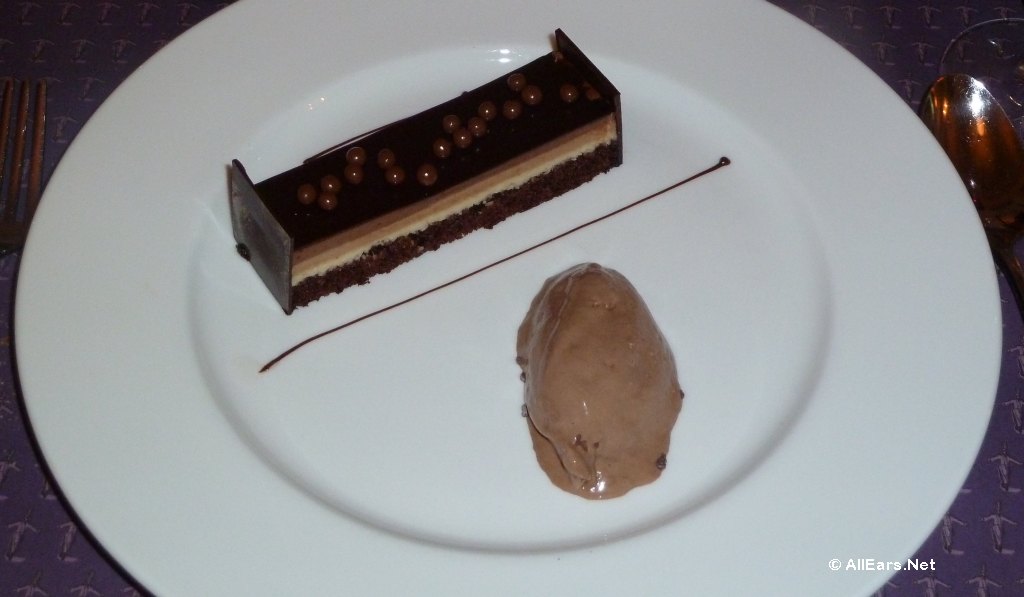 On our most recent visit, my son opted to go chocolate-less — heathen! — and instead chose the Le Mille-feuille: layers of puff pastry and pastry cream with berries, garnished with lemon cream and strawberry sorbet. I must admit, I stole more than one spoonful of the light lemony cream, before deeming it every bit as satisfying as any chocolate counterpart.
If, on the other hand, chocolate is your weakness (I raise my hand), you'll enjoy Monsieur Paul's version of a "chocolate bar" — flourless deep, dark chocolate cake layered with praline crunch, a chocolate-passion fruit ganache, chocolate mousse and a side of ice cream. If you weren't stuffed from your entree, this will certainly put you over the top — so rich! (By the way, all desserts are $13.00.)
As you can see from the prices on our menu, dining at Monsieur Paul is still a little steeper than the usual theme park fare. But if you're looking for a quiet, somewhat refined end to your day, Monsieur Paul offers diners the chance to relax in what's now a much more welcoming atmosphere.
Note that this restaurant does not accept Tables in Wonderland, and that it is a Signature Dining restaurant requiring two table service credits on the Disney Dining Plans.
= = = = = = = = = = =
RELATED LINKS
= = = = = = = = = = =
Monsieur Paul Menu:
http://allears.net/menu/menu_monsieur_paul.htm
Monsieur Paul Children's Menu:
http://allears.net/menu/menu_monsieur_paul_kids.htm
Read AllEars.Net Reader reviews of Monsieur Paul or share your own!
http://land.allears.net/reviewpost/showproduct.php?product=661&title=monsieur-paul-france-dinner&cat=34
-o-o-o-o-o-o-o-o-o-o-o-
Editor's Note: This story/information was accurate when it was published. Please be sure to confirm all current rates, information and other details before planning your trip.