The Call of the Islands: Disney's Caribbean Beach Resort
by Kristin B. Ford
AllEars® Staff Writer
Feature Article
This article appeared in the July 22, 2014 Issue #774 of ALL EARS® (ISSN: 1533-0753)
Editor's Note: This story/information was accurate when it was published. Please be sure to confirm all current rates, information and other details before planning your trip.
The Caribbean islands are close to Florida, but Walt Disney World brings theme even closer to Orlando.
My family and I stayed at Disney's Caribbean Beach resort for a weekend and found it to be a wonderful place to celebrate my son's birthday. He chose the resort because of the fun pool area and pirate-themed rooms. And although we enjoyed our stay, there were a few aspects of the resort that might make some families shy away from booking here.
= = = = = = = = = = = = = =
ROOMS
= = = = = = = = = = = = = =
First, consider the rooms. Walt Disney World has done an admirable job in transforming the least-desirable rooms at the resort into some of the most sought-after accommodations. By that, I mean the rooms that are the farthest from the pool, restaurants and other amenities were redecorated in 2009 to look like guests are staying in a pirate's lair. With the popularity of the "Pirates of the Caribbean" movie franchise, and pirates in general, this was a sure thing in terms of increasing bookings (and the price per room).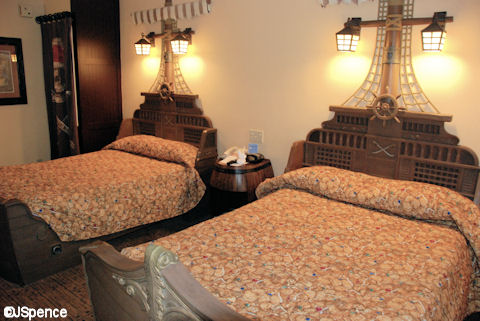 These rooms are so meticulously themed, from the bejeweled bedspreads and ship-like bed surroundings to the carpet designed to look like wooden planks and the barrel-shaped tables, that you do feel like you have stepped into a pirate's hideaway. Even the bathrooms have The Flying Dutchman ship etched in the shower wall! Pirate fans definitely will feel as though they are immersed in that world. Cast members made my son's birthday even more special by placing a small treasure chest of candies and beads and pirate-themed balloons in our room.
(If you choose not to splurge on a pirate room, your room will be decorated in the bright colors of the Caribbean, and it will have elements that depict the characters from "Finding Nemo.")
There were some drawbacks to the rooms at Caribbean Beach, however. First, at the time of our stay, they were outfitted with two double beds. That may work well for some families, but our family of four prefers queen-size beds (which is what most Walt Disney World resorts offer). I do not think we are alone in this. Plus, Caribbean Beach is the oldest moderate hotel on Disney World property and that is apparent in some of the building elements, such as doors that exit directly outside with no interior corridor and wall-mounted air conditioning units that are loud and rattling. Fellow AllEars.Net blogger Jack Spence also pointed out after a stay in the pirate rooms that the curtains do not close completely to create a pitch-black room. So, if any of these aspects are deal-breakers, your family will want to book another resort for your vacation. Still, our family was willing to overlook the annoyances for two nights because my son was so excited to stay in a pirate room.
(EDITOR'S NOTE: Since Kristin's stay at Caribbean Beach, the resort has begun renovating its standard rooms. Work on the Jamaica village is currently under way. See Jack Spence's blog, referenced in the RELATED LINKS at the end of this article, for additional details.)
= = = = = = = = = = = = = =
RECREATION
= = = = = = = = = = = = = =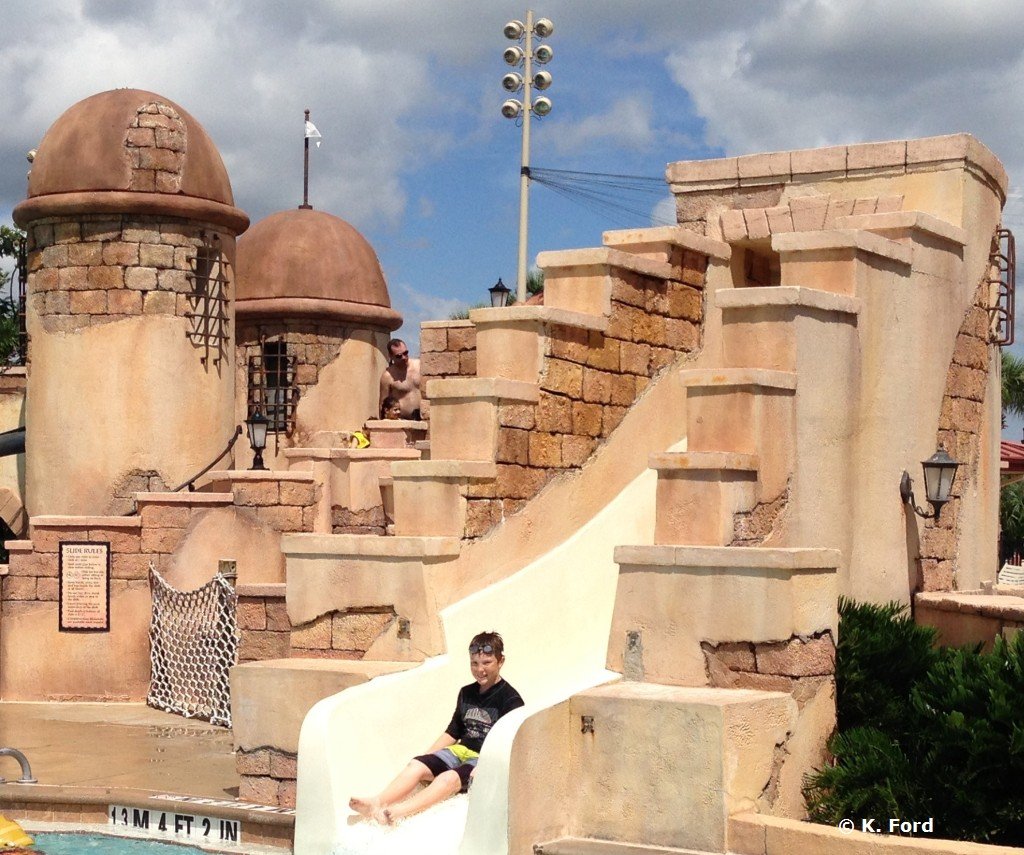 Recreation at Caribbean Beach centers on a large pool area (Fuentes del Morro); Barefoot Bay, a 45-acre lake; and Old Port Royale, also called Centertown, where the restaurants, shops and the arcade are located.
One of the reasons my son chose Caribbean Beach for his birthday weekend was because of the fabulous pool that was renovated to look like the sea between Spanish-style forts. It's a huge pool with not one, but two, waterslides, which was an important entertainment feature for my kids. (We've been tempted to stay at "value" resorts, but none of those pools have waterslides, unfortunately.) The pool is designed with one side as a zero entry, and another small area between the forts is perfect for small swimmers. In addition, there is a pirate-ship-themed splash area for youngsters, and two hot tubs for adults. Each day, in the afternoon, cast members lead pool games and a dance party for kids at the resort. Looking for less action? Each village at Caribbean Beach has a quiet pool, as well.
Nearby, there is a white-sand beach with lounge chairs and hammocks facing the lake. Although there is no swimming in Barefoot Bay, there is a 1.4-mile promenade around the water. In the center of the lake is Caribbean Cay, a pretty island with picnic tables and play equipment for children. We enjoyed visiting there, but be forewarned — the play structures can get very hot in the Florida sun. Nearby is the marina. While you can no longer rent Sea Raycers or other water craft at this resort, you can still rent surreys and bicycles, arrange fishing excursions, and the Pirate Cruise for children 3-12.
Each evening, a firepit on the beach is lighted, and marshmallows are provided for toasting. Afterward, Disney movies are shown, free of charge, outdoors near Old Port Royale. No matter how many times we participate, my elementary-school-age children always ask that we make time for marshmallows and movies under the stars.
= = = = = = = = = = = = = =
DINING
= = = = = = = = = = = = = =
For my son's birthday, we had dinner at Shutters, the table-service restaurant in Old Port Royale. In keeping with the resort theme, the eatery serves traditional Caribbean dishes, as well as some staples. Unfortunately, the menu is not extensive, so our choices were somewhat limited. I guess I was expecting more entrees like the menu at mouth-watering Darden chain Bahama Breeze, but what we found was fairly uninspired.
The entrees didn't appeal to me, so I ordered two appetizers: a Braised Beef and Pepper Jack Cheese Empanada and the Shutters Salad (Mixed Greens, Jicama, Avocado, Tropical Fruit Salsa, Citrus Vinaigrette, and Goat Cheese). Both were fine, but they did not leave me satisfied. My husband tried the Pan-seared Chili-rubbed Mahi Mahi over Conch Chowder and found it to be mediocre. My son also ordered the empanadas, and my daughter made a selection from the kids' menu.
Without a doubt, the best part of the meal was our dessert. We did not choose from the menu, however. I had ordered a custom cake through the Walt Disney World Cake Hotline (407-827-2253). That was my first experience designing a cake without seeing what the finished product would look like, and the Disney chefs far exceeded my expectations for my son's Stitch-themed birthday cake.
I chose a chocolate cake with chocolate buttercream filling. It was covered in fondant to create the smooth appearance and molded design elements. The taste of the fondant wasn't my son's favorite, but it didn't detract from his love of the cake. He was thrilled with the solid white chocolate Stitch figure and the Hawaiian theme of surfboards and flowers.
Custom cakes have to be ordered at least 48 hours in advance in most cases, and it is recommended that orders not be placed more than three weeks ahead of time. Guests can choose from a 6-inch round cake (serves 5), an 8-inch round cake (serves 8), a 10-inch cake (serves16), quarter sheet cake (serves 10-12), half sheet cake (serves 50) and full sheet cake (serves 100).
Although we were disappointed with our meal at Shutters, we did enjoy the food court at Old Port Royale during our stay. Breakfast typically is served from 6:30 to 11 a.m. and our favorite Mickey Mouse-shaped waffles are available. (The kids' breakfast had a smaller Mickey, while adults were given the jumbo size.) On the morning we stopped by, the servers couldn't keep up with the long line for the always-popular Mickey waffles. If waffles aren't on your diet, there are a number of other options, such as eggs and omelets, create-your-own yogurt parfaits, oatmeal, breakfast quesadillas, muffins, smoothies and even a breakfast Cuban sandwich.
Lunch and dinner menus offer a nice variety of sandwiches, burgers, salads and pasta entrees. You also can get individual slices of pizza or whole pies. Pizza delivery is available throughout the resort, too, from 4 to 11:30 p.m. Disney's Rapid Fill refillable mug program is available.
There is no indoor lounge at Caribbean Beach, but Banana Cabana located adjacent to the pool is open from noon to midnight daily. There you will find Pina CoLAVA, Caribbean limeade or the house specialty, the Goombay Smash. Beer, wine, sangria and a full bar are also available.
= = = = = = = = = = = = = =
TRANSPORTATION
= = = = = = = = = = = = = =
Because Caribbean Beach is such a large resort, bus service is offered within the resort, in addition to the buses that shuttle guests to the theme parks and other destinations on property. Cast members say the average wait for the internal buses is 20 minutes. Because we live locally and had driven to the resort, we just hopped in our own car, which was much more convenient. I think the ability to drive yourself — or be close enough to Old Port Royale to be able to walk there — will make or break your opinion of the hotel.
The resort provided a fun time for our family, and we were able to overlook some of the drawbacks to the experience because other features, such as the pool and the pirate theme of the room, were so important to our children. That said, consider your stay here as you would at any other resort at Walt Disney World by taking into account what you expect from your accommodation and what you might get at other resorts on property for a similar price.
= = = = = = = = = = = = = =
RELATED LINKS
= = = = = = = = = = = = = =
Jack Spence's recent two-part blog about the Caribbean Beach Resort and its dining options:
http://land.allears.net/blogs/jackspence/walt_disney_world/resorts/caribbean_beach_resort/
Caribbean Beach Resort Fact Sheet:
http://allears.net/acc/faq_cbr.htm
Fuentes del Morro Pool:
http://allears.net/acc/g_caribbean-beach-fuentes-del-morro-pool.htm
Kid's Splash Area:
http://allears.net/acc/g_caribbean-beach-kids-splash-area.htm
Resort Overview Video:
http://youtu.be/QysnMAD2bEw
Standard Room Video:
http://youtu.be/VZsK3GKYpk4
Shutters Restaurant Video:
http://youtu.be/pY8Dj3XxxmQ
Old Port Royale Video:
http://youtu.be/Gs9aCGcSPjQ
Kristin also writes the "A Mom and the Magic" Blog for AllEars.Net, with new entries appearing three times a week:
http://land.allears.net/blogs/kristin-ford/
-o-o-o-o-o-o-o-o-o-o-o-
Editor's Note: This story/information was accurate when it was published. Please be sure to confirm all current rates, information and other details before planning your trip.