Seniors at WDW: Thrills Not Just for Kids
by Ruth Morehart
AllEars® Guest Columnist
Feature Article
This article appeared in the June 9, 2015 Issue #820 of ALL EARS® (ISSN: 1533-0753)
Editor's Note: This story/information was accurate when it was published. Please be sure to confirm all current rates, information and other details before planning your trip.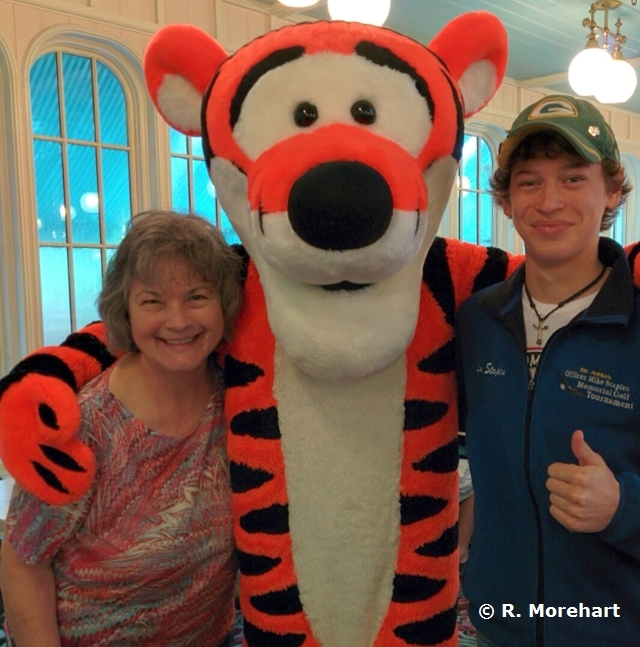 I've been writing about visiting Walt Disney World from a senior's viewpoint for AllEars® for a few months now, and I wanted to address a couple questions I get all the time.
People often ask us if we ride all the rides, thrill rides included, or do we slow down because we are seniors now?
First, let me give you a a quick reminder of who "us" is. My husband and I are both in our late 60s. I am a retired RN and my husband, Roger, is semi-retired. We live in the lake and forest country of Northern Minnesota and go once a year to our favorite vacation site in the world, which is Walt Disney World.
So back to the question: "Do you ride thrill rides now that you are older, or is that just for kids?" The simple answer is, "Yes, we love the thrill rides and never miss them if we can."
Just to show you how much we actually do ride, I'll break down our top favorites by park.
(AUTHOR'S NOTE: Please know that I'm just sharing my favorite attractions here. I have fibromyalgia, but I can tolerate these rides… but everyone is different. If you have health concerns that you fear might affect your enjoyment of these rides, please consult your physician before riding!)
Our usual routine goes something like this: Upon arrival from the airport on Magical Express, we check in, and head to our very first park, the one that "feels" like Disney the most to us — The Magic Kingdom! My husband says he doesn't feel like he is at Walt Disney World until he walks down Main Street, USA with its stores, smells and special ambience.
We always get to the resort to check in around noonish, then head to the park as soon as we can for the rest of the day. Our must-do's at Magic Kingdom upon arrival are: Haunted Mansion, Pirates of the Carribean, Space Mountain (if Roger is up to it; sometimes it aggravates his back) and Big Thunder Mountain. Our favorite of all of these is the Haunted Mansion, with its preshow and creepy decor. Then we wander around and catch Buzz Lightyear, Monsters, Inc., or the other attractions.
We love to wander through the New Fantasyland area and view all the new sights and attractions. We love the queue for the Under the Sea with the Little Mermaid with its winding paths and animatronic sea creatures. We also love the Seven Dwarfs Mine Train attraction with its amazing queue. I don't want to ruin it for those who have not seen it, but the interactive activities are not to be missed. The entire ride is very well done. If you haven't ridden it yet, be sure to watch for the scenes in the cabin at the end of the ride, and also the shadows on the early part of the ride!
We also wander through the shops on the way out. We always eat at our favorite restaurant, which is The Liberty Tree Tavern. Their pot roast dinner is great after a long day traveling, and I love the way they call your name, and the colonial setting is relaxing, too. I guess I've gone way past telling you our favorite attraction at Magic Kingdom. I got carried away with our arrival day traditions. I know you have your own arrival day traditions, too, which make Walt Disney World special!
My next park is Animal Kingdom. We love this park — there is just so much to see and do. The different areas are so authentic and we love wandering through them all. As far as attractions go we differ on our favorites. Roger's favorite is Expedition Everest and mine is Dinosaur. The queue for Expedition Everest is fantastic. We take our time and look at the various exhibitions on the inside building from the area and love the Yeti artifacts. I always close my eyes before we get to the Yeti, but last year I actually looked and saw the big monster! Roger always thought it was funny that I closed my eyes at the best part.
I think the queue to Dinosaur is one of the best Disney has to offer. The huge dinosaur in the circular room is fantastic, and the preshow is hilarious! I never tire of it. I always scream in the ride and have a blast! Now for a confession — we both LOVE Primeval Whirl! I know, it is kinda kitschy and supposedly for "kids", but we laugh all the way through and look forward to it every year.
At Disney's Hollywood Studios we head immediately to our favorite attraction, which is one that almost everyone else seems to love, too: Toy Story Mania. We just can't get enough of going through that amazing queue with the Toy Story props and the talking Mr. Potato Head! Even after seeing him so many times, I still think he's looking right at me! My husband and I are very competitive about the scores and are very serious when we ride. I can never beat Roger, but I am working on it. I guess I need to go to one of those websites for secrets of how to win in Toy Story Mania.
Our next favorite attraction in this park is Tower of Terror. Once again the queue is awesome. Disney knows how to set the stage like no one else. Just walking through that creepy hotel and then down to the basement gets you into the spirit. The preshow with Rod Serling is great, and the tension builds up from the time you step into the "car" to when the first drop occurs! It never gets old for me. It is a blast. Since I mentioned Roger's back earlier, I should say that he can and does ride this and Rock 'n' Roller Coaster as well!
Lastly, is Epcot. Our favorite attraction in this park is Soarin'. I keep hearing rumors that Disney is going to redo this film, but we love it like it is! It never disappoints. I love the feeling of flying, the smell of oranges when soaring over the orange groves, and I always look for the Hidden Mickey on the golf ball. But my very favorite part of the entire ride is when we fly over Disneyland in the nighttime while the fireworks burst all around. It's a very fitting ending to the ride!
Epcot is actually home to the only ride I can't do: Mission: Space. I rode it once when it was new and they didn't have the "green" side. I don't have a problem with thrill rides, as you can tell from all the other rides I've talked about, but the confined space and motion of the Mission: Space "capsule" caused me to be nauseated and shakey for a couple of hours after riding. Lesson learned — no more Mission: Space for me!
I know I have included more than our most favorite thrill attractions in each park, but it is almost impossible to name them with mentioning some of the others. As I'm sure you do, we find something new in each park every time we visit Walt Disney World. I have a "WDW bucket list" that I started a couple of years ago and I have only managed to do one of the things listed, simply because I keep finding more new things to try!
In conclusion, I don't think it matters how old you are. At Disney World you can do it all, or as much or as little as you'd like. You are the only one to put limitations on what you want to do. Please don't let your "age" stop you from enjoying all of the attractions Walt Disney World has to offer, whether they are the ones that are so-called "for children," such as Primeval Whirl or Peter Pan, or the extreme thrill rides like Expedition Everest and Rock 'n' Roller Coaster. We have our traditional favorites that we will continue to enjoy every year. And we hope to see you there, too!
=-=-=-=-=-=-=-=-=-=-=-=-=
RELATED LINKS
=-=-=-=-=-=-=-=-=-=-=-=-=
Seniors at WDW: Who's Afraid of Technology
=-=-=-=-=-=-=-=-=-=-=-=-=
ABOUT THE AUTHOR:
Ruth Morehart is a retired RN who has been visiting Walt Disney World since her son and daughter (who are now 43 and 41 years old, respectively, with children of their own) were young. She resides in Minnesota with her husband of 46 years, Roger. Despite her fibromyalgia, Ruth enjoys quilting and creates quilts for the Quilts of Valor program for wounded soldiers.
-o-o-o-o-o-o-o-o-o-o-o-
Editor's Note: This story/information was accurate when it was published. Please be sure to confirm all current rates, information and other details before planning your trip.