Seniors at Walt Disney World: The Big 5-0 Part II
by Ruth Morehart
AllEars® Guest Columnist
Feature Article
This article appeared in the April 17, 2018 Issue #969 of ALL EARS® (ISSN: 1533-0753)
Editor's Note: This story/information was accurate when it was published. Please be sure to confirm all current rates, information and other details before planning your trip.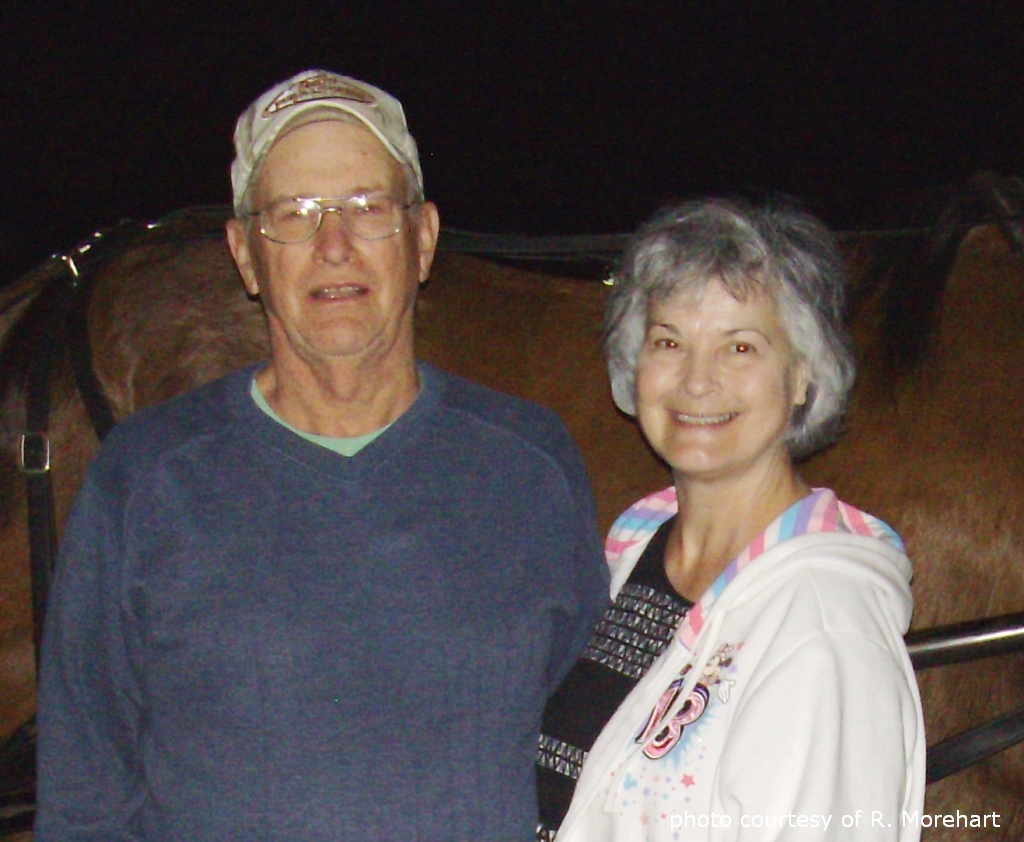 I have been lazy for a while, waiting for Spring that just won't come, but I finally have written about the second half of our 50th anniversary trip.
For those who may not remember, I surprised my husband with a trip to Walt Disney World for our 50th wedding anniversary! (You can read about my planning process and the Big Reveal HERE.) I was going to wait until Christmas to spring it on him, but I was so excited that I told him before Thanksgiving. To say he was surprised is an understatement. He was amazed that I pulled it off right under his nose! I worked with my travel agent and set everything up without his knowledge. It wasn't easy, as we always share our trip pre-planning together. I hid important papers in a folder titled "crochet patterns," knowing that he wouldn't open that! I planned our trip to be from February 27 to March 7, staying at Port Orleans French Quarter. We usually visit in November, so this was a big change for us. We also consider our "home" resort Port Orleans Riverside, so French Quarter was brand new for us, too.
Fast-forward to after the shock of the surprise, and to my husband's increasing excitement about this trip. He loves Disney as much as I do, and he couldn't wait to try POFQ and Disney in early March. I was apprehensive about having made all the FastPasses and Advance Dining Reservations myself, but he said he loved everything I picked out, so that went well.
This would be our first trip where he didn't have any back pain at all, so we were looking forward to that. We both love POR, so were a little apprehensive about trying a new resort. I am not into the New Orleans decorations/vibe, so I wasn't 100 percent sure, but I checked all the reviews, and felt fairly certain we would like it. Plus, we both are getting older (he is 70 and I am 68), so we thought a smaller resort might be nice.
When we arrived at POFQ by Magical Express, I admit that I was a little sad that it wasn't Riverside, but the beauty of the entryway and courtyard inside was amazing. We were surprised by the smaller size of the registration area. We only waited for one person, then met the front desk cast member, Nellie, who was wonderful. She was cheerful and seemed happy to see us. I had requested Building 4, as it looks closest to the bus stop, but we got Building 2. Nellie went out of her way to show us the building and reassure us that it wasn't that far. She was the first cast member who congratulated us on our 50th anniversary, then gave me at least 12 Mardi Gras-like bead necklaces and our anniversary pins to wear. She said we would have a newly refurbished room.
The walkway to our building was so beautiful, with palm trees, the small brick roads, sidewalks, and street lamps. Nellie was right — our building was very close to everything. Right outside our room was a beautiful courtyard with an ornate black fountain and benches surrounding it. There were azalea bushes surrounding it, too.
I must confess that I didn't think I would like the refurbished rooms at all. They looked too white and sterile for me from all the pictures I saw online. But I have to say that I was blown away by that room. The laminate floors are comfortable and look great. The new flat screen TV is huge, and looked to be 50 inches, but I won't swear to that size. The bathroom counter area was redone with more storage. The bath had a rain showerhead, which was nice. The beds, oh my gosh, were really comfortable. They are on pedestals, which allows you to store your suitcases underneath. The console seemed to be larger, too. The fridge was actually cold and held the temperature. I think we were the first to be in this room, as some of the electronics weren't plugged in.
We changed into our "summer" clothes, put on our pins, and headed to the Magic Kingdom, as is our custom on arrival day. It was about 2:30 p.m. at that point. We had a 3:30 reservation at Liberty Tree Tavern, our favorite restaurant at Magic Kingdom. The park was crowded, as this was an Extra Magic Hours night, but we expected that. I had made three FastPasses for after our meal — Haunted Mansion, Big Thunder Mountain Railroad, and Buzz Lightyear — so we knew we would have plenty to do. We enjoyed our half-day at the park, ate supper, used our three FastPasses, and wandered around a little bit. Then it was back to the room for some much-needed rest (we had been up since 3 a.m. for our 5:15 flight!), and to get ready for our next full day.
I won't detail each day of the trip for you, but as usual we did some old favorites (the carriage ride at Port Orleans Riverside, dinner at Liberty Tree Tavern) and tried a few new things (Avatar Flight of Passage, Art Smith's Homecomin'). Overall, we found that we went at a much slower pace this time and enjoyed every minute of it. We saw the Flower and Garden Festival for the first time and it was beautiful. And it was so much fun to be recognized by the cast members at the parks and to be sprinkled with pixie dust, too, for our 50th.
Each day, I reminded Roger to put his anniversary pin on. He tried to forget it each time, but he finally hung in there and wore it. We got lots of congratulations. At the Hoop Dee Doo Revue, when they called out people who were celebrating something, it turned out that we were the longest-married couple there. It was fun to be acknowledged. One day at the Magic Kingdom, as we were weaving through the crowd, we passed a cast member who looked at our pins and said, "Congratulations!" Then as she passed us by she said, "Whoa, does that say 50 years?!" We said yes, and she took my hand and pulled us through the crowd to an ice cream stand. She said that 50 years deserved some ice cream. So we each got a Mickey Bar and water bottles. It was a very nice gesture and the ice cream was really good. That was just one of the many nice things cast members said or did when they saw our anniversary pins.
We really enjoyed our stay at POFQ. The grounds are absolutely beautiful and easy to walk around. I took a walk one evening around the entire resort, stopping at all the courtyards, and at the pool area. I found one courtyard that had statuary frogs squirting water into the fountain. It was super cute. The area that the frog fountain is in is near Building 7, and there is one thing I noticed about that area. The foliage and trees seem to change — there are more oaks and less tropical foliage. The area of Building 2 seemed to have different types of trees (don't know what they are, but there were some palm trees) and more lush foliage. The theming that Disney does is amazing. I love the theming of Riverside — its Alligator Bayou section is lovely with winding pathways, little bridges, and lush tropical foliage. But French Quarter is so quaint with its antique-looking lampposts, brick roads and walkways and lush plantings, too. The pool area is larger than I thought it would be and just as well thought out. There is a separate play area for the little kids that got used a lot. I, of course, took lots of pictures of the statues of the alligators playing musical instruments. I was surprised that I liked the theming with a French Quarter flare. It was not overdone. The newly refurbed rooms had just the right touch of New Orleans in the headboards on the beds, the picture, and the shower curtain. Subtle but nice.
My husband and I loved just wandering around the resort. It was easy for him to walk around. He also liked to sit on the benches in the morning and drink coffee or go out and read for a while. It was such a relaxing atmosphere for us.
We ventured to nearby Disney Springs three times during our stay via the boat that travels between there and Port Orleans. One time was to eat at Chef Art Smith's Homecomin' (which was our anniversary dinner). We like good home-cooking and comfort food, so this was just great for us in a wonderful atmosphere. We also went for ice cream at Ghirardelli's, wandered around the new areas (which are very nice), and bought souvenirs. Going to Disney Springs is one thing we look forward to each trip, and the boat ride is also something we love to do.
In closing, I am so happy I did this "surprise" for Roger, but I would not do it again! Just too stressful for me, and I missed making all the plans with him. After this trip, though, I know that we will be returning to French Quarter again. We love Riverside, but at our age, the smaller size of French Quarter worked well for us. The cast members at POFQ were all nice and friendly. I was pleasantly surprised at the ambience of the food court. The New Orleans touches were really nice, with the big masks on the wall shelves and the bottle chandelier, all tastefully done. We were really surprised that we loved this resort so much. We thought nothing would ever take Riverside's place. But French Quarter is close enough to Riverside that we walked there one evening to eat and also went there for a carriage ride, so it was really like having the best of both worlds.
We are already talking about our next trip, but not sure if we want to switch back to early November or try February/March again. I am leaning toward March, but my husband says he missed the Christmas decorations that we usually see when we visit in November, so we'll see.
Thanks for following along with me on our surprise 50th anniversary trip. We still have not done all we want to do at Walt Disney World, but we are planning on many more visits together. Looking forward to Number 51 next year!
= = = = = = = = = = = = =
RELATED LINKS
= = = = = = = = = = = = =
Other AllEars® features from Ruth Morehart:
Seniors at Walt Disney World: The Big 5-0! Part I
Seniors at WDW: Senior Slow-Down
Seniors at WDW: What Walt Disney World Means to Us
Seniors at WDW: Special Non-Ride Moments
Seniors at WDW: A Trip with Minimal Planning
Seniors at WDW: Thrills Not Just for Kids
Seniors at WDW: Who's Afraid of Technology?
= = = = = = = = = = = = =
ABOUT THE AUTHOR
= = = = = = = = = = = = =
Ruth Morehart is a retired nurse who has been visiting Walt Disney World since her son and daughter (who are now in their 40s with children of their own) were young. Despite her fibromyalgia, Ruth enjoys staying active, crocheting, reading, walking, and especially quilting — she creates quilts for the Quilts of Valor program for wounded soldiers. Her unofficial hobby is her obsession with Walt Disney World, which inspired her to write about seniors visiting the theme parks in the hopes of helping others enjoy Disney, too.
-o-o-o-o-o-o-o-o-o-o-o-
Editor's Note: This story/information was accurate when it was published. Please be sure to confirm all current rates, information and other details before planning your trip.