Remembering with Imagineer Joyce Carlson
by Jim Korkis
Disney Historian
Feature Article
This article appeared in the July 15, 2014 Issue #773 of ALL EARS® (ISSN: 1533-0753)
Editor's Note: This story/information was accurate when it was published. Please be sure to confirm all current rates, information and other details before planning your trip.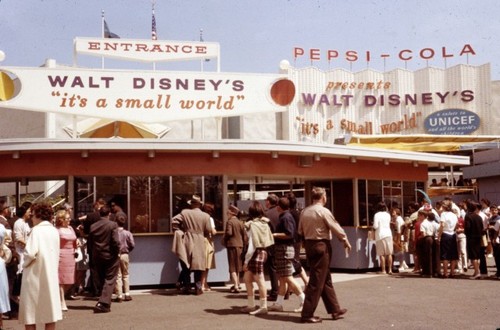 There are many significant differences between the "it's a small world" attraction in Disneyland and Walt Disney World. Obviously, the facades are different, as is the method the ride vehicles use to maneuver through the waterways.
In the California attraction, there is a doll resembling artist Mary Blair, who was the key stylist for the attraction. In Florida, at the Eiffel Tower in France near the beginning of the ride, is a doll with huge glasses to honor Imagineer Joyce Carlson.
Joyce joined Walt Disney Studios in 1944 and soon found herself working in the Ink and Paint department where she spent 16 years doing that work on many of the classic Disney animated features. In 1962, Joyce moved over to Walt Disney Imagineering, then known by the acronym WED, as a model maker for the 1964 World's Fair pavilions where she worked closely with Mary Blair and Marc Davis on "it's a small world."
Joyce was the natural choice to help bring "it's a small world" from the World's Fair to Disneyland and she eventually was also the key person involved in bringing the attraction to the Magic Kingdom at Walt Disney World in 1971 and later Tokyo Disneyland in 1983. Joyce was the one who developed new figures for "it's a small world" including children representing Israel and Korea.
I did two extensive interviews with Joyce, one in 1998 and one in 2000, at Walt Disney World. Here are a few excerpts from them that focused on her work at the 1964-65 New York World's Fair.
Jim Korkis: Joyce, how did you move over to WED in 1962?
Joyce Carlson: Rolly Crump and big Jack Ferges were over there at WED and a few others. Rolly was working on some toys and I said, "Oh, I want to work with you." So he said, "OK," but had to get approval from Mary Blair and somebody else. Dick Irvine hired three of us and wanted to see what we could do with the model for the General Electric Carousel of Progress.
We were doing the little furniture for the set piece, little ladders and refrigerators, all old-fashioned. We didn't have all the necessities to work with, you know. So for the show models, Leota Toombs' father gave her some chewing gum, wires and a bag of earrings. We'd use everything off those earrings, the little jewels, the back piece of the earrings for the little hinges on the refrigerator and such.
Secretaries started bringing in bags of their old jewelry so we could use it. When we finished, Walt used to bring guests to show them the projects and he'd say "Do you believe that this whole set was built on earrings?" and everybody would go "Earrings?!" Anyway, I guess they liked it because I got moved over to work on Small World.
Jim: WED was not on the Disney Studio property.
Joyce: We were off over by the San Bernadino Road, yeah. It was a little place and they had a carpenter's shop in the back, but we didn't have too much room in there. That's where we did all the toys for Small World.
Jim: When you mention you worked on the toys in Small World what does that refer to? The children?
Joyce: Those audio animatronics children figures were called "rubber heads". Everything else was "toys". For the World's Fair version of Small World, just about everything was made out of Styrofoam and then we added things like plastic flowers and jewelry and glitter. I went all over Los Angeles to places to find these things cheaply at places similar to a Pic'N'Save. It was a shock when I came out to Florida because they didn't have all these places and I couldn't find the things I needed.
Jim: What was Mary Blair like?
Joyce: Mary was very friendly and very artistic. She had a lot of (eye) glasses. She used to have a lot of different colored contact lenses as well. She used to wear green or blue or any color to go with the outfit she was wearing that day. I'd watch her put them in and I thought, "I wouldn't want to wear those."
Maybe that affected her colors. Her colors were always bright. She used theatrical gels and cut them up and put them on top of her artwork. I had to match the colors she picked and that was a problem because those colors didn't exist with the paints we had. I had to go and get some of the paints from the ink and paint department and mix them in with our paint and they didn't always mix well. It was like painting with mud.
We often had to cut pieces of Styrofoam for her and let her move them around. She wasn't always happy how her artwork got translated to animation, but she was happy with the finished product of Small World, I think. Of course, other hands were involved as well. Mary would let us put our ideas together and she'd pick things we'd do and put them in the show.
I created a cardboard giraffe for the Africa scene and Mary loved it and put it in. We'd always be changing characters and adding things.
Jim: What was Rolly Crump like?
Joyce: All the girls in the Ink and Paint department liked Rolly. The girls would say, "You see that new fellow in animation? His name is Rolly Crump." He came out of the animation building one day and we all ran to the window to see him. He had muscles and was in good shape because he was training and working out and running. The girls would say, "That's Rolly!" And I said, "He's good-looking but he's too young for me." And they all said, "Well, not for us!"
Jim: What was Marc Davis like?
Joyce: Marc would come by and he had a cigarette holder this long (extends her hand far from her mouth). He'd come in and the girls would be painting some of the Small World figures and he would bump into them and get paint on his slacks. We'd spend time trying to scrub the paint off of them. His wife Alice used to complain, "His pants are always full of paint!" He loved being with us. We had a lot of artists in the model shop and everybody contributed.
Jim: They were three very forceful artists.
Joyce: In the Europe scene, Rolly designed the chess people. Mary asked me to put jewels on the king and queen. Marc said not to put them on. I was caught in the middle. Apparently, they had a loud discussion about it. Mary came to me and apologized for me being put in the middle. Then she said to put the jewels on. I listened to Mary and didn't hear anything else.
Everybody had a say about the ride. I really loved working with all of them.
Jim: Did you get to go to the World's Fair in 1964?
Joyce: Well, all these executives were going over to New York from the main studio and we were the ones that worked on all the shows and put them together and we weren't. So Mary Blair finally talked to Walt and said, "Their noses are being bent and you better send them over." So we got to go to New York for 10 days. It was great. It was August and it was very hot. They put us in Queens, right by the Shea Stadium. There were 10 of us for 10 days and Walt gave us each $300 cash spending money. Boy, that was quite a bit in 1964! I even had money when I came back. Oh, my, we had a lot of fun.
Jim: What was the guests' reaction of these rides?
Joyce: We were given our VIP badges and the hostesses would take us through the lines to get on certain rides. We'd see these lines of people waiting for Small World or a lot of the shows and I'd want to go by quickly because it's hot and little kids are crying and they would walk us right into the shows.
Of course, we had to fill out a folder every day. We had to write up what we thought of the ride and the ideas we thought were great and if we had any ideas for them. We had a certain number of things we had to see each day. We had to write every night like homework. Walt would read those folders when we brought them back home to California.
The guests loved all the Disney rides, especially Small World. When we brought back Small World we repainted, freshened it up and put it in the show at Disneyland. We had slapped it together for New York so we had to do some redesigning. We expanded it and improved on the characters.
Jim: There is only one character who is unhappy in Small World.
Joyce: Yes, the little clown in the basket under the balloon. He is holding a sign saying, "Help!" Mary designed that and I made it. He wants to get out of the basket but we can't let him get out. (laughs) He's frowning because he's floating away and wants to come back down with all the others.
(EDITOR'S NOTE: That sad-faced clown was given a smile during the attraction's 2008 refurbishment and his "Help" sign was replaced with a balloon.)
When Joyce retired in February 2000, she was given a window on the Walt Disney World Main Street that read: "Dolls by Miss Joyce. Dollmaker for the World. Shops in New York, California, Florida, Japan and Paris. Owner and Founder Joyce Carlson."
Joyce passed away in January 2008 at the age of 84.
= = = = = = = = = = = = = =
RELATED LINKS
= = = = = = = = = = = = = =
"it's a small world" video:
http://www.youtube.com/watch?v=P1kfDj646YE
Disneyland "it's a small world" attraction page:
http://allears.net/dlr/tp/dl/small.htm
Walt Disney World "it's a small world" attraction page:
http://allears.net/tp/mk/mk_small.htm
Other features from the Walt Disney World Chronicles series by Jim Korkis can be found in the AllEars® Archives:
http://allears.net/ae/archives.htm
Jim also writes for the AllEars® Guest Blog every other week, contributing entries under the heading of "Jim's Attic." Find his latest entry here:
http://land.allears.net/blogs/guestblog/guest_bloggers/jim_korkis/
-=-=-=-=-=-=-=-=-=-=-
Disney Historian and regular AllEars® Columnist Jim Korkis has written hundreds of articles about all things Disney for more than three decades. As a former Walt Disney World cast member, his skills and historical knowledge were utilized by Disney Entertainment, Imagineering, Disney Design Group, Yellow Shoes Marketing, Disney Cruise Line, Disney Feature Animation Florida, Disney Institute, WDW Travel Company, Disney Vacation Club and many other departments.
He is the author of several books, available in both paperback and Kindle versions on Amazon.com.
— "The Book of Mouse: A Celebration of Walt Disney's Mickey Mouse" is more than 300 hundred pages covering the life and career of Mickey Mouse, with thousands of facts, quotes and stories about Walt Disney's famous alter-ego.
— "The Vault of Walt, Volume 2: Unofficial, Unauthorized, Uncensored Disney Stories Never Told"
— "Who's Afraid of the Song of the South?"
— "The REVISED Vault of Walt": Paperback Version / Kindle version
-o-o-o-o-o-o-o-o-o-o-o-
Editor's Note: This story/information was accurate when it was published. Please be sure to confirm all current rates, information and other details before planning your trip.