Reading Up on Disney
by Erin Foster
AllEars® Guest Writer
Feature Article
This article appeared in the February 22, 2011 Issue #596 of ALL EARS® (ISSN: 1533-0753)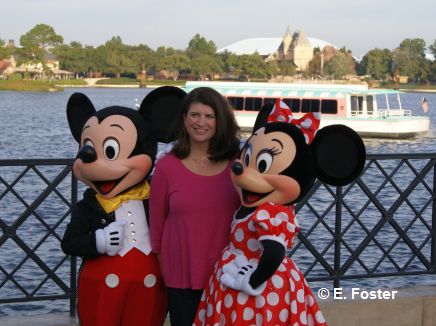 As a frequent Walt Disney World guest and member of the Walt Disney World Moms Panel, I am a Disney planner, traveler, advice-giver, and groupie. But in addition to all this, I consider myself to be a student of Disney. My background as a research librarian with a degree in media studies, combined with my fan-girl fantasy of taking up residence in Cinderella Castle, has spurred me to collect several hundred books about the Disney parks, the Disney company, and pivotal Disney cast members.
I am proud of the travel guide part of my collection, which includes many years' worth of Birnbaum's Official Guide to Walt Disney World, Passporter's Walt Disney World, Unofficial Guide to Walt Disney World (including a pre-Len Testa 1991 Unofficial Guide), The Complete Walt Disney World, and the Complete Idiot's Guide to Walt Disney World written by fellow Moms Panelist Doug Ingersoll, as well as many other volumes. These are essential pieces of my cumulative Disney knowledge and have added to my understanding and enjoyment of the parks. But what really gets my geek brain going are the volumes about quirky, esoteric or otherwise off-the-beaten path Disney topics. Here are a few of my favorites:
Walt Disney's Railroad Story: The Small-Scale Fascination That Led to a Full-Scale Kingdom (1998) by Michael Broggie. Broggie's father was Roger E. Broggie, a machinist who became the first Disney Imagineer. This hefty tome is filled with hundreds of photos of Walt interacting with trains both as a hobby at home (after he gave up on polo because of a back injury) and later at Disneyland. From an academic standpoint, Broggie clearly shows the many ways in which railroading influenced Walt's ideas about park layout and landscaping, as well as the development of audioanimatronics. Plus there's lots of just plain fun. One of my favorite passages describes Walt's preferred food while riding the rails: he liked "a blend of canned Dennison's and Hormel chili (one for the beans and one for the meat sauce), accompanied by saltine crackers and tomato juice." Priceless.
Meet Me in the Magic Kingdom (1995) by Kathy Jakobsen. This is ostensibly a children's picture book, chronicling a family's trip to the World, but I find that the innocent tone and intricate illustrations are just as moving to me as an adult. Jakobsen is a respected folk artist whose pictures perfectly capture the wonder of a Disney visit. As I write this, just days after the closure of Toontown, I'm finding the depiction of the family enjoying Mickey's Starland to be particularly poignant. There are also pages in the book that fold up and out because a standard leaf just isn't large enough capture the grandeur of fireworks over the castle.
Vinyl Leaves: Walt Disney World and America (1992) by Stephen M. Fjellman. This is a socio-cultural overview of the impact of the parks on society and vice versa. I have many sociological texts in which the authors use Disney as punching bag for all of America's ills. (The most recent example is Peggy Orenstein's Cinderella Ate My Daughter.) By contrast, Fjellman admits to his love and admiration for Disney early in the book. He uses both a fan's humor and an academic's trained eye when discussing topics such as the urban planning skills needed for park crowd control and the tenuous line between reality and fiction in Epcot's World Showcase. One of the more balanced academic studies.
The Haunted Mansion: From the Magic Kingdom to the Movies (2009) by Jason Surell. Surrell, an Imagineering cast member, is the author of several works about the parks. In this book, he dissects every scene of this classic attraction and walks the reader through the development of models, set design, audioanimatronics, costume development, sound design, and more. I particularly enjoy the compare and contrast details between the various versions of the ride in each of the Disney park locations. I also value works like this as historical documents. As the WDW Haunted Mansion queue is now being reimagined, we have Surrell's book as a reminder of the attraction's former incarnations.
Disneystrology: What Your Birthday Character Says About You (2010) by Lisa Finander. This novelty volume assigns a different Disney character to each day of the year, mostly randomly from what I can tell, and gives a synopsis of that character's key personality traits. The premise is that you, the reader, are supposed to have the same personality traits as the character depicted on your birthdate. My birthday features the Sultan from Aladdin (um, why?), which means I am "determined, thoughtful, and trusting." I find the book's entire concept weird, yet strangely compelling.
The Gospel According to Disney: Faith, Trust, and Pixie Dust (2004) by Mark I. Pinsky. The blurb on the back cover states that Pinsky "explores the role that the animated features of the Walt Disney Company have played in the moral and spiritual development of generations of children." He analyzes the theological themes in the most popular films. For example, he uses The Lion King to illustrate the concept of Karma and uses Beauty and the Beast to discuss Transformation and Redemption. Pinsky also likens travel to the theme parks to a religious pilgrimage. Some of this is obviously a stretch, but it's hard not to agree that Disney stories have had an influence on our notions of macro issues such as good versus evil.
Building a Dream: The Art of Disney Architecture (1996) by Beth Dunlop. Includes chapters on the development of iconic Disney structures, such as various park castles and the forced perspective of Main Street USA. She also touches on lesser-known and non-public areas such as the boardroom at the Team Disney building in Burbank, the facade of the Reedy Creek Emergency Services Center, and even the Disney ICE skating rink in Anaheim. I am fascinated by the attention to detail that goes into the development of even the most mundane Disney structures. A new edition of this book is scheduled for publication in late 2011.
Walt Disney's Epcot: Creating a New World of Tomorrow by Richard R. Beard. Published in 1982, this is a time capsule of the very beginnings of the park. The photos highlight how far the park has come since its inception. Look, there's a sketch of Dreamfinder in the Journey to Imagination pavilion. There are the Imagineers painting sets for the Kitchen Kabaret. There are the audioanimatronics in the World of Motion. Can you hear my wistful sigh? The Making of Disney's Animal Kingdom Theme Park by Melody Malmberg (1998) is a similar title but, perhaps because of the respective ages of the parks, I find the Animal Kingdom version less moving.
Take the Cannoli: Stories from the New World (2001) by Sarah Vowell. This is not a Disney-centric book, but rather a memoir and collection of personal essays, many of which were adapted from Vowell's appearances on National Public Radio's "This American Life." One chapter, "Species-on-Species Abuse," tells of Vowell's attempt to bring a Disney-phobic friend to the Magic Kingdom. Yes, it is snarky; yes, there is some off-color language, but Vowell does find quite a bit of humor in the eyes of the non-believer. The best part comes at the end when her companion proclaims that they will NEVER set foot at Walt Disney World again. Fast-forward a bit and radio personality Vowell is later asked to provide the voice for young Violet Parr in the Disney-Pixar film The Incredibles. She is transformed from disaffected commentator to actual theme park character in the span of just a few years. Delicious irony.
Inside the Mouse: Work and Play at Disney World (1995) by The Project on Disney. There is an entire sub-genre of published stories about what it's like to actually work for Disney. The chapter in this book, "Working at the Rat," happens to be the first one I ever read. Even though this particular version of the tale tends toward the negative, as a sometime wanna-be Disney employee, I hang on every word. All work environments have pros and cons, but I think it truly says something about a company that even reading the cons about the place makes me want to work there more.
Walt Foster Learn to Draw Walt Disney's Mickey Mouse and His Friends (1998) by John Loter. This is an activity book often sold in the parks, sometimes packaged with markers or pencils for kids. Much like the drawing classes at the Magic of Disney Animation attraction at Disney's Hollywood Studios, this book walks you step-by-step through how to draw Mickey. Believe it or not, following these basic instructions, nearly anyone can produce a respectable likeness of the big cheese in just a few minutes – a very satisfying experience.
Walt Disney: The Triumph of the American Imagination (2007) by Neal Gabler. This is an exhaustive biography of the man, touching on every aspect of Disney's life, from his corporate triumphs and artistic contributions, to his personal demons and family life. A must-read for any Disney scholar.
Brit Guide Orlando & Walt Disney World by Simon and Susan Veness (multi-year). I picked this up at a bookshop in London. While it is a standard travel guide, it is written for a European audience. While much of the advice is the same as you would find in an American volume, there are some slight differences, particularly in the realm of ticketing and reservations. It serves as a good reminder to me that Disney is a playground for residents of the entire world, not just the US.
Down and Out in the Magic Kingdom by Cory Doctorow (2003). This is just one of a number of adult and young adult fiction stories set at Disney parks. Like many Disney fans, I've spent time while waiting in line for rides wondering, "What would it be like to live in the park?" "What would it be like if the real world were like Disney World?" "What would happen if the mechanical characters came to life?" Or, "What would happen if the Disney villains took over the place?" Questions like these are played out in stories superimposed on a familiar backdrop of the theme parks. Other interesting examples of the genre are Dream Factory by Brad Barkley and Heather Helper (2007) and of course the Kingdom Keepers series by Ridley Pearson (2005 – ).
These are just a very few of the highlights from my collection. I have found that reading books like these, in addition to the travel basics, has enhanced my park visits. I can experience "it's a small world" as a pleasant diversion and air-conditioned respite, but I can also appreciate it as a technological marvel, as a cultural milestone, as a historical artifact, or as a setting for a fantastical tale. Well, I could do that, if only I could get that infernal song out of my head.
=-=-=-=-=-=-=-=-=-=-=-=-=-=-=-=
ABOUT THE AUTHOR: Erin Foster is a charter member of the Walt Disney World Moms Panel (www.disneyworldmoms.com) and has answered more than 7,500 questions from guests about every aspect of Walt Disney World travel. She is also the Disney Food for Families columnist at DisneyFoodBlog.com. Erin is not a Disney employee and her postings here, there, and everywhere are her own and do not necessarily represent the positions or opinions of the Disney Company.
=-=-=-=-=-=-=-=-=-=-=-=-=-=-=-=
RELATED LINKS
Purchase these books mentioned in Erin's feature online:
Walt Disney World's Railroad Story
Disneystrology: What Your Birthday Character Says About You
The Gospel According to Disney
Take the Cannoli: Stories from the New World
Walt Disney: The Triumph of the American Imagination
Down and Out in the Magic Kingdom
Brit Guide Orlando & Walt Disney World
-o-o-o-o-o-o-o-o-o-o-o-
Editor's Note: This story/information was accurate when it was published. Please be sure to confirm all current rates, information and other details before planning your trip.