Putting the Fantasy Back in Disney Fandom
by Autumn Hilden
AllEars® Guest Columnist
Feature Article
This article appeared in the March 20, 2018 Issue #965 of ALL EARS® (ISSN: 1533-0753)
Editor's Note: This story/information was accurate when it was published. Please be sure to confirm all current rates, information and other details before planning your trip.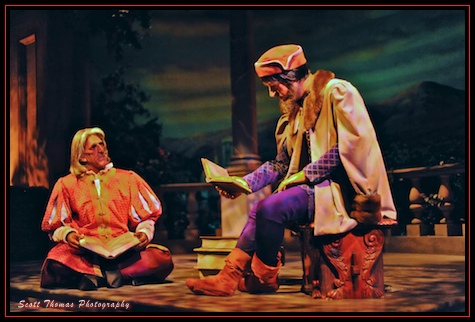 Part of the fun of Disney fandom is sharing the fantasy with other fans. In the early days of the internet and fandom, people found common ground with other Disneyphiles through message boards and chat rooms, often bonding over detailed answers to ultra-specific questions about the parks and resorts. It was a thrill to find someone else who also played video games at the Polynesian's old Monkey Hut or who simply loved the kitchen store at the Village Marketplace. Now that we've established the fan base is huge, knowledgeable, and protective of our memories, the pure fun of interacting with each other has begun to get buried under a heap of news, analysis, and loss. Enough already! Let's rewind to a time when all of this was fun. Here are some fantasy questions to get us dreaming again.
Have you ever dreamed of getting stuck on a ride? Which one?
As any good Disney fan knows, the hopeful thrill of getting stuck on a ride is all about having the opportunity to walk off with the lights on. Nobody wants an unscheduled stop on a roller coaster, but it's been a dream of mine since childhood to spend some bonus time on Spaceship Earth. What I would give to join that 1960s family as they watch the moon landing! Their city-view apartment is to die for. Or to hop up to the second level of the adjacent giant computer room! That floating staircase and mirrored wall combo calls to me. The forced perspective construction of the Phoenicians' boat could use a closer look, too, and I wouldn't mind a few moments in the library of the Jewish and Arab scholars, with its beautiful light and entrancing patterns. Don't even get me started on the scrumptious details of the garage in California.
If you had to stay on one ride all day, which would you choose?
There is no doubt that the PeopleMover (or TTA to some) has my vote for the ride I could stay on all day and night. In the daytime, the shade and breeze make a perfect rest for tired feet and legs. At night, the views of Tomorrowland's neon and the darkness beyond really sell the idea of a city of the future. Throw in glimpses of the castle, the stunning Progress City model (swoon!), and the gentle weave and hum of the track, and I'm ready to make my permanent home across those blue vinyl seats.
Let's say you found yourself alone overnight in a park. Which one would it be?
As a kid I always fantasized about hiding in the bushes until after park close and then having my favorite piece of Disney World all to myself. These days, if I had to pick one park to crash in, it would be the Studios, for a few reasons. First, the park's musical score is the ultimate dreamscape. The sweeping strings and soaring melodies are romantic and inspiring, just like a night alone in the park would be. Next, the nighttime lighting is gorgeous. The entire park feels warm and glowing. Then, the scale of the park feels cozy and safe. Building profiles are low and close together, especially at the front of the park, creating exactly the kind of maze I want to wander in at night. And it's beautiful. The architecture is so cohesive, so reminiscent of the specific time and place of Hollywood's golden age. I love the awnings, the banana leaves, the deco flourishes and streamline curves, and I think the studios especially shine at night and in the quiet, when they stop feeling like a park and start feeling like real living history. And for me personally, the studios bring back memories of my first desires to relocate to Los Angeles, a dream that originated during my adolescent visits to that park. It feels like home. I would definitely also raid the '50s Prime Time for a midnight milkshake (PB&J, of course).
Where would you stay on property if money were no object?
If I weren't staying up all night at the Studios, I'd crash in The Royal Asante Suite at Animal Kingdom Lodge. The VIP pad is unmatched on Walt Disney World property when it comes to size, richness, and thematic details. From the outside, it takes up nearly an entire side of the lodge, boasting a rotunda (the living room) and several balconies' worth of outdoor space — all with a view of giraffes and zebras! Inside, accommodations feature unique African art and artifacts, a standalone tub surrounded by palms and plantation shutters, real thatch roofing, and more. The suite includes all of the decorative touches you'd expect, like mosquito netting, carved wood, and animal prints, but the design feels luxurious, not campy. And it goes on for 2,100 square feet. A study, a kitchen, a master bedroom with its own separate sitting room – there's even a foyer and a doorbell. Yes, please.
Which Disney snack would you bring to your home town?
Disneyland is much closer than Disney World for me, but I sure would love it if, instead of driving 90 minutes and paying for parking and a gate ticket to get my all-time favorite treat, I could just open up my cupboard to an endless supply of Matterhorn macaroons. Alas, the coconut wonders are only available in one shop on Main Street. Each macaroon is baked to resemble the park's famous rollercoaster, itself modeled after an Alps landmark. The edible variety is the most perfect blend of gooey and crisp. The inside is a creamy cake-like coconut and the outside a caramelized coconut flake. The whole peak is dipped in white chocolate snow and dusted with powdered sugar. Good enough to yodel for.
If you could perform in a parade or show, which would it be and what role would you take?
Disney parks are known for their high-energy shows, replete with music, dancing, characters, costume changes, and special effects. If I had the chance to make some of the magic, it'd be in the chorus of Beauty and the Beast Live Onstage. The show has been around forever, but the bright costumes and beloved music still dazzle me. And I mean who doesn't want to Viennese waltz in a huge, neon hoop skirt? Because I do.
What character would you portray if you worked in the parks?
Rapunzel wins for me as the character I'd most want to play at Disney World. She's got a fun princess dress that's not too bulky, the braided and flowery hair, a tower, and an awesome partner in Flynn Ryder. Just think of all the banter! Plus she has the sunny disposition and great journey story to inspire with. So approachable, so fun.
If you could have a drink with any Disney legend, past or present, who would it be?
For sure Mary Blair. The concept artist for Disney animation's mid-century films and the design inspiration for "it's a small world" must have had some amazing stories about what it was like working in an almost all-male creative environment during the height of the company's early success. I would love to know more about how her personal art style developed under the influence of her time in South America with Walt and "El groupo."
What's your ultimate Disney souvenir?
Years ago I saw for sale on eBay the three Lucite obelisks that used to adorn Epcot's entrance fountain, and they weren't even that expensive! About $1200 if I remember right. Since then I've always entertained the idea of acquiring some piece of park memorabilia: old ride props or vehicles, park or hotel signage — basically anything that has appeared "onstage" at Disney World.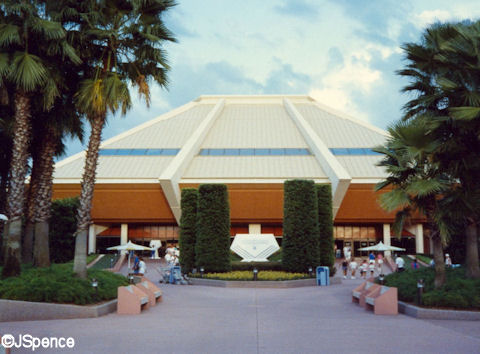 Let's bring back a beloved ride that is no longer with us. Which one?
My favorite ride, past or present, has always been Future World's retired Horizons, an ode to the future brought to life in charming-yet-inspirational detail as a dark ride. From the first glorious whiffs of orange scent that were 4-D before 4-D was a thing, all the way through the man in the moon, glowing couches, desert farming, crystals, and surfer boys/marine biologists, Horizons was a vision of life that I still long for. It made me hopeful. It triggered my imagination. It made me sing. And it had a "majority rules" vote at the end. Pure genius. It's been gone for going on 20 years, and people still rhapsodize about this ride. If we can't do it anymore, we can at least still dream it.
If you were tasked with building a brand new attraction, what would it be?
I want a Tangled boat ride so bad I can taste it. I even designed it on a stack of Disneyland napkins with my husband. There's an entrance through the leafy base of Rapunzel's tower, a ride on a replica of the "I See the Light" boat, murals aplenty, a rousing visit to the Snuggly Duckling that ends in a downhill getaway, and an entire infinity room dedicated to Corona's glowing lanterns. The lanterns rise up while the ride vehicle spins in a circle on the water and the song soars. And it goes in Fantasyland, where character-based dark rides belong.
So, what about you? Answer some of these questions or think of new ones. Share some of your Disney fantasies with us!
= = = = = = = = = = = = =
RELATED LINKS
= = = = = = = = = = = =
Dream a Little Dream… Revisited
Other AllEars® Features by Autumn Hilden can be found in our Archives. Among them:
Recapturing the Vacation Kingdom
Progressive Dinner at Disney California Adventure
A Taste of the Parks at Disneyland's Downtown Disney
Disneyland's Best Themed Dining
= = = = = = = = = = = = =
ABOUT THE AUTHOR
= = = = = = = = = = = = =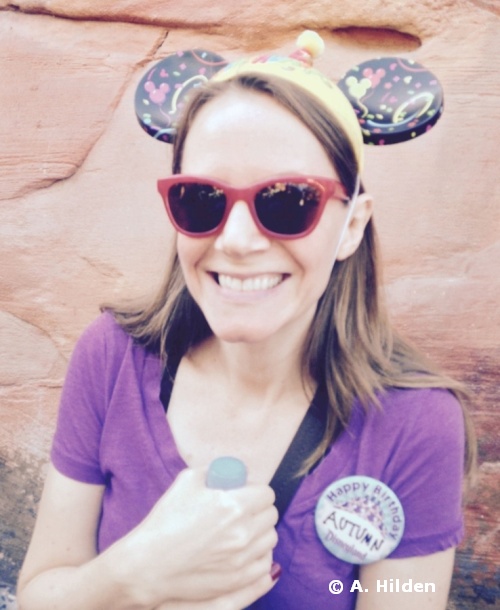 Autumn Hilden is a Los Angeles-based writer and editor. She has worked for Disney Publishing Worldwide and The Jim Henson Company and is currently writing books for young adults. Autumn grew up taking family photos in front of the waterfall pool at the Polynesian Village Resort and selecting "desert" for the final flight on Horizons. She now embraces Disneyland as her Happiest Place on Earth. You can follow her on Twitter here.
-o-o-o-o-o-o-o-o-o-o-o-
Editor's Note: This story/information was accurate when it was published. Please be sure to confirm all current rates, information and other details before planning your trip.