Planning a "Run-cation"
by Allyson Brandt
AllEars® Guest Columnist
Feature Article
This article appeared in the November 5, 2013 Issue #737 of ALL EARS® (ISSN: 1533-0753)
Editor's Note: This story/information was accurate when it was published. Please be sure to confirm all current rates, information and other details before planning your trip.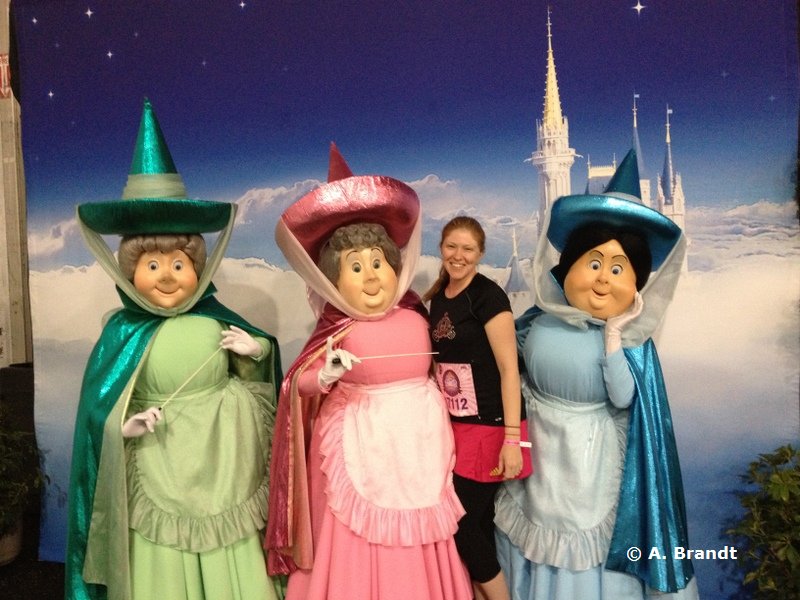 As a runner and a fan of the Mouse, there is no greater thrill than a runDisney event. I ran my first half marathon — The Princess Half — last February and have several more runDisney events on my calendar, including the Glass Slipper Challenge early next year.
And while it is truly magical to run right down the middle of Main Street, USA, it can be a little daunting to plan a destination run to the Most Magical Place on Earth. Here are my tips for planning a "run-cation":
BEFORE:
Plan ahead: runDisney races are incredibly popular. Some sell out in hours. Many on-property hotels also fill up quickly for race weekend, so think ahead about where you want to stay.
Consider the extras: Disney offers a lot more than just the race during an event weekend. Social mixers, pasta dinners, and before and after race retreats are just some of the things available to runners and their families. I highly recommend the race retreat for longer races — it's a huge, climate-controlled space with a private bag check and restrooms, places to stretch, food, and character photo ops. It is available for runners before the race and for families after the event starts. I loved knowing my husband and toddler had a place to hang out while they waited for me to finish.
Think about food: Food is always a biggie at Disney, but especially so when you're racing. Most hotels have the basics available for purchase before the race (coffee, bagels) but if you're like me and used to eating certain things before a race, bring them with you. When it comes to a pre-race dinner, make reservations somewhere you're familiar with. The night before a 13 or 26 mile race (or even a 3 or 6 miler!) is not the time to be adventurous and try something new.
Reservations are also a must for a celebratory dinner after the run. You'll be hungry and happy after the race, and you don't want to waste that energy searching for an open table. Pick your favorite place and order dessert. You've earned it!
Find a training plan: Be prepared for the actual run. It's easy to get caught up in the excitement that surrounds the race, but remember to train appropriately so you can enjoy your post-race vacation injury free.
Don't be afraid to run it alone: I ran my first Princess Half Marathon on my own, but I was never lonely. From the time I got on the bus to when I was sipping my post race celebratory glass of champagne, I made friends everywhere. It was so much fun to talk to new people and hear their stories. One of the thing I've always loved about participating in races is the energy that surrounds the starting line — and runDisney energy is the best. If you're on your own, don't be shy!
DURING:
Be prepared to get up early: Since the big runDisney races bring you through the park, they start early. After all, everything has to be clean and ready for the parks to open on time. For the long races, buses often start running as early as 2 or 3 a.m. Plan accordingly and be ready to be up before the sun! Keep in mind that these buses operate separately from the usual Disney buses. I was very impressed with the runDisney transportation — there were plenty of charter buses, I never felt crowded, and the wait was short. A bus driver even helped store my stroller when I was headed back to the hotel with my family after the race.
Take time at the Expo: Every runner has to go through the Expo to pick up bibs and T-shirts. But plan to spend a little extra time there — it's full of vendors and samples from all sorts of athletic companies. It's also where you'll find official race merchandise, which is usually only available at the Expo. There can be some long lines, but I think it is totally worth it.
Embrace the costume: Many people run in costume. Don't be afraid to get in on the fun! You can make your own costume, and there are many places that carry "costume" pieces without compromising comfort or athletic wear. Make sure you get a few good runs in while wearing your costume to make sure you're comfortable running in it.
Run with a camera/camera phone: One of runDisney's trademarks is the on-course entertainment and character photo ops — moments you can't capture on a regular day at a park. All the villains together, all the princes together, a shot of yourself running under the "Magic Kingdom" sign or through Cinderella Castle — it is definitely worth carrying a camera or having your phone available. The characters often have photographers with them, but not always. Also, keep in mind runDisney uses a third party photography company for races, not Photopass.
Run for fun, not to PR: Let's be honest: runDisney races are crowded. I've never tried to run one for a personal best, but I've heard from some fellow runners who have been frustrated about the crowd levels. Disney does a great job keeping the wheels moving smoothly, but remember to be patient. Everyone is there to have fun.
AFTER:
Plan to vacation after the race: I've always found it best to come a day or two before the race and then plan to vacation afterwards. It's hard to stay on track with last minute training and healthy eating pre-race when you're tempted by a Kitchen Sink at Beaches & Cream, but after the run you'll be more free to eat that second piece of pie or stay out late at Downtown Disney.
Know your own body: Never run a long race before? Slow to recover? Give yourself a day off before hitting the parks. Take advantage of one of the renovated Disney spas, book a carriage ride around Port Orleans, or take in a movie at Downtown Disney.
Wear that medal and t-shirt: Be proud! Race medals make for great photo memories. Get creative: I ran into a group of ladies who were having characters sign their race bib, and another who was taking pictures of the character statues in the hub wearing her medal. When I earned my first medal, I wore it everywhere: the parks, restaurants, character photos. It was fun to discuss the race with characters. When I showed Cinderella my medal and told her I'd run 13 miles, she looked positively aghast and asked me why my prince didn't buy me a carriage. Rapunzel and I discussed hiding my medal from the tricky Flynn Rider, who has an eye for shiny objects. And Stitch, being himself, tried to eat it.
Yes, it is truly magical to run right down the middle of Main Street, USA — and with some planning you can enjoy it not just as a runner, but as a Disney fan, too!
EDITOR'S NOTE: This weekend, the Disney Wine & Dine Half Marathon goes through three Disney theme parks with entertainment and characters throughout. Runners will circle the Tree of Life in Animal Kingdom, cruise down the Streets of America in Disney's Hollywood Studios, and finish in the shadow of Spaceship Earth at Epcot, where they can then celebrate their achievement at the Finish Line Party. Some of Epcot's most popular attractions will be open late, along with the Epcot International Food & Wine Festival kiosks. Several members of Team AllEars® will be participating in events this weekend, as part of their own "run-cations". We wish them the best of luck!
=-=-=-=-=-=-=-=-=-=-=-=-=-=-=-=
ABOUT THE AUTHOR
Allyson Brandt lives in Atlanta with her husband (who she married at Disney!) and 3-year-old son. She travels to Disney whenever she can, where she and her family love to eat at the 'Ohana Best Friends breakfast, explore the resorts and ride the Magic Kingdom Railroad around and around.
=-=-=-=-=-=-=-=-=-=-=-=-=-=-=-=
RELATED LINKS
The Team AllEars® Running Blog:
http://land.allears.net/blogs/teamallears/
Running/Jogging Trails around Walt Disney World and Tips:
http://allears.net/btp/running.htm
-o-o-o-o-o-o-o-o-o-o-o-
Editor's Note: This story/information was accurate when it was published. Please be sure to confirm all current rates, information and other details before planning your trip.