Overlooked Attractions: Epcot Area Deluxe Resorts
by Debra Martin Koma
AllEars® Senior Editor
Feature Article
This article appeared in the November 6, 2012 Issue #685 of ALL EARS® (ISSN: 1533-0753)
Editor's Note: This story/information was accurate when it was published. Please be sure to confirm all current rates, information and other details before planning your trip.
This week, we're continuing our effort to update our lists of "overlooked attractions" around Walt Disney World. Just what do we consider an overlooked attraction? They are those little things that cause you to detour from your original plans, the additional touches that demonstrate Disney's well-known attention to detail and make the World the fascinating place that it is. Many of these items are of a "did you know that this was there?" nature, and a lot are "stop-and-smell-the-roses" details (often free!). In this issue, we focus on the "overlooked attractions" you can find at Epcot area's deluxe resorts: BoardWalk Inn and Villas, Beach Club and Beach Club Villas, and Yacht Club
====================
BOARDWALK INN
AND VILLAS
====================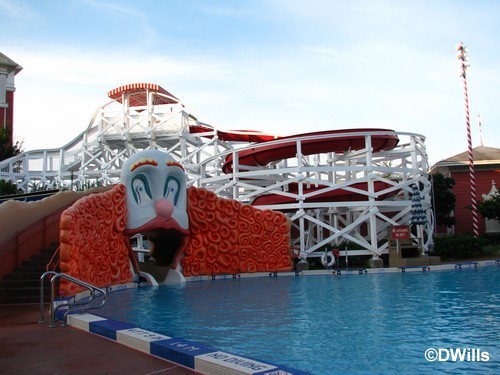 When talking about the Epcot area resorts, I have to start with the BoardWalk. The BoardWalk itself is one of my favorite Disney areas outside the theme parks, and in my opinion is often overlooked as something to do or somewhere to just BE.
Try taking a walk along the BoardWalk in the cool of the morning — on a sunny day, is there anything prettier than the sun sparkling on the bright blue water of Crescent Lake, with the gulls chattering as they glide by? Sigh. Oh, to be there right now, sipping a cup of coffee and munching on a fresh-baked goodie from the BoardWalk Bakery!
There are lots of other reasons to not miss the BoardWalk area, including all the shops and restaurants. For a fun night out, there's Jellyrolls with the dueling pianos, or there's the brew pub at Big River Grille, or there's the ESPN Club if sports are your thing. There are midway games for the kids, typical of those found in seaside resorts like Atlantic City — shoot some baskets to try to win a big stuffed animal. And several nights a week, you'll find "buskers" or street entertainers, performing along the BoardWalk — maybe a rope wrangler, a fortune-teller, or even a one-man band.
While you're walking the boards, be sure to stop in to Seashore Sweets'. Mix and match your own color combinations of M&M candies, ice cream treats… definitely worth a peek inside.
If you're feeling energetic, you might want to rent a surrey bike. Don't miss this chance to terrorize innocent pedestrians as you pedal your way around the BoardWalk!
Also along the BoardWalk is what I have found to be one of the most overlooked entertainment venues at Walt Disney World — the Atlantic Dance Hall. If you're at least 21, stop in to listen to the music the DJs are spinning, have a drink, or even — here's a concept — dance! The ballroom is beautifully designed art deco and there are several balconies that afford a romantic view of Crescent Lake.
Inside the lobby that the BoardWalk Inn and the Villas share, be sure to notice how architect Robert A.M. Stern created the atmosphere of the 1920s and '30s Atlantic Seaboard with vintage furnishings. In particular, note the odd accent chairs over near the fireplace. If you ask me, their faces are creepier than that of the clown that adorns the resort's pool slide, which so many folks find nightmarish.
Speaking of the resort's pool area, check it out, even if you're not a swimmer. The main, themed pool is called Luna Park. It's a 190,000-gallon pool that dates back to the days of the 1920s amusement parks. The slide is called Keister Coaster and is built like a wooden roller coaster. Swimmers are jettisoned from the slide through the aforementioned clown's open mouth. Nearby is the Leaping Horse Pool Bar, which is designed to resemble a carousel. Although this area can be loud when overrun with swimmers in the middle of the day, it's a nice, quiet spot in the early morning hours, a perfect place for a cup of coffee while reading the paper.
While you're strolling the pool area, why not circle the entire Boardwalk resort complex? It has been beautifully landscaped. You'll find colorful flowers, quiet surroundings, fountains and benches. Did you know that the BoardWalk is home to 14 two-story garden suites with private entrances? This off-the-beaten-path spot, accented with white picket fences, is the perfect place for a secluded respite — bring a book or a light snack and park yourself on one of the benches to enjoy a quiet moment enjoying the landscaped courtyards and manicured rose gardens.
The Belle Vue Room on the BoardWalk Inn side of the resort is a great place to relax after dinner. It's normally quiet (though it can get crowded and loud if there's a convention), with overstuffed furniture and antique radios playing old-time radio dramas. There are also tables with checkerboards and backgammon, if you want some mental stimulation while you sip your after-dinner cocktails. And don't underestimate the relaxation of sitting outdoors on the balcony, overlooking the goings-on on the BoardWalk down below.
The BoardWalk's Community Hall offers a wide range of equipment for just about any interest, from ping pong to croquet and more. Community Hall also rents bikes, tubes, pool noodles, videos, and tennis racquets. There are two lighted tennis courts located on the Villa side of the resort, which are free to Boardwalk Inn and Villa guests.
Stand on the bridge that leads to the Boardwalk for a great view of the IllumiNations fireworks (if the wind's blowing in the right direction you can faintly hear the music, too). Walk over to the Boardwalk vending carts and you can see the Magic Kingdom fireworks, too!
It's hard to overlook the Friendships that sail between Epcot and Disney's Hollywood Studios, since they are the primary mode of transportation connecting the Epcot resorts to these locations. But don't miss the opportunity to treat the Friendships as an attraction on their own. If you're not in any hurry, try riding one for its entire circuit, or take it to one of the other Epcot area resorts and then walk back to the BoardWalk. It makes for a peaceful overview of the area.
You say you prefer to be ON the water, rather than in it or looking at it? Be sure to ask at Lobby Concierge about the guided fishing (catch and release, of course!) excursions. They aren't free, but, for some (like my husband) there's nothing better than a few hours on the water with a fishing pole in your hand.
If you're lucky enough to be visiting during the December holiday season, don't miss the awesome displays in the BoardWalk lobby. Annually, Disney chefs prepare an impressive edible display of some kind — in the past they've had a gingerbread gazebo and a miniature confectionery theme park, complete with Hidden Mickeys.
====================
YACHT AND BEACH CLUB
including BEACH CLUB VILLAS
====================
The Yacht and Beach Club resorts are so intertwined, it's hard to separate out the things that make each unique.
First of all, they share a common pool and restaurant area, which in itself is a great, if not exactly overlooked, attraction. One of the best things to do in this area (in my opinion, of course!) is to stop in at Beaches and Cream for an ice cream treat. If you're brave, order the Kitchen Sink, mountains of ice cream and all the toppings they have — just watching someone attempt to eat it all is a delight!
But if you're more moderate in your consumption, try a regular milkshake or sundae and sit by the pool, taking in the beauty of Stormalong Bay, which, with 750,000 gallons of water, is the largest sand-bottom pool in the world.
While you're contemplating this mini-water park, take a look at the life-sized shipwreck named the Albatross. A spiral stairway takes swimmers to its 150-foot mast, which is at just the right angle to make it the perfect slide that plunges down toward a rocky outcropping, and is followed by another 150 feet of spins.
While you're out by the pool area, walk out past the pool bar, Hurricane Hanna's, and you'll find a kiosk selling pick-your-own pearls, fresh out of the oyster. Once you find a pearl that pleases, you can have it set in some beautiful jewelry to make a lasting keepsake.
Although similar in many respects, the Beach Club lobby differs from that of the Yacht Club. The Beach Club lobby, with its white wicker furniture, 24-foot-high ceilings, and seashell motif, projects a relaxed and airy seashore atmosphere, reminiscent of the New England beach cottages of the late 19th century, while the Yacht Club is perhaps a bit more formal in feel. Both were designed by the same architect, Robert A.M. Stern, who was also responsible for the design of the Boardwalk across the lake.
It's easy to miss Martha's Vineyard, the 60-seat lounge located around the back of the Beach Club. Closed during the day, it looks like it might be abandoned. But at night, it's a quiet little nook for hanging out after a long day of park-going.
Don't walk by the beautiful sand sculptures adorning the walls of the Beach Club, or those that decorate the Cape May Buffet restaurant, without stopping for a minute. Some of the framed artwork on the walls conceals little Hidden Mickeys! Take the time to look them over carefully!
If you're in the Beach Club Villas area, be sure to stop by two of the quietest locations on property. First, the Drawing Room is a lovely sitting room with watercolors, paper collages, etchings and a Victorian dollhouse. There are also vintage posters and black-and-white photos that recall days gone by. The secluded Solarium, reminiscent of a Victorian-era sun porch, overlooks the main entrance and gardens of the Beach Club Villas. (NOTE: The Solarium was recently being used to house exercise equipment while the nearby Ship Shape Health Club was being rehabbed, but that situation was temporary and the Solarium will be restored to its former quiet self soon, if it hasn't been already.)
You can sit on the beach at the Yacht and Beach Club resorts, as well as any of the Epcot area resorts, and see the high pyrotechnics from Epcot's IllumiNations: Reflections of Earth.
If you're enchanted by the Yacht and Beach Club grounds, consider taking a tour with a member of the resort's horticultural team. The tours are usually held Monday, Wednesday and Friday at 8:30 a.m. and noon, but ask at the Lobby Concierge to confirm. The resort also offers a Disney Trivia Scavenger Hunt, and sometimes may have storytellers making presentations on Tuesdays. Ask at Lobby Concierge when you check in.
As with other deluxe resorts, there are fishing excursions and other watercraft rentals at the Yacht and Beach Clubs — call at the Bayside Marina to make arrangements. In fact, the Bayside Marina offers a special Albatross Treasure Cruise for children ages 4-10.
Finally, like the BoardWalk, the Beach Club lobby is beautifully decked out during the holiday season. You won't want to miss its annual Gingerbread Carousel, along with the little shop that sells gingerbread cookies.
-=-=-=-=-=-=-=-=-=-=-=-=-=-=-=-=-=-=-=-=-=
These "little things" are just to get you started. There are so many other details that offer chances for funny photos or magical memories — all you have to do is take the time to look for them! And if you don't see them, ask a resort Cast Member — chances are good that they'll know a little something special about the place in which they work.
Do you have a favorite "overlooked attraction" in one of the resorts that I've left out? Drop me a line at dcdeb@allears.net to share your story!
=-=-=-=-=-=-=-=-=-=-=-=-=-=
About the Author: Debra Martin Koma, AllEars.Net's Senior Editor, fell in love with Walt Disney World on her first visit there — when she was 35! She's lost count of how often she's returned to her Laughing Place in the ensuing years, but knows that she still isn't tired of it. (And doubts she ever will be.)
= = = = = = = = = = = = = = =
RELATED LINKS
= = = = = = = = = = = = = = =
Overlooked Attractions of Disney's Animal Kingdom
Overlooked Attractions at Epcot
Overlooked Attractions in Disney's Hollywood Studios
Overlooked Attractions of the Magic Kingdom
Overlooked Attractions: Magic Kingdom Area Resorts
-o-o-o-o-o-o-o-o-o-o-o-
Editor's Note: This story/information was accurate when it was published. Please be sure to confirm all current rates, information and other details before planning your trip.