Only 11 Months to 2014!
by Zamgwar
AllEars® Guest Columnist
Feature Article
This article appeared in the January 22, 2013 Issue #696 of ALL EARS® (ISSN: 1533-0753)
Editor's Note: This story/information was accurate when it was published. Please be sure to confirm all current rates, information and other details before planning your trip.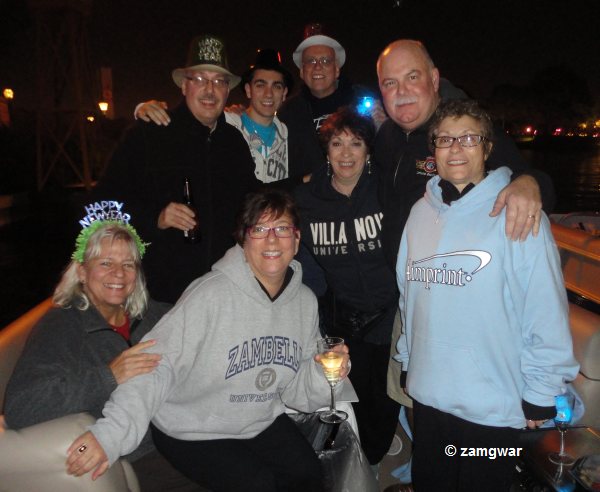 5, 4, 3, 2, 1… HAPPY NEW YEAR!
If you grew up watching The Wonderful World of Color on an RCA that was giving off as much radiation as Chernobyl, chances are your New Year's Eve 2012 wasn't much different than your New Year's Eve 1964.
You had a hard time staying up until midnight and after a joyful "Happy New Year!" you went to bed. Where did that biggest party of the year go?
From your late teens until the morning you first saw your parent's face staring back as your reflection in the mirror, New Year's was a blast. There were hours of getting dressed in just the "right look." There were parties that started with hors d'oeuvres and ended with breakfast. There was the exhilaration of being nose to nose with millions of complete strangers while the Ball dropped in Times Square, or the Peach dropped in Atlanta, or the Stuffed Muskrat in a top hat and bow tie named Marshall P. Muskrat dropped in Princess Anne, Maryland.
As the Peter Pan in all of us started to forget how to fly, the excitement of New Year's Eve began to tame down. Dressy all-night parties turned into informal big dinners out, which turned into casual small dinners with a few friends, which finally turned into sitting in a t-shirt and soccer mom jeans watching the ball drop on TV.
Last year, "She Who Must Be Obeyed" and I decided to wage war against boring New Year's traditions.
On December 26, 2012, we, along with 10 of our friends, landed in the realm of THE MOUSE and, let me tell you, our celebration had that "new" holiday smell again.
To set the record straight, while I love Disney and love to write about Disney, I do not go often enough to walk up to any beverage cart and order "the usual," or have my mail addressed c/o Magic Kingdom. This was in fact our FIRST time seeing the parks at their holiday best. Arriving at our hotel to find a ginormous Christmas tree in the lobby nearly took my breath away.
Of course considering all the food I had eaten since Thanksgiving, bending over nearly took my breath away. But I digress.
The Obsorne Family Spectacle of Dancing Lights were a gluttonous feast for the eyes, the Grand Floridian and BoardWalk lobbies smelled of gingerbread, and the Hallelujah Chorus grand finale of the Candlelight Processional gave us goosebumps.
The chills also may have come from the 41-degree temperature, but I choose to think it was the six herald trumpets playing from the sides of the America Gardens Theater.
Then there was the Magic Kingdom. (Zamgwar pauses while typing to sigh.) The poinsettias before you pass under the station! The tree! The greenery strung over Main Street! With full-size wooden soldiers marching down the street and the castle transforming into icicles as snow fell on your head, it really seemed, well, magic! All this and New Year's was coming, too!
I had significant issues trying to control my glee.
Let me make it clear, the period between Christmas and the New Year is NOT for the first-timer coming as a family holiday gift, the faint of heart, or those who have a fear of crowds or strollers.
It is not for those planning to spend the days riding attractions or finding a table without a reservation. On the weekend before New Year's crowds were SO thick, they actually sealed off access to the Magic Kingdom. The monorail from Epcot was closed except to guests staying at the Magic Kingdom resorts and annual passholders. Think mega-crowded.
That being said, it was the BEST New Year's Eve we all have had in a decade.
The excitement that builds is every bit as thrilling as my youthful days in Times Square or perhaps yours with Marshall P. Muskrat. If crowds aren't your thing, almost every on-site luxury resort had its own celebration.
Animal Kingdom Lodge featured kids' activities all day long that led up to kids ringing in the New Year in South Africa at 5 p.m. Adults got their turn at 8 p.m., when bars and a band moved into the lobby until 12:15.
The Grand Floridian was going to go "classy traditional" with its big band and a balloon drop. The Epcot resorts absolutely jumped with a family oriented DJ dance party on the BoardWalk lawn, and extra "libation stations" set up along the BoardWalk.
Of course the main celebrations, along with what seemed like most of the population of the western hemisphere, are in the parks. Yet with planning, patience and a pocketful of cash, the time and crowds can be managed.
Our planning began seven months earlier, which I now deem as slightly late. In June, "She Who Must Be Obeyed" and I booked our resort through the Disney Vacation Club. At that time rooms were already becoming scarce. Hearing our plans, our friends quickly followed suit. Without planning it, we had planned a party.
Sometime in July, one of our gang began booking reservations to put us where we needed to be for the big days. On December 30, we exited the Be Our Guest restaurant in time to use a FastPass for Big Thunder Mountain Railroad and watch the midnight dress rehearsal for the New Year's Eve party. What a party the Magic Kingdom throws!
Similar to July 4th, the fireworks are launched all around you, forming a necklace of color around the perimeter of the entire park. "Spectacular" is an understatement.
"Holy Mother of All Fireworks" would be an understatement.
The countdown is actually done in fireworks which FORM NUMBERS! Surprisingly, we found the park relatively empty by midnight, and were able to easily get non-sardine viewing right in front of the castle.
Once again, I must point out this was the dress rehearsal, but it was a complete dress rehearsal. Dancing cast members with flashlights set up two-way foot traffic lanes. Backstage areas with entertainment were open to take the pressure of the next night's crowds off the onstage area and offer quicker exits after midnight. A dance party in the castle courtyard started at midnight. When we exited the park at 2:10 a.m. it was just wrapping up.
December 31 was and will be the busiest day at Walt Disney World — period. By 10:15 a.m. Magic Kingdom was closed to all day guests. Most of our gang spent the day lounging by the pool with visions of Bloody Mary's dancing in our heads.
I made a quick solo surgical strike on Disney's Hollywood Studios to get in my much-needed Tower of Terror fix.
Once again, our group's "Planner and Chief-Patty" had secured us a dinner reservation that evening in Epcot and, more importantly, a champagne-stocked private fireworks boat for the midnight fireworks. She had scored the boat by calling Disney's Recreation line literally EVERY DAY starting six months out, until the reservations for the midnight fireworks cruise finally opened.
Disney doesn't announce when reservations for the special event fireworks boats will open, so even the cast doesn't know in advance. It took serious party dedication on our friend's part to get a midnight boat. Every group needs a pit bull planner like our friend Patty. We've got her; you can't have her.
The whole Epcot New Year's experience is the very definition of the phrase "woo-hoo." The electricity from the partying crowds is exhilarating. Moving from country to country is no easy task, but there is the air of friendliness that seems to permeate all global New Year's gatherings. Cell phones are a must. Without them, if your party gets separated you won't be reunited until they are cleaning up the confetti. Lines build up fast at drink stations, so your search for a tasty beverage might be more easily done INSIDE the different lands. Hats and noisemakers are handed out virtually everywhere.
"She Who Must Be Obeyed" would be the first to say I am my own personal noisemaker. But again, I digress.
There were several stages located behind the UK pavilion, in the courtyard of Italy, the theater in front of America and in front of China. Each had either a live band or DJ and featured everything from lasers to gigantic fireball effects. It all became one large foggy party after several concoctions in glowing glasses.
Fireworks are my own personal drug of choice. These fireworks, albeit slightly late (12:03), were superb. Like all Epcot holiday fireworks, they were a tag on the standard IllumiNations: Reflections of Earth show, which began about 20 minutes to midnight. Once the show was over, each country got its own New Year's celebration, represented with music and a fireworks launch over its pavilion. A burst of fireworks once again launched from each country on every number of the actual countdown. The arrival of the New Year was heralded in with Auld Lang Syne, accompanied by an absolute umbrella of fireworks over the lake. It culminated in a percussive grand finale that must have gone on for 20 seconds.
It was spectacular.
Long before any of the fireworks began, as we sat wrapped in blankets in our beverage-and-snack-stocked boat, moored in front of the bridge between the UK and Canada, all were in full agreement. This had already been the best New Year's Eve in years, and years and years. If you can plan it and handle the crowds, it needs to be high on your "Things I Must Do" list.
====================
STUFF YOU SHOULD KNOW,
IF YOU THINK YOU MIGHT GO
====================
Though the parks are maxed out, staying in a resort hotel can get you on attractions with relatively minor effort. During lhe late Extra Magic Hours, we found many attractions were walk-ons. On December 30, almost EVERY Magic Kingdom attraction stayed open until just before 3 a.m. Even Belle stayed up late and continued with her "Enchanted Tales." The park also opened at 7 a.m. daily for resort guests, but I can't report on the lines.
"She Who Must Be Obeyed" doesn't believe the words "early" and "vacation" should ever go together.
Single-rider lines often had us on rides in 15 minutes. With FastPass your rear was always in a seat in a very short time. No doubt this is a result of now enforcing the FastPass time window.
In our six nights we were able to ride virtually every major attraction in every park with a MAXIMUM wait of only 20 minutes. This was a result of planning, timing, and every once in a while, a touch of magic. Our group even got our own boats for "it's a small world" and Pirates of the Caribbean.
The fact that we were all loudly singing the attractions' theme songs while heading down the ramps may have had a bit to do with it.
Cast Member: Do you two want to go with this group?
Couple behind us in boarding lanes: (while laughing) Oh, please, no. We'll pay you extra. No. Please.
Your choice of resort hotel is CRITICALLY important and should be booked as early as possible. Choose the hotel that is closest to the park you are going to spend New Year's Eve in. If you can afford it, the best option is to stay in a hotel that has direct access to that park. This will get you home in moments after you want to leave, rather than hours. I'm not kidding — hours. Traffic after simultaneous firework celebrations in three parks is just as bad as the worst rush hour of any major city on the planet. Maybe worse.
The magic of the evening will wear off as quickly as the deodorant of the person sitting next to you if it takes hours.
Finally, make reservations for all your dinners as far in advance as you can with attractions and entertainment in mind. For instance, on New Year's Eve (or the night before) entering or exiting Be Our Guest restaurant at 8:45 p.m. will have you standing between three castles in a crowd-restricted area, as the standard holiday fireworks go off overhead. Think like that. We had our reservation at 8:15. Our pager to enter the Beast's Castle went off literally as the fireworks began. Waaaah!
Would I consider doing this again? By the time you read this, we will have our reservation in place for next year.
"She Who Must Be Obeyed" has proclaimed it "our" New Year's Eve Party for 2013. So it is written. So it will be done.
In fact, you're all invited to come to our party. We'll meet you in Epcot, and I'm buying!
Just look for the couple with party hats and noisemakers.
See ya real soon!
====================
ABOUT THE AUTHOR
====================
Many years ago, in the early days of AllEars®, our friend Zamgwar wrote regularly about Disney in a series of features that he called "My 2cents." However, as many of us know, Real Life often gets in the way of doing what you love, and Zamgwar was so consumed by his work at the "Zamgwar Institute" that he was unable to continue sharing his "2cents" with us. Happily, though, he and his wife, fondly dubbed She Who Must Be Obeyed, have made several Disney trips in recent months, and Zamgwar is once again sharing his experiences in his own inimitable way.
====================
RELATED LINKS
====================
Zamgwar's other articles for AllEars.Net:
http://allears.net/btp/zamgwar.htm
-o-o-o-o-o-o-o-o-o-o-o-
Editor's Note: This story/information was accurate when it was published. Please be sure to confirm all current rates, information and other details before planning your trip.