MY Disney Experience (or What I Learned at Walt Disney World This Week)
by Debra Martin Koma
AllEars® Senior Editor
Feature Article
This article appeared in the May 6, 2014 Issue #763 of ALL EARS® (ISSN: 1533-0753)
Editor's Note: This story/information was accurate when it was published. Please be sure to confirm all current rates, information and other details before planning your trip.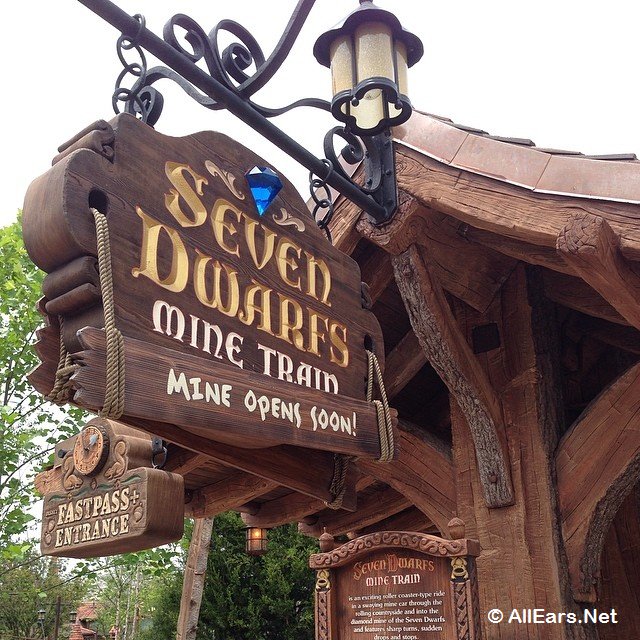 Since Walt Disney World introduced its new My Magic+ program, we Disney enthusiasts have been forced to learn a whole new vocabulary along with acronyms: MagicBands, FastPass+ (FP+), Memory Maker, and the mobile app/website that brings everything together — My Disney Experience (MDE). I've just returned from a few days at a Walt Disney World media event that not only gave us a sneak preview of the Magic Kingdom's newest attraction, the Seven Dwarfs Mine Train, but basically served as a clinic in learning about everything there is to know relating to the new My Magic+. Based on what I learned the past week, I'd like to share with you MY most recent Disney Experience.
I'm sure the first thing you're dying to know about is the new coaster, right? After all, that's what I wanted to know about first. My short review? Two thumbs up!
Billed as the "crowning jewel" in the Magic Kingdom's years-long New Fantasyland Expansion effort, the Seven Dwarfs Mine Train is an attraction that integrates several technologies, making it an interesting hybrid — part thrill ride, part dark ride.
The queue for the attraction is very well thought-out, and is part of the new brand of "play while you wait" interactive lines that Walt Disney World has been introducing around its parks over the past few years. (See the queues at Haunted Mansion, Big Thunder Mountain Railroad and Dumbo The Flying Elephant for other stellar examples.) I don't want to spoil the surprises too much for anyone who hasn't heard about the attraction yet, so let's just say that while you wait there are several hands-on activities that will keep both young and old entertained. My personal favorite is the area that involves spinning the barrels for a musical and visual delight.
The ride itself is so much fun. Speaking as a coaster-lover, I can tell you that I was not disappointed. Intensity-wise, I'd rate the Mine Train squarely in between Big Thunder Mountain Railroad and the Barnstormer featuring the Great Goofini. The height requirement is 38 inches, which translates into the size of an average 3-1/2-year-old. I'd guess if your tot of that age is adventurous (mine wasn't!) they'll be delighted by this 2-1/2-minute ride. There are a few twists and turns, a few little drops, some bigger drops, and a 50-second non-thrill stretch in the middle that is full of color, music and whimsy straight out of the movie Snow White and the Seven Dwarfs. Imagineer Chris Beatty, who was largely responsible for the development of New Fantasyland, called the attraction an "instant classic" that will resonate with all ages, and I must say I agree with him. You just have to wait until May 28 to ride it — so get your FastPass+ booked now! (Although I hear that FastPass+ for this attraction is only available on the website right now, and the first few days are already completely booked!)
Speaking of FastPass+, I suppose now is a good time for me to tell you what I learned about this recently introduced feature, and the overall My Magic+ (so many PLUS SIGNS everywhere, I almost feel like I'm in math class!) program.
We first had the opportunity to hear what My Magic+ means to Walt Disney Parks and Resorts Chairman Tom Staggs, as well as the Travel Channel's Samantha Brown, who was a surprise guest at our opening presentation. Both Staggs and Brown sang the praises of the new program, from its ease of use to its time- and effort-saving benefits.
"The system allows our cast to be less engaged with transactions, and more engaged with interactions" with guests, Staggs stressed, and it became clear fairly early on that this was one of the main messages of the day. Because cast members don't have to worry about the details of getting you into the park or making a purchase, for example, they can concentrate on conversation and making magic. To be fair, once everyone has more practice with the system, I think that's probably going to be true.
I want to assume that all of you have been reading everything about My Magic+ and all the changes it's entailed, but in case you haven't, here's a very quick, basic summary. The entire My Magic+ system starts before you even enter the parks. Your first step is to sign up for a free My Disney Experience account online at disneyworld.com. Once you've done that, you can associate your theme park tickets and all of your Disney reservations (dining and accommodations) to your account, so that you can manage everything either online, or via the MDE mobile app on your smartphone or other mobile device. After you've booked your Disney hotel reservations, you'll be issued a MagicBand, a flexible bracelet with a "brain" that can hold all of your information. (Even if you're not staying at a Disney hotel, you can get a MagicBand once you're in Disney World for about $12.95. It will still work with MDE, just won't open your hotel room!)
Using the MDE website or app, before you even reach the parks, you can reserve FastPass+ experiences. These are basically scheduled windows of time for you to gain entry to a myriad of Disney Parks attractions. You can plan as much or as little of your day as you'd like, and you can modify your plans as well. These FastPass+ experiences are stored in your MagicBand. You can even add credit card information to the MagicBand, if you'd like, to allow you to pay for purchases that way. By merely tapping the Mickey head of the MagicBand to an RFID reader, then, you can do a multitude of things: gain entry to your resort hotel room or other areas; enter a theme park; pay for merchandise or dining; store your PhotoPass photos; and of course, enter attractions for which you have reserved FastPass+. As you can see, if you have your MagicBand, the (Disney) World is your oyster!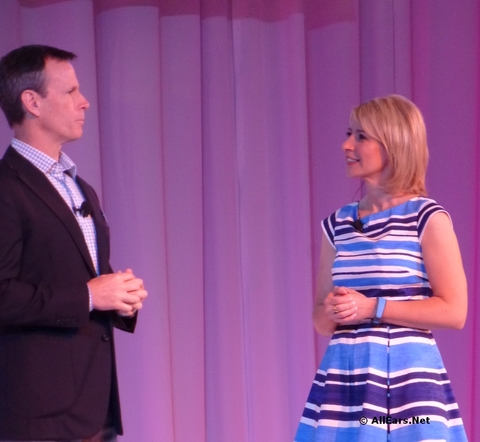 Brown said that as a mom to 15-month-old twins, the new system gives her a freedom she hadn't experienced at the Disney Parks before in numerous ways. She does not have to fumble with her double-wide stroller going through awkward turnstiles — they've been eliminated now that everyone is using the new MagicBands or RFID cards — and she can plan her day, including reserving FastPass+, from the comfort of her own sofa at home. The result is a less-stress vacation, without the need to rush around the parks, or waste valuable time in long lines. I can certainly see her point, and, as an avid planner myself, I appreciate the advantages this system offers.
We later heard from Jim MacPhee, Senior Vice President – Next Generation Experience and Walt Disney World Parks, who was instrumental in the development of this new system. When asked about the potential future uses for MagicBands and MDE, MacPhee emphasized that "we're just getting started." According to him, the roll-out of MDE and MagicBands to all Walt Disney World guests, even "day guests" who are not staying at a Walt Disney World resort hotel, is merely the beginning of a whole new way of allowing guests "to experience even more of the magic through personalization and customization." While he didn't elaborate on what future uses MagicBands might have, he did hint that there would be many more ways that they can make Disney vacations even more enjoyable. Saying that they are not aiming for any particular "opening date" or deadline, he added that as new uses become viable they will be introduced. Still, he added, that doesn't mean that the whole Disney experience will revolve around the computer or the smartphone. "We don't want technology to replace touch," he noted.
Finally, to conclude the Seven Dwarfs Mine Train media preview, Walt Disney World executives gave us an "Around Our World" briefing — basically an overview of everything that's been going on or is to come at all of Disney's business units. You've probably read all the press releases by now, and realized that much of the news that day was not really "news" at all (expanded Star Wars Weekends, the upcoming bicoastal 24-hour Memorial Day Weekend event, Norway experiences for the Disney Cruise Line and Adventures by Disney). Much had already been floating around the internet as rumors. Still, it was good to get official word on some projects — and I have to admit that there were one or two items that were actually news to me!
The biggest Walt Disney World news centered around Disney's Animal Kingdom. While Walt Disney World Resort President George Kalogridis didn't offer much in the way of details on the progress of the park's Avatar-themed land, I did glean what I thought was an interesting nugget from the accompanying video.
In it, Tom Staggs spoke about the work on the new land, saying that the three things the team wanted to accomplish were to allow guests to experience the grandeur and scale of the film's floating mountains and the beauty of the bioluminescent forest, and to ride a banshee. He noted that through a new array of technologies and techniques they have figured out how to do all three things! This statement really intrigued me, and I think this offers some clues as to what we can expect from the attractions when the new land eventually opens… in 2017.
Aside from "Pandora" or "Avatar-land," or whatever the new land is finally named, Kalogridis did have specifics on several new offerings that will help convert Animal Kingdom into a full-day park — and by that I mean that the park will have extended operating hours, well into the night.
To coincide with the 20th anniversary of the Disney animated feature "The Lion King," the park's beloved attraction Festival of the Lion King will reopen in June in its new location — the newly constructed Harambe Theatre in the Africa section of the park. Animal Kingdom then will begin to offer a series of special ticketed evening events, called "Harambe Nights," which will include a 55-minute theatrical rendition of the Lion King story in Harambe Theatre called "The Lion King Concert in the Wild." (This is a new version of the story, distinctly different from the daytime show that park-goers are all familiar with.) Running on Saturdays from June 7 through August 9, Harambe Nights will begin with a reception, complete with appetizers, beer and wine, in Animal Kingdom's Harambe Village, followed by the stage show, which will include a live orchestra and choir and will be narrated by such actors as Joe Morton (from ABC-TV's "Scandal") and Viola Davis (Oscar-nominated for her role in the film "The Help"). The evening will conclude with a street party and buffet stations situated throughout that area of the park.
Further down the road, the park will offer a new, "dark" version of the Kilimanjaro Safari attraction, and live performers will entertain guests in the evenings around the Tree of Life. Also on the drawing board is a new "nighttime spectacular" called "Rivers of Light." The nighttime show will combine live music, floating lanterns, water screens and swirling animal imagery on the park's Discovery River, between Discovery Island and Expedition Everest. No estimated date was given for this new evening entertainment debut, but we were told that the nighttime version of Kilimanjaro Safari and the Tree of Life live performers would happen "sooner" than 2017.
A lot of the other announcements dealt with the renovations happening at the Polynesian Resort — er, excuse me, I mean the Polynesian VILLAGE Resort. That's right, the hotel is reverting to the name it originally sported back when it opened in 1971. In addition to the room refurbishments that have been ongoing at the resort, the main pool and the lobby — the Great Ceremonial House — are also getting the treatment. The resort is also going to add a new lounge, Trader Sam's Grog Grotto, based on the well-known lounge at the Disneyland Hotel in Anaheim. The new watering hole will offer tiki cocktails served in souvenir mugs and Polynesian-themed small plates.
Another topic that Karl Holz (President, Disney Cruise Line and New Vacation Operations, Walt Disney Parks & Resorts) just touched on was the addition of Disney Vacation Club units at the Polynesian. Disney's Polynesian Villas and Bungalows will include a collection of tropical structures right along the Seven Seas Lagoon — – and even some on stilts in the water — due to open in 2015.
Also opening next year will be the first phase of the reimagined Downtown Disney area, Disney Springs. The Landing will be rededicated in early 2015. Leading up to that, however, we can expect more new shops and restaurants to open, including a full-service Starbucks this summer, the collection of six small boutique shops known as the Marketplace Co-op, and a new soccer store, the United World of Soccer, to help us all prepare for next year's World Cup.
So after previewing the new attraction, listening to all the My Magic+ spiels, and hearing about some of the new offerings on the horizon, how was MY Disney Experience this time? From an attraction standpoint, I'd say it was fantastic. The Mine Train exceeded my expectations, and I had high hopes for it, so that's saying something. And as for the whole MDE/MagicBands/FastPass+ thing? Well, I can't say that I learned much more than I already knew about the program, but it did give me an opportunity to try it all out rather extensively. Almost everything worked smoothly, although there are still some problems with linking friends' accounts. (Once again I had to use two different MagicBands — one for my park admission, one to enter my hotel room.) But overall, I'd say that FastPass+ and MDE are doing what they are supposed to be doing — allowing me to customize my experience, while lessening, if not totally eliminating, the stress. I'm eager to see what new uses the MagicBands will bring, and what all this new technology will mean overall in the future to MY Disney Experiences.
How about you? We'd love to hear about YOUR Disney Experience using My Disney Experience, along with any comments you have on the new My Magic+ program. You can share your thoughts in our Rate and Review section here:
http://land.allears.net/reviewpost/showcat.php?cat=198
And is there anything that you're wondering about? Anything about how this new system works that we haven't addressed yet? Let us know, and we'll try to provide some answers in a future issue of the newsletter and on the site. You can send us your questions by using our feedback form here:
http://allears.net/forms/feedback.htm
-=-=-=-=-=-=-=-=-=-=-=-=
RELATED LINKS
… including assorted press releases and official photos from the press event:
http://land.allears.net/blogs/dnews/2014/05/polynesian_reverts_to_original.html
http://land.allears.net/blogs/dnews/2014/05/disneys_animal_kingdom_launche.html
http://land.allears.net/blogs/dnews/2014/05/rivers_of_light_nighttime_show.html
http://land.allears.net/blogs/dnews/2014/05/new_shopping_dining_for_summer.html
Samantha Brown talks MyMagic+ and Magic Bands
http://youtu.be/0T2NKDgkzmw
Blogs about the Press Event:
http://land.allears.net/blogs/debwills/2014/05/reporting_from_the_seven_dwarf.html
http://land.allears.net/blogs/debwills/2014/05/reporting_from_the_seven_dwarf_2.html
http://land.allears.net/blogs/allearsteam/2014/05/coming_attractions_around_the.html
-o-o-o-o-o-o-o-o-o-o-o-
Editor's Note: This story/information was accurate when it was published. Please be sure to confirm all current rates, information and other details before planning your trip.