March 2017 Walt Disney World Bits and Bites
Feature Article
This article appeared in the February 28, 2017 Issue #910 of ALL EARS® (ISSN: 1533-0753)
Editor's Note: This story/information was accurate when it was published. Please be sure to confirm all current rates, information and other details before planning your trip.
= = = = = = = = = = = = = = = = =


STEP BACK IN TIME
= = = = = = = = = = = = = = = = =
by Joan L. Feder
AllEars® Contributor
We hunt through our archives for this monthly featurette, which looks back at the history of Walt Disney World and The Walt Disney Company. This month, we travel back 12 years to March 2005, when Disney's first water coaster, the Crush 'n' Gusher opened at Disney's Typhoon Lagoon water park.
The 61-acre Typhoon Lagoon opened on June 1, 1989, as Disney's second water park. (The first, River Country at Fort Wilderness Campground, closed in November 2001.) The water park was designed to resemble a tropical resort area destroyed by an epic typhoon. When it opened, Typhoon Lagoon's namesake wave pool was the largest outdoor surf pool in the world. Along with the water slides, kiddie pool and lazy river, it drew big crowds, and still does today.
But in March 2005, Disney had another "first" for Central Florida. The Crush 'n' Gusher was the first water coaster to be built in the area. More intense than a slide, Crush 'n' Gusher has water jets that propel riders through uphill climbs, making it feel like a traditional roller coaster. The same technology later was used on Disney Cruise Line's Disney Dream and the Disney Fantasy to create the AquaDuck.
According to Disney folklore, the story behind the water coaster is this: The Tropical Amity company once owned and operated three fruit-washing flumes on this site. The company abandoned the flumes, which have become dilapidated and meander through a jungle-like setting. The Pineapple Plunger (double rider), Coconut Crusher (single or double rider), and Banana Blaster (double rider only) each range from 410 to 420 feet long. Riders, who must be at least 48 inches tall, grab a rubber raft and haul it up the stairs to the top of the ride past signs with fun facts about bananas and pineapples. They climb aboard with the help of a cast member, and launch! Tunnels, sudden dips, hairpin twists and abrupt turns let guests catch some air before careening into Hideaway Bay.
Typhoon Lagoon is currently closed for its annual refurbishment, but is scheduled to reopen on March 12, 2017. That date also marks the debut of a new water park attraction — Miss Adventure Falls, a fast-paced, pirate-themed raft ride. Voyagers will hurtle through the domain of Captain Mary Oceaneer, a treasure hunter whose bounty was scattered by a typhoon across this tropical paradise years ago. Not only will this two-minute water ride be one of the longest in Central Florida, there is no need to lug a raft to the top! An aquatic conveyor belt will carry guests uphill before plunging them into their "white-water adventure."
Will the new Miss Adventure Falls be even more exciting than the Crush 'n' Gusher? When you get a chance to ride it, let us know HERE.
RELATED LINKS:
= = = = = = = = = = = = = = = = =


HIDDEN MICKEYS ALERT
= = = = = = = = = = = = = = = = =
Steve Barrett, author of the Hidden Mickeys books and webmaster of HiddenMickeyGuy.com, highlights a few old and new Mickey-shaped food items in Epcot's World Showcase. Admire the images before you indulge!
1. In Japan, chefs at Teppan Edo often make three-circle Mickey images from onion rings. (Thanks to Marc Lorenzo, Katherine Price, and Marc Schreiber.)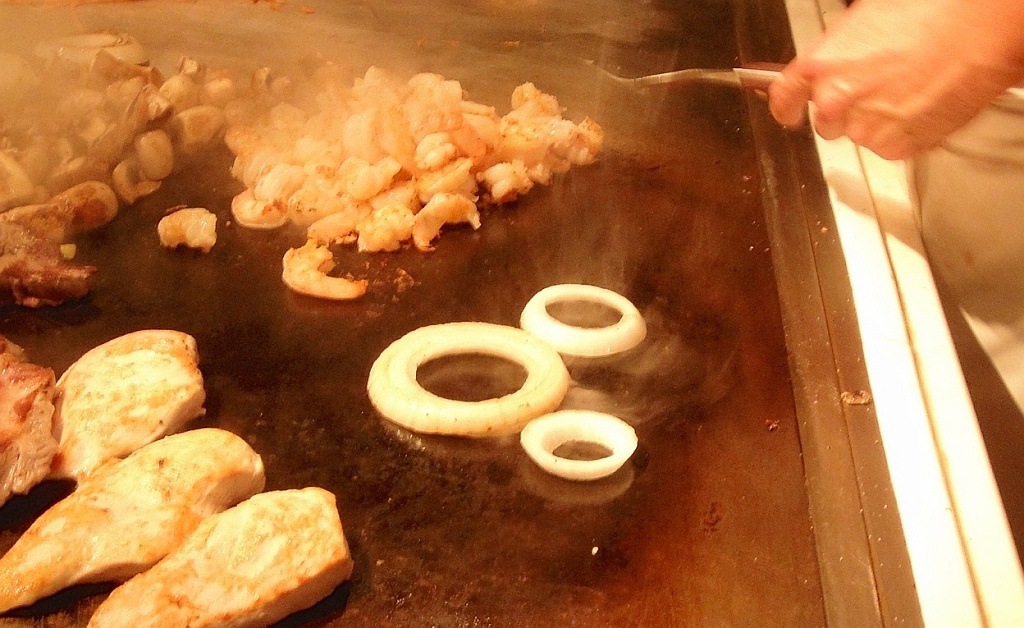 2. Along the food display case inside Morocco's Tangierine Cafe, some items, such as the Chicken Wrap dish, may be arranged as classic Mickeys. So far, most voters on my website don't think this image is convincing enough to be a Hidden Mickey, but it's close! (Thanks to Michael Manall.)
3. Inside the L'Artisan Des Glaces shop in France, the staff just might form classic Mickeys out of ice cream scoops in one of the displays! (Thanks to Tyler and Brandie Bolton.)
=-=-=-=-=-=-=-=-=-=-=-=-=-=-=-=
You can find an archive of past Hidden Mickey Alerts HERE.
And check out our latest Searching Disney with Steve blog.
= = = = = = = = = = = = = = = = =


SOUVEN-EARS
= = = = = = = = = = = = = = = = =
Our occasional featurette on shopping around the World returns this week with an entry from our staff writer and "A Mom and the Magic" blogger Kristin Ford.
Rivers of Light, the nighttime show at Animal Kingdom, debuted this month, and with it, quite a lot of merchandise!
I think the most unusual item is the new Made With Magic light-up wand ($28.17 plus tax). It's shaped like an animal-themed totem pole and it interacts with the Rivers of Light show, changing colors as the elements in the show do. It also is affected by other Made With Magic items that are nearby and can be used at other select nighttime spectaculars at Disney Parks. Plus, each guest can change the colors on the totem pole manually. I love this for the young — and the young at heart!
Three other Rivers of Light merchandise items light up — the Rivers of Light glow lanyard ($15.02 plus tax); Rivers of Light light-up ear ornament ($24.99 plus tax); and the Rivers of Light animated LED fan ($15.02 plus tax), which projects the spirit animals in the light over the whirling fan.
Another unique offering is the soft Rivers of Light logo blanket ($36.99 plus tax). It's perfect for cozying up on cooler nights to watch the show or for getting sleepy little ones comfortable on the concrete and metal bleachers.
Collectors will find an open edition logo pin ($9.99 plus tax), a magnet ($8.99 plus tax), a pen ($6.99 plus tax), a coffee mug ($14.95 plus tax), a shot glass ($9.95 plus tax) a flat ornament ($14.95 plus tax), a beach towel ($24.99 plus tax) and a show CD ($15.98 plus tax).
And then, of course, there are T-shirts for the whole family. Colorful T-shirts that feature the spirit animals and a lotus design come in women's sizes ($32.95 plus tax) and youth sizes ($29.99 plus tax). Unisex T-shirts come in black with a small Rivers of Light logo on the front and a tiger on the back in adult sizes ($24.99 plus tax) and the same design on the front with all the animals on the back and a red background in youth sizes ($19.99 plus tax). (Passholders can pick up an exclusive shirt with a different design for $29.99.) Plus, the same unisex design is featured on a black sweatshirt in adult sizes ($42.99 plus tax) and a zippered hoodie in youth sizes ($39.99 plus tax).
Rivers of Light merchandise can be purchased in the Island Mercantile gift shop at the front of Animal Kingdom, at kiosks by Discovery River Amphitheater and on the Shop Disney Parks app.
There also are a few Rivers of Light-themed items that are available for purchase at food and beverage locations. Guests can purchase a Glowing Lotus Blossom Bucket served with flavored chips ($15.99 plus tax); a Glowing Stein or Lantern served with a fountain beverage ($12.99 plus tax); and a Lotus Flower Glow Cube for drinks ($4.50).
As always, happy shopping!
= = = = = = = = = = = = = = = = =


MONTHLY REMIND-EARS
= = = = = = = = = = = = = = = = =
2017 Epcot International Flower and Garden Festival — March 1-May 29. The 90-day festival will feature an array of new gardens and character topiaries, popular entertainers and tasty food and drink offerings.
"The View" Broadcasts from Animal Kingdom — March 6 – 10.
2017 Mighty St. Patrick's Festival at Raglan Road Irish Pub & Restaurant in Disney Springs — March 16-19. Billed as the most authentic St. Patrick's Day celebration in Central Florida, it will feature a round-the-clock lineup of talented musicians, award-winning Irish dancers and authentic cuisine by Irish celebrity chef and PBS/Create TV personality Kevin Dundon. The entertainment schedule will be posted at raglanroad.com. Festivities at Raglan Road will run from 11 a.m. until 2 a.m. daily throughout the Mighty St. Patrick's Festival.
-=-=-=-=-=-=-=-=-=-
Check our Events page for a full schedule of upcoming events.
-=-=-=-=-=-=-=-=-=-=-=-=-=-=-=-=-=-=-
Disney's Hollywood Studios
The Cover Story shop on Hollywood Boulevard in Disney's Hollywood Studios is closed for refurbishment until March 23, 2017.
Magic Kingdom
Walt Disney World Railroad is closed for refurbishment through March 2, 2017.

Hall of Presidents is closed for an extended refurbishment through June 29, 2017.
Community Hall Pool (the BoardWalk Villas leisure pool) is closed through March 1, 2017.

Luna Park Slide is closed through March 3, 2017.

Exterior maintenance and painting will be performed through April 2017.
Several Trinidad South Region refurbishment projects are underway and will continue through March 16, 2017.
The resort rooms are undergoing a "hard goods refurbishment" that will continue for some time into 2017.
Sandcastle Pool refurbishment has been extended to March 3, 2017.

NOTE: In an ongoing effort to improve the quality of facilities and offerings, Disney's Old Key West Resort will be undergoing a wholesale refurbishment starting in Spring 2017. This refurbishment is expected to be completed in 2019.
Resort rooms will undergo a "hard goods" refurbishment through May 7, 2018.
Alligator Bayou North Pool will be closed for refurbishment through April 7, 2017.
The Walt Disney World Swan and Dolphin
The resort is currently undergoing the largest renovation in its 25-year history. The Dolphin room renovations are currently scheduled to be completed by the end of 2017. In addition, starting in the spring of 2017 the Dolphin lobby will undergo a $12 million re-design. When finished in the fall of 2017, the new lobby will be completely transformed into a sleek, contemporary space and will feature new dining and beverage options. The lobby re-design is the final stage of the $140 million renovation project.
Wilderness Lodge and Boulder Ridge Villas
General resort refurbishments and construction work in multiple areas will continue until 2017. Some pathways and the nature trail will be unavailable at certain times.

Hidden Springs leisure pool, resort beach, playground and recreation fire pit are unavailable.

Cub's Den Children's Activity Center is closed now through 2017.

Roaring Fork and Trout Pass Pool Bar at Wilderness Lodge closed for refurbishment as of February 13, 2017. The new Geyser Point Pool Bar & Grill now serves breakfast, lunch and dinner. Territory Lounge also offers a continental-style breakfast featuring gourmet coffees, pastries and a yogurt parfait.
The Yacht and Beach Club Convention Center is undergoing expansion and renovation now through February 1, 2018.
Resort room refurbishment taking place through mid- to late 2017.
Typhoon Lagoon water park is closed through March 11, 2017 for its annual refurbishment.
-=-=-=-=-=-=-=-=-=-
A complete list of known rehabs can be found HERE.
= = = = = = = = = = = = = = = = =


MAGICAL MOMENTS
= = = = = = = = = = = = = = = = =
Each month, we like to share a few heart-warming Magical Moments brought to us by the amazing Disney cast members!
Jessica S.: I wanted to share a not-so-magical, turned into an oh-so-magical, moment we had on a recent trip. My husband, daughters (4 months and 2 years) and I were staying at a deluxe resort for my work conference and planned on moving to Pop Century for the end of our trip. Unfortunately, my husband came down with an awful stomach bug the day before we were expected to switch. Knowing that I couldn't pack and do the move myself with two girls and a husband who couldn't leave the room, I went to the front desk to ask what the additional cost would be to upgrade and stay in our current room. After a few moments of the cast member reviewing and checking for me, he said, "You are all set." I looked at him, confused, and said, but for what? He then explained he was going to upgrade us to stay in our same room at no additional charge. He could tell in that moment of need that this is exactly what I needed, with my little ones right there with me, looking up. I want to thank that cast member for what he did. He truly didn't need to do that, but I appreciated it so much. He turned a not-so-magical trip into one that will always be memorable. And that is why I will always return to Disney World, my happy place.
Jeanne C.: As a faithful reader and fan of your newsletter I read the Magical Moments section each month for a smile and dose of Disney between annual visits. I most often travel alone, and I thought these moments were reserved for families and would never be part of my visit. Wrong! During my most recent trip in October 2016, I came down with a cold. After a long day in the parks, I decided to make my way back to my room via Disney Springs. My plan was to grab dinner at Earl of Sandwich and some honey for my sore throat at the Savannah Bee store. I made it to the boat dock just as a huge downpour hit, only to watch my boat pull away from the dock. The next boat was headed to Port Orleans Riverside, not my hotel, the French Quarter. After hearing the wait time, I decided to grab the Riverside boat and hike the extra way back to my room. I was shocked when the boat captain announced that we had to make an extra stop for someone special! Apparently the dock attendant had whispered my story to the captain and I got my own stop! This little bit of extra care made my cold seem minor and my whole trip special!
Victoria Critchfield: We took my mother to Disney World for her 88th birthday. While at Magic Kingdom we went to the bakery on Main Street for breakfast. There were five of us altogether, and Mother and I brought up the rear. As we were leaving the women behind the counter were saying Happy Birthday. Mother was smiling like mad — those precious women gave her a gigantic sugar cookie! Oh, the memory of the look on her face is so dear. That was her last trip. Thank you so much for making it extra special, Disney.
-=-=-=-=-=–=-=-=-=-=-=-=-=-=-=
We just bet you have a story to tell about an unforgettable moment during your Disney vacation! Please send your favorite memory for inclusion in a future AllEars® via our Contact Us page. Thank you all for sharing!
-o-o-o-o-o-o-o-o-o-o-o-
Editor's Note: This story/information was accurate when it was published. Please be sure to confirm all current rates, information and other details before planning your trip.