Issue Number Double-Oh Seven
by Debra Martin Koma
AllEars® Senior Editor
Feature Article
This article appeared in the February 19, 2013 Issue #700 of ALL EARS® (ISSN: 1533-0753)
Editor's Note: This story/information was accurate when it was published. Please be sure to confirm all current rates, information and other details before planning your trip.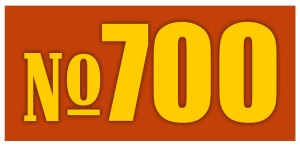 In his popular nonfiction book Outliers: The Story of Success, author Malcolm Gladwell puts forth his theory that the way to become an expert on something is to do it for 10,000 hours. According to Gladwell, this 10,000-hour rule is responsible for the success of some of the geniuses of our time, from The Beatles to Bill Gates.
I'm not sure if I've done anything in my life for 10,000 hours (maybe I have, but I haven't been keeping track!), nor will I boast at being an expert on anything. But I can tell you one thing I am quite sure of: We here at AllEars® have, with this issue of the newsletter, been bringing you the latest Walt Disney World news, reviews, previews and more for 700 weeks.
That's right. This issue of AllEars® is #700 — Double-oh seven in reverse.
And in the course of producing 700 issues, I wouldn't be surprised to learn that the AllEars® team collectively has dedicated at least 10,000 hours of our time. Since that first issue of AllEars® on September 19, 1999, we have been working hard to not only inform you of the latest goings-on in the World, and in recent years the rest of the Disney Universe, but to entertain you and hopefully sprinkle you with a little pixie dust in the process, to make your day, week, month, that much better.
As we do every time we hit a big milestone that ends in double zeroes, we'd like to devote a few paragraphs here to reflect on where we've been and how we got here… and anticipate where we're going. Please indulge us.
Twitter and Facebook, YouTube and Pinterest, blogs and most recently Instagram, have become a part of many of our daily lives, and can often provide more immediate, or more visually compelling, information than our weekly newsletter. We sometimes ask ourselves, "Is this newsletter still relevant? Is this weekly ritual still important?"
We think the answer remains: YES.
As I write this, we are approaching 146,000 subscribers to the newsletter. The exact number at this very moment is 145,637 — that's more than 15,000 additional subscribers since our 600th issue, back in March 2011! That significant increase overwhelms us, and brings home to us the fact that more and more of you rely on us for your "Disney fix" every week. It's not a responsibility we take lightly.
Last year, we ran a survey asking our readers what they thought about what we do. Would you believe we had more than 15,000 responses? I know. That's what we said — Amazing!
Most of our questions focused on the AllEars.Net website in general, but several asked specifically about the AllEars® newsletter, and what we could do to make it more useful to you. An overwhelming number of you were quite kind and basically told us, "It ain't broke, so don't fix it." Seems that our "10,000 hours" have paid off!
"Whenever the newsletter arrives it's like walking down Main Street again!"
"Very informative newsletter that covers a variety of topics about Disney. A great tool to help plan vacations, as well as gain information about Disney trivia, upcoming plans, or history about the parks. You do a great job."
"I really enjoy getting the weekly newsletter. It keeps me up to date on things happening, and makes me look forward to planning my next trip."
"My absolute favorite thing is reading the Magical Moments section of the newsletter — love these stories!"
"Love the newsletter! It's the first thing I read on Wednesday."
"Reading your newsletter has opened our eyes to so many other options. We are going to become Disney Vacation Club owners and stay in other options, try different types of foods, and do other things than just going to the parks. We are also planning a trip to stay in the Disney resort in Hawaii."
Hurrah! That's what we like to hear. Comments like those above really warm our hearts and encourage us as we toil along day after day, trying to keep the newsletter fresh. Thanks to responses like these, we've kept many aspects of the newsletter the same as they've always been. But we don't ever want to rest on our laurels, and all the survey data we received was helpful. It has allowed us to focus on different areas of the newsletter, hopefully improving it in ways both obvious and subtle. We always want to get better.
As we sifted through the individual comments we received in the survey, we did find several newsletter areas you thought we could enhance, and so we have been working behind the scenes to make those improvements happen. In fact one comment we heard again and again was along the lines of, "I really miss the Mousy Mindboggler. That was fun."
OK, OK… we hear and obey! Many of you will be pleased to know that the Mousy Mindboggler will return — in a modified form — in next week's monthly Bits and Bites issue, thanks to some help from a long-time Disney friend!
We also heard from many of you that you're always hungry for more tips, so we've been actively soliciting them and plan to feature the best and brightest of your ideas in several upcoming newsletters. In addition, we plan to revive our occasional "Meet the Authors" series, which features profiles of authors of Disney-related books. Also on our editorial calendar — a series of planning articles for a variety of different vacationers, from first-timers to families with older children to grandparents traveling with the grandkids.
We hope that you can see that we take this weekly newsletter business seriously, and we aim to please as much as possible. In fact, if you ever have any suggestions or comments, we encourage you to send them along.
Because this issue marks a special occasion in our editorial life, we want to pause to thank everyone who works so hard to make this newsletter so awesome. Some names you'll recognize from the AllEars.Net website, but some work exclusively on the AllEars® newsletter, and deserve special thanks and recognition.
First, thanks to all of our regular feature and featurette writers: Disney Historian Jim Korkis, Kristin Ford, Cathy Bock, Alice McNutt Miller, Hidden Mickey Guy Steve Barrett and Laura Gilbreath. We'd also like to give a virtual high-five to our occasional guest columnists: Josh Olive, Jonathan Dichter, and of course our old friend Zamgwar, as well as readers who are generous enough to share their stories with us for publication from time to time. (Guest columns always considered for publication, by the way.)
We must not forget our other contributors, whose valuable input comes to us in many forms, from photos to proofreading to other behind-the-scenes help: Jason of disneygeek.com, Linda Eckwerth, Erin Blackwell, Glo from Miami, Lee Zimmerman, and all-around Jack-of-all-trades, Jack Marshall. We are also indebted to AllEars.Net bloggers Jack Spence, Mike Scopa, Michelle Scribner-MacLean, Jeanine Yamanaka, Lisa Berton, Scott Thomas, Gary Cruise, Andrew Rossi, whose works are often featured in the electrons of our newsletter.
The financial support of our advertisers allows us to bring this newsletter to you every week free of charge. Our magnanimous sponsors also provide non-financial support and advice, and supply us with contest prizes and more, which in turn enables us to share even more Magic with our readers. So we offer up a big THANK YOU to our sponsors, too.
Ultimately, our "10,000 hours" would be worthless without you, dear readers. Without the support of each and every one of you, there would be no reason for us to carry on. Your loyalty and regular words of encouragement inspire us to try to do more than what we think is our very best all 52 weeks of every year. Thank you.
It's at this point that I would normally sign off and say, "See you for the next milestone — issue #800! (which we project will be sometime in January 2015)." But an amazing thing is going to happen before we reach the 800th issue of this newsletter. The AllEars® Newsletter will turn 15 in September 2014! I can just about guarantee you that we will continue to bring you a week's worth of entertainment and information every week until then, when we will undoubtedly celebrate that landmark edition in a big way!
And maybe by then I'll have reached my own personal 10,000 hours of doing this newsletter. Who knows what genius ideas that may bring!
===============
RELATED LINKS
===============
Find our other landmark edition newsletters in our Newsletter Archives:
http://allears.net/ae/archives.htm
And if you're not a subscriber, be sure to sign up! It's free!
https://secure.campaigner.com/CSB/Public/Form.aspx?fid=1512645
=-=-=-=-=-=-=-=-=-=-=-=-=
ABOUT THE AUTHOR: Debra Martin Koma, AllEars.Net's Senior Editor, fell in love with Walt Disney World on her first visit there — when she was 35! She's lost count of how often she's returned to her Laughing Place in the ensuing years, but knows that she still isn't tired of it. (And doubts she ever will be.) Neither is she tired of editing the AllEars® Newsletter, even though the weekly deadline makes for some Terrible Tuesdays in the Koma household! She hopes that the end result is always worth the effort.
-o-o-o-o-o-o-o-o-o-o-o-
Editor's Note: This story/information was accurate when it was published. Please be sure to confirm all current rates, information and other details before planning your trip.