Fun Without the Thrills
by Kristin Ford
AllEars® Staff Writer
Feature Article
This article appeared in the April 9, 2013 Issue #707 of ALL EARS® (ISSN: 1533-0753)
Editor's Note: This story/information was accurate when it was published. Please be sure to confirm all current rates, information and other details before planning your trip.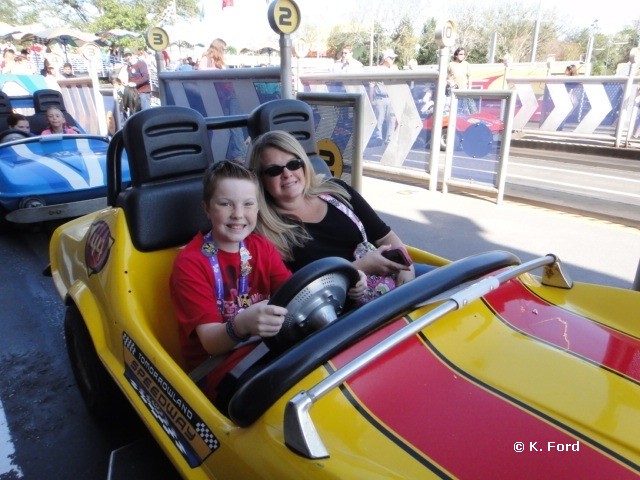 Visiting Walt Disney World is a very different experience for each of my two children. When it comes to the thrill rides, my daughter is nearly fearless — there is almost no roller coaster she won't try. My son, however, is a little more apprehensive about coasters and the fast and dark rides. He analyzes everything to the point of talking himself out of some of the simplest rides. And, of course, there is no way he or I are ready for him to contemplate the twists and turns of Disney's "mountains."
You might wonder — as my husband has many times — if taking a child to Disney World is worth the cost and effort when the number of attractions we can experience as a family is diminished because of one child's reluctance to ride many of the popular attractions.
My answer would be, "Of course!" Because Disney World's entertainment is not limited to rides, there still is plenty for a reticent child to do. Think about it: For those of us who love Disney, just stepping into the parks gives us a thrill — and that's especially true with kids. Despite the hundreds of times we have ridden the monorails or ferries, my son still races for a window seat so he won't miss a thing.
For many kids who might not enjoy the coaster rides in the parks, the various transportation options at Walt Disney World still can be exciting. Of course, monorails top the list because of their unique nature. As if riding the "highway in the sky" isn't fun enough, kids can ask cast members at each station for special collectible cards. There is one card for each color monorail. Ferry and boat rides also make for great experiences: Sail on the large ships between the Magic Kingdom and the Transportation Center or glide down the winding Sassagoula River from Downtown Disney to Port Orleans resort for a pleasant journey. You also can rent small, two-person speedboats at many of the hotels. My son really enjoyed the hour he spent with his dad zipping around a Disney World lake. Even the trams in the parking lots seem like entertainment to some kids.
But once we arrive in the parks, seeking out experiences we can all do together forces us to slow down and look beyond the most well-known attractions. Here, too, we are able to take advantage of and enjoy various transportation options that my son will board. He could ride the Tomorrowland Transit Authority all day, and he loves to ride the steam trains around Magic Kingdom, too.
But there are many other things to do in the parks besides riding in themed attractions. When my kids were younger, we were regulars at all the playgrounds in the parks, even "discovering" some off the beaten path. Did you know there is a play structure tucked under the train station near Splash Mountain? Or how about the one inside the exit area of Mission: SPACE? My son had no interest in either of those rides, but he thoroughly enjoyed the adjacent play areas. And, in his mind, enjoying the play areas at the attractions is almost as though he actually were enjoying the attraction itself.
Now, we take the time to visit the caves and barrel bridges on Tom Sawyer's Island at Magic Kingdom, we try out the interactive exhibits in Innoventions at Epcot, and we study the models at One Man's Dream at Disney's Hollywood Studios. Of course, the dinosaur excavation play area at Animal Kingdom's DinoLand is a must-see destination, as well.
Shows, parades and fireworks are great, too, for kids who love a spectacle but don't want to experience it on a ride. Animal Kingdom is home to two of the best stage productions, in our opinion — The Festival of the Lion King and Finding Nemo — The Musical. Be aware that both theaters do get dark at certain times during the shows, so that could be a concern for small children. We found, though, that when our children were younger, once they became engaged in the show, they forgot all about their fear of the dark. And three of the parks — Animal Kingdom, Magic Kingdom and Disney's Hollywood Studios — host daytime parades, which eliminates that fear.
Although he'd be hard-pressed to choose one favorite experience at Walt Disney World, my son likely would rank the various fireworks shows at the top of his list. Without fail, every time we enter a Disney park, he asks if we will be staying for the fireworks. A tip for parents of younger children: You may want to bring earplugs for these shows because they can be loud. I used to keep swimmer's earplugs in my purse and they did the trick every time. My son was able to enjoy the fireworks without worrying about the noise.
We also usually opt for another traditional activity — visiting a few Disney characters. I can't imagine there is a Disney character my children haven't met, but if they ask to visit their friends, we usually join the queue.
Speaking of queues, most Disney World attractions have exits near the boarding platform for guests who change their minds about riding. Kids who know they do not want to ride can use this option and still experience the queue and inside of an attraction. My son is fascinated by the workings of the rides, both big and small, so this is a good deal for him. And with the trend to make more Disney World queues interactive, the wait actually is an experience for him. The ride only takes minutes, so he's not missing out on much time with his family.
Another recent initiative at Walt Disney World has introduced more scavenger-hunt-like activities that guests can do with little to no wait. Phineas and Ferb: Agent P's World Showcase Adventure takes guests on missions through different countries at Epcot. Disney officials have announced that a new treasure hunt will debut in the Magic Kingdom this summer: A Pirates Adventure: Treasure of the Seven Seas. It joins Sorcerers of the Magic Kingdom, which allows guests to battle villains in the various lands of the iconic park. With the Sorcerers game, players use cards to apply different skills in battle, and the cards are collectible.
Collecting Disney memorabilia certainly appeals to my son. In addition to his set of Sorcerers of the Magic Kingdom playing cards, he also has AllEars.Net trading cards and several pin lanyards. He and his sister both enjoy talking to cast members and then trading their pins when we visit the parks.
Special events at Disney World also offer alternate experiences for less-daring children. Who wouldn't want to trick-or-treat through the Magic Kingdom at Mickey's Not So Scary Halloween Party or see Santa in the seasonal parade during Mickey's Very Merry Christmas Party? Both of my children look forward to the garden of miniature fairy houses and topiaries and, of course, the fantastic playground that can only be found at the Epcot International Flower and Garden Festival.
Every once in a while, I get my hopes up when my son mentions he might try a ride that he previously had blacklisted. I can't help thinking if he would just get through it once, he would enjoy it. And I'm not talking about Space Mountain here, but rather Soarin' or even Pirates of the Caribbean. I have offered incentives, such as the toy or treat of his choice in the park, to no avail.
It's tough to explain to friends why my son won't ride certain attractions. Clearly, he thinks there is something he won't like and is not willing to chance that occurring. Friends often think they can talk my son into getting on a ride when we're together at Disney World. They certainly are well-meaning, but if we, his family, can't get my son on a ride after 10 years, I very much doubt they will either. He has to make the decision himself and go on his own terms.
That's hard for parents to accept, but once we did, we've found that it doesn't have to prevent our family from having fun at the Disney parks. Exploring and seeking out different experiences has been just as magical as any Walt Disney World roller coaster. And my husband and I still take turns on the coasters with our daughter. Now, though, we all get to enjoy more of what the parks have to offer other than just the iconic rides, thanks to our son.
====================
RELATED LINKS
====================
Undiscovered Play Areas:
http://land.allears.net/blogs/guestblog/2012/03/have_you_discovered_these_outo.html
Interactive Experiences:
http://land.allears.net/blogs/kristin-ford/2012/06/phineas_ferb_attraction_opens_1.html
http://land.allears.net/blogs/guestblog/2012/02/kids_will_fall_under_spell_of.html
http://land.allears.net/blogs/dnews/2013/01/magic_kingdom_a_pirates_advent.html
Pin-Trading for Kids:
http://land.allears.net/blogs/kristin-ford/2012/07/tips_for_helping_your_kids_sta_1.html
Just Say NO… to Thrill Rides:
http://allears.net/ae/issue339.htm
-o-o-o-o-o-o-o-o-o-o-o-
Editor's Note: This story/information was accurate when it was published. Please be sure to confirm all current rates, information and other details before planning your trip.