2009 Disney's California Food and Wine Festival Winemaker Dinner
Steakhouse 55 Presents
An Evening With
Arrowood
Friday April 24, 2009
Review by
Laura Gilbreath
and
Debra Martin Koma
Amuse Bouche
La Rose, Lasseter Vineyards, Sonoma Valley
Spinach and Goat Cheese Empanada and Ahi Salsa on thin cracker
First Course
Signature Chardonnay, Napa County 2005
Poussin with English Pea, Arborio Porridge, and Herb Essence
Second Course
Merlot, Sonoma County 2005
Lamb Porterhouse with Creamy Couscous and Baby Garbanzo Beans
Third Course
Cabernet Saugivnon, Sonoma County 2004
Reserve Speciale Cabernet Sauvignon, Sonoma Valley 2004
American Kobe New York with a Steakhouse 55 Yukon Potato Stack
Fourth Course
Late Harvest White Riesling, Alexander Valley 2005
Roasted Pineapple Cheesecake with a Dry Apricot Ice Cream
Winemaker: Richard Arrowood
Chef d'Cuisine: Jason Martin
The Winemaker dinners, which are scheduled on Friday nights during Disney's California Food and Wine Festival, are one of the Festival's Signature Events. Taking place at Steakhouse 55 at the Disneyland Hotel, the dinners feature a four-course meal and wine pairings with each course.
This is our third year to attend one of the Winemaker dinners – every year it has been a great experience. A different winery is featured each time — the one we chose was Arrowood, held on the first evening of this year's Festival.
The event started at 6:30 p.m. We arrived a few minutes before that and checked in at the Steakhouse 55 podium. AllEars® Senior Editor Deb Koma joined us. We had requested to be seated together but found that the restaurant manager had not received the request and we had been assigned to different tables. Fortunately she had no problem in seating us together at an available table, and that was handled quickly. Though the web site tells you when you register to bring your printed confirmation to the dinner, this year they did not ask for it.
After we were seated I made sure they had received my request (submitted via email) regarding some dietary restrictions, and they said yes, that was no problem. One of the other ladies at our table is a vegetarian, and they accommodated her as well.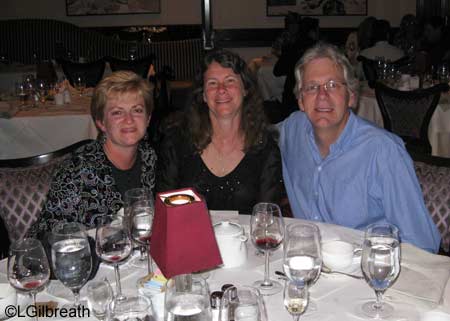 People seemed to be rather slow in arriving this year, so the servers were bringing out our first glasses of wine, the Arrowood La Rose 2008, as people arrived, rather than all at once. This was really excellent — it was light and refreshing but not sweet. The grapes are from the Lasseter Family Vineyards — yes, as in John Lasseter. (Deb Koma notes, "Not a big fan of rose wines, but this was fruity without being sweet — Arrowood suggested that it would pair well with grilled pork chops, and I can definitely see that. Might have to try to it this summer!"
Our amuse bouche (bite-sized appetizer) was also served a bit haphazardly. This was a spinach, brie and goat cheese empanada drizzled with a strawberry sauce, along with an ahi "salsa" on a light, thin cracker. Lovely to look at, and it tasted really good, too.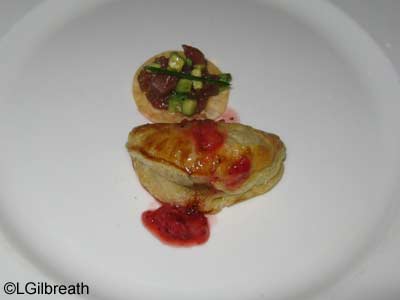 The dinner officially began with the introduction of the winemaster, Richard Arrowood. Apparently he very rarely does winemaker dinners any more, so we were very fortunate to be able to see him. He was a very engaging and entertaining speaker, and obviously loves making wine. Originally he intended to produce only Chardonnay and Cabernet Sauvignon, but, as he said, he "never met a grape he didn't like", and now Arrowood also produces Merlot, Viognier, Pinot Blanc, Malbec, Syrah and some late harvest wines. All of the grapes come from vineyards in Sonoma County, which has a number of diverse grape-growing areas.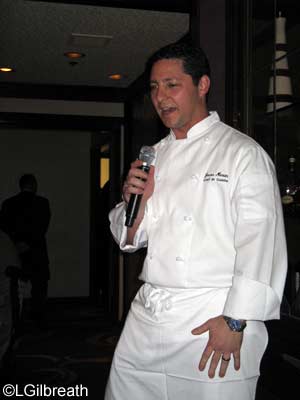 The wine served with our first course was the Arrowood Signature Chardonnay, Sonoma County 2005. Thankfully the once popular buttery, oaky Chardonnays are largely a thing of the past, and most Chardonnays now are made with a second malolactic fermentation, producing a much more crisp and acid wine like this one. I enjoyed it.
Richard Arrowood introduced Jason Martin, the chef d'cuisine at Steakhouse 55. Chef Martin has always been one of the highlights of this event for us — he's very enthusiastic and it's a lot of fun to listen to him talk about what he tasted in the wine that inspired him to prepare the dishes that he chose.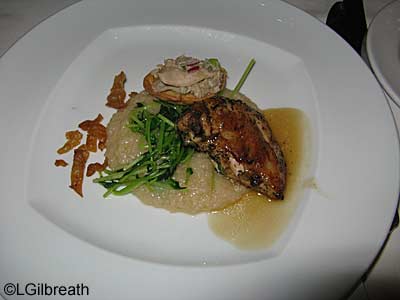 Our first course was Poussin with English Pea, Arborio Porridge, and Herb Essence. Poussin is spring chicken (as opposed to poisson, which is fish). This was the dish to clog the arteries — it was a confit made with thigh meat cooked in bacon fat. Then they made cracklings out of the skin to serve on the side, along with a poussin "salad" on a crisp wafer. Then there was the arborio porridge, which was really a creamy risotto. The English pea sprouts were nice and crunchy and just a little bit spicy. The entire course was really excellent — my favorite of the night.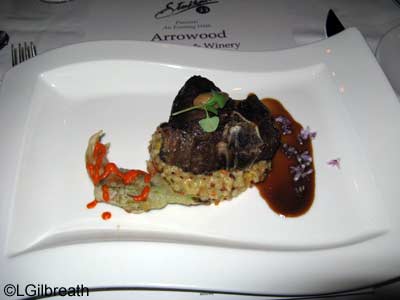 The second course was Lamb Porterhouse with Creamy Couscous and Baby Garbanzo Beans served with the Arrowood Merlot, Sonoma County 2005. The wine is 100% Merlot and not a blend, and all the grapes, which were certified organic, came from the Arrowood vineyards. I'd have to say this was the course that disappointed me the most. The lamb that I had was hard to cut and seemed tough, though it was served medium rare and didn't look overcooked. And merlot is just not a wine I enjoy very much — it's a little too harsh for me. The couscous was really good, though — when we saw Chef Martin after the dinner he told us that it was a mix of grains purchased at (ssshhh, don't tell anyone!) Trader Joe's! It was also served with a deep-fried squash blossom stuffed with red pepper, drizzled with red pepper aioli. (Deb Koma adds, "I loved a lot of the little touches with this dish — the micro basil garnish, the teeny-tiny garbanzo beans mixed into the couscous. My lamb was tender and flavorful, sorry, Laura, and the couscous was amazingly creamy. Yum! I do actually agree with you on the merlot, though — red wines are my favorites, but this merlot didn't leave much of an impression on me — I see that I actually made no notes about it at all.")
We received two glasses of Cabernet Sauvignon with the third course — the Sonoma County 2004 and the Reserve Speciale Sonoma Valley 2004. The food selection was American Kobe New York with a Steakhouse 55 Yukon Potato Stack. My tablemates enjoyed the beef, which was very tender and flavorful. I can't eat beef, so I received grilled pork instead, and it was excellent. We all enjoyed the potato stack, which was thin layers of Yukon Gold potatoes flavored with onions and gruyere cheese. (Deb Koma notes, "The first wine was actually a blend of malbec, merlot, petit verdot and cabernet sauvignon — that's not a bad thing, it was a terrific blend, in fact. Very "fruit forward" as they say, a nice sturdy cabernet that stood up well to the richness of the beef. The second wine, however, was made with 100 percent cabernet sauvignon grapes and, not surprisingly as it was a reserve wine, it was a much nicer selection. I loved its dark, rich color and aroma and even my fairly uneducated palate could detect the fruity flavors of currant. ")
| | |
| --- | --- |
| | |
Our dessert wine was the Late Harvest White Riesling, Alexander Valley 2005. Mr. Arrowood warned us that this was not an overly sweet wine, and he was right — for a late harvest wine it was very light but had a wonderful flavor, with just a little crispness to it.
The desserts were actually made by Jorge Sotelo, pastry chef at the Napa Rose restaurant, and so he came out to talk about them. He had concocted a Roasted Pineapple Cheesecake with a Dry Apricot Ice Cream. (Sigh… What do they have against serving chocolate at these dinners?) It was good, and complemented the wine very well, but I'm not a big cheesecake fan. I do have to say that the pineapple flavor was fairly subtle and not overwhelming at all, and the cheesecake was light. (Deb Koma says, "Yeah, what about the chocolate? I'm not a pineapple lover, by any stretch, nor do I care for sweet dessert wines — however, I dutifully tried both the cheesecake and the Riesling and have to admit that it was a nice pairing. The general rule is that your dessert wine should always be sweeter than the dessert, but in this case I'd say the two were about equally sweet. Still, they managed to complement each other well.")
| | |
| --- | --- |
| | |
The dinner was only supposed to go until 9:00, but we didn't finish with dessert and tea/coffee until after 9:30. It was a really excellent dinner and we had great service with good wines. The food courses were well-prepared and beautifully presented. The speakers were both excellent — it's obvious that they were both talking about something they were passionate about.
The price of the Winemaker dinners went up this year to $135, but we still feel that it's worth the price — this was our third, and we will be back for a fourth next year!
= = = = = = = = = = = =
RELATED LINKS
= = = = = = = = = = = =
Food and Wine Weekends General Information
What's New and Touring Tips
Festival Marketplace Menus and Prices
Sweet Sundays Review
Food and Wine Weekends Photo Gallery
If you have comments or tips to share with others about Disney's California Food and Wine Weekends, please email us. Thank you.