Buy the Book? Walt Disney World Guidebooks Reviewed
by Kristin B. Ford
AllEars® Staff Writer
Feature Article
This article appeared in the December 13, 2016 Issue #899 of ALL EARS® (ISSN: 1533-0753)
Editor's Note: This story/information was accurate when it was published. Please be sure to confirm all current rates, information and other details before planning your trip.
Planning a trip to Walt Disney World is exciting! Whether this is your first trip or your 25th visit, there is always something new at The Most Magical Place on Earth in Orlando, Florida. And while we at AllEars.Net strive to provide you with the most up-to-date information, tips and advice for maximizing your vacation time and dollars, we also think that Walt Disney World guidebooks are valuable resources and make great holiday gifts. With that in mind, here are my reviews of three of the most popular guidebooks. Each may appeal to a different type of traveler -- or you may want to buy more than one.
The Complete Walt Disney World 2017
My family and I long have been fans of the series of independent Walt Disney World guidebooks that are written and photographed by Julie and Mike Neal. The 2017 edition of The Complete Walt Disney World has just been released, and I would again recommend it to anyone planning a trip to the Orlando resort.
Certainly what first attracts the reader to this book is the plentiful gorgeous photography. There are more than 450 color photos in this special tenth anniversary edition. With such visual appeal, the guidebook almost could serve as a coffee-table book -- or at the very least, a great souvenir to help relive your vacation when you return home. My 14-year-old son, who has been to Walt Disney World too many times to count, has spent many enjoyable hours over the years studying these guidebooks.
But The Complete Walt Disney World is not just beautiful to look at it. It's also packed with valuable information that is organized in an easy-to-access format. Each ride and show is showcased on its own page or pages with a description, frank review and details such as hour-by-hour wait times and FastPass availability. And, there are some changes in the current guidebook to consider, as well.
The authors give readers the scoop on the new Star Wars and Toy Story lands coming to Hollywood Studios, including colorful concept art and maps of what's to come. In addition, this edition includes coverage of attractions and places that have opened since the 2016 edition was published: Frozen Ever After, Soarin' Around the World, Kilimanjaro Safaris at night, Mickey's Royal Friendship Faire, Skipper Canteen restaurant, Trader Sam's Grog Grotto bar, and the latest from revamped Disney Springs.
I noted in a review of a previous edition of this guidebook that I especially liked the swimming-pool information in the Accommodations chapter, and that is included here, as well. It has a description of every Disney resort swimming pool and compares it to the other pools. My family especially can appreciate this because the quality of the water slide where we are staying is of the utmost importance to my children.
Julie is a former Walt Disney World concierge supervisor and Florida resident who has spent more than 2,500 days at the resort, not counting her time working there. Her husband, Mike, is an award-winning graphic designer and photographer.
The Complete Walt Disney World 2017 list price is $24.95.
The Unofficial Guide: Walt Disney World 2017
The Unofficial Guide: Walt Disney World 2017 by Bob Sehlinger and Len Testa is a comprehensive independent guide to the resort. At more than 800 pages, this guidebook and its authors seriously strive to cover as many details and itineraries for different groups of visitors as they can. The authors readily admit this is an impossible task, but they still manage to do an admirable job.
Unlike many other guidebooks, The Unofficial Guide: Walt Disney World 2017 does not have any color photos -- or any photos at all. This may turn off a segment of readers, especially first-time visitors, because it is a lot of written information to absorb. But for those who want to become experts about Walt Disney World and who relish the details, this book is for you. That's not to say that the guidebook doesn't offer some graphics to break up the copy, because it does, but they mainly take the form of maps and diagrams.
One of the main selling points for this guidebook is the authors' recommendations for the order in which a guest should experience Disney attractions, otherwise known as touring plans. These suggestions are designed to save time and allow guests to more fully experience all that the theme parks have to offer. After all, time is money, right? And no one enjoys standing in long lines, no matter how interactive the queues are. Both the guidebook and Len Testa's TouringPlans.com and app, which cost $14.95 with an annual subscription, give specific touring plans. The website and app provide more updated information, which isn't available once a guidebook is printed, as well as additional touring plans, crowd calendars and in-park wait times.
So what exactly are touring plans? They are various itineraries that detail which attractions to tackle at rope drop and throughout the day in order to do the most with the least amount of time waiting around. The guidebook offers plans for single-day versus multiple-day visits, plans for adults with and without children, and even plans for early risers. The authors acknowledge critics who bemoan what they perceive as the loss of spontaneity in planning so much of their vacation by explaining that the Disney World experience has changed. If you don't plan ahead, you will not get to experience your preferred restaurants and you will spend a lot of time in lines that could have been avoided.
As a longtime annual passholder and Orlando resident, I wholeheartedly agree. You can deviate from your plans once you arrive at the resort, but failing to make plans is setting yourself up for a lot of frustration. Even if you choose not to follow a touring plan, you should book your maximum number of FastPasses as soon as possible, and this guidebook explains just how to do that in an easy-to-understand section.
Although touring plans may be what The Unofficial Guide: Walt Disney World 2017 is best known for, it is packed with other detailed information, as well. For example, the Accommodations section is so specific that it lays out the best rooms by room numbers and show diagrams of various floor plans. And in addition to covering all the hotels on Disney property, the authors give input on many hotels just off property as well as those at other Orlando theme parks.
Finally, readers who are planning to venture off Disney property will appreciate the thorough coverage of Universal Orlando and SeaWorld parks. This guidebook not only covers SeaWorld, but it also tackles Discovery Cove and Aquatica water parks. Plus, it gives Harry Potter fans all the specifics they need to know to see and do everything at the Wizarding World.
The Unofficial Guide: Walt Disney World 2017 retails for $19.99 in the United States.
Birnbaum's 2017 Walt Disney World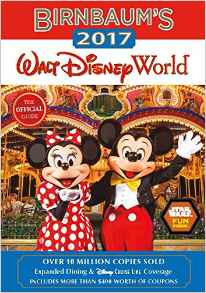 Birnbaum's 2017 Walt Disney World is the official guidebook of Walt Disney Resort and it is written and edited by cast members. You might think that fact alone would make this guidebook your best buy, assuming it is chock-full of insider information and advice to help you plan the best vacation possible. Unfortunately, that's just not the case -- at least in my opinion.
With its color photos, headers and text boxes, Birnbaum's is more visually appealing than The Unofficial Guide. But it doesn't come close to the gorgeous photography that dominates The Complete Walt Disney World. Birnbaum's feels a bit more chaotic and kid-centric with its liberal use of color, whereas The Complete Walt Disney World feels more like an upscale guidebook with its full-color photos. As I mentioned before, The Complete Walt Disney World easily could be enjoyed when you return home.
Perhaps more importantly, Birnbaum's offers very basic information about the resort. Of course, that's inherent with any guidebook that is trying to appeal to an audience of first-time and repeat visitors. But that basic information is all that Birnbaum's offers, unlike the other two guidebooks I reviewed. The authors of The Complete Walt Disney World and The Unofficial Guide have found ways to cover the basics while translating their years of visiting the theme parks into useful advice for those with varying degrees of experience at Walt Disney World.
Another feature that has potential but falls short is the dining section of the guidebook. The Restaurant Roundup, which consumes five pages, lists the "best of" for various categories, such "Best Place to Celebrate a Child's Birthday," "Best Fireworks view," "Best Pizza for Kids" and "Best Steak." There are 26 categories that really could be useful (and fun) for guests -- if they didn't feel like the Disney writers were trying to drum up business for less-popular restaurants. Some of the choices are spot on, but others left this reader scratching her head. Certainly, dining preferences are subjective, but I'm not sure what criteria were used for these rankings.
Birnbaum's does offer some exclusives in the form of coupons and a section about Disney Cruise Line. Both of these are good fits for the book, especially because The Walt Disney Company sells land and sea packages for travelers who want to experience the resort and a cruise in the same vacation period. I also like that there are a couple pages at the back of the book where planners can jot down notes. However, there isn't enough space to make these pages truly useful. Adding journal-style pages truly would make the guidebook more valuable and one that consumers would revisit again at home -- and perhaps start planning their next Walt Disney World vacation.
I was disappointed to see that Birnbaum's removed for 2017 one of its exclusive features that most definitely was a selling point for me (and others). For several years, the guidebook included Kingdom Keepers Quests. For those not familiar with the term "Kingdom Keepers," it comes from a popular series of books by the same name from author Ridley Pearson. The Kingdom Keepers are students who protect the theme park from Disney villains, known as Overtakers in the books.
In 2011, Disney Youth Programs launched the first Kingdom Keepers Quest, a tour that Pearson helped design to create an immersive experience for the series' fans at Magic Kingdom. Because that program also has educational components -- such as building skills in problem solving, creativity, language arts, mathematics and critical thinking -- it is only offered to groups of students.
Fans like my son, who weren't visiting the Magic Kingdom with their schools, though, had no such opportunity, so the self-guided adventures were created with Pearson's input. In 2012, the first individual tour took Kingdom Keepers fans through five quests in the Magic Kingdom. The next year, a quest at Animal Kingdom was added to Birnbaum's.
Birnbaum's 2017 Walt Disney World retails for $19.99 in the United States.
The bottom line
As an annual passholder with more than a decade of visiting Walt Disney World frequently, I do not need a guidebook. For several years, I forked over $20 just for the Kingdom Keepers Quests in Birnbaum's Walt Disney World. With that feature gone and other exclusives not added, I would be reluctant to buy the guidebook. If I needed a guidebook, I would purchase The Complete Walt Disney World 2017 or The Unofficial Guide: Walt Disney World 2017 -- or both -- as holiday gifts.
DISCLAIMER: I received a copy of "The Complete Walt Disney World 2017" to review. This did not affect my article; my opinions are my own. AllEars.Net purchased copies of The Unofficial Guide: Walt Disney World 2017 and Birnbaum's 2017 Walt Disney World for this article. AllEars.Net founder Deb Wills is listed as a contributing writer for The Unofficial Guide: Walt Disney World 2017.
= = = = = = = = = = = = =
RELATED LINKS
= = = = = = = = = = = = =
You can shop for Walt Disney World and other Disney Parks guidebooks and more in the AllEars® Amazon Store.
Look for other holiday shopping ideas in the AllEars® CafePress Store.
Read more by Kristin Ford in her AllEars.Net blog, "A Mom and the Magic."
-o-o-o-o-o-o-o-o-o-o-o-
Editor's Note: This story/information was accurate when it was published. Please be sure to confirm all current rates, information and other details before planning your trip.