The D23 Expo 2013
by Debra Martin Koma
AllEars® Senior Editor
Feature Article
This article appeared in the August 13, 2013 Issue #725 of ALL EARS® (ISSN: 1533-0753)
Editor's Note: This story/information was accurate when it was published. Please be sure to confirm all current rates, information and other details before planning your trip.
I just flew in from Anaheim (insert "and boy, are my arms tired!" joke here) and am trying to assemble my thoughts on the extensive three-day event known as the D23 Expo.
Billed as the Ultimate Disney Fan Event, the Expo is meant to cover every aspect of The Walt Disney Company imaginable. There are exhibits representing the theme parks, consumer products, animation, live action films, television, video games, music, memorabilia... the list goes on. It's an all-encompassing Disney aficionado's dream come true, everything Disney, all in one place.
But if you had asked me in August 2011, after the last D23 Expo, whether I would be attending the 2013 event, my answer would have been an unequivocal NO. After D23 Expo 2011, I was exhausted and exasperated, not to mention completely disillusioned. The event had had several significant flaws in the way it was structured and organized, so that I, like many attendees, had spent hours waiting in unimaginably long lines to get into panel discussions or presentations only to be turned away due to capacity crowds. In addition, there was an overriding air of confusion, with the rules seeming to change not just every day, but every hour, especially where the media was concerned. Despite being a die-hard Disney fan, I really had no desire to repeat the experience in 2013.
Still, in much the same way that mothers of multiple children tell me that they forget the trauma of childbirth between deliveries, I forgot the pain and suffering of D23 Expo 2011 and decided to sign up again when I started seeing the advertisements for 2013.
So there I was, on August 9, last Thursday, about to set foot once again inside the Anaheim Convention Center. Would I be griping and grousing by the end of the day? I wondered. Or would I be laughing and light-hearted, filled with the Magic of Disney once more?
The answer is: a little of both.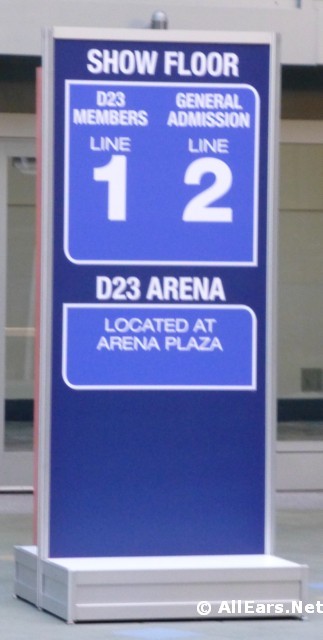 From the moment I approached the convention, I noticed a difference -- there was plenty of signage, making it clear where to enter the building for each group of Disney fans: Sorcerer Pass guests (who had paid $1500 for their three-day, carte blanche tickets that guaranteed them entry and VIP treatment throughout the event); D23 Members; and regular guests. That already was an improvement and showed that Disney had indeed learned from the previous two Expos, which had the chaotic crowds confused as to where to wait and where to enter.
I also noticed that the flow of traffic seemed to be better thought-out. The main entrance to the show floor had been moved, as had several other areas on the show floor, such as the Collector's Forum. This area, which featured a variety of vendors, from art and booksellers to travel agents to those selling assorted memorabilia and services, relocated from its former home into a much bigger space on the opposite end of the convention center, close to the Disney Dream Store. Nearby, there was a food court, along with items on display for the Expo's "Silent Auction." This seemed to concentrate most of the "shopping areas" on one side of the building, leaving exhibitors and demonstrations the other half of the floor. Panels and presentations were again on the upper floors. All things considered, this seemed to allow the steady stream of people to move around pretty well, and also eliminated the need for zig-zagging around the floor if you had only one area of interest. If all you wanted to do was buy merchandise, for example, those areas were concentrated in one spot, for the most part.
A major enhancement to the Expo this year was the addition of StagePass. Those familiar with the concept of FastPass at the Disney Parks know how getting a FastPass "timed ticket" can minimize the amount of time you spend waiting for an attraction. In the same way, D23 Expo attendees were able to get StagePasses to particular presentations or panels which guaranteed their entry, so that they could spend their time elsewhere on the show floor, instead of sprawled on the floor in an endlessly winding queue for a panel that they might or might not get into. Several members of the AllEars.Net Team used StagePass and found it to be an organized and efficient process, even if they occasionally had to wait as long as 25 minutes in that line. Still better than several hours of uncertainty spent sitting idly on an uncomfortable hallway floor.
I also found that the Expo organizers had established an "overflow" room for the major presentations that were to be held in the 4000-seat D23 Arena. For the first time, the presentations would be simulcast in the overflow room, allowing up to an additional 2000 fans to experience them. This was a vast improvement over the previous D23 Expos, which found many disappointed attendees turned away from these "premier" events.
One thing that I had truly appreciated at the earlier Expos was the way they seemed to strive to please everyone: young and old; male and female; Disney geek and casual Disney fan. There was something for every sort of Disneyphile. This aspect of the Expo didn't change this year -- and I'd venture to say that even in this area things were a little bit better, especially on the show floor.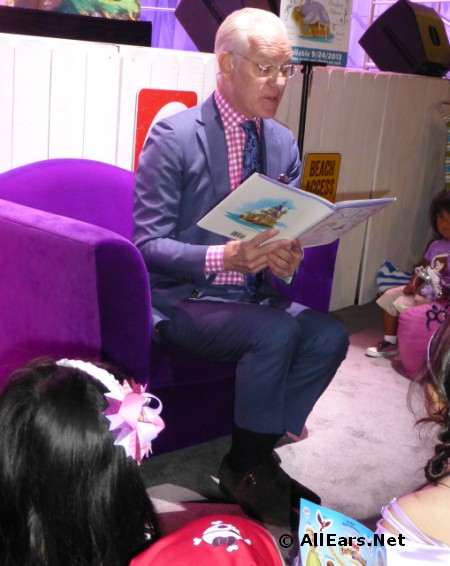 The youngest Disney fans enjoyed the Disney Junior presentations, especially those held on Sunday morning. The meet and greets for some of the newest Disney Junior characters (Sofia the First, Doc McStuffins and Jake and the Never Land Pirates), who also now appear in the Disney Parks, were overrun with little princesses and pirates (not to mention some older ones in elaborate costumes as well). Appearances by celebrities who provide the voices for some of the characters, such as Project Runway's Tim Gunn and comedian Wayne Brady (Baileywick and Clover respectively on the show "Sofia the First") only served to make the experience as enjoyable for accompanying parents -- even if the kids just wanted to get their photos with Sofia!
Younger teens ate up the special performances by up-and coming-acts, such as girl-group Fifth Harmony, band R5 (featuring teen heartthrob Ross Lynch) and singer and Disney Channel star Bridgit Mendler. Also popular with the younger set (as well as many adults) were the ubiquitous Phineas and Ferb, who were featured in a space on the plaza at the entrance of the convention center. There, visitors could play with the evil Dr. Dooferschmirtz's newest contraption, "The Waffle-inator" -- a 40-foot high interactive game featuring flying waffles, set up to promote the TV crossover special, "Phineas and Ferb: Mission Marvel," which finds Phineas and Ferb teaming up with the Marvel Super Heroes.
For attendees of the male variety (and, let's not be sexist, some females like yours truly) there were lots of Marvel-themed and Star Wars displays, with Darth Vader costumes and props from some of the films. There was also a tantalizing Star Wars display in the Journey into Imagineering pavilion, which featured mysterious boxes labeled "light sabers," "Top Secret Plans," and "Project Orange Harvest." As an added bonus, the little droid R2D2 was on hand posing for photos, and even though no one was dishing details about what it might all mean, it certainly teased and implied that the Imagineers are working on SOMEthing Star Wars-related now that Disney has acquired Lucasfilm.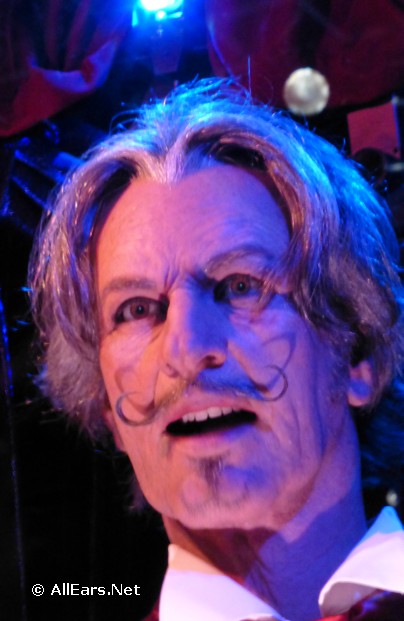 And about the fascinating Journey into Imagineering pavilion -- I could have spent all day in there! The pavilion celebrated 60 years of Imagineering in the parks and resorts and Disney Cruise Line, was the ultimate place for a Disney geek to geek out. (See the intro video at http://youtu.be/rcJ0EzW68H0.) Booth after booth in this area was filled with amazing technology that is either already operational or in development. One thing that captured my interest was the return of the fortune-teller animatronic, The Amazing Destini. Those who attended the 2011 Expo may recall how this miniature robot was equipped with facial recognition software that allowed him to identify a subject standing in front of him and then carry on a fortune-telling conversation. We also got to see the next generation of Destini – the more fully realized El Fortuno. Reminiscent of the Zoltar fortune-teller in a box that you used to find at old amusement parks or on a boardwalk, El Fortuno is an amazingly detailed audio-animatronic that can not only recognize a figure in front of him, but has facial tics and fine movements and a very witty sense of humor. (And he was able to get AllEars.Net's Laura Gilbreath to dance, quite an achievement! Watch for that video and more on the Imagineering pavilion in our upcoming blogs, but in the meantime you can see my 15-second Instagram video of El Fortuno in action here: http://instagram.com/p/czW-eci6IS/.)
Another exhibit in this pavilion featured some artifacts supposedly gathered from the Imagineers' recent "research" trip to Pandora, the imaginary land introduced in the film "Avatar." Although cast members didn't reveal anything new about the "Avatarland" project that's in development for Walt Disney World's Animal Kingdom, the mere presence of this little display confirmed that work is progressing and has not been abandoned has some rumors have suggested.
For girls, young and older, there were a number of specialty areas in the Disney Consumer Products pavilion – you could have your make-up done, for example, or try out the new Royal Disney Princess Salon app and have your hair coiffed. There was also a photo op exhibit promoting the upcoming Disney Fairies film, "The Pirate Fairy," which will feature the voice of Mad Men's Christina Hendricks. Upstairs, in the "Treasures of the Disney Archives" exhibit, there was a collection of beautiful gowns, inspired by the Disney princesses and created by well-known fashion designers (Valentino, Oscar de la Renta, among others), in conjunction with Harrod's, the famous London department store.
Speaking of the Archives exhibit, I should mention that this was one area of the Expo that I and many other hard-core Disney fans found lacking this year. Yes, they had an outstanding tribute to the film "Mary Poppins," which is celebrating its 50th anniversary next year. As a Poppins devotee, I must say that several of the items on display brought sentimental tears to my eyes. But the other parts of the exhibit -- the costumes from the upcoming film, "Saving Mr. Banks" and Disney Channel's recent "Teen Beach Movie", along with pieces from the obscure "Return to Oz", seemed out of place in an exhibit usually devoted to true "treasures" in the Disney universe.
While many of the panels and programs on Friday and Saturday were interesting enough to pique the curiosity of most Disney fans, I must admit that Sunday's programming left a little to be desired. Sunday historically has been the quietest day of the Expo, and this year was no exception. While there were four Imagineering panel discussions throughout the day, beyond that there was little for those Disney fans looking for something more substantial than Disney Junior or Radio Disney presentations. This would have been a good time for a program on, say, the Disney Cruise Line, which was not very well-represented this year at all. As a result of this sort of lightweight programming, the convention center seemed less busy on Sunday, which was reflected in the plentiful seating for all the other sessions taking place that day.
For those whose only interest in Disney is the company's film and television projects, there was ample opportunity to get your fill of sneak previews and insider info, as well as satisfy your urge to see stars. As I said, the show floor was littered with exhibits touting the just-released "Planes," the upcoming "Frozen," the aforementioned "The Pirate Fairy," the cute and cuddly "Super Buddies," the uber-popular "Once Upon a Time" and much more. There were also major presentations in the convention center's arena, which not only featured extended previews of upcoming releases, but plenty of star power. Among those actors who graced the stage during the Expo: Tom Hiddleston, Kristin Bell, Idina Menzel, during John Lasseter's presentation on the animated features and Oscar-winners Angelina Jolie, Sir Anthony Hopkins, and Natalie Portman, along with Chris Evans, Ty Burrell, BJ Novak and Jason Schwartzman representing the live action films. Throughout the weekend there were also appearances on the show floor and in other panels. I've already mentioned Tim Gunn and Wayne Brady, and the musical performers, but there were also: former 'N Sync singer and current Live Well Network host Joey Fatone; "Monsters University" actors Billy Crystal and John Goodman, who were among those honored at the Disney Legends ceremony; actor Jack McBrayer, formerly of television show "30 Rock"; and of course all the Disney Imagineers and Disney Artists, who were available for autographs and meet-and-greets.
This brings me to what I found to be the most exciting of the presentations at this year's Expo -- the two major evening programs. During the past Expos, the evening programs were always signature events -- last Expo, for example, I was lucky enough to attend the amazing evening with Dick Van Dyke and his singing group the Vantastix. This year, both Friday and Saturday featured musical programs that promised to be equally fantastic, and I must say that they delivered, whether your interest was as a Disney fan, or as a fan of contemporary music.
Friday night's program, Broadway and Beyond, was hosted by Disney Theatrical president Thomas Schumacher, who walked us through the history of Disney on Broadway and the stage, and featured actors from several of Disney's Broadway productions: Heidi Blickenstaff ("The Little Mermaid"), Merle Dandridge ("Aida," "Tarzan"), Alton Fitzgerald White ("The Lion King"), Josh Strickland ("Tarzan") and Ashley Brown ("Beauty and the Beast" and the original Mary Poppins). The program could easily have gone on much longer than its scheduled 90 minutes, as Schumacher entertained with a number of amusing anecdotes and behind-the-scenes stories. The performers, especially standout Strickland, gave powerful renditions of songs from more than a half-dozen shows, including "Tarzan," "The Lion King," "Newsies," "Beauty and the Beast," "The Little Mermaid," "The Hunchback of Notre Dame" (possibly coming to the stage soon!), and my personal favorite, "Mary Poppins" -- with an emotionally charged performance of "Feed the Birds" by Brown. Where were my tissues when I needed them? All in all, it was a winner of an evening that I'll cherish for quite some time.
The following evening, The Disney Songbook program featured special performances by legendary composers and multiple Oscar-winners Richard Sherman and Alan Menken. As any Disney fan worth their salt can tell you, Sherman, along with his late brother Robert, is responsible for some of the most memorable Disney music of all time, ranging from the ignominious "it's a small world" and other theme park themes like "In the Tiki Tiki Tiki Tiki Tiki Room" to movie scores such as "Mary Poppins," "The Jungle Book," and "Bedknobs and Broomsticks." Menken's catalogue is equally impressive, encompassing the scores for films including "The Little Mermaid," "Beauty and the Beast," "Pocahontas," and "The Hunchback of Notre Dame," and stage shows like "Newsies." Though the men did not perform together, each played extensively from their bodies of work, sharing many little stories to give some background of how the music evolved. Again, a most enjoyable evening, which I think was appreciated by everyone who loves music -- and I don't just mean DISNEY music.
As you can see, I felt that the D23 Expo was better than it has ever been before, offering so much to experience for every type of Disney fan that there is -- and I didn't even get around to everything that was on offer. Yes, I did still see crowds at times, and heard about disappointed fans being shut out of programs that they had waited on for hours. I also heard about mix-ups and mishaps at the merchandise locations and found myself frustrated at a few things that were poorly organized or a result of one D23 "hand" not knowing what the other was doing. But overall my own gripes were few and far between, and I found that I enjoyed this Expo much more than I had the previous two.
Interestingly, despite rumors that D23 Expo 2013 might be the last such event, Disney CEO Bob Iger announced during the Disney Legends ceremony that there WILL be a D23 Expo in 2015.
Will I be there? If it's going to be anything like this year's event, the answer is: Most Definitely.
(DISCLAIMER: I attended the D23 Expo as a member of the working media with a press credential, however the opinions expressed in this article are my own.)
-=-=-=-=-=-=-=-=-=-=-=-=-=-
RELATED LINKS:
Several members of the AllEars.Net team were at the Expo last week, covering the various programs and events. Watch for additional blogs, photos and videos on the Expo from Deb Wills, Deb Koma, Laura Gilbreath, Lee Zimmerman and Jeanine Yamanaka on AllEars.Net in the coming days.
Laura Gilbreath's Daily D23 Expo Journal:
-- D23 Expo 2013 - Day 1
-- D23 Expo 2013 - Day 2
-- D23 Expo 2013 - Day 3
Menken and Sherman Q & A: Together Again for the First Time
D23 Expo 2013 Press Releases:
http://land.allears.net/blogs/dnews/d23_disney_fan_club/d23_expo/

RELATED VIDEOS:
Introduction to the 2013 Disney Legends ceremony:
http://youtu.be/_th713jxlPE
Deb Wills' Exclusive interview with Imagineer and newly minted Disney Legend Tony Baxter:
http://youtu.be/APrMKX6bRcc
Early concept model of Spaceship Earth:
http://youtu.be/S7D5YwRyB6w
Concept model of the Land pavilion:
http://youtu.be/bm2se5Ch8Yc
-o-o-o-o-o-o-o-o-o-o-o-
Editor's Note: This story/information was accurate when it was published. Please be sure to confirm all current rates, information and other details before planning your trip.