Line 'Em Up! Embracing the Queue
by Alice McNutt Miller
AllEars® Feauture Writer
Feature Article
This article appeared in the May 21, 2013 Issue #713 of ALL EARS® (ISSN: 1533-0753)
Editor's Note: This story/information was accurate when it was published. Please be sure to confirm all current rates, information and other details before planning your trip.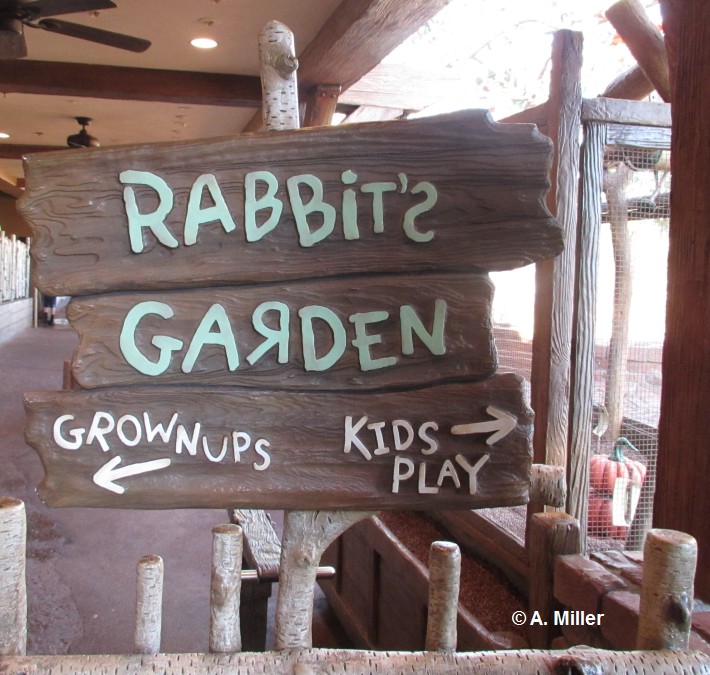 Several of my friends who have gone to Disney World on only one or two occasions have told me that they are not interested in ever going back, mostly because they can't stand waiting in long lines. Many of them took their first trips during the busiest times, ignored FastPass, and sauntered into the parks "once everyone was up" at about 11 a.m. As a result, the lines for attractions became overwhelming, and they basically gave up. I don't love standing in long lines, either. The Miller Family has about a 30-minute cut-off for what we are willing to endure in order to wait for even a favorite ride. At less busy times, the cut-off is closer to 20 minutes. Let's face it though, even for the most seasoned Disneyphiles, there are times when you just can't avoid queuing up. Here are some reasons why you just might want to embrace the queue.
Fun guest interactions. During a recent visit to the World, when I travelled by myself, was missing the rest of my family and was faced with either very short or nonexistent lines, I found myself thinking about the fun times we had had together during some of our waits. On our first visit to Disneyland Paris, we were waiting in a very long line for the newly opened Crush's Coaster at the Walt Disney Studios Park. There is no FastPass for this ride, so if you want to ride it -- and you DO (I think this is my all-time favorite ride in all of the Disney Parks that I have visited) -- you have no choice but to wait in line. As we waited, my girls started playing a game where they slapped their hands together in a complicated pattern. The family behind us, who were speaking Spanish, also had a pair of young girls. When those girls saw what ours were doing, they began their own game, which was similar, though different, and of course the chant was in Spanish. Pretty soon, both sets of girls where having a kind of competition between themselves with their separate, but parallel, playing of the games. They were laughing hilariously. My husband looked at me, smiling, and said, "The international language of little girl hand-slapping." The other girls' father also smiled and laughed. (Obviously he understood our English, which was another reminder that even though the people next to you in line are speaking another language, that does not mean that they don't know what you are saying. Not a good idea to make jokes about someone's improper footwear, if they are in earshot, ever.)
Enhanced family communications. One of the most interesting advantages of being stuck in line with your family is that this will give you a captive audience. As parents of teenagers, my husband and I find that we have less and less time to spend with our kids, as they run from one activity to another. Our Disney vacations are treasured time together, and time spent standing in line means time to capture our girls' attention and to have some meaningful (or even not-so-meaningful) conversations with them. When they were younger, standing in line was somewhat stressful ("Oh sweetie, be careful not to intrude on that nice lady's space." "Please don't sit on the handrail. You might fall over backwards and crack your head open."). Now that the girls have (mostly) mastered the art of queue etiquette, we spend less time reprimanding and more time relaxing. Conversations flow naturally from necessary time spent in close proximity to one another. We find ourselves laughing with one another and listening to one another.
The perfect opportunity for a do-it-yourself scavenger hunt. In addition to conversation, why not introduce scavenger hunts? Many of the ride queues are full of hard-to-spot Hidden Mickeys and obscure references to Disney films. Tuck a copy of "Hidden Mickeys: A Field Guide to Walt Disney World's Best Kept Secrets" or "From Screen to Theme: A Guide to Disney Animated Film References Found Throughout the Walt Disney World Resort" (both available in the AllEars® Amazon Store) into your backpack, and challenge family members to find the references. Make a friendly family competition of it and award prizes (Mickey ice cream bars and frozen bananas fit the bill).
Time to smell the roses (and notice the details). The Disney Imagineers have taken the time to build fantastic back-stories into many of the attractions throughout the World. Many of the details for these back-stories can be found in the queue areas. If you take the FastPass route or hurry through the regular queue to get to the attractions, you may miss many of the details that go into the rich and layered storytelling that make the attractions so much more than mere amusement park rides. If you don't know what the back-story for a particular attraction is, try to piece it together from the clues placed along the path. Or, do a bit of research in advance, remind your family of what the story is, and take turns telling each other what each element you see adds to that story.
The ability to sing your favorite songs out loud, without looking silly. Well, you might look silly, but really, who cares? Sing! I am not a singer (I was once asked to please just mouth the words to all of the songs, when I was mistakenly cast in my college production of "Brigadoon!"), and I usually admonish my family members (including my husband) not to sing in public places, but Disney World is a big exception. If you can't sing your favorite Disney songs here, then where can you? And why not, while standing in line? Try singing all of the songs that you can remember while that are related to the attraction you are waiting for. You may even engender some of that fun interaction with other guests.
I would like to make an audacious suggestion to you, gentle reader. Next time you visit Walt Disney World, choose one line that is longer than you usually like to stand in, just one, and embrace the experience. Skip the FastPass. Skip the Single Rider Queue, and just wait. Wait either quietly by yourself or play a boisterous game with your children. Take time to admire all of the intricate details that the Imagineers worked so hard to bring to you. Search for Hidden Mickeys. Take the time to really talk to your kids, spouse or traveling companion, and listen to what they have to say. Slow down.
Here are a few attractions (in no particular order) where I don't mind waiting in the line:
Magic Kingdom
The Many Adventures of Winnie the Pooh: This line provides lots of things for little (and big) hands to do and explore while waiting in line. Turn a crank and watch vegetables pop up in Rabbit's garden, move the busy bees along their track, swish "honey" back and forth to make gooey pictures on a screen. This queue area is one of the first where the Imagineers tried to truly integrate an interactive play area into the wait for a very popular ride. Definitely skip the FastPass if the wait is less than half an hour. The signs will direct kids in one direction, toward the play area, and adults in another, but don't be afraid to decide that you are really a kid, and go play, yourself.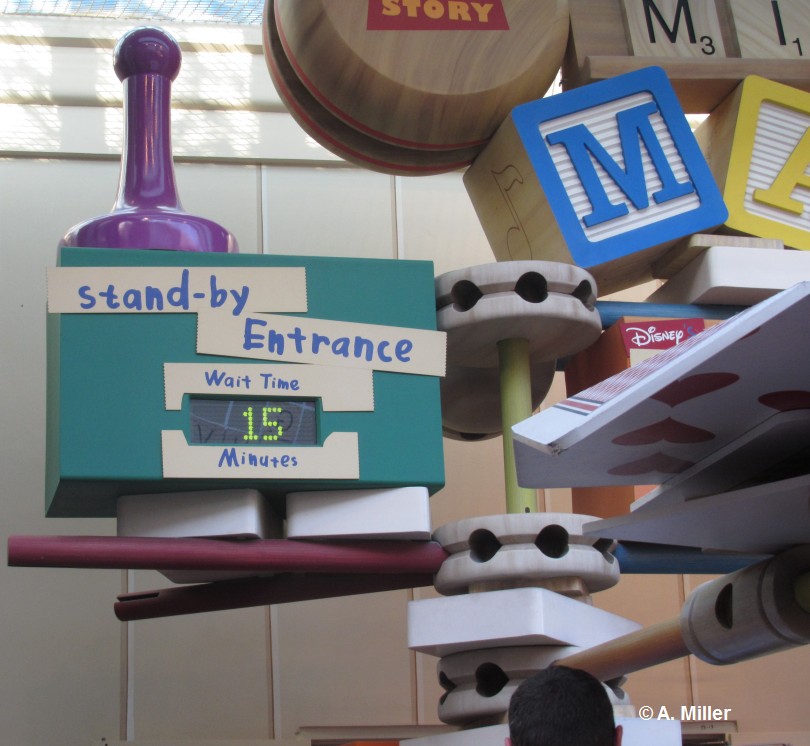 Dumbo: The newly imagined double Dumbo in the Storybook Circus section of New Fantasyland has hit on an innovative wait time experience for this perennially popular attraction. Instead of waiting in line, guests are given a buzzer similar to what you are given in restaurants to indicate that your table is ready. Head to the great (covered and cool) play area, until it is your turn to ride. Even when the lines are short, parents may want to stop to let their kids blow off some steam before taking off with the flying elephant.
The Haunted Mansion: The sign above the split in the line specifies only "Entrance" to the right, and "Entrance Through Cemetery" to the left. Stay left and you will walk through a very well-themed interactive graveyard. Push in haunted books that don't want to stay on the shelf, play ghostly musical instruments and peruse clever epitaphs as you stroll. My experience is that it usually doesn't take much longer to take this side trip, and it is a whole lot of spooky fun.
Hollywood Studios
Star Tours: Take the time to peruse cool droids, intergalactic vehicles and other items that could have been used as props in the movies. Several of the droids speak, and unless you slow down, you may not hear the jokes and suggestions for your upcoming "tour." I particularly like the portion of the queue showing luggage being scanned. If you slow down to take in the details, make sure to stand aside, so that other guests can move past.
Toy Story Midway Mania: I love this queue area. The entire room is constructed of larger-than-life vintage toys, many of them that I remember from my childhood. (I guess that makes me vintage, too.) Barrels of monkeys, Tinker Toys, Lincoln logs, Chutes and Ladders, an Etch-A-Sketch, and of course, Mr. Potato Head are all there to help spur you to tell very boring stories of your long-ago childhood to your own offspring (who might rather play with their own new, high-tech toys while waiting, but that should be gently discouraged).
Animal Kingdom
Expedition Everest: The queue here, decorated with memorabilia from a base camp set up for explorers looking for the fabled Yeti, is amazingly detailed. I wonder how many of the artifacts are real, and how many were created especially for the attraction. I've gone through this queue a number of times, even when lines are short, and still don't think I've seen even a tiny fraction of what it there. Just make sure to stay to the side if you are looking closely at something, so that other guests in a hurry to get to the ride can move past you. You will miss most of these wonders if you utilize the FastPass on this ride.
Epcot
Test Track: I used to love the old Test Track queue, where all kinds of exhibits and information were presented on the testing of automobiles for various safety and performance standards. I haven't actually done the stand-by queue for the new version, so I can't really comment, but from what I have read, the ability to build and test your own vehicles sound really cool.
====================
RELATED LINKS
====================
Hidden Mickeys:
http://allears.net/btp/hiddenm.htm
Find several of the books Alice mentions in the AllEars® Amazon Store:
http://astore.amazon.com/debsunoffiwaltdi
=-=-=-=-=-=-=-=-=-=-=-=-=
ABOUT THE AUTHOR:
Alice McNutt Miller is a lifelong Disney fan whose fondest childhood memories include "The Wonderful World of Disney" on Sunday nights and her first trip to Disneyland when she was 10 years old. Alice and her family are Disney Vacation Club members, and have visited Disney parks all over the world. They live in Vienna, Virginia.
-o-o-o-o-o-o-o-o-o-o-o-
Editor's Note: This story/information was accurate when it was published. Please be sure to confirm all current rates, information and other details before planning your trip.