A Year of Disney Memories
by Debra Martin Koma
Senior Editor, AllEars®
Feature Article
This article appeared in the December 22, 2009 Issue #535 of ALL EARS® (ISSN: 1533-0753)

There comes a time every December when I hit the wall, holiday-wise. I just get overwhelmed with all the decorating, baking, and buying that is expected of me. Ugh. When did the holidays get so programmed? I begin to feel like Charlie Brown who, in the animated classic "A Charlie Brown Christmas," says, "I think there must be something wrong with me, Linus. Christmas is coming, but I'm not happy. I don't feel the way I'm supposed to feel."

That's exactly how I was feeling the other day when I realized I simply HAD to sit down and start writing out my Christmas cards. It was past the middle of December and I hadn't even begun to sort through my photos. You see, every year, I send a sort of recap of the year to family and friends along with a card -- not a letter exactly, just a collection of photos that show the highlights of the year. Snapshots, if you will.

As you might imagine, since I do this AllEars® newsletter and AllEars.net website gig, a lot of my photos are from Disney-related trips. So those are the photos I draw from, at least initially.

This year, feeling more like the Grinch than Santa, I turned on my computer and opened up my photo folder to start to choose pictures to illustrate the year. But guess what? I surprised myself. I found much more than just pictures. In fact, I found my holiday spirit once again.


I mean, look at this photo to the left (http://allears.net/btp/fam_castle.jpg) -- my husband, son and I at the Magic Kingdom back in late February. How could that not make me feel better? What a happy memory! We had mainly made the trip to Walt Disney World for ESPN The Weekend, sports being our son's big passion. And oh, how we indulged that passion. We saw great athletes like Rickey Henderson, Tony Dorsett, and Kurt Warner, as well as ESPN personalities like "Mike and Mike." Our son was in his glory, soaking up every bit of sports-related news he could find. But we also had to dart over to the Magic Kingdom's Tomorrowland, to Buzz Lightyear's Space Ranger Spin to be exact, so we could vanquish the Evil Emperor Zurg once and for all! Again. We all love that ride and HAVE to go on it several times every trip to WDW. Judging from the satisfied looks on our faces, we must have whipped Zurg good!

Oh, and this next photo, to the right (http://allears.net/dlr/tp/dca/fw09/fw09arrow10.jpg) -- it's me with my dear friend and AllEars® Disneyland Correspondent Laura Gilbreath and her husband Lee Zimmerman at a special dinner during Disney's California Food and Wine Festival back in April. I've known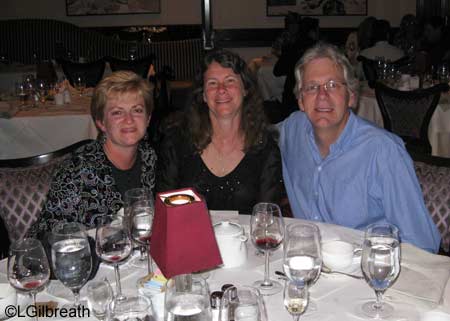 Laura 10-plus years and even though she makes trips out to the East regularly, she's been bugging me to visit her in her natural habitat (that would be Southern California) for, oh, 10-plus years! OK, I did make the trip once back in 2001, but hadn't been back since, so this visit was especially special. Laura and I had the opportunity to attend a special media event at Disneyland and Disney's California Adventure -- I even got to stomp grapes! -- and once our work was done, we were able to play in the parks and have a little fun, too. In this photo, we'd just had the most amazing winemaker's dinner at Steakhouse 55 at the Disneyland Hotel, and had been chatting with chef Jason Martin. Pay no attention to all those empty wine glasses in front of us... despite them (or maybe because of?) we had a fabulous time!

Awww, then there's this one http://allears.net/ae/xdessert.jpg What the heck is THAT? You may well wonder. Well, it's what that dish represents that's the story, not what it is. Or, I should say, what it was. It's the remains of what was an absolutely wonderful dessert at Portobello over at Downtown Disney. Deb Wills, Jack Marshall and I visited this recently renovated restaurant along with our good friend Kenny back in early June. We had a great meal, but we got so carried away with our conversation and playing with the women who were sitting outside at the table on the other side of the window from us, that we totally forgot to take a photo of the dessert when it arrived! Sorry, AllEars® readers! So much for our comprehensive reporting. We laughed at ourselves over that until our stomachs hurt -- or maybe it was just because we all overate... It was just one memorable moment of many that I have from spending time with some of my favorite people during that trip, which marked the opening of the Treehouse Villas at Saratoga Springs.

Here I am again! (http://allears.net/tp/ep/fw09/fw09_pfs21.jpg) This time all alone, enjoying the Wine View Lounge at the Party for the Senses back in September. But don't feel sorry for me -- I wasn't totally bereft, as I did have some friends there to save me from my isolation in the fenced-off lounge. And anyhow, sometimes being alone in Walt Disney World is just what the doctor ordered. While I explored all the various aspects of this year's Food and Wine Festival by myself, I had the opportunity to meet many of you -- AllEars® readers were everywhere, and I just love those impromptu meetings, where we have the chance to chat in such a relaxed way. I met a family from New York just walking around the World Showcase food booths, I met a couple from California at one of the culinary demos, I met a local couple at a wine tasting. It's such a thrill to hear from you all this way -- thanks for taking the time to say hello and share your thoughts and ideas with me -- you all really enriched my trip. Yes, I find traveling in Walt Disney World on my own to be a great change -- gives me a chance to explore at my own pace, do what I want to do when I want to do it (and I think you moms out there especially will understand how important that can be, right?). I find that such a trip recharges my mental batteries -- and it's a happy memory of a completely different kind.


Now, this next photo (on the right http://land.allears.net/blogs/debwills/D23-0913_9.jpg) is one I never expected to get -- it's me with Bandleader Mickey at the D23 Expo in California in September. That's a character you don't see every day in Walt Disney World, that's for sure. And what an amazing experience that Expo was! Not only did I get to see some fantastic Disney-related programs, but I saw celebrities like Donny Osmond and Courtney Cox (but missed Johnny Depp!), I met Lucky the Dinosaur and Wall-E, had an evening at Disneyland, plus I spent time with some of my very favorite people -- Deb Wills, Hidden Mickeys guidebook author Steve Barrett and his wife Vickie, Beci Mahnken and some of the other MouseFanTravel agents, and Laura and Lee again. I wasn't sure if the D23 Expo would be worth another trip out to California (my second in one year, that is), but it SO was. I had a fabulous time.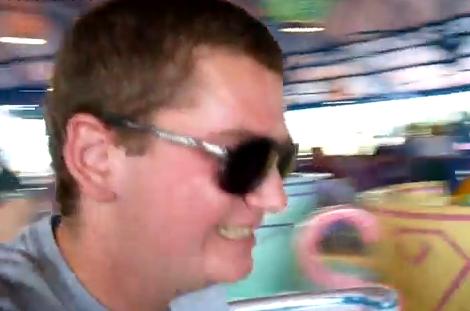 Finally, I came across this photo on the left (http://allears.net/ae/teacups09.jpg) from my family's trip to Walt Disney World in November. Look at my son's face as he's spinning us around in that teacup as fast as he possibly could! I laughed so hard I was crying -- I don't think I've ever been dizzier! This is a very happy memory that will have to tide me over during the long coming weeks next fall when he heads off to college. In fact, the whole trip is something I'll look back on fondly for some time to come. As far as family trips go, it was almost idyllic -- my husband didn't have to field any frantic phone calls from work, the weather was perfect, the stress factor low. Family vacations don't get much better than that. We dined at Victoria and Albert's for the first time to celebrate my landmark birthday belatedly (don't make me say which one, just know that it had a "5" and a "0" in it!) and we capped the trip off with the three of us taking the Segway Around the World tour in Epcot. None of us crashed and there were lots of giggles, even from the teenager who had been dubious that such "forced family fun" was going to be worth his time. It was an amazing shared experience we couldn't have had anywhere else. I know it was very special to me -- I think my husband and son felt the same.

At the end of that photo tour of my Disney year, I realized that I don't feel quite so Grinch-like. In fact, I feel more like George Bailey in "It's a Wonderful Life," when the angel Clarence tells him, "George, you really have had a wonderful life."

Yep, I'm lucky. Really lucky. Thanks, Disney, for reminding me of that.
Now I remember how I'm supposed to feel at the holidays. Grateful. Grateful for family and good friends, grateful that I'm able to visit Walt Disney World so often, and grateful that I'm able to be a part of such wonderful experiences in such a wonderful place.
And NOW I remember why I do all the baking, buying, and decorating. Not because it's expected of me. No. I do it to make the holidays as special for my family and friends as they make my life each and every day.

Walt Disney World, and Disney in general, have played such an instrumental role in my life -- not only brought so many special people into my life over the years, but helped to create extraordinary memories for me and those I love. I have led, and do lead, a wonderful life. And this is the perfect time and way to celebrate that.

Happy Holidays to all of you, with best wishes for a healthy and prosperous New Year -- and for many, many more fabulous Disney memories. From me, my family, and from the entire AllEars.Net Team!
===================================
ABOUT THE AUTHOR:
Debra Martin Koma fell in love with Walt Disney World on her first visit there -- when she was 34! She's returned to her Laughing Place more than four dozen times in the ensuing years, and still isn't tired of it. And doubts she ever will be. Read more of her writing for AllEars® here:

http://allears.net/btp/dkoma.htm
-o-o-o-o-o-o-o-o-o-o-o-
Editor's Note: This story/information was accurate when it was published. Please be sure to confirm all current rates, information and other details before planning your trip.