Camping in Heaven: Fort Wilderness
by Gary Cruise
AllEars® Guest Columnist
Feature Article
This article appeared in the September 8, 2009 Issue #520 of ALL EARS® (ISSN: 1533-0753)
At least twice a year my wife Carol and I pack up all our gear in our motor home, hook our bicycles and tow-car on the back, load Zak and Zoe, our two Shetland Sheep Dogs and begin the 1,410-mile trek from our home in Canada to our favourite campground. Disney's Fort Wilderness Resort and Campground is unlike any other campground we have ever visited.>
During our leisurely four-day trip to "The Fort" our excitement builds as we anticipate yet another Disney vacation. We notice changes in the countryside as we move further south. We are always excited to see those first palm trees in South Carolina and the orange juice at the Florida Welcome Centre at last tells us how close we are!>
But at the same time our Disney enthusiasm is growing, we slowly begin to "mellow out" knowing that we will soon be enjoying the relaxed pace that we have come to enjoy there. When we fly to Walt Disney World and stay in any of the other Disney resorts we tend to hit the ground running each morning and spend the entire day and evening in one of the theme parks. We return to the resort only to fall into bed and rest up for the next day of park hopping. There is no rest for us until we return home... but this is not the case when we visit "The Fort."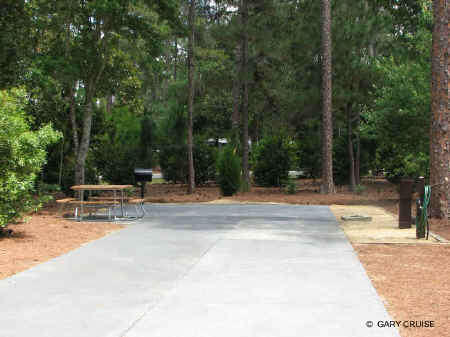 As we enter Fort Wilderness and pull up to the security gate a cast member (aka security guard) gives us a warm greeting and a "Welcome home!" For us, this is where the magic really begins. I am sure that many years ago, when Walt and the Imagineers were designing the Magic Kingdom, Walt said, "Build me a campground that duplicates a fort from the days of the pioneers on the western frontier." And that's exactly what they built. You are quickly transported to another world, and that's where you make your vacation home.

From the security gate you take a short drive forward to "The Outpost", a log and timber drive-through registration area that replicates the main gate of that old western fort. The theming is consistent throughout the resort, winding tree-lined roads, wooden rail fences, wood footbridges; even the shelters at the bus stops are rustic log structures.

Once we have registered and been assigned our campsite we pull through to the convenient "unhook area" where we disconnect the tow-car and take both vehicles to our camping loop. Once we are at our campsite we really begin to relax and soak in the ambiance. It is a calming place, very serene; the pace is slow and easy. We know that will be surrounded by friendly people who share our passion for Disney. There is a real sense of community here!

It doesn't take long to transform the campsite into our unique home. Almost all of the 799 sites have a level concrete pad, water, sewer, cable TV and electric connections with a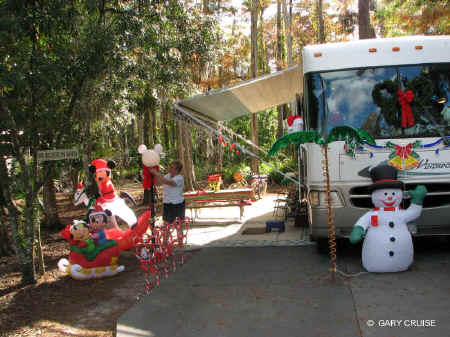 clean, modern "comfort station" nearby. The comfort stations contain restrooms, showers, a laundry, an ice vending machine, a house phone and a posted list of daily activities. Once all our RV connections have been hooked up, we begin to unload our barbecue, lawn chairs, doo-dads and decorations -- "Aaaah – now we're home!" The last thing to set up is our Mickey Mouse lamppost. Every avid Disney camper just has to have one of these!

What is there to do at "The Fort?" The short answer is "Plenty." The campground covers more than 700 acres of pine and cypress forest and has 799 campsites plus 409 wilderness cabins arranged in 20 campsite loops and eight cabin loops. There are three main roads through the campground and two large areas for shopping and recreation. You enter the campground by passing through the area called "The Outpost" and follow Fort Wilderness Trail toward "The Settlement." Along the way you pass "The Meadows." It's one mile from The Outpost to The Settlement.

At The Meadows you will find a trading post, the bike rental barn, swimming pool, water slide, kiddie splash zone, hot tub, tennis courts and Chip & Dale's Theater where the nightly campfire and sing-along is followed by a marshmallow roast and a movie under the stars.

At The Settlement you will find another trading post, Trail's End Buffet, which offers both dine-in and take-out options, Pioneer Hall ( home of the Hoop-Dee-Doo Musical Revue), a guest services office where you can make dining reservations, Crockett's Tavern and Tri-Circle-D Ranch, where all the horses that work in the Magic Kingdom are stabled. At the nearby Fort Wilderness Pavilion you can take part in Mickey's Backyard BBQ, a festive character dining hoedown featuring live music and dancing. In front of Pioneer Hall you can take a ride in a horse-drawn carriage or wagon. Each of the trading posts carries a variety of basic groceries, camping supplies and, of course, Disney souvenirs.

Just a few steps beyond Pioneer Hall you find the beach and marina on Bay Lake. At the marina you can rent a SeaRaycer or a pontoon boat or charter a boat for some "catch and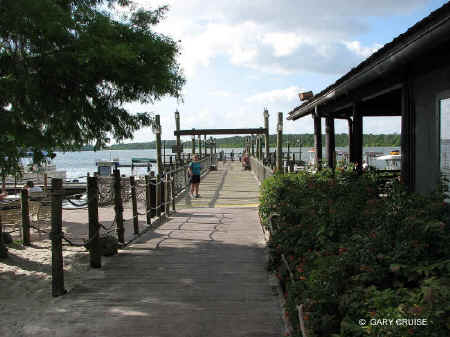 release" fishing. At the dock you can board a boat and enjoy a scenic ride to the Magic Kingdom, the Contemporary Resort or the Wilderness Lodge. The boats run every 20 minutes.

At the Outpost you will find the main office where you can rent a golf cart, a guest services desk where you can make dining reservations, an internet cafe, the dog kennel and the Trail Blaze Corral where you can pick out your horse and take a trail ride. The bus stop is also located here. Those arriving from theme parks transfer from the "park bus" to a "campground bus" to return to their campsite. There are three different bus routes within the campground with bus service every 20 minutes.

Those Wilderness Cabins I mentioned earlier, well, they're not really all that wild! They look like a rustic log cabin on the outside but inside they have all the amenities of regular resort guest rooms plus a fully equipped kitchen. They each sleep at least six people in complete comfort.

The campground has a number of rivers, streams and canals running through it and you will often see people fishing along the shore. Just remember, it's "catch and release" only and there is no fishing from docks or bridges.

With so much to do at the campground and with the theme parks and water parks so close by, you are probably wondering, "How do they ever relax?" Well, we do! Believe it or not, there are days where we don't visit a theme park, we simply stay and enjoy the campground. Our neighbours are all certified (or certifiable?) Disney nuts just like us, so there's always someone to chat with. We take our bicycles along with us and often take a leisurely ride around the grounds. We like to explore and there are some very interesting spots to see if you go looking for them. There are plenty of walking trails and lots of designated "dog walk" areas, many of them along the rivers and canals. Zak and Zoe enjoy the dog walk trails where they often see deer, rabbits, armadillos and, of course, squirrels, which are their favourites. Near the entrance to the 300 loop is a children's playground and beside it is the Doggie Park, an enclosed "off-leash" area where dogs can run free.

So a typical day in paradise for us begins with a light breakfast in the motor home before we head off to one of the parks. Sometimes we have lunch at the park before we head back to The Fort, or sometimes we eat at our campsite, but we always head back to be with the dogs for the afternoon. We walk the dogs, ride our bikes, go to the pool or take a nap -- whatever we feel like at the time. We usually head back to a park for the evening and take in the different atmosphere the parks seem to take on at night. When we have the dogs with us, it forces us to head "back home" in the afternoon and we have come to relish the slower pace that comes with this pattern.

I haven't mentioned the decor at The Fort. Sometimes it is simply amazing! I'm not talking here about Disney decor; I'm referring to what we, the campers, do. Many of the campers take great delight in decorating their campsites for the season. Our first trip to The Fort was in December and the Christmas decorations absolutely astounded us. The subtropical forest is transformed into a Christmas panorama. Lights are strung everywhere, inflatable displays twirl, trees are hung with stars, lights and of course Hidden Mickeys. Some campsites are even covered with snow -- it is truly spectacular! But it's not only at Christmas; they also decorate for Halloween, Thanksgiving, St. Patrick's Day, almost any excuse will do. We are normally there every April for the Epcot Flower & Garden Festival and Carol decorates our campsite with flowers -- lots and lots of flowers! >
I suspect that the decorations have caused the activity frequent campers at The Fort refer to as "looping." This simply means walking, riding your golf cart or your bikes around the camping loops to admire the decorations. The other campers are almost always ready to chat about their display and before you know it, they will probably be going by your campsite on one of their looping treks. This is one of the activities that really adds to the sense of community at The Fort.

There are also some "extra special" things to do at The Fort that you will probably not read about in any of the guidebooks. For example, just before 9 p.m. go to the take-out window at Crockett's Tavern and pick up your favorite adult beverage. Take it with you to the beach beside the marina and find a comfy spot to sit. You will have a great view of the Wishes fireworks display at the Magic Kingdom (the soundtrack is piped in), then just moments later you will have another treat as the Electrical Water Pageant passes in front of you. Disney magic at its finest.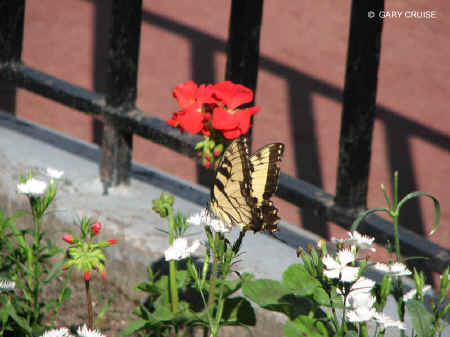 Here's another suggestion -- take the "Exercise Trail" that begins near the Tri-Circle-D Ranch and the Settlement Bus Stop, and after about a mile ends at the Wilderness Lodge Resort. This easy-walking trail wanders through pine and cypress forest, draped with Spanish moss and it is teeming with wildlife. You are almost guaranteed to see a few wild deer. . . and many other critters!

And my last suggestion, stop at the Outpost and enjoy the gardens surrounding the main office beside the entry gate. This garden was designed to attract butterflies and you will see them flitting and fluttering everywhere. You will often see Cast Member Tom there, tending his garden. Tom loves his job and is always happy to show you around. He will point out some Monarch butterfly caterpillars and some chrysalis around the gardens and will even tell you how to attract butterflies to your gardens at home!

At other campgrounds you can play horseshoes, shuffleboard, bingo or go to a potluck dinner in the recreation hall, but The Fort offers so much more -- and those fabulous Disney theme parks are just next door. It really is like camping in heaven!

So, if you haven't been to Fort Wilderness, come on over for a visit. Walk around the campground -- do some "looping!" Sit for a few minutes in a rocking chair on the veranda at Crockett's Tavern and quietly absorb the serenity. We think it's the best resort on earth and we'd be glad to show you around!>
===================
ABOUT THE AUTHOR

Gary Cruise is a retired banker who lives in Kingston, Ontario, Canada. He first visited Walt Disney World in 1977 and has returned many, many times over the years. Since retiring several years ago he and his wife Carol enjoy the parks a number of times each year. They especially like staying at Fort Wilderness Resort and Campground with their two dogs.
===================

RELATED LINKS:

Fort Wilderness FAQ: http://allears.net/acc/faq_fw.htm

Fort Wilderness Photo Gallery: http://allears.net/acc/g_ftw.htm

Fort Wilderness Campground Reader Reviews: http://land.allears.net/reviewpost/showproduct.php?product=15&cat=3

Fort Wilderness Cabins Reader Reviews: http://land.allears.net/reviewpost/showproduct.php?product=518&cat=3

Fort Wilderness Blog Photo Tour:
http://land.allears.net/blogs/guestblog/2009/02/disneys_fort_wilderness_dizney.html

Fort Wilderness Railroad:
http://land.allears.net/blogs/jackspence/2009/07/fort_wilderness_railroad.html
-o-o-o-o-o-o-o-o-o-o-o-
Editor's Note: This story/information was accurate when it was published. Please be sure to confirm all current rates, information and other details before planning your trip.