Attraction Recycling at Its Best
by Mike Scopa
AllEars® Feature Writer
Feature Article
This article appeared in the June 9, 2009 Issue #507 of ALL EARS® (ISSN: 1533-0753)
A good idea can last a long time...it will never die or fade away. Such is the case with a few Disney attractions. The best example of this is in Walt Disney World's Magic Kingdom, specifically in Fantasyland.
When Walt Disney World opened on October 1, 1971, the only theme park in operation at the time was The Magic Kingdom. On that day, one of the theme park's Fantasyland attractions also making its debut was the Mickey Mouse Revue. This was one of those attractions that was loved by anyone who had a favorite song from one of the many Disney animated features.
Besides being a very entertaining show, the Mickey Mouse Revue was also somewhat of an informational attraction, as the pre-show spent a considerable amount of time educating the guests on the extraordinary coupling of Disney animation and song over the years. Long time Walt Disney World veterans may recall that this attraction was very dedicated to the legacy of Disney animation and paid homage in the pre-show to Disney classics such as "The Band Concert" and "Orphan's Benefit," among others. (Remember my reference to "The Band Concert" as I will come back to it later).

During the Mickey Mouse Revue pre-show guests were treated to many of the historical animated features and the soundtracks that accompanied the feature. Among those features were such favorites as "Lonesome Ghosts," "The Brave Little Tailor," and, of course, "Fantasia" (notably the Sorcerer's Apprentice segment).
But it's the main show that I recall best.
I remember that the main show included an animatronics orchestra ensemble of Disney characters, led by Mickey Mouse. During the main show certain animatronics would be featured and these animatronic characters would entertain the guests with a signature song from their animated feature. As was the case with some attractions, the Mickey Mouse Revue was also aided by film clips. My strongest recollection of this attraction is of watching an animated shadow of Cinderella dancing with Prince Charming while listening to the song "So this is Love" playing throughout the theater. I'm getting ahead of myself.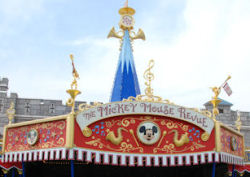 The show began with a medley of Disney classics. After the medley, certain animatronics were featured such as the Three Little Pigs performing "Who's Afraid of the Big Bad Wolf," Snow White singing, "I'm Wishing," The Fairy Godmother singing "Bibbidi Bobbidi Boo," and even Brer Fox, Brer Rabbit, and Brer Bear singing "Zip-a-Dee-Doo-Dah." The main stage was constantly changing to allow the showcasing of certain characters to perform for their feature song. At one point one portion of the stage would transform itself into a scene from Alice in Wonderland as Alice and the Flowers sang "All in the Golden Afternoon."
To me this attraction was a staple for the Magic Kingdom and when I first saw it in 1975 I felt that the Mickey Mouse Revue should have been grouped along with such E-ticket attractions as Pirates of the Caribbean, Jungle Cruise, Country Bear Jamboree, Haunted Mansion, it's a small world, Space Mountain and the now-retired 20,000 Leagues Under the Sea.
The Mickey Mouse Revue closed in the fall of 1980 and was packed up and eventually moved to Tokyo Disneyland, where it was recently retired. For years I've often wondered why the decision was not made to just make another rendition of this attraction for Tokyo and keep this one at Walt Disney World.
I missed the Mickey Mouse Revue. I always felt that an attraction of that type always had a place in a Disney theme park, especially the Magic Kingdom. I also imagined such an attraction with music and song should be designed to encourage audience participation, sort of like a sing-a-long. Why not have song lyrics dance across the stage on some screen while the song is playing?
After two dark years the building/theater that housed the Mickey Mouse Revue became the home of Magic Journeys, opening its doors in December 1987 and lasting six years at its Magic Kingdom location before saying farewell in December 1993.
Originally an EPCOT attraction, Magic Journeys was a 3-D film with a haunting melody that attempted to show its viewers how the world is seen through the eyes of a child. Magic Journeys' original home was in EPCOT at Future World's Magic Eye Theater where it made its debut in 1982, at Epcot's opening. In 1986 Magic Journeys departed from the Magic Eye Theater to make way for Michael Jackson's Captain EO.
Once again, the Fantasyland theater was to go through another transformation. Luckily for me, I happened to be at Walt Disney World in July 1994 when this theater opened its doors to its third attraction tenant, Legend of the Lion King, which was an amazing and well-received attraction. The Legend of the Lion King was designed very much in the same way as the Voyage of the Little Mermaid attraction in Disney's Hollywood Studios. The attraction used a mix of live puppetry and film segments to tell the story of Simba and it was done beautifully.
The puppeteers used recorded dialogue and songs from the film to entertain the guests. I often thought how exhausting it was to perform this show. I found out that approximately 80 puppeteers were needed to meet the requirements of performing this show...a show that produced some 210 live performances each week. Phew. I remember at the end of my initial visit to this attraction of rising to my feet with the entire audience and giving a standing ovation to all the puppeteers. Think about how well Voyage of the Little Mermaid is done and triple that...that's how good this attraction was.
The days and years for this attraction, however, were numbered. Far off in another part of Walt Disney World work was frantically taking place that would result in the opening of a fourth Walt Disney World theme park, Disney's Animal Kingdom. With Disney's Animal Kingdom slated to open along with an attraction known as "Festival of the Lion King" it was understood that Legend of the Lion King would not coexist with its Animal Kingdom colleague. The attraction closed in February 2002.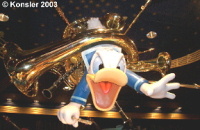 Once again the theater that began with the Mickey Mouse Revue was looking for yet another tenant. The new tenant moved in during October 2003 and is still there today. This tenant of course is Mickey's PhilharMagic, a 3-D sensory-filled journey through the Disney animated films of the last two decades and their signature songs.
This attraction showcases a wondrous CGI (Computer-generated Imagery) animated film and provides the audience with not just 3-D thrills, but also some sensory experiences that, in some guests' eyes, make the theater the real star of the show. Imagine, smelling apple pie during "Be Our Guest" from Beauty and the Beast or getting splashed by the enchanted brooms from the "Sorcerer's Apprentice" segment.
If you are familiar with the animated short "The Band Concert" then you will see some familiarities between that animated Disney classic and portions of Mickey's PhilharMagic. Also, if you have had the opportunity to see Legend of the Lion King in the early 90s you may also see some likenesses of that attraction within this one as well.
The most interesting aspect of Mickey's PhilharMagic is that it represents the coming around full circle of a very good idea, an attraction focused on the legacy of Disney music, be it from long or recent past. The Mickey Mouse Revue was appropriate in its time. The songs were a celebration of Disney music from the long past and the attraction and animatronics technology at the time of the opening of Walt Disney World provided guests with a most enjoyable attraction. Fast forward three plus decades and what do we have but an upgrade if you will of this idea with Disney songs of recent years, brought to life through the wonders of computer graphic images and sensory manifestations via Mickey's PhilharMagic, in the theater in which the Mickey Mouse Revue made its debut in 1971.
So here we have a good idea that eventually came home to its roots or at least to the theater in which it was originally born. Good ideas like the Mickey Mouse Revue sometimes get recycled into attractions like Mickey's PhilharMagic.
Can you think of any other instances in any theme park where such good ideas evolved over the years?
===================================
Related links:
Mickey's Philharmagic: http://allears.net/tp/mk/mk_phil.htm
Tokyo Disneyland's Mickey Mouse Revue: http://land.allears.net/blogs/jackspence/2008/08/fantasyland_part_2_tokyo_disne_1.html
=============
ABOUT THE AUTHOR:
Mike Scopa has been a huge Disney fan for as long as he can remember. He first visited Walt Disney World in 1975 and has returned many times (how many? he's lost count!) since. Mike is a contributor to the Unofficial Guide to Walt Disney World and Cara Goldsbury's Luxury Guide to Walt Disney World, and has served as keynote speaker for the 2006 and 2007 MagicMeets. He is also co-host of the WDWTODAY Podcast and writes a regular blog, The View from Scopa Towers, for AllEars.Net:
http://land.allears.net/blogs/mikescopa
Other AllEars® articles by Mike Scopa: http://allears.net/btp/mikescopa.htm
-o-o-o-o-o-o-o-o-o-o-o-
Editor's Note: This story/information was accurate when it was published. Please be sure to confirm all current rates, information and other details before planning your trip.