East Meets West
by Debra Martin Koma
AllEars® Senior Editor
Feature Article
This article appeared in the May 5, 2009 Issue #502 of ALL EARS® (ISSN: 1533-0753)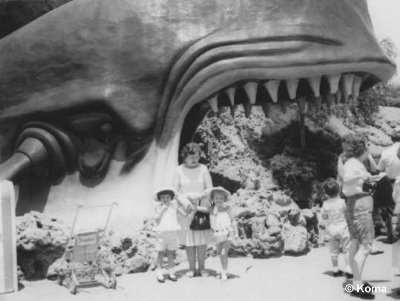 I recently spent a long weekend out in California, specifically at the Disneyland Resort. As a native East Coaster who frequents Walt Disney World in Florida, this was an interesting experience, even though it was not my first trip to the West Coast Disney Parks. (My last visit was in 2001, so a lot -- a lot -- has changed since then.)
My very first Disney experience ever was in fact at Disneyland. I was nearly 4 years old, and my parents and grandparents took me. I remember -- or at least I've been told about it so often I *think* I remember -- a very few things from that trip, supported by a few grainy black and white photos. (Yes, I am THAT old.) There's a cute picture of me standing in front of Monstro the whale from Pinocchio -- can you see how fierce he was then? with his pointy teeth, and no railing to separate us from his toothy menace! I distinctly recall being terrified that we were being swallowed as our Storyland Canal Boat glided into his awaiting open jaws. But aside from that, and a random recollection of riding in Casey Jr.'s Circus Train, most of that trip is fuzzy and I never really had a desire to return to Disneyland after that.
My 2001 trip was a one-day whirlwind through Disneyland and the then-new Disney's California Adventure with my son. We were led by our friend Laura, who expertly guided us around the parks and made sure we saw all the must-sees. Well, at least all the must-sees that my not-so-adventurous 9-year-old would allow. If I'm honest, that trip is rather a blur as well, and I left feeling that Disneyland was nice enough, but Walt Disney World was much, much better.
But while those trips are now vague memories that left me with the impression that Disneyland was a much smaller, much paler version of Walt Disney World, this time the Happiest Place on Earth "took." Maybe it's because I spent the better part of one day on my own, finding my way from the Disneyland Hotel, through Downtown Disney and then to the parks and all around them. Maybe it's because I actually got to soak in the atmosphere and experience the parks more fully. Yes, maybe it was because I was there longer than 12 hours. Whatever the reason, this time I definitely saw and felt the magic there that escaped me my previous visits.
There's an odd deja vu -- a feeling that you've been here before -- when you walk down Main Street USA at Disneyland. Everything is so familiar, except when it's not. Oh sure, the storefronts all LOOK the same, but what the heck is Le Chapeau doing over there? And why is the bakery is on the wrong side of the street? And look -- they've changed Casey's Corner to the Refreshment Corner. How very odd.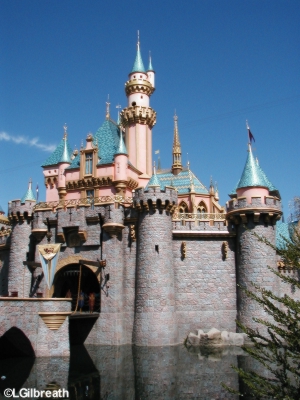 Then you reach the end of Main Street and gaze up at the castle. Except you don't have to really look up that much to see Disneyland's quaint Sleeping Beauty Castle -- because it's not really that elevated. It's just right there, in front of you. And it's -- I hate to say this because I know I'll incite some anger, but it's true -- it's small. Far from the cool and somewhat imposing blue-gray beauty that is Walt Disney World's Cinderella Castle, this Disneyland counterpart is... tiny. Cute. Pink. And somehow totally enchanting, warm and welcoming in its less grandiose presence.
As you survey the rest of the landscape at Disneyland, there are a lot more instances of that deja vu accented by a sudden, "Whoa! What's THAT doing there?" Like when you look to the right of the castle and you see a big old snowy mountain -- the Matterhorn! Or when you're wandering out of Adventureland and suddenly find yourself smack dab in the middle of -- New Orleans? How did you end up there? Like Bugs Bunny would say, "I shoulda taken that left turn at Albuquerque!"
But it's those little differences that make Disneyland interesting, and keep a veteran Disney World visitor on his or her toes -- it would be rather boring if Disneyland was an exact replica of the familiar Magic Kingdom at Walt Disney World, wouldn't it?
Aside from the landscape, the attractions and restaurants, too, give you a chance to feel at once at home and in a different world. Haunted Mansion for instance -- I knew that the exterior is different at Disneyland, but inside, you actually walk past the haunted portraits that change in a lightning flash, whereas in Florida you are already seated in your Doom Buggy when you go past them.
I found myself walking through Pinocchio's Village Haus Restaurant in Fantasyland feeling quite at home, only to be bewildered when I exited into... Frontierland? After giving myself a mental shake and remembering where I really was, I was fine, but for an instant there I was starting to doubt myself.
To recap, for those who've not been to Disneyland Resort, here are some of the main differences (note that due to space constraints, I can't include EVERY variation):
What Disneyland has that Walt Disney World doesn't:
-- two additional lands in Disneyland: New Orleans Square and Critter Country
-- one whole park: Disney's California Adventure
-- additional attractions: Fantasyland's Alice in Wonderland, Casey Jr. Circus Train, Mr. Toad's Wild Ride, Pinocchio's Daring Journey, Storybook Land Canal Boats, and of course the Matterhorn; Tomorrowland's Finding Nemo Submarine Voyage; Toontown's Roger Rabbit's Car Toon Spin, Gadget's Go Coaster; Adventureland's Indiana Jones Adventure; Aladdin show; California Screamin', Maliboomer, Orange Stinger; Mike and Sulley to the Rescue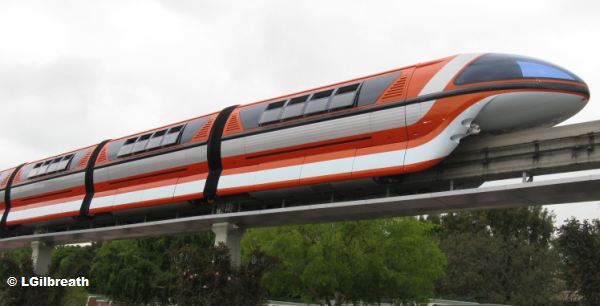 Some of the same but different (themes, names, etc.):

-- Star Tours, but it's in Tomorrowland
-- Haunted Mansion and Pirates of the Caribbean, but they're both in New Orleans Square
-- Splash Mountain and Winnie the Pooh, but they're both in Critter Country
-- Toy Story Midway Mania, but there's no Fastpass -- No Fastpass? What were they thinking?
-- Twilight Zone Tower of Terror, but it's in California Adventure
-- Mulholland Madness -- really Primeval Whirl, without the whirl
-- Grizzly River Run -- a longer version of Animal Kingdom's Kali River Rapids
-- the Monorail, but it's newer, sleeker and doesn't go as far
So besides these little differences, how did I, as a frequent Walt Disney World-goer find visiting, really visiting, Disneyland to be?
I must say, I loved it. I loved that I could walk easily from Disneyland to California Adventure and back to the hotel so quickly and easily. I loved the sleek new monorail, even though I didn't get a chance to ride it -- they look super cool! I loved the newness of California Adventure, and was excited by all the change I see happening there.
Sure, I missed Epcot and Animal Kingdom, but Disneyland and California Adventure had their own charms that made up for what I was missing.
What did I see in California that I would like to see in Florida's parks? Well, I loved California Screamin' (I am still a huge coaster girl at heart) and I think the Indiana Jones Adventure is fun, but we have coasters and Dinosaur in Walt Disney World, so maybe we can live without those in Florida, too. But if I had my druthers, there were a few things I'd like to see brought eastward:
1. The Aladdin show. It was simply amazing. Talk about a no-expense-spared production! My only regret is that I ended up in the balcony -- seeing the trapdoors and behind the sets takes away a little bit of the magic. But only a little. It is still an amazing show. There's really nothing comparable at Walt Disney World right now -- the Finding Nemo show is probably the closest, but it's really nowhere near as elaborate -- there's no flying carpet, or roaming elephant, or cast of multiple genies strutting down a spiral staircase ala Broadway extravaganza.

2. The Zoetrope. It's just one of those little things, but how cool is it? If you don't know what a zoetrope is: it's a device that produces an illusion of action or animation from a rapid succession of still pictures. In the Animation Building, the nearly floor to ceiling zoetrope features Toy Story characters, Woody, Buzz, Jessie, Bullseye and more. The figures are spun around faster and faster, until a strobe light is added and then, CLICK -- your brain goes from registering them as speedily spinning stationary objects to an animation in which Bullseye is galloping, Jessie is lassoing, and little Aliens are comically hopping and jumping in the foreground. And then it slows down, down, down and stops -- and you see again that none of the figures has moved or changed. It was all truly a trick of the eye. I couldn't tear myself away. For a look at the Zoetrope in action: http://www.youtube.com/watch?v=kjpb-mZgfA8


3. Mickey's Toontown -- From Gadget's Go Coaster to Roger Rabbit's Car Toon Spin, the Disneyland Toontown has it all over Walt Disney World's. It feels like there's more to see and do, not just for the little ones, but for the grown-ups.

4. Flik's Fun Fair -- It's an area mainly for little kids, I admit it, but it's so well done. If you've seen the film A Bug's Life, and recall the characters, you'll be charmed by all the perfectly themed kiddie rides -- especially Flik's Flyers, Francis' Ladybug Boogie, and Heimlich's Chew Chew Train, which passes through a munched up watermelon rind tunnel. Too cute. I can see it fitting in perfectly off of Pixar Place in Disney's Hollywood Studios or perhaps it would work somewhere in Animal Kingdom instead.
5. Mr. Toad's Wild Ride -- Sigh. Anyone who remembers when Walt Disney World's Mr. Toad could take you merrily off to nowhere in particular knows what I'm talking about. If you don't remember it, then you'll need to go to California to enjoy it, or watch the old Disney cartoon, to understand what a quaint bit of nostalgia it conjures up.
Yes, this East Coaster totally enjoyed her visit to the West. Sure, Disneyland Resort is smaller, and there's less to see than in Walt Disney World. But there is still more to see and do there than I could in my three-day visit.
Which is why I'm so looking forward to my next trip to California for the D23 convention in September -- another opportunity for seeing what happens when East Meets West.
===================
RELATED LINKS:
The Magic Kingdom vs Disneyland: http://allears.net/tp/mk/mk_dl.htm (a bit out of date, but still relevant)
The Best of Both Worlds: http://allears.net/dlr/tp/dl/dlmk.htm
Fabulous at 50: http://allears.net/ae/issue295.htm
Detour to Disneyland: http://allears.net/ae/issue220.htm
More articles by Debra Martin Koma: http://allears.net/btp/dkoma.htm
-o-o-o-o-o-o-o-o-o-o-o-
Editor's Note: This story/information was accurate when it was published. Please be sure to confirm all current rates, information and other details before planning your trip.